It is always important as well as helpful to share visual content in social media, as they help in understanding the content in a better way. So, are you sharing a visual content on your social media page? Do your social media images stand out from the rest?
These are the questions whose positive answers will decide the success of your social media campaigns.
One thing to know is that when you create or curate a visual content then it engages the audiences on a personal level. The more the audiences get to know and relate with you, the more they are going to like your page and invest in your social media presence and your business.
Guide to Use Social Media Images for Business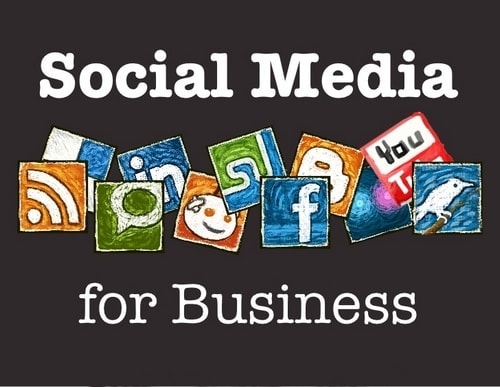 You don't have to be an expert in design or content to create social media images. All you have to do is to just have some sense about the content and how you are going to relate the visuals with. Here we have mentioned some of the methods that help to create social media images for business.
1) Create Influence with the Screenshot of The Company
Screenshots are one of the best and powerful ways to share information and insights about your company. This is because it makes the audience feel that they are right there with them. So, try to use screenshots and create engaging and unique content that will intrigue the audience quickly.
For example, you can post a screenshot about the inner working of one of your growth experiments showing screenshots of tested email. In this way, the screenshot will be the visual representation of the experiment as well can work as evidence.
This will give meaning to the data that is collected. You can also add text which may act as a hook for the article but in the screenshot, you won't need anything.
2) Logo Size and their Placements should appreciate Uniformity
You should decide the minimum size for your business logo that should be consistently applied around all social media profiles. Your design and logo should empower each other.
Logo placement is also important and it should be consistent in all the graphics. The logo should not distract audiences form your products and posts.
While changing the size or logo placement, you need to make it left or right aligned or should place in the center.
3) Share Facts Along With Infographics
The human brain is enabled to process the visual content 60 thousand times faster than the normal text. This is the reason the posts that have the visual content stand out the most in social media.
Along with the integration of Infographics, the concept is taken to another level. This is because they allow you to access large piles of information in a visually captive way. When people share appealing and informative graphics, they also share much awareness about the main cause.
4) Keep Fonts Consistent in all of your Social Media Graphics
Using text overlays like headings, body and subtitles is for sure an important Social Media Practice but being consistent and not using more than three fonts is equally significant for you.
You should also opt for the typeface that is related to your brand because this will help in boosting your social recognition. In below-given example, you can notice how smartly Nike uses its special bold uppercase font for its Facebook Posts.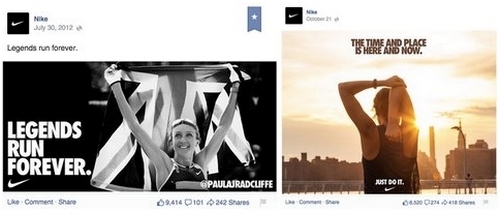 Using brand font is a smart practice that new age marketers are preferably doing. When it comes to subtitles, using the same font of heading but a comparatively smaller size will be quite good. You can also opt for different styles (italic or bold) for your subheadings.
5) Use behind the Scene Shots to offer Personal Touch
The common things that are related to your follower are that they see your logo in their social media feed and your product in real life. But have you ever thought that there is so much they are unaware of their brands?
In the same way, you have to find out what are your brand's unknown things that your audiences would love to know.
So, try to give your audience a glimpse about who you really are with a little behind the scenes pictures of your company. You can also encourage your audience to connect with you as a friend rather than a business relationship and behind the scene shots are the one top strategy to involve that sort of personal interaction with audiences.
6) Integrate Brand Colors in Social Media Images
Do you know why top brands use the same colors repetitively?
It is their strategy to establish a permanent visual connection with their audiences and prospects. They use their brand colors in their logo, images, logos, etc. to have consistency all around the social media world.
This empowers brands to enjoy better recognition. Audiences easily associate with those brands that use same brand colors repetitively. Opting for two or three colors and using them in all your posts is a smart strategy to set a brand tone.
Beneath given Cadbury example shows who they are using their brand colors (purple and white) in most of their Facebook posts.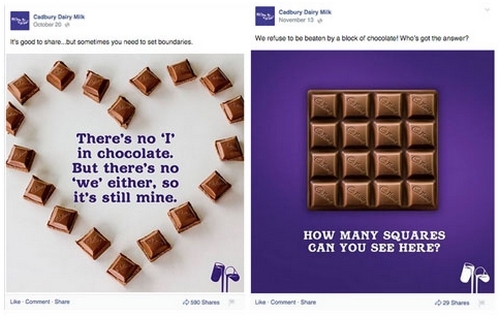 Experts suggest using brand colors in around 50% of your Social Media Graphics, as then you will not be overdoing this and making most of this strategy as well.
7) Increase The Level Of Imagination With Some Action Shots
If you post images that show about your brand or product is in action then it will create some curiosity and start imagination among your followers. This will help them to get engaged with your content and follow you. Post an exciting and amazing image on your page to show that your product is in its full action.
The minds of the consumers try to process the series of events constantly that has led up to that moment as well as the events that are followed. Without even realizing, the customers get engaged with the products and the brands and fill the blanks. So, keep on taking and sharing pictures that influence such kind of events.
8) Choose Images with a consistent theme to Fit Your Company's Style
You must have been seeing brands use images in backgrounds, in posts, and in other marketing maneuvers. The key thing to notice here is to pick a consistent theme for all the images that you use on social media.
You need to use Social Media Images that describe your company's personality. You can do this by asking what product or service you are going to offer to your audiences. You need to know what types of images get the best response from your audiences.
See below how adeptly Lululemon Athletics utilizes images related to outdoor exercises, best diet plans etc. that fit well with their brand statement of empowering people to live a healthy and happy life.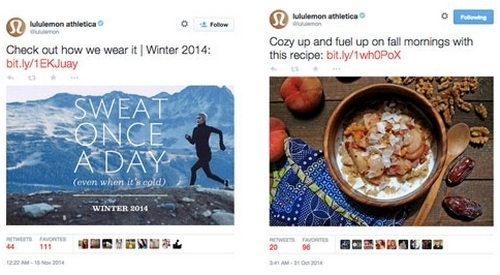 9) Adeptly Find and Use Signature Filters
Using filters is another important practice you need to follow while using Social Media Images. With filters, Social Media Images reach to the next level where they turn more appealing, engaging and powerful.
You need to opt for those filters that match with your designs. Filters can offer the better look, feel and aesthetics by making changes in brightness and specific shades. So, having a clear perception of the kind of look you want for your post will help you choose the right filters for Social Media Images.
Creating a uniform look all across your posts is also important and that is why overdoing of filters is not advised at all. You need to be dexterous in ensuring uniformity in the visual appeal of your posts.
10) Use Quote Graphics To Inspire
When you include a quote graphic in your content then it will inspire the audience to stop scrolling down and take a second to look and get engaged with your content. Such kind of images is one of the most shared ones in social media as they relate a huge range of audiences.
Try to create a visually appealing quote graphic with the edge of the style that is relevant and can be helpful for your brand. Such types of social media images can be used for any purposes like to inspire, entertain, advocate, intrigue and entertain etc.
So, make sure you design and style your quote in a way in which the audience wants to be a part of it.
11) Smart Product Placement is the key
It is very important to let your Social Media Images talk about your product in an organic and appealing manner. You should opt for smart product placement strategies.
You need to know the kind of appeal you want your audiences to enjoy and then accordingly you need to create images that resonate with your products and services.
Have a look on Voss Social Media Images below. You can see how easily and effectively they are using Instagram images to talk about their logo and product.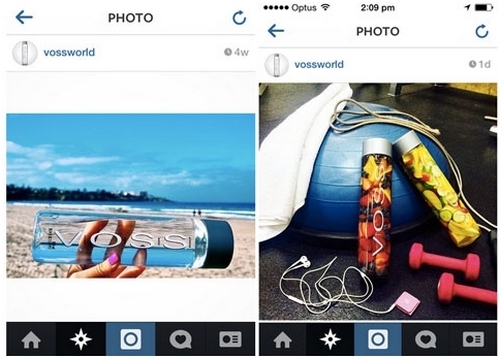 These are some of the ways to create social media images for your business.
Visual content should always be preferred by everyone when it comes to visual and text content.
Following aforestated techniques will for sure help you reap great profits from your Social Media Marketing Campaigns.
Liked this post? Check out the complete series on social media marketing