In today's world, everyone opts for a social media platform for marketing their product as it has become the most powerful platform to do so. It gives a great return on the investment and a high brand exposure.
Out of the total population of the world, around 3 billion people use the social media platform which opens a huge opportunity for the businesses and the brands to promote the services and products using the social media. The positive effects of social media has a lot of favorable features for any kind of business. The people also get a lot of opportunities to know about your brands and find you in such a huge platform.
Enhance the Connectivity with The Help Of Social Media Sites & Social Networking Sites
It is the one and the only convenient way in which you can enable yourself to get in touch with the people of your niche. All you have to do is give a single click and get in touch with prospects. It doesn't matter what is the religion and demographics of those people, social media always helps in preserving and reviving the engagements with the target audiences.
Social media has made easier for us to connect with family, acquaintances, friends and business people. Moreover, we see that there are many top companies that approach the candidates directly with the help of social media e.g. LinkedIn. We can also get to interact with the people of the authority who will be able to help us in our careers.
Why Is Social Media Sites & Social Networking Sites Important Component For The Business?
The skills of the social media have been stopped to be considered niche since long back. Instead of this, it influences the way the whole organization grows and runs. It has also become the primary means of letting the people know about your business.
13 Positive effects of Social Media Sites & Social Networking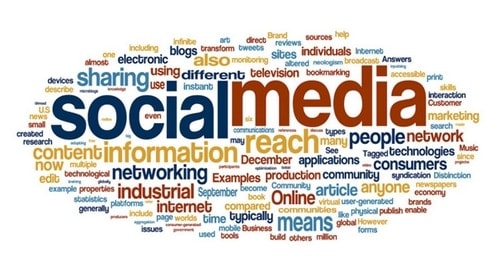 Social media is useful to the mass people in a lot of ways. It helps the people to expand business in the most cost-effective way. If you compare social media marketing with some methods of traditional advertising then social media marketing is a lot cheaper than the traditional ones
It can be reached to persons of all ages and helps to present the product in whatever you want. The users of any social media platform are always active and this helps in promoting a two-way communication. You can also share a lot about your business in different social media platforms
In today's world, one can connect with other with the help of digital technology. Unlike the people of the earlier generations, nowadays everyone loves to connect with other on social media.
Here are some effects of positives of social media that one should know
1) Ensures better Engagement
In any social media platform, you can find a button named "share". The social networking sites give the option to everybody to share informative content, article or videos with everyone. It helps everyone in the world to reach the teacher, coaches and all the experts without facing any kind of difficulty.
2) Enhances Communication Speed
With the introduction of the social media in today's world, we don't feel the need of snail mails, telegrams etc. in order to pass the message from one place to another. You just have to give a single click and the message will be sent to the person you intended to send. When there is an urgent news, the social media can help the society to get the attention of the person they want to contact closely.
3) Positive Aspects of Finding Out Connection Between Detachment
Again a very important positives of Social Media. With the help of social media, one can easily make friends with those who are from very different places and distant lands. If you communicate with people who are from different cultures then it might help society to become more sensible as well as responsible towards the differences that we all have around the world.
4) Builds Productive Social Relationship
For many people, it is easier to communicate online than to communicate personally. If you chat virtually with anyone, you get to know more about them and thus this helps in strengthening the credibility. It also makes you feel distance is just a word. Social media helps people who want to stay in touch with their old friends in a single click. This makes a notable positive effects of Social media.
5) It Helps To Boost The Participation Of The Communities
Nowadays, the people share their opinions as well thoughts on certain topics via forums. They also share themes that are appealing to them. Sometimes the communities also engage themselves in a series of positive discussions and self-expression on certain informative topics. This is a very positive effects of the developing world.
6) It Builds Confidence
If you look at the social media carefully then it will come out to be remarkably positive if you look at the reviews and the comments. People that are all over the world gains affirmation automatically, confidence, self-esteem, and validation.
7) It Helps To Fight Depression
This is highly appreciable positive effects of Social Media. In the past few studies, it is found out that many people have impeded themselves from the suicidal tendency, all thanks to some of the social media. Blogging is helpful for such kind of people who are very low, sad and need to take out their frustrations. Now, once they have logged into any kind of social media platform, they will get a bunch of people to talk with and effects on those who will listen to them and take them out of their depression.
8) Sites Helps People To Identify Themselves
Next one in the list of positive effects of social media is the kind of power it is offering to people. Some sorts of independence come in the mind of every person when they try to connect to social media. They have the liability to join any kind of group or organization and get themselves engaged very easily. Every person has got the ability and platform to prove themselves on the social media. This is obviously a great help to society.
9) People Can Realise Potential
Again an important positive effects of social media. Who doesn't know the famous singer Justin Bieber? But one thing most of us don't know is that the singer was first discovered on YouTube. There are many emerging artists, singers, dancers, and other talents that are recognized on the social media platforms.
10) Teachers And Students Are Benefited A Lot From Social Media
Nowadays, one can easily get knowledge from many renowned professionals and experts from various social media platforms. You can follow and subscribe to each of the experts and view their videos in order to enhance your knowledge. It doesn't matter what educational background you have, you have the liability to gain different knowledge without even paying for it.
11) One Can Use It for Noble Cause
Yes, you heard it right. One can also use social media networks for various purposes like social welfare activities and the promotion of non-government organizations (NGOs). It also helps in changing the lifestyle of the people and their mentality. It creates awareness among the people and helps them discover innovations that help them to enhance their own lives. Whether you are a farmer, a teacher or a student, everyone is benefitted from the social media.
12) Social Media Sites & Social Networking Sites Benefits The Mental Health
When you express your emotions online, it affects your mood a lot. It helps to relieve the social isolation in a lot of ways and also opens up new pathways for the communication and offers a lot of support from the folks. All of these things develop within the people and improves their talent of self-expression without fear.
13) It Is A Path To Save Lives
The 24-hour suicide prevention numbers are not the only ones that help in saving lives. Motivating people and spreading awareness among the people is equally important. If some people are assured that they are not alone or they are not the only ones with such kind of problems, it can really turn out to be important. There are many websites that provide support and help through the social media platform. Through such websites, the people can share their problems and experience with other and motivate everyone without any fear of revealing identities.
Conclusion – Positive Effects Social Media Sites
The social media also has a lot of positive effects on your business. This is the reason that many people have been spending a reasonable amount of time on social media. When you any social media platform in the right way, it has the ability to bring a large amount of traffic to a website.  Positive effects of Social Media is quite evident on brand awareness, brand loyalty, and customer service as well. Boosting sales is also very prominent positive effects of Social Media.
So, share what do you expect to gain from Social Media Campaigns?
Liked this post? Check out the complete series on social media marketing