Uptime is a measure of the time an electronic machine (a computer) has been up and working.
Uptime monitoring is very useful as it helps in measuring the reliability or stability of any computer system. Long uptimes are good for any system as it means that system can work on its own with crashing or requiring any administrative maintenance
Also, if you are managing a large number of websites/apps and servers, it is very difficult to keep a check on every app and server as anything can happen anytime (wrong codes, network problem, hard disk failure, malware attacks etc.) and even seconds of downtime can cause a lot of damage depending on the size and impact of server.
And you cannot monitor your websites and apps 24/7 so that is why having an automated tool to check the performance of servers regularly can help in maintaining a good user experience for users and you can take precautionary measures also even before any bad thing happens.
Now, let's see some benefits of uptime monitoring…
Benefits of Uptime Monitoring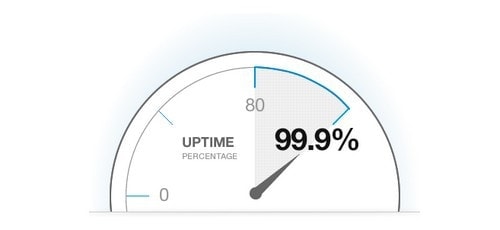 By monitoring your server, you can get notified instantly through message, email, text or even call so that you can take the necessary actions quickly without causing any problem for your users. With a server uptime monitoring tool, you can…
Only receive notifications when anything happens. No false alerts and no wastage of resources.
Receive alerts of any hardware failure such as hard disk or CPU failures.
Allocate resources to your websites or apps properly by using the monitored data.
You can test your server performance from multiple locations which can help you in improving your server's performance further.
Some tools even help you in finding the Root Cause Analysis so that the problem can be solved quickly.
Regular downtimes can cost you your customers, visitors, leads, and sales, so you can avoid all this with a server uptime monitoring tool.
And lastly, with server monitoring, you can also monitor the speed of different pages of your website/app and optimize them accordingly as page speed plays a very important role nowadays.
The goal with every server is to get 100% uptime but 99.999% of uptime is considered as best according to industry standards. In 2005, Novell reported an uptime of 6-years of their server. It might sound unusual, but that is very common with industrial servers which are maintained properly for critical systems such as banking and military systems.
Now, let's see some free and paid tools which you can use…
Free and Paid Tools for Uptime Monitoring
There are many online uptime monitoring tools available for free and paid also. All tools offer different things and you must choose any tool based on your requirements. In this section, we will discuss both free and paid tools and will guide you also on how to set up your server and websites for the uptime monitoring.
1) Pingdom :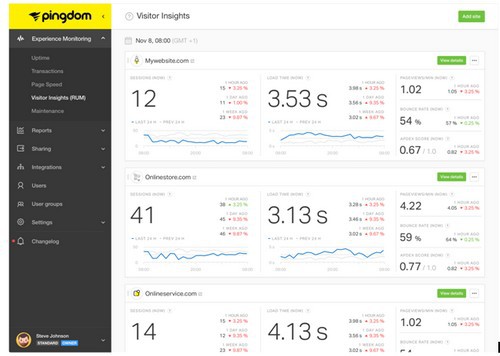 This is a very popular online tool for website performance monitoring and it helps in getting useful instant insights to keep up with the competition. Pingdom offers multiple services such as uptime monitoring, real user monitoring, page speed monitoring, synthetic interaction testing, instant alerting and root cause analysis. More than 850,000 users use Pingdom to analyze their website's performance so you know this tool is very popular.
For the uptime monitoring, Pingdom offers instant alerts via SMS and email at any time of the day. They also have the 70+ location from where your website performance is analyzed so that you can know how your website is performing in different parts of the world. You can even put up a Public status page if you want your visitors to know about the monitoring results. Pingdom always second check before notifying you of any downtime so that you can be sure of any problem and false alerts can be avoided.
Now, let's see the steps to setup Pingdom uptime monitoring for free:
Sign up at Pingdom
Click on "Add Check" in the dashboard
Enter your website name in Name field
Choose 1 minute from check interval and enter your website URL
In the alerting settings, click on "High Importance"
Drag to instantly in the When down, alert after tab
Click on Alert when backup and finally click on "Create Check"
Now, you have successfully set up the uptime monitoring for your website and you will receive an instant email alert whenever your website will face downtime. You will also get to know about the response rate of your server with this free service.
But this free plan by Pingdom is limited and you can always sign up for their paid plans if you want all the features offered by Pingdom. Their paid plan starts from $14.95/month for starters and goes up to $249/month for professionals. You can also sign up for their free 14-day trial to check if that works for you or not.
 2) UptimeRobot :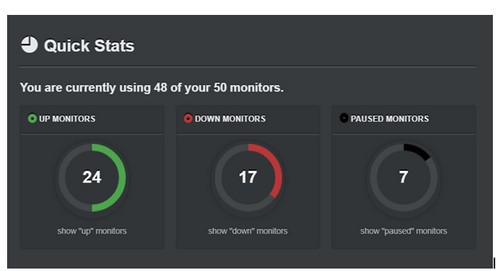 This is another free online uptime monitoring tool which can check for any downtime every five minutes for free. This tool can check for multiple types such as HTTP(s), keywords, ping, and ports.
You can choose to get notified via SMS, email, Slack, Telegram, HipChat or through push notifications. You can check many stats such as uptime, downtime, response time etc. They also support public status pages and monitoring from multiple locations.
In their Pro plan which costs $5.50/month, UptimeRobot offers 1-minute monitoring intervals, 50 to 500 monitors, SSL monitoring, advanced notifications and some other things.
 3) Uptime :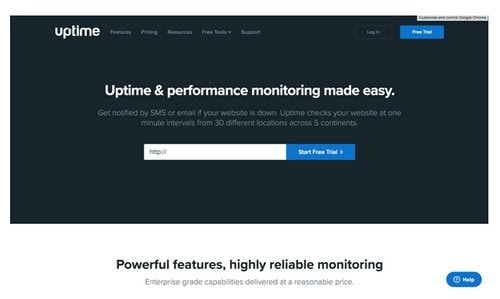 This is a completely paid tool for uptime monitoring with powerful features. This tool will provide you with very detailed reports (daily, weekly or monthly), monitoring from over 30 different locations around the world, virus checking (scanning from Google Safe Browsing), real user monitoring, domain monitoring, unlimited tests and alerts via email, SMS, Twitter, webhooks or through push notifications.
Their plan starts from $8/month for basic and goes up to $159/month for enterprise level servers. SSL monitoring, virus and malware scanning, 24/7 support etc. are bundled with every plan. They also offer a free 21-day trial which you can use to check this tool.
Even seconds or minutes of downtime can cause a lot of money, that is why uptime monitoring is required. Visitors now don't like to wait too long for any site to load… they just leave it and visit another website which is not good for any business.
Things to Monitor for Uptime
There are many things which can be monitored to get complete data of your server, websites, and apps but not all the things are important. So some top metrics which should be monitored on your servers are:
Physical memory: Memory is required for everything and if by chance your storage gets filled or is working on heavy usage for a very long time, it can fail which can cause unnecessary downtime.
CPU load: CPU processes must not exceed 80% of your total CPU power for best performance of your servers. However, in some situations load can increase due to any reason so by monitoring it you can know how to optimize it properly.
Other processes and services: There are many processes which are necessary and run on the background but sometimes any malware or any unexpected thing can cause an unnatural number of processes and services which can ultimately shut down your server. So by monitoring them, you can know what process to keep and what to kill.
SEO implications of Uptime Monitoring
If your website is down once in a while only for some seconds or minutes then there will be no problem but if your website is facing a lot of downtimes either due to server issues or because of any other reason, then it can impact your site's SEO also in a bad way.
When your website will be down, it will not appear in Google and then if somebody searches for anything and Google shows your website in the results page and if the users click on your link then that will give a negative point to Google. Users don't like this and this can end up in high bounce rate and in loss of traffic as well. Even after this, the loss of potential leads and sales will be more if you are running any service site or an online shop/eCommerce website.
Uptime can have a huge impact on your website SEO and search rankings. If you think your SEO efforts are not producing any noticeable results then check your server uptime also. And if you find out that your site is having a considerable amount of regular downtime then fix it as soon as possible.
Conclusion
Uptime monitoring is something which you just can't ignore if you run something online which is important for your business. Traffic spikes, malware attacks, data center problems etc. can cause server downtime. Choose any monitoring tool which suits all your needs and be ready if anytime any downtime happens.
Liked this post? Check out these detailed articles on
Topic of Digital Marketing
Alternatively, check out the Marketing91 Academy, which provides you access to 10+ marketing courses and 100s of Case studies.