In simple words, website architecture refers to the structure of any website. The structure here is needed as every website has some specific goals which must be fulfilled and that is why a certain structure is required. Website architecture is prepared in the planning stage before the site is designed and developed.
The architecture of the website contains the logical layout of the website. A complete website has many different elements which are required and must be defined properly according to the business and user requirements.
Designers work on the design of the website (visuals, graphics, typography), developers take care of the backend stuff but architecture is the thing which keeps all these things together and makes a website functional. Web architecture includes everything required to run and start a website. Usually, website architectures are developed for very large website projects.
Also, website architects are assigned for this job as not everyone can build website architectures effectively and don't confuse website architects with web designers or UI/UX designers. Website architects specialize in understanding the usability, front-end, and back-end of websites and other website related things. That is why huge companies or projects backed by huge investments hire website architects to complete the job.
What is Website Architecture?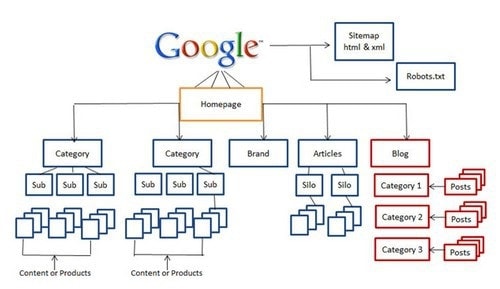 Architecture is all about structuring a website. This is done to ensure that the website you create meets your goals as a business website and also meets the requirements of the user.
It is how the content on your website is organized. Without a proper knowledge of website architecture, you may end up creating a website that is completely confusing. At times the content itself may get lost and go inaccessible.
The Concepts involved in Website Architecture
The architecture involves a lot of concepts intertwined between themselves and thus become quite complex to understand. A website architecture plan will involve the following concepts and factors –
Web Usability
Graphic design
The content and a strategy behind it
User interface design
Some of the basic concepts you need to take care include
1) Understanding the Exact Goals
Have a clear understanding of the driving goals of your business before you actually move ahead to opt for website architecture. You need to understand the purpose and goals of your actual business. This will go a long way in helping you check that your project is right on the track.
2) Check out Your User
This is another important aspect that affects your website design and architecture. Ultimately, it is the website users who will decide the fate of your website, and in turn your business. From that perspective, it should be ideal to conduct a complete research into the needs and expectations that your users may have with respect to your website. In case you are redesigning your website, running a usability test can be helpful in making the right decision.
3) Curate Your Content
Assemble your content for the website. This can be an essential element in making it possible to take decisions on the exact website architectural structure. While you are gathering the content and curating it, ensure that the content is accurate, current and consistent with your business goals.
In fact, curating the content before you can indulge in the architecture of a website can save you a lot of time and efforts. Opting for the website architecture before creating content can be detrimental for the project at hand. At times, it may be a completely futile exercise.
Steps of creating a Website Architecture
Every structure requires some basic and some specific things which depend on the goals of the website. The objectives of the website help in building the structure.
Steps of designing:
Project brief
Define website goals and target audience
Analysis of collected data
Competitor analysis
Prototype building
Testing and validating structure
The first step of the process is research. In this, customer personas are created and research related to the topic of the website is done. You will have to find out all the things about your targeted audience such as what are their preferences, their spending limits, their age group, location etc.
Next step will be to analyze the collected data and identify how can you use it fulfill all the goals of your website. Perform some tests and take feedback from users and industry experts. This step is important as you will know what content you can use and other things which will be required.
The final step will be to use the data which you have gathered and analyzed to finalize the basic structure of the pages of your website. A rough diagram of the pages must be created which can be then used by designers and developers to deploy the website.
The Best Website Architecture Tips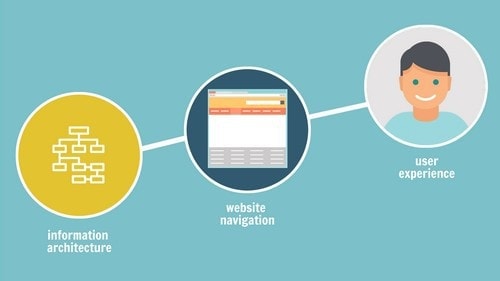 Have a look at the following tips for the best ever website architecture design. Try to inculcate all these steps in your architecture of website for a better result.
1) Teamwork Pays
It is not something that you would be able to do alone. It is best done as a team. If you do not have a team, you can consider consulting a person who is connected to the project. Someone who has the knowledge of the concept of working in the same business should be ideal enough.
2) The Process is Iterative
The website design is a process that cannot be something that is completed with just one stroke. It is an iterative process. Once your website is in place, ensure that you are testing it with the web testing tools. You can implement the issues if any, next time you change the structure. You should implement this strategy on a continuous basis. This continuous testing should be the part of your regular process and an ongoing process.
3) Website Architecture is Not All
It may be an important aspect of designing your website. There are the best principles, templates, and guidelines you can follow – but finally, it is about your users and your business goals. Check out all the principles and consider implementing them, but finally, everything should essentially boil down to your users and the business goals that you may have.
The Concluding Thoughts
Well, that was an introduction to Website architecture and should guide you on the best techniques for the best website architecture.  You can make use of tools like Treejack for an efficient website architecture. The tool can aid you in testing your website and thereby aid you in implementing the changes for the perfect functionality of your website.
Developing a website involves a host of tasks and can aid you in the web design process. If you are someone involved in building websites, share your inputs to enhance our knowledge.
Liked this post? Check out the complete series on Digital Marketing