A website conversion occurs when a visitor to your website completes a desired action, such as signing up for newsletter, social media share, filling out a form or making a purchase. The percentage of total visitors that convert is called your conversion rate.
Also, conversion for one website may be or may not be a conversion for another website as conversions are unique to each website (for online retailers, a successful conversion will be the sale of their products to consumers while for a lead generation site, successful conversion will be the generation of a qualified lead which has the potential to convert into a consumer later).
Website conversion is a very important factor in any type of marketing strategy as getting users do what you want them to do is necessary for every business. Conversions for websites are based on goals which are related to the overall business goals. To achieve a good conversion rate for your website, you have to first determine that what it is you want your site to achieve for your business.
The main purpose of setting up and measurement of conversion rates is to track unique events which occur on the website to ultimately determine the website's performance. Now, let's understand what exactly is a website conversion rate and how you can find the conversion rate of your website.

What is Website Conversion rate?
The website conversion rate is the ratio of visitors who take the desired action on the website to the total number of visitors. This data can be collected using website analytics tools like Google Analytics.
Website conversion rate = (Number of desired goal achievements / Number of visitors) * 100
For example, if your website is having 10,000 monthly visitors and 500 visitors are taking the desired action which you want them to take then the conversion rate of your website will be 5% (500/10,000). Now, here you have to understand one thing that all the visitors will not convert whatever you do but you have to work on improving that number always.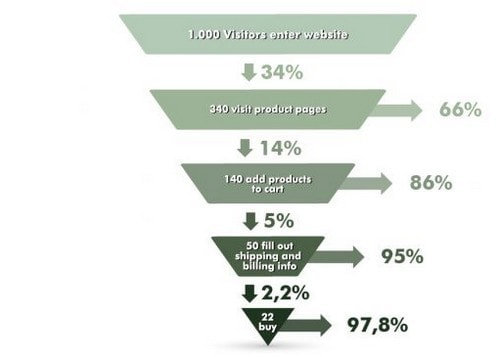 Tip: There is always a ton of room for improvement in the conversion rates of any website. So, if you will spend even a little time to improve your website conversions, you will see very good results and ROI (return on investment).
Website Conversion process
The website conversion process is like a funnel and this process is divided into four steps — awareness, interest, desire, and action. So, the process is,
First, your potential customer will become aware of you and your offerings (product or service) through your website.
Then, those people who will be interested in your product or service will move to the next step.
Third, you will push the interested customers towards your desired goals.
And in the last step of the conversion process, your potential customers will take an action like a sale or newsletter sign up.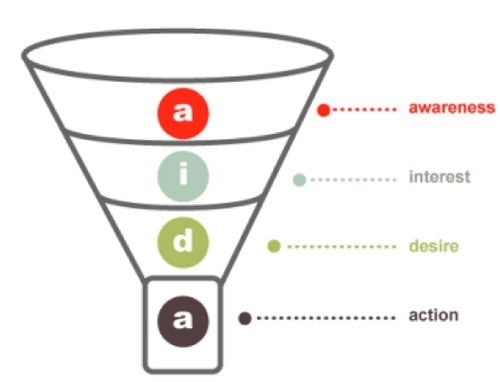 Examples of Website conversion for small businesses
Small businesses such as retailers and retailers want their visitors to purchase the products offered by them. While small service firms want leads or related traffic through the use of website conversions.
Your ultimate goal needs to be higher conversion, better leads and ultimately, more sales or whichever action aligns with your website and business goals.
For instance, on Ultracleanonline, the overall business goal is for visitors to contact them. That is why they have used a small but effective contact form above the fold so that visitors don't have to think too much and they can directly fill out that form.
First-time visitors to this site are presented with multiple call-to-actions which helps a lot in increasing website conversions. They have also used an image with the numbers and two CTAs on the top right of the website. Their business and website goal is only to convert visitors into potential customers of the service they are providing. And their website is optimized perfectly for this goal.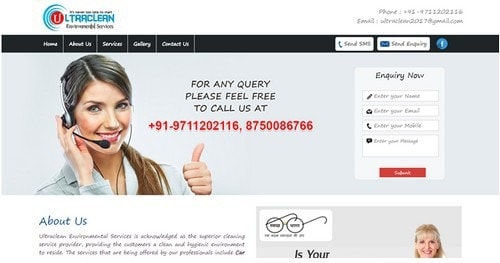 On Laurelandwolf, their business goal is to convert visitors into their customers. To align with this business goal, their website homepage has a very clear call-to-action on the top right and a call-to-action in the center-left. A CTA with a clear heading and explanatory subheading works very well.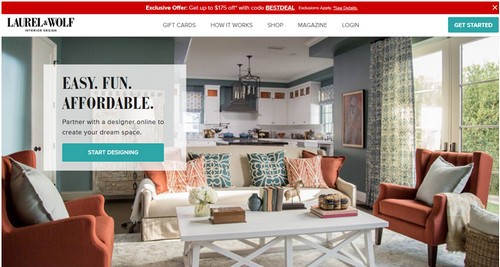 Advantages of Website conversion for small businesses
Increasing revenue is a big goal for every business and small businesses particularly cannot afford to put aside a big budget for only marketing purposes so, that is why website conversions are very important for them.
With more than 94% of B2B buyers searching online before buying and making their final decision, small website owners are in a great advantage. The internet allows small businesses to compete with much larger rivals and win.
Good website conversion can help them in getting more leads and sales and ultimately more profit which they can invest back in their website to improve the conversion rate further.
Some tips for improving website conversions
Local business website owners don't really understand the importance and meaning of website conversions and that is why they lose tons of potential customers regularly.
A well-designed, updated and relevant website can effectively increase the conversion rates of any website, especially for small business owners. But first, for conversions to happen, you need traffic. So, invest in both, traffic and then converting that traffic into your loyal customers. Set up proper tools (Google Analytics) and monitor your website performance and conversion rates over time and take necessary actions to improve them also.
Some tips for increasing the website conversions are as follows:
Use obvious and big call-to-actions. CTAs are very important in website conversions and correct use of CTA can boost the website conversions also.
Get feedback and ask your website visitors what they want. Usually, people love to give feedback and that can help you a lot in improving your website and conversions also.
Simple and easy-to-use navigation. Make sure your website navigation is easy to navigate and clean also. Visitors don't like messed up navigation.
Use a lot of images. People like visual things and it is also easy to remember that the text so, images has the potential to increase website conversions.
Make your website mobile friendly. Now, more than 50% of visitors are from mobile devices so, if your site is not mobile friendly, you are losing a lot of potential customers every month.
Write compelling and clickable headings and subheadings on your website.
Developing a high converting website can be challenging but it is highly rewarding and worth the time and money. And when you understand your audience wants and needs, you can make your website convert more very easily.
Liked this post? Check out the complete series on Digital Marketing