To adeptly use Facebook Marketing that can generate leads, conversions and sales for your business, it is important for you to know how to use different sections of your Facebook page. And in the process, About Section on Facebook Page is one of the most important things that will help you do optimized marketing and advertising on Facebook.
So, do you also have a wish to have an appealing and engaging About section on Facebook page?
Well, in that case, you have definitely come to the right place my friend because we are going to help you out in here. With the help of the tips that we have for you in here, you will be able to write the most convincing and important things in your About Section that attract the visitors to your page.
Optimizing Facebook About section is inevitable in today's time because when it comes to social media, there is no doubt about the fact that Facebook rules the entire digital front. With millions of users trying out this awesome platform every single day, Facebook is undoubtedly one of the most popular sites of all.
People not only use Facebook in order to communicate with each other but they also use it to make sure that their business gets the much-needed promotion that it deserves.
Therefore, let us now understand key idiosyncrasies that can turn your Facebook page into a sales generation machine –
Creating Engaging About Section on Facebook Page
When it comes to the proper use of Facebook, one of the most important sections that people need to know about is the About section on Facebook.
Do you think your About Section on Facebook provides all the necessary information that will guide the people about your business?
Well, if the answer to that is known then you need to make sure that you take care of it because you might be missing out on something that is very valuable.
The About section on Facebook is certainly one of the most important sections that your Facebook page can have. It can do effective branding and generate the needed awareness for your brand. It will help you get the clients that you want for your business and there is no doubt about that.
The most important question whose answer is significant in making your Fb page powerful and business driven is-
Does your Facebook Page accurately communicate your business story?
Your about section plays key role in ensuring this.
When you set up your Facebook About Page well, you can introduce your potential clients to your business properly.
Most people might just think that the News Feed in the Facebook page that they have is enough to make the people know all about the business, but it is certainly not true, to be honest. Most of the people, when they visit a Facebook page, go to the About section on Facebook in order to know about any particular brand or business.
So, why don't you just use this opportunity to create a proper About section on Facebook?
But how on earth are you going to do that if you don't have the proper guidance that is needed? Well, this is where we are going to help you out for sure.
The Layout Of The About Us Section of Facebook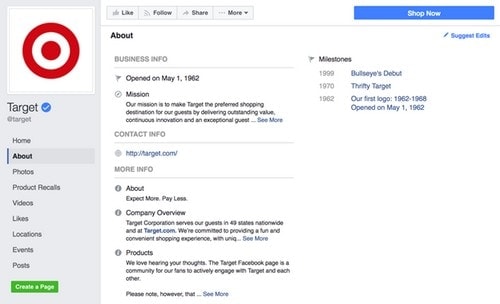 The About section in Facebook keeps on changing and it totally depends on the categories that people choose when it comes to the Facebook page. You will be able to see the About section of your Facebook page on the left column. Before you make any changes, you need to know what an 'About Section' is and where is it found.
The About section will provide all the necessary information about the company or the brand to the people who visit the page. When you navigate to the section and click on it, then you will be able to make the changes that you want to on the page.
Whenever a user makes some edits in the Category of the About section, the existing information is then pulled out by Facebook in order to make room for the new changes. One thing that you need to make sure of is that you save all the changes that you make because it is very important.
Different steps that you will be required to follow while writing About Section on Facebook page are-
First of all, you need to click on the About button given in the Left Hand Side of your Facebook Page
Once the About Section is opened, you can find Edit button on the top right corner of your page
Now, you need to fill all the details in the respective fields and then click on Save when you are done
What Should Be Included In the About Section Of Facebook
A very common mistake that people often make when they are creating Facebook pages is putting less and less information in the section.
You need to let people know about your story to make them interested in your business, right?
That way, people can know about the things that you do and many other details that are really important. So, it is imperative that you add more information on the About section.
Here are some of the things that you need to include in the About section.
The Company Story: You need to make sure that people know your journey before they even visit your website. A great way to do that is to provide a story about your Company. Your achievements and accomplishments need to be highlighted in that.
Your Products And Services: The people also need to know about the products and the services that you provide. Why else would they want to come to your business, right? Providing that information in the Facebook About section is a good idea.
Contact Info: How are people going to contact you if you don't provide any means to do that? You need to make sure that you have your contact information included in the About section as well.
Let us have a close look at the About Section of Target Facebook page to understand the right way of using About Section on Facebook-
In your About page, you will be finding the Business Info section where you can give details about the mission statement of your business.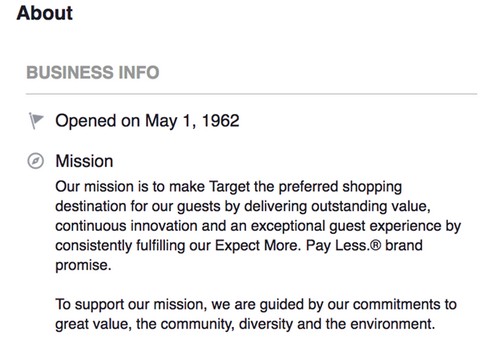 Here you can give the short version of your business story that can pull in your prospects. You can also provide details of your other Social Media profiles where you want your audiences to meet you, as shown in the example below –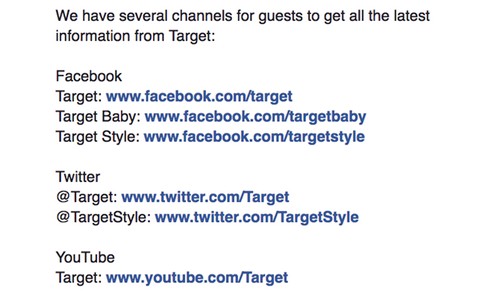 Adding contact info is another important thing that you need to pay attention to while creating the About Section on Facebook. Here, you will be providing the contact details through which your audiences can contact you away from Facebook. You can see this in the Coava About Section on Facebook –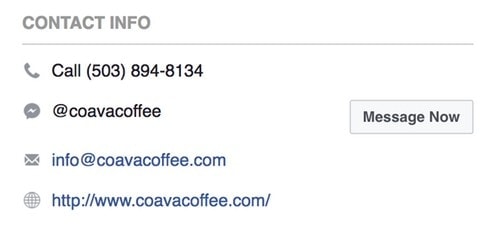 In More Info section, you will be finding Edit About section.

When you click on Edit About, it will land you on the section 'Describe your Page', where you need to give a Short Description of your business –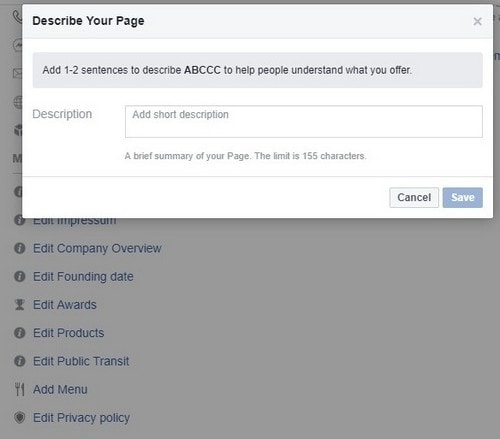 Adding Company Overview is another important information that has to be provided by you.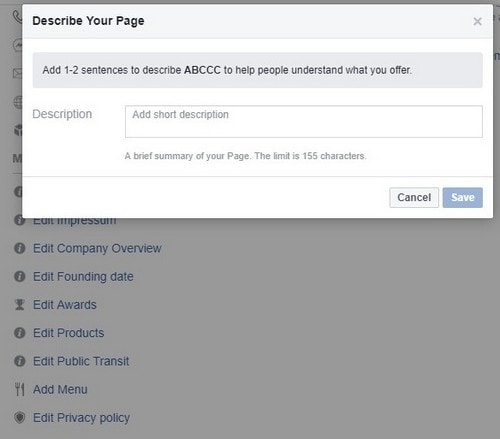 Below, in the image, you can notice how the Marketing 91 page is having the Mission, Contact Info, About and Company Overview section –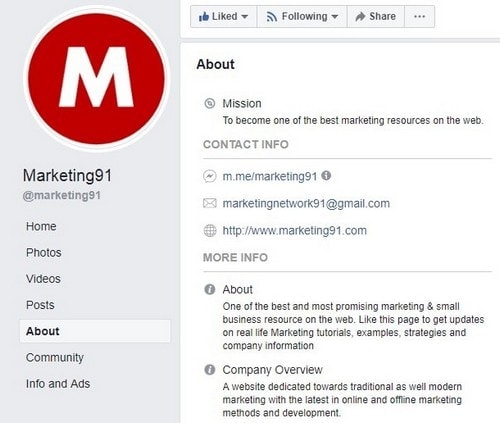 In More Info part of About Section on a Facebook page, you can also provide other details like Founding Date, Edit Awards, Add Menu, Edit Privacy Policy, Edit Products and so on. In the below-given image of Target, you can notice how adeptly they have included Products section and Privacy Policy sections on the About page –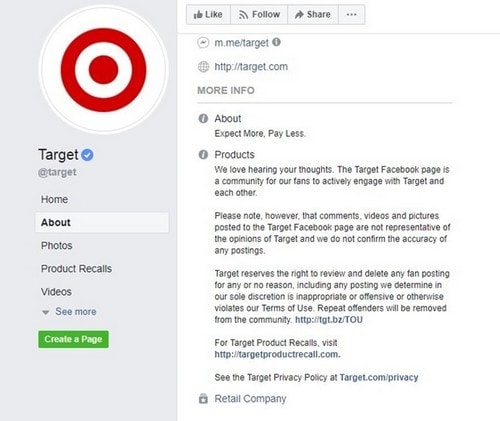 Wrap Up!
So, these are some of the important things that you need to discuss in the About section on the Facebook page of your business.
Make sure that you don't forget about any of these because they are pretty important.
When it comes to Facebook, the more information you provide, the better it will be for you.  It will let your business establish more productive relationships with the audiences that will help in boosting conversions. When your Facebook page visitors are satisfied with the information that they see on your page, for sire they will perform the action you want them to do.
Hence, there will be more chances that they will be landing on the most important pages of your sales funnel.
So, never underestimate the power of well crafted About Section of the Facebook page and always use aforestated tips to making your Facebook business page result driven.
What information do you consider most important for your Facebook page?
Liked this post? Check out the complete series on Facebook Marketing