In our last guide, we covered everything related to Facebook business page, but you must have noticed while creating your business page on Facebook, another option of creating a page on Facebook, i.e. Community or Public Figure was also there.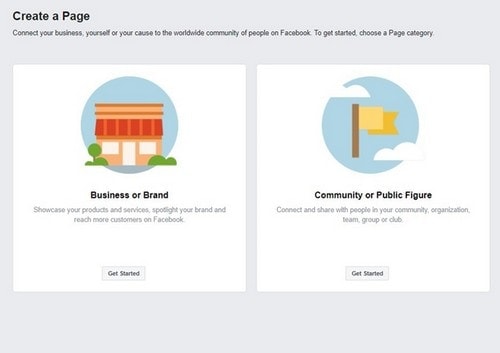 On the right-hand side, you get the option of creating a community page on Facebook.
Actually, there are many different features and changes that are introduced in the Facebook platform ever since its existence. And the latest changes that we have seen are in the formation of Facebook community pages.
You can create a community page on Facebook to connect and share with the people who are associated with your community, group, niche, club, team, organization, etc.
So, wouldn't you like to know how to create Facebook community page?
Well, this is the article for you then.
Here you will get to know all about creating community pages on Facebook. But before we tell you how to create Facebook community page, you need to understand what the community pages actually mean.
What Exactly Is A Facebook Community Page?
This is the only question that must be running through your mind. Well, to answer that question of yours, a Facebook community page is just like the other normal pages that are created on Facebook by the professionals and business organization.
But then, there is a simple difference between the other pages and the community pages. It is this that they can be used for the common tops of discussions and have very unofficial things as well.
So, you can understand community pages as the best collections of shared knowledge.
Difference between Facebook Business Page and Facebook Community Page
Now, these things might not be official or related to the business, but they are surely very interesting to read. All you have to do is like these pages and then you will be automatically connected to them.
The other normal business pages are controlled by a singular admin which is an employee of the business organization. But in the case of community pages, there is not a single authority that controls it.
Also, you will not be able to find news feeds on these particular pages as well and that is what makes these pages even more different than the rest. These pages are basically used in order to link the topics with different fields and they help a lot of businesses in their own way.
In the below-given example, you can see a Facebook Community Page that talks Cooking.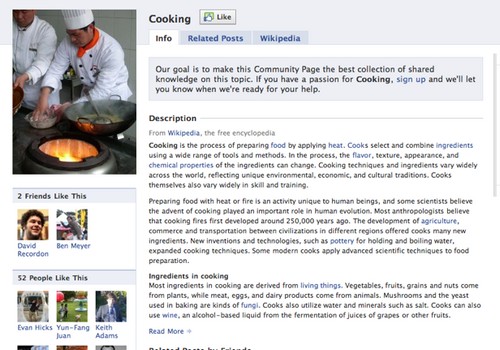 All you have to do is provide the necessary details into the fields that are provided on these pages and you will be connected with these pages.
Now doesn't that seem to be an interesting thing altogether?
We are sure that you want to know how to create Facebook community page now. Well, we will get to these in a while but before that let us talk a little bit more about it.
Another one of the reasons why people create these community pages is because Facebook always tends to keep an eye on the other Official business pages.
So, the users are not really able to voice their real opinions and thoughts most of the times.
However, with the creation of the community pages on Facebook, people are now more prone to discussions that are honest and interesting. This way the official pages will not be bothered by the people.
So, now that you know a little bit more about the community pages, let me tell you one more important thing here.
There are two types of community pages on Facebook-
Facebook Administered
User Administered
So, when it comes to creating a community page, we are talking about User Administered Community pages in this guide. We will be diving deep into that, but first, let us understand what Facebook Administered Community Pages are-
Facebook Administered Community Page
So, you must have noticed the Cooking Community Page Image above, it is having content directly taken from Wikipedia.  So, the content of these pages is the same as on Wikipedia and Facebook administers the whole process.
Based upon the keyword and subject matter of community page, Facebook auto-generated community pages are using content from Wikipedia, wall posts, status updates, etc.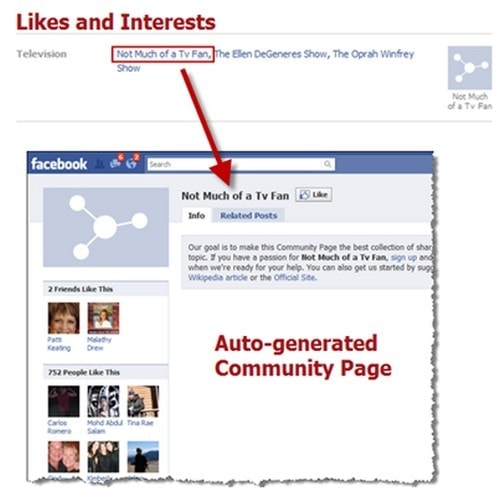 So, this is how Facebook Administered community pages are formed on Facebook.
Now, let us move towards the second type.
So, for sure, you have the power of creating a community page on Facebook.
You need to get on with the steps that you need to follow in order to create Facebook community page for yourself.
User Administered Facebook Community Page
When it comes to the creation of the community pages on Facebook, most people complained that the process can be a bit difficult for someone who doesn't that the proper guidance.
If you are one of those people who does not know how to create Facebook community page, then let me tell you that the process is equally straightforward as it is for the Facebook Business Page.
Make sure that you are paying attention to what we say in here people as it will definitely help you in your process of creating a wonderful community page on Facebook.
1) Creating The Page On Facebook
There are many different fields where you will have to put in your information if you want to create the perfect community page on Facebook. This is one thing that you always have to keep in mind. Choose the fields that you want and then you will be all set.
First thing first, you need to go to https://www.facebook.com/pages/creation/ and then click on the Get Started section of the Community or Public Figure section.
2) Page Name and Category
In this field, you need to make sure that you are entering the name of the community page that you will be creating on the Facebook platform.
You need to go through Pages, Groups and Events Policies to know all the policies you need to follow to be well aware of all the rules and regulations. After that, you can easily click the continue button and then you will find yourself moving on to the next page.
3) Profile and Cover Pictures
In this particular section, you need to upload a picture that you think will be perfect for the community page that you are going to create.
There will be an option to save the photo and when you click that, your profile picture will be saved. Just make sure that you choose a picture that is absolutely perfect.
You also need to upload a Cover Picture for your community page. In addition, if you do not want to add pictures straight away, you can skip the steps for now, and can add images later.
4) About
The page will also require some other bits of information that will provide more detail to the page that you are creating. You can also add some links that will take the visitors to the sites of your choice.
After every single step that you do, you need to click on the Save section which will save any changes that you make on the page.
5) Editing and Updating Page Information
There is another important step that you need to follow now and that is editing and updating the information.
This will make sure that the page is always new and fresh for discussions.
This is one of the most important steps that you need to follow. You should edit page info, add a short description and provide other details that you consider significant.
When you want to make any changes to the details of the page, you need to edit the information that you have provided and it will all be easy from then on. However, one thing that you always need to ensure is to click and save all the changes that you make.
Wrap Up!
So, these are some of the steps that will help you create a Facebook community page with ease.
Make sure that you follow these steps as they are very important.
If you do that, then you will realize that creating the community pages is not really that difficult if you have the proper guidance to help you out.
If you face any problem while creating your first Facebook  Community Page, share your queries with us in the comments.
Liked this post? Check out these detailed articles on
Topic of Facebook Marketing
Alternatively, check out the Marketing91 Academy, which provides you access to 10+ marketing courses and 100s of Case studies.