Facebook mentions is an app that is centered around empowering verified superstars on Facebook. With the help of Facebook Mentions, they can interact with their fans with great ease and effectiveness.
Facebook Creative Labs came up with this application by keeping in mind a vision to make the interactions of fans and celebrities simpler. Via Facebook mentions, now VIPs and stars can constantly stay in touch with their fans and followers in the most personalized and useful manner possible.
Key highlights of Facebook Mentions
Celebrities who opt for this app get a superior route to maintaining a relationship with the people they consider worth paying attention to. This is actually a back pocket app for VIPs who need a functioning hand to manage their social media engagements with their fans.
Facebook Mentions gives superstars, celebrities, or influencers who altogether get a billion fan communications on a Weekly basis an arrangement of committed tools for dealing with their Facebook engagements. All these tools incorporate things like seeing and jumping into the top fan posts that talk about them, welcoming fans into Q&A sessions, and diving deep into the posts about them from other influencers or celebrities. Facebook Mentions actually comprises a groundbreaking set of features for the celebrities and influencers.
Who can use Facebook Mentions?
The application is not available for everyone and to get this, you require a verified profile with the blue tick. It is needed because it is intended to give verified Facebook Users an approach to effectively share their statuses with their fans around the world along with videos and photographs with their followers in a hurry.
They can do all this without spamming their real friends en route. It will just post openly to address the complete fan base with great ease.
Let us now understand the dynamics of Verified Profile and Verified Page on Facebook, as they are inevitable for having Facebook mentions-
1) Verified Profile
In the event that you have a verified profile, you can easily download the Facebook Mentions application to your smartphone. The login screen of Mentions offers you the opportunity to choose your name and then you can enter the password of your Facebook profile.
2) Verified Page
In case you have the administrative authority of a Facebook Page, you can easily ask Facebook for the access to Mentions at facebook.com/mentions.
Verified Profile or Page has the blue verification badge that Facebook offers to the eligible brands, public figures, and organizations. Account completeness, fan base, policy compliance, the interest of users are some of the factors upon which issuance of verification badge is based.
3) Facebook Mentions for iOS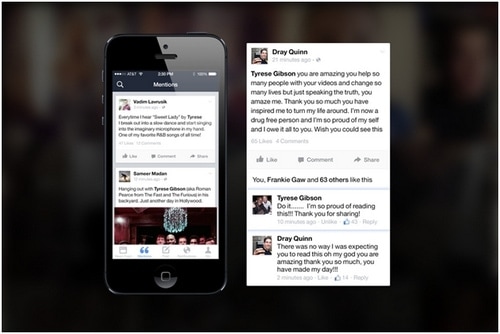 Facebook propelled Mentions for iOS in July 2014 and since then it is enjoying more than a billion interactions on Facebook every week. Celebrities and fans are loving its interactive abilities.
Different benefits of Facebook Mentions for iOS are –
You can use it on your iOS device to see what your fans are saying about you, plus it also enables you to join the conversation and enjoy the interaction
You can use Facebook Mentions for sharing your story as it allows you to post photos, videos, updates, etc. You can also use it for hosting live Q&As
With Facebook mentions, you can be the part of popular conversations going on Facebook. It also allows you to see the latest posts from those people or celebrity whom you follow
Facebook Mentions offer you streamlined notifications about all the costs associated with you. It will also guide you about the mentions from other people or Influencers
iPhone users can download Facebook Creator from App Store to use Facebook Mentions
4) Facebook Mentions for Android Devices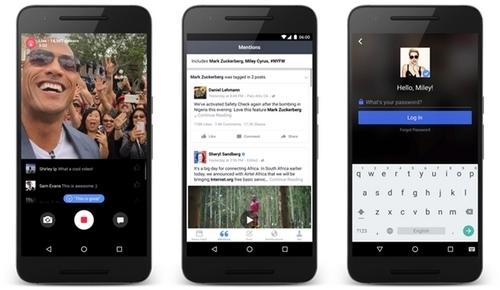 In January 2016, Facebook came up with this Facebook Mentions for Android for the public figures who use Android devices. With the help of Facebook mentions for Android,
different things that you can do are-
You can go live to offer behind-the-scenes footages to your fans and followers
It will also enable you to talk with followers to know what the perceptions that people are having about you. It will also let you know what they expect from you
Facebook Mentions will also help you stay in the loop by finding posts from your peers and influencers whom you follow. You can also get different trending stories
You can use it for telling your story from anywhere. You can start conversations directly from your Android devices and can host live Q & A sessions
Difference between Facebook Pages and Facebook Mentions
Facebook page is accessible for all kinds of businesses, brands and people to promote their brand, business, products or services. It is not essential for anyone to have a verified profile to have a Facebook page.
While on the other hand, Facebook Mentions is offered to the celebrities or organizations who have verified Facebook Page or Verified Profile.
Public figures can use Facebook mentions to –
Discover and join discussions that individuals are having about them on Facebook
Start discussions by posting photographs, videos, facilitating live Q&As or running live video broadcasts on Fb
Get streamlined notices about their posts along with the mentions from other influencers, public figures, and medias
Find out what is latest on Facebook about them and see what is currently being shared or discussed by their fans and followers
Now, let us understand the difference between Facebook mentions and Facebook page in more detailed fashion-
Facebook Mentions Vs Facebook Pages
Seeing the potential of Facebook pages in empowering businesses and personalities to make profits, it is obvious to think why Facebook Mentions then. Therefore, we will perform a comparative analysis of five different grounds to know how both of these apps differ from each other-
The Feed
The primary segment in the menu of the Facebook Mentions App is the feeds and its top demonstrates only the feed items of the home page. You can also see a tab there that indicates Trending Topics.
On the other hand, Facebook Pages application demonstrates the feed from your Fb page. In addition to this, it also highlights the main profile and cover picture and additionally the number of likes on your Facebook Page.
Mentions versus Activity
Facebook Mentions app has all the mentions of yours on Facebook in the Mentions section.
While Facebook Pages have charts or graphs and other extremely cool stats about your posts.
Both of these features are of great importance.
Posting
Posting section is available in both the apps. Facebook Mentions App (top) resembles the Facebook page in this section.
With Facebook Mentions, you will get the chance to post photo, location, emotion or you can also begin a Q&A
Facebook pages have the options of Text, Video, Photo and Event to post on Facebook
Notifications versus Insights
Facebook Mentions application is highly effective in providing Notifications demonstrating a type of insights with the details of statistical information in a sequential way.
With Facebook Pages, you will find out the Insights in a more comprehensive manner that provides result driven statistics of your page. Comparatively, the Facebook page offers higher level statistical details
Final Thoughts
Facebook Mentions is one of the unique and highly personalized apps for celebrities.
Knowing the right use of Facebook Mentions will enable VIPs to enjoy better interactions with the Fans and followers. However, we still consider Facebook page more effective in generating revenues for businesses.
You can start utilizing Facebook Mentions for offering the most interactive experiences to fans and for easing the interactions of celebrities with their fans, followers, and peers.
In case of any doubts about the right use of Facebook mentions, feel free to share your queries in the comment section below.
Liked this post? Check out the complete series on Facebook Marketing