Have you created your business page on Facebook? If you do then are you sure that it is completely fine? Are you sure that you are not missing out on something? Does it have a profile picture? If it does then what about the Facebook cover photos?
Well, if you don't have proper Facebook cover photos, then you are surely missing out on something. In our last guides on Facebook Marketing, we had covered everything related to creating a Facebook page, making the best Facebook profile picture and creating best suited Facebook Cover Photos.
In this guide, we will be covering more important things that can let your Facebook Cover Photos act emphatically to use the real potential of Facebook cover photos.
So, if your profile lacks the cover photo, then you need to make sure that you are able to choose one at the earliest. This article will help you out in doing so. You better read this carefully as it will be a great help for sure.
Actually, Facebook is one of the most popular social media networks that we use nowadays. With the rising popularity of Facebook, there is no doubt that you need to pay attention to every single detail on your profile.
When it comes to the Facebook cover photos, we all know that it is going to be amongst your first impressions to pull in and engage relevant audiences. After the viewers see your Facebook cover photo, they will decide whether they want to continue with your profile or not.
Well, this is something that you always need to keep in mind as it will be a help for sure.
That is why it is must for you to pay attention to some of the Do's and Don'ts of Facebook Cover Photos that we are going to discuss in the next section-
Creating Facebook Cover Photos: The Do's And The Don'ts
Do you think that the Facebook cover photo that you chose for your profile is perfect?
It totally depends on the time that you have spent on choosing the photos.
When it comes to creating the best Facebook cover photos, there are some do's and don'ts that you have to keep in mind. Well, since you are new to this, we are going to help you out.
Here we have some of the dos and the don'ts that you need to follow if you want the best cover photos.
1) Do Follow The Rules Of Facebook Cover Photos
We all know that Facebook has got some important rules and regulations when it comes to posting the cover photos. As a profile owner, you need to make sure that you are properly reading all the rules and regulations that Facebook has for your cover photo.
These are the rules that will help you make sure that your photos are not rejected by the users. This is one of the most important do's that we have for you. Follow this tip and you will be fine for sure.
You need to ensure that your cover photos on Facebook are public. In addition, it is suggested to not infringe the copyright of anyone. You photo should also be not misleading or illegal. You should never ask people to upload the cover photo of your page on their timeline.
In case of any violation of these rules, your page would be subjected to some actions from Facebook.
2) Don't Ignore The Size Specifications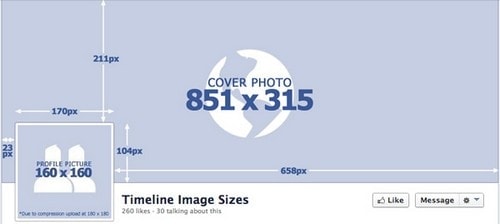 There are many people who make this very common mistake when it comes to choosing the best cover photos. There is a certain restriction on the size of the cover photo. Well, this size will make sure that people are able to view the photos in the best way possible.
However, there are many people who ignore the size limitations and hence end up degrading the cover photo. So, you need to make sure that you are not committing this particular mistake in the first place.
The size of cover photos is 851 pixels wide by 315 pixels tall for the desktop while 640 pixels wide by 360 pixels tall for Smartphone and other mobile devices.
But what would you do if the size of the picture goes beyond the limitations?
Well, in that case, you need to resize it by cropping. This might affect photo quality as well. The best thing that you can do is to select a particular photo that has got a very high quality. This way, you can make sure that even if you crop the photo, the quality doesn't degrade much.
3) Do Have The Balance On The Positioning Of The Cover Photo with Right Alignment
Another one of the most important things that you need to keep in mind when you are choosing Facebook cover photos is the positioning of the photo. When it comes to the profile, we all know that the profile picture stays on the left side of the page.
What you need to do is align the position of the cover photo in such a way that the focus point remains outside the space of the profile photo. If you don't do that, then the main point of focus will be covered by the profile picture.
As a result, the people won't find your cover picture amazing and will move on to the next profile. So, to make sure that nothing of that sort is happening to you, check the position of the cover photo's point of focus.

Aligning important points of cover photos towards right just about your page CTA is considered one of the most useful practices to making an engaging business page on Facebook.
4) Don't Take The 20% Text Rule That Seriously
Most of the profile owners know the 20% test rule. This rule states that about 20% of the cover photo should be kept in the text. While that is certainly a very beneficial thing for the people, this is not really a hard and fast rule now that you have to follow at any cost.
Crossing the limit of the text is something that everyone does. You can do it as well. However, one thing that you might have to keep in mind is that these texts shouldn't overpower the visual effect of the cover photo. Choose the words carefully and don't overcrowd the image with these words.
This is one of the things that you need to do in order to make sure that people love your cover photo.
5) Do Pay Attention To The Image That You Are Choosing
Another one of the most important do's that we have for you here is that you need to check the image that you are choosing for your cover photo. It cannot be something random that you are choosing.
Make sure that you choose a photo that represents the thoughts and the thinking that you have or your brand represents.
This is the only way to reach the minds of people and then make a connection.
If you put some random pictures then people might not be able to understand what you stand for and then end up choosing some other profile. So, make sure that it doesn't happen to you.
6) Don't mix Facebook Profile Picture and Facebook Cover Photos
You should never make cover photos of the Facebook business page in such a way that they can look like a part of the Facebook profile picture.
In the image below, you can see how cover photos is blending with the profile picture which is not good for cover photos.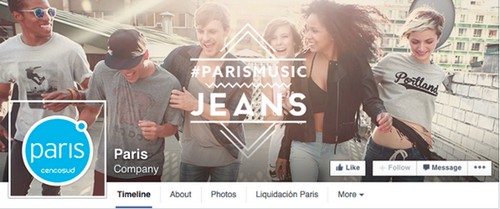 This can be Okay for your personal account but Facebook does not consider it good for the cover photos of business pages.
7) Do pull in the attention of users on Call to Action (CTA) Button
While designing your Facebook cover photos, you need to come up with a design that supports and convinces your page visitors to land on the page where conversion may occur.
This is one of the important practices that will increase the conversion rate of your Facebook page.
Bottom right of your Facebook page can have a CTA like Buy Now or Shop Now, and with your cover photo, you should emphasize upon that button.
8) Don't forget Mobile Users Ever
In today's time, the most number of users come from mobile devices like Smartphone. That is why you should never forget your mobile audiences and your cover photos should also target them as well.
In the below given Cisco Facebook page, you can notice the difference between the cover photos on Desktop and Mobile devices. First, let us see how a cover photo on Desktop looks –

And the same Cover Photo in mobile device follows a different dimension and let us have a look on that as well –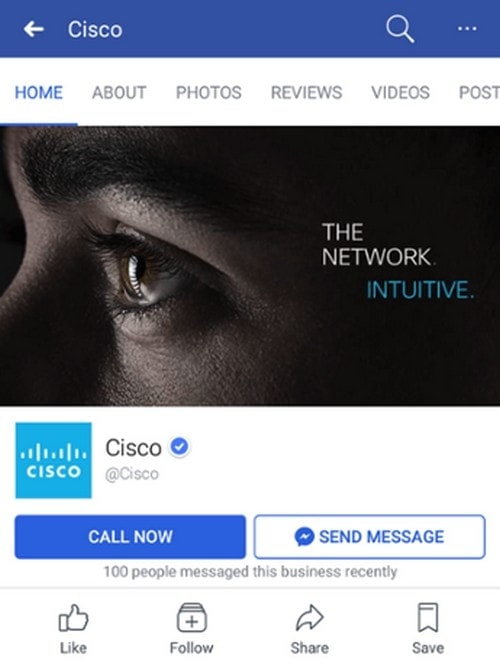 9) Do have a description for your Facebook Cover Photo with the link on Landing Page
You should have a cover photo description that should support your page CTA with a link on the landing page in the description.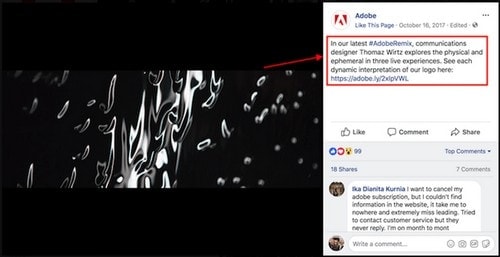 People diving deep into your cover photo will be having the opportunity to land onto the page where visitors can opt for the expected action.
Conclusion
So, these are the do's and the don'ts that you have to follow when you are selecting the Facebook cover photos for your profile.
Make sure that you don't miss out on anything that we said in here.
This will help your Facebook Cover Photos be more powerful and conversion-driven that will increase the sales potential of your business page.
In case of any query related to right cover photo tips for your Facebook cover photo, feel free to write us in the comments.
Liked this post? Check out the complete series on Facebook Marketing