Nowadays with the growth in technology and the advancements, our lifestyle has changed completely. Most of the business owners tend to advertise their business online rather than using the offline medium. Similarly, users also search for the things and products of their interest online rather than looking for stores in their area. Google's local advertising has enhanced the way of advertisement a lot. Advertisements on Google can include your business areas and lead clients to call or visit your place.
At the point when individuals scan for close-by organizations on Google.com or Google Maps (for instance, "restaurants near me"), they can easily find local search advertisements that are popular and functional in their area.
In this manner, the interested customers can easily get to you eventually enhancing your leads and sales. Google has eased the way we look at our market. Earlier it was difficult to find something you were looking for but now Google will lead you to every possible result related to your searches irrespective of their locations. In this way, one can promote one's business in the best way.
Earlier the business owners were unable to reach out to their customers easily but now with the evolution of Google's local advertising facility, they can easily market themselves and can reach their target customers.
There are tons of advantages of Google local search ads, so here we have mentioned a portion of the potential advantages of Local
Advantages of Local Advertising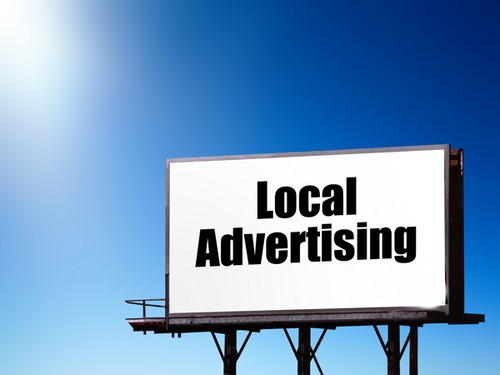 1) Get more store visits
Local search advertisements can imply that you get more and more people in your area to visit your store. Earlier people were unaware of their nearby shops and business owners, so they would easily miss those but now with the help of Google local search ads, people tend to visit their nearby stores more often than ever. This is advantageous for both the consumer and business owner.
2) Get More Calls
These local search promotions incorporate a possibility for clients to call you. They can display your phone number on the ads. People tend to verify the business located in their area by dialing the telephone number provided on the search results. In this way, they can be sure that the store they are going to visit will be able to serve them better.
3) Help clients know more about your business
Local search advertisements connect to your business page, which incorporates data, for example, store hours, address, client reviews, and photographs. With the help of this, the user can easily get to know about your business in a much effective way. This helps in building customer trust. Customers can clear their doubts and queries about the business with the help of these local search ads.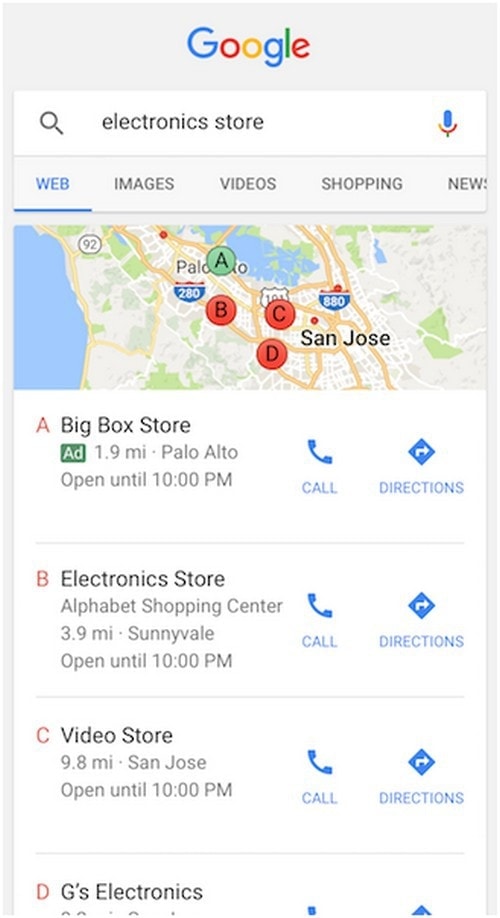 At the point when your prospects scan for any local business or store on Google using their smartphone, your store can easily top the search results. With their mobile phones, the customers can easily reach to your businesses and look for their interest.
Google maps can help customers in the best way to search for their interest in mobile phones. Thus, advertisements that have your location enlisted in the local Ad may likewise show up when clients make searches on the Google Maps application.
Examples of Local marketing on Desktop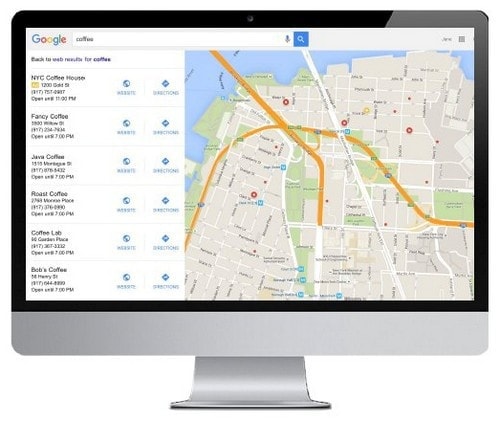 At the point when your prospects look for close-by businesses, they search on Google and tap on "More places" in the local results. By using services of SEO and SEM, you can let your business top the search results. In addition, when your ad includes the location details, it will have bright chances to appear if your prospects search for stores like you are' on Google Maps on the desktop.
Local advertising works on the CPC model and you will be charged as per the click of your preference. Different types of clicks that you may aim for via local advertising are-
Get location detail clicks
Mobile clicks-to-call clicks
Website clicks
Get direction clicks
Where will your Local Advertising appear?
Google Search Network includes a variety of search-related sites and apps that let your ads to appear on them. Let us delve into the places where your ads are going to appear-
You can see these ads above or below Google Search Results. You may also see these ads on Google Shopping, Google Play, Google Maps, etc.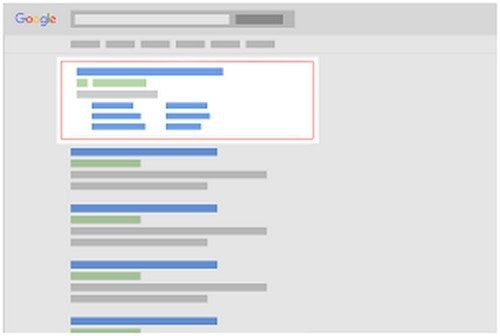 Your local ads can also appear on the websites of Google Search Partners. Local advertising can effectively be displayed on many non-Google sites that partner with Google to show Ads.
Let us now delve into some of the best local advertising tips that can help your business rank good in SERPs-
The process of Local Advertising
1) Register yourself at Google My Business
You should register at Google My Business and fill all the details of your local business. You should incorporate photographs, coupons, videos, item offerings, etc. Adding keywords in description fields will also help you efficiently use local advertising.
2) Use Local Search Ads of Google
Running competitive AdWords campaign can easily help you use the right potential of local advertising. You can run these campaigns based upon the location of your choice to target more customers and enjoy more sales.
3) Pay attention to About Us & Contact Us Pages
You can easily target local terms on About Us and Contact Us pages. You should also provide local business hours, contact info and directions to let your local search be more impactful in front of search engines
4) Let your business be top rated
With the help of good reviews, you can easily boost the online presence of your business in front of local audiences. You should ask your users to rate and review your products and services
5) Focus on social media
Social media is very powerful to take your local ads to next level and it will always help you in ranking good on search engines. That is why you should always update your Google+ and Facebook account
6) Let your business be listed in directories
For effective local advertising of your business, you should let it get listed on a variety of online local directories. This will help your Ad get good links that will ultimately help in boosting search ranking of your Ad. Some of the directories from where you can get citations are Yelp, CitySearch, SuperPages, TrueLocal, Express Update, Citysquares.com, InfoUSA, BOTW, Business.com and so on.
7) Use Location Extensions in your Ad
Local extensions let your ads be recognizable in the location where you want to advertise your products and services. You can use it to show your ads with your address. It will also let you add a map to your location. Adding distance to your business can also be done by using a location extension feature in your ad.
Users and prospects also click on your extension to get more details about your location. You can land them on the location page on your site. You are also allowed to add a phone number or call button in location extensions that will compel users to make a call to connect with you.
8) Show Local Search Ads on Google Maps
When you use local advertising on Google Maps, you get the most powerful advertising tool that can efficiently attract all the nearby customers and ensure conversions. While running a local business, it is very important that you use the ad on maps, as this will make it easier for the people who are looking for a business like your' in their location. If you run a local business, Ads on Maps make it easier for people to get to your location. For enabling Google Maps to display your local search ads, you need to follow below-given steps-
First of all, you need to enable location extensions for your Google Ads account and then you should update or set up Google My Business Listing
Now you need to use location targeting. Once you do this, you need to bid by location. It is advisable to target a particular location and set bids accordingly
Finally, you should optimize your keywords and start using those keywords in your local advertising campaigns that are associated with your location. You should also use those location oriented keywords that your audiences are searching
Summing Up
On the concluding note, we hope you would have understood what local advertising is and how you can use it to optimize your business in front of your target audiences in the most efficacious and result driven way possible.
In case of any query about local advertising, connect with us in the comment.
Liked this post? Check out the complete series on Digital Marketing