Business blogging is a tactic used by marketers to attract a very targeted audience to both, increase online visibility and for public relations purposes.
Business blogs must be maintained to provide a great value to the readers and promote the business at the same time as the audience to business blogs are also expecting it and that is why business blogs, if set up correctly, can produce very high ROI.
More and more large companies are now using business blogs to expand their reach and integrating blogging into their daily business activities. But it doesn't mean that business blogs are only for large companies having huge marketing budgets.
Small businesses can also use a blog to establish themselves in the online space. And the best part is that starting a blog does not even require any large investment and if used properly, can help you reach to a large number of potential customers.
Let's understand how you can use blogging for business and why it is so valuable.
How are Business blogs beneficial to businesses?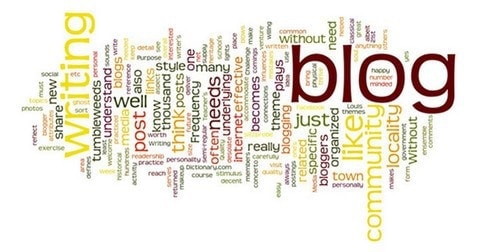 Primary Goal of blogging for business is revenue. I am repeating this again as most people just don't understand this, traffic is not the key, revenue is.
Also, it is evident from the results that blogging for business is essential but still, not many businesses are using blogs for their business and those who are using it, don't utilizing it completely.
The blog is a customer acquisition channel and not traffic acquisition channel. The process of business blogging is pretty simple, your target audience find you > follow you > and buy from you.
According to recent statistics, B2B companies using blogging for business receive 67% more leads every single month and 53% marketers say that creating blog content is their top marketing priority.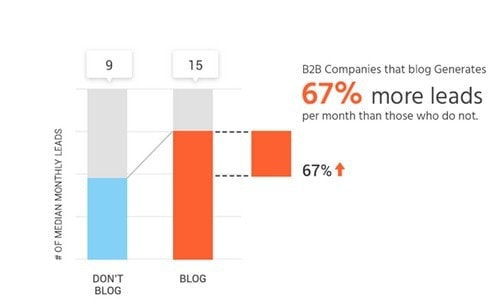 97% more inbound links (backlinks) to companies having a business blog, +434% more indexed pages of company websites having blogs as compared to companies not having a blog and 70% of consumers learn about a company through their blog rather than display advertising.
There are many similar statistics that demonstrate the power of business blogs and how they can be used to get a lot of customers. That being said, let's see how you can start a business blog effectively and with proper strategy!
How to start a Business Blog?
Though starting a blog is a very easy task now and anybody can start their own blog in an hour, but business blogs are different than ordinary blogs.
Business blogs must be strategically planned and always focused on what is necessary for their business.
As every business ultimate goal is to make profits, the business blog can help you do that easily as… Blog = Traffic = Audience = Sales.
Through your blog, you will get traffic, then you will have to convert the traffic into your audience (by subscribing them to your newsletter for example) and then finally convert your audience into sales.
Now, let's understand how you can start a blog for your business and increase your revenue…
How to Start a Business Blog?
1) Understand your Audience
The first and most important step is to understand your audience before publishing any random post. If your company is already established in offline space then you will have enough data to create your customer persona and use it to establish yourself online.
Use multiple data sets like what is the age group of people you will target? Where do they live? What do they do? Can they easily spend the amount you are asking for your product/service? What are their buying habits? What results are you looking to achieve?Gather data from multiple sources and then review it.
Ask yourself: "What are the chances that a person, looking for that thing in Google and reading my article on that topic would become my customer?". Then try and create 1 to 3 buyer personas and keep their key characteristics for your reference.
2) Start with a Niche
There are hundreds of thousands of blogs available on almost every topic and no one needs another investment or business blog. But the world does need another blog about drop shipping, offline marketing methods etc.
If you want to establish your business blog as one of the best and top blogs in your industry, you have to find a niche with which your target audience can identify with YOU. Find what problems your customers or potential customers are facing. For that, go to forums, QA sites and use online tools.
3) Don't publish too often
Once you have prepared topics for your blog posts, plan them and create a content calendar. Commit to publishing once every 1 to 3 weeks when first starting out. And spend that "extra" time writing absolutely epic stuff and promoting it endlessly.
4) Do SEO
Best way to get your newly launched business blog or existing blog in front of new people is to get it in the search engines. Google is the best source of targeted traffic for a blog and search demand is key.
Do keyword research and think what queries your audience might use that can make your blog appear in search results and then sprinkle those keywords in your business blog content. SEO is actually a little complicated than this but you get the idea!
5) Sharing your blog
It's good to spend time in planning, preparing and writing but there is no use of that if people are not coming to your blog and reading what you have published by putting so many efforts.
If you have a social media presence already then use that else start using social media to share your content and to drive targeted traffic. Start sending newsletters and spend your time in promoting more than in writing.
Lastly, don't forget to include a CTA (Call To Action) in every post of your blog. Include CTAs on top, middle and bottom. Use call to actions to direct your visitors where you want them to go next after reading your post. CTAs do the job of converting visitors into your customers or getting any particular task done like sign up for trial or subscribing to newsletters.
Do everything you can to first get the audience and then converting that audience into your paying customers. Now let's see some of the advantages of having a business blog.
Six advantages of having a business blog
Every business whether small or big needs customers regularly to survive in this ultra-competitive world. As the continuous flow of customers will increase, your revenue will also increase.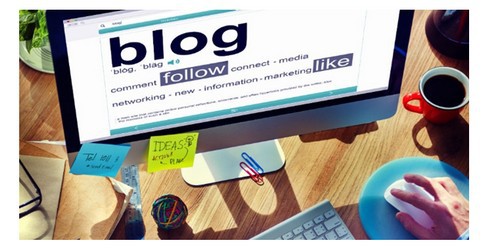 So focusing on the business value of blogging is very important. Here I will share with you some advantages that you will have with business blogs.
If you are a software company and if your target audience is not limited to only a specific region, then by blogging for business, you can easily leverage the power of the Internet and present your company at the global market. To further extend, you can also blog in multi-language and with that, your reach will increase exponentially.
Your business blog will help you to connect with the influencers of your industry and even other companies which can be your customers. You can then easily develop the relationship with them and make them your customers or simply take their help to grow your business.
Even if you post weekly or monthly, you can connect with your existing and potential customers at a personal level and inform them about your latest offerings and/or product updates. Blogging gives your business a chance to establish a unique presence online and give the option to your potential customers to learn about your company.
You can use a blog even before you start selling your main product or service and build a brand so that when you finally launch yourself in the market, people will already know you and you will get initial sales very fast.
By sharing your business blog posts on social media, you can drive a good amount of highly targeted traffic to your website and then you can easily convert that traffic to your customers. It also helps in improving your site's SEO which brings long-term results.
And you can also use your business blog to do market research and find out the problems which your target audience is facing. As ultimately, every business aim is to solve people's problem and earn money while doing the same. Through your blog, you can take surveys and encourage your readers to interact with you and share the problems which they are facing. Then you can use that data to further refine your products/services and prepare future strategies.
Some examples of good business blogs
1) Backlinko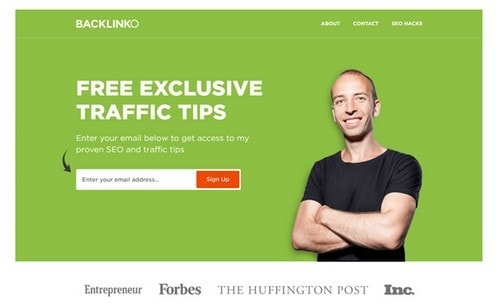 This blog by Brian Dean is a perfect example of how one can use blogging for business. Brian Dean uses his blog not only to have some content but to interact with other members of the community and uses his blog to educate his target audience.
Readers see Backlinko as an industry leader and people go to Brian's blog looking for advice and to be educated. But actually, Backlinko is not just a blog, it is an online courses business and Brian Dean uses his blog to gather the highly targeted audience and then sell his courses to his audience.
2) Hubspot
Blogs by Hubspot are really very good and Hubspot business blogs are the true inspiration for anyone looking to start their business blog. Hubspot has divided their blog into Marketing blog, Sales, and Service blog. Due to their strategic planning, they get millions of traffic every single month and that's a lot of potential customers.And Hubspot uses a lot of CTAs and giveaways and it helps a lot in the list and audience building.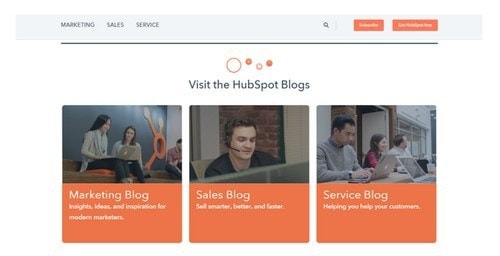 How to measure the performance of your business blog?
Most companies start business blogs and they even become successful to bring traffic but then they wonder, traffic came up, but there is no revenue coming in, why so?
You can use Key Performance Indicators (KPI) to measure the success of your business blog and to know if your efforts in business blogging are helping you grow or not.
The number of sales/orders are important numbers to take into account while measuring your business blog success.
Finally, things to avoid while blogging for business
Writing and managing a business blog can be sometimes tricky but we've got you covered. Below are some things to avoid so that you can experience good results with your business blog.
Avoid publishing content randomly. Plan a proper content schedule and stick to it. Don't just publish the post on any random topic.
Don't just create more content for the sake of it. Create only valuable content which is targeted to your audience and which you think will help your readers.
Don't avoid SEO. Start optimizing your blog and content properly to get long-term SEO benefits as you can get a ton of targeted traffic from search engines for free.
To create a successful business blog requires proven formulas. Publishing content timely won't help you. Research and follow some proven principles to make your business blog work.
Include engaging graphics also in your content as some do the mistake of publishing great content but they don't focus much on creating and including related graphics to content. Images can help a lot, both in SEO and customer engagement.
Don't spend all the time in just creating. Spend more than 50% of the time in promoting which the content which you have already created as without marketing of existing content, there is no use of publishing more content.
Conclusion
If you are just starting or you have already an established business blog, it's never too late to start applying new strategies to drive traffic, increase conversions and make more sales. Just be relevant to your audience, focus on quality over quantity and get creative with what you do.
In short, business blogging is a very effective method to increase sales and get your website found by your potential customers while spending very little.
Liked this post? Check out the complete series on Blogging