Introducing eCommerce Trends 2021
The e-commerce industry was booming on a global scale in the last few years and growing from strength to strength. 3.53 trillion dollars of worldwide revenues for ecommerce trends 2019 is no mean feat, and even the e-commerce future trends project growth of more than 6 trillion dollars in the next few years. The pandemic Coronavirus or Covid-19 has no doubt put a snag in its way but not to worry as it will be one of the first industries to bounce back.
The revenue figures are a testimony for the trends in the e-commerce industry. It is imperative for companies to monitor and analyze these ecommerce trends if they want to implement schemes that will take their organization forward.
It is a proven fact that good user experience will result in better sales figures and, ultimately, more significant profit margins. The e-commerce companies need to offer value and the best possible experience to their users so that they get hooked to the portal. Here are some of the ecommerce trends that have to be watched over for the future growth and prosperity of an e-commerce entity.
1. The e-commerce industry after the pandemic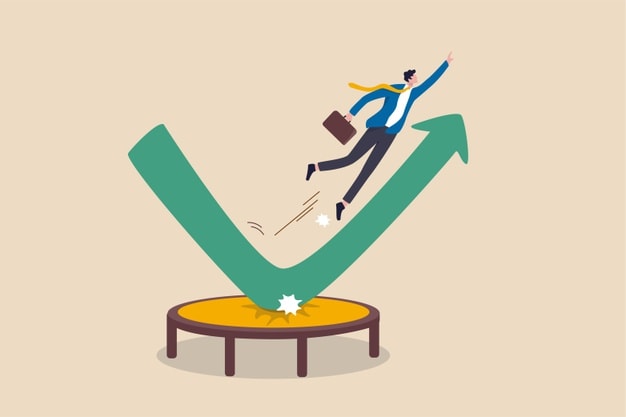 The pandemic Covid-19 has put brakes on almost all the industries of the world. Its power has been felt on a global scale, but the fact remains that e-commerce industries have started bouncing back as the year moves on.
The pandemic has changed the buying behavior of most of the consumers, and now even the traditional individuals who were not interested in online buying have started considering this option as the best means to fulfill their shopping desires.
Most countries have taken the help of lockdown to curb the disease, and during this period, consumers have realized the importance of online buying. Most of the brick and mortar outlets are closed, and even in places where they are open, people are not willing to risk exposure by stepping out for a buying spree.
This is the reason why conversation rates have increased to outstanding figures all over the world. This is the right time to garner revues through your e-commerce site.
2. AI or Artificial Intelligence
Artificial Intelligence is the new tool in the town to boost gains from the sales figures. It is hailed as the best of the latest ecommerce trends and is considered a blessing in disguise for e-commerce portals.
Integrating AI tools in the system will help the portals in identifying and segmenting patterns based on the browsing history of its customers. This will lead to store personalization and automated marketing.
Artificial Intelligence will be programmed in such a manner that they will help the shopping portals to know about their customers in great detail, connect data of the customer with real-time insights, automate tasks and optimize demand, discount and pricing forecasts and offer a personalized experience to the people who so desire. Overall, Artificial Intelligence is essential as it will help to make smarter choices.
3. Automated Marketing
If you are on the lookout for the latest ecommerce trends, then look no further than the concept of marketing automation. It includes easy-to-access shopping carts as well as personalized landing pages to hook the customers to its portal.
The automated marketing process has become a personal favorite of e-commerce owners as it helps the site to customize its store offerings to suit the personal needs and requirements of its customers.
When a customer visits the website and clicks on specific products or services, it has a direct impact on the automated recommendations. Through the automated marketing process, the e-commerce portals display products and services on its site based on the visitor's shopping history, send tailored emails to suit their preference, and retarget them for repeat product sales in the future.
4. Advertising
Ecommerce trends 2021 shows a significant tilt towards programmatic advertising to lure in the right target audience at the right moment to the right ad. The sophisticated and highly efficient ecosystem of programmatic advertising is an automated bidding system that has proved useful for e-commerce industries in knowing about the ad impression within milliseconds.
It uses a database to identify the target audience based on consumption. The contextual advertising refers to context advertisements that blend with the content to boost its desirability.
The programmatic and contextual advertising increase the chances of e-commerce owners reaching out to a larger target audience. The consumers are later retargeted to generate further ROI.
The social media portals are hell-bent on catering to the trends of programmatic and contextual ads to hook consumers to its site.
5. Better Shipping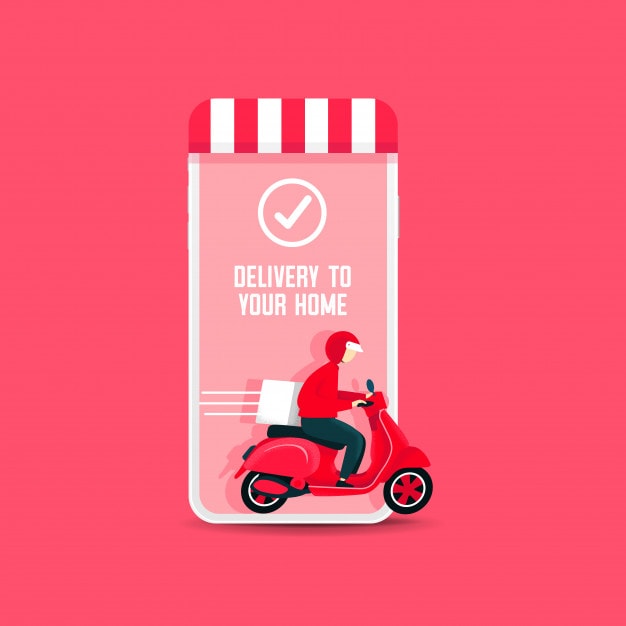 The one area where most e-commerce stores flounder is during shipping and logistics.
Ecommerce trends 2021 emphasizes enhanced shipping options so that the portals can hook more customers to its site and garner better sales figures. Same day delivery and free delivery are, no doubt, a hit amongst the consumers.
Amazon, the e-commerce giant of Jeff Bezos, has started the concept of drone deliveries in the United States of America for testing its suitability. The drones with help from Google Maps Integration, discover the shortest route, and deliver the product at the destination in an impeccable manner.
E-commerce future trends predict that delivery drones will become a reality very soon as the technology is gaining momentum day-by-day, and e-commerce owners are ready to integrate new and advanced technology within their system to make it more proficient
6. Voice Search
Google has introduced a new set of guidelines so that e-commerce portals can optimize their content with the help of voice search. It has put the onus on textual content and voice-enabled buttons that will boost the rate of conversions through smart speakers.
To help users in placing orders through smart speakers and gain leverage over its competitors' several high-profile e-commerce brands like NorthFace and Amazon have created their voice assistant apps. As per the future ecommerce trends by the year 2025, there will be a surge in the usage of smart speakers. Individuals will rely on them to do most of their work, even buying products at online portals.
Voice assistant will save time that the consumer will have to spend otherwise on browsing. It can be a help in getting shipping information and following it through until the product is delivered at the door.
Voice assistants can also enter payment, repeat orders, and even cancel them if so desired. The ecommerce trends show a lot of potential in gaining high ground over physical stores.
7. Mobile Transactions
Individuals find mobile devices to be handier than their laptops or computers. The latest ecommerce trends point to the fact that the portals should make their sites mobile-friendly.
It has been proven that mobile transactions are on a rise year after year, and if you do not have a mobile responsive site, then you are going to lose big time to other shopping portals that have these facilities. As per published reports, an estimated 73% of online sales will start taking place through mobile devices by the end of the year 2021.
This is because shopping via a mobile connection is much easier than via desktops. The use of progressive web apps or PWAs will encourage mobile users to work easily and effectively.
8. AR Kit
Technology is reigning supreme, and the e-commerce sites that have integrated the latest tools like AR kit are the ones that are making waves in the industry.
The smart devices with VR/AR-enabled services are creating a change in ecommerce trends. AR has proved itself as a game-changer for online shoppers as it helps customers to visualize the products and services they are interested in so that making a choice is simple and easy. For instance, you want to paint your home and are looking at various color combinations.
The AR technology will prove a blessing and help you visualize how the colors will look on the walls. Consumers can browse anytime before hitting the button "Buy Now." It is as if the consumer can see the product first-hand before coming to a viable decision.
The furniture brand Burrow also takes the help of AR technology so that interested customers can visualize how the couch will fit in the desired room.
IKEA, the e-commerce giant, has integrated a new app on its website that will allow its user to use the mobile camera so that they can visualize the furniture displayed on the site in their homes.
Google has initiated the use of AR Core through its Android smartphones, and Apple has launched its new AR kit for iOS 11, its new operating system.
9. Photo Apps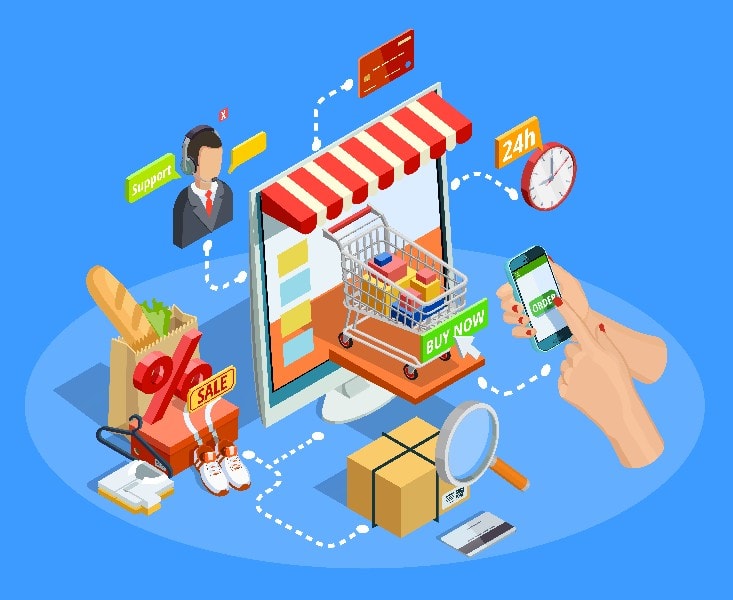 One of the most popular ecommerce trends in 2021 is the use of photo apps for online shopping.
Currently, few photo apps are available in the market, for instance, CamFinder that helps in selling and buying of related products via photoshopping. Ecommerce trends and prospects suggest the emergence of image shopping trends, and this is why several e-commerce sites are hell-bent on launching their photo apps for snap and shop.
Pinterest has entered into a partnership with several e-commerce sites as well as search engines so that they can avail of the services of its photo camera. This app recognizes, identifies, and interprets images to give an accurate description of the product to the sites who use this information to sell products to interested customers.
10. Subscription-based models
Online shopping trends statistics and emerging trends in e-commerce predicts a rise in subscription-based models because of personalized offerings.
It is in the interest of the e-commerce sites to use this prediction to replicate and integrate a subscription-based model within its system so that they can encourage recurring sales
11. AI-powered Chatbots
Chatbots help e-commerce sites to connect and communicate with all its customers. It works like a typical salesperson by giving the customer personal attention and even recommending specific products and services based on personal search and responses.
E-commerce strategies 2021 include the use of AI-powered Chatbots. Future predictions show a considerable growth of smarter and cheaper Chatbots that will boost user engagement by offering appropriate options.
As per the latest reports that have been published related to ecommerce trends, more than 60% of the customers were in favor of Chatbots as they were able to answer simple queries on time.
12. Blockchain
Blockchain is the new kid in the town that shows a whole lot of potential. Future eCommerce trends predict the growth of blockchain-based apps in the market that will encourage crypto payments.
E-commerce sites like AORA, Zeex, Retail. Global, Purse, etc. have taken the help of Blockchain in taking the next step towards the future. OpenBazaar is a P2P e-commerce portal that uses cryptocurrencies in its dealings.
13. Social Payments
E-commerce industry has been encouraging social payments for a very long time. Recent trends in e-commerce suggest more and more buyers prefer the transfer of funds through online platforms rather than the COD or cash-on-delivery options.
The major players in the field have their version of social payment schemes, for instance, Facebook Payments, Google Wallet, Twitter Buy, and Apple Pay, to handle payments effectually.
14. More payment options
There was a time when there were not many payment options for people interested in online shopping. With time the scenario has certainly changed as customers can avail themselves of multiple options.
Besides the payment options as mentioned above, shopping portals are also allowing customers the option of payment through cryptocurrencies and digital methods.
Ecommerce trends show that the shopping sites are trying to make payment processes simple so that the customers do not have to face any unnecessary hassles on the way.
15. Surge in post-payment options
Ecommerce trends 2021 project a rise in post-payment options in the near date. There are times when the customers show an interest in specific products and later drop the idea.
The e-commerce sites that have incorporated the post-payment options have benefited from the scheme. It allows the customers to make payment after receiving their order.
16. Enhanced CRM
If you are looking for useful ecommerce trends, then an enhanced CRM or Customer Relationship Management system can work in your favor. It will be a blessing in building communities and engaging customers for the future growth of the site.
To boost CRM, find out relevant information about the customers through referral programs, surveys, loyalty programs, customer groups, emails, SMS, on-site chat, order status, etc.
Remember, enhanced CRM will result in better customer engagement and higher conversion rates.
17. Customer Experience
If you are looking for ecommerce trends, then put your onus on personalization as well as localization. Personalization refers to offering personalized products and services to customers.
The website uses data points, for instance, demographics, social behavior, shopping cart, buying history, and search queries to personalize its portal so that it can deliver relevant merchandise. Localization refers to identifying the consumer's IP address and altering content on the website to provide him with contextual products and services.
Both localization, as well as personalization, are essential tools that will help in offering easy navigation, faster shipping, and low prices for the best possible customer experience.
18. Second-hand market or re-commerce
Ecommerce trends 2021 has put a whole lot of emphasis on re-commerce or selling of used products. This type of market is at its peak, and it is now considered advantageous to deal with used products.
Ecommerce trends infographics suggest that individuals are seeking used goods of good quality that has still a lot of wear in them at bargain prices.
High-end apparel from some of the best labels, pieces of equipment, machinery, furniture are some of the products that are in high demand in the current scenario, and the best thing is that the trend will continue at a higher pace in the years to come.
Numerous e-commerce portals have made a name for themselves by reselling quality items at reasonable bargain prices through value propositions, sustainable products, and low costs.
19. Omni-channel Personalization
Most of the consumers love to engage directly with the people who are handling the products and services of a brand or an organization. This is not possible when you are shopping through online portals. F
uture ecommerce trends suggest creating an Omni-channel brand that will offer an opportunity to connect with the customer on a one-to-one basis. This will pave the way for advocacy and brand loyalty for sustainable growth.
Several online portals have considered the trends and have opened pop-up outlets to create a buzz for their brand. Developing an Omni-channel strategy will help the portal to gain a competitive advantage over rival brands and portals.
20. Multi-channel selling options
According to several reports, consumers prefer several buying options and try to purchase through different means.
It can be online shopping, retail marketing through physical stores, or any other outlets.
Future ecommerce trends show the behavior of the consumer and how he is looking at various options before making a purchase. Online sites have to look at the emerging trends and make themselves available across all the possible channels that a consumer can use. It is in their favor to use multi-channel selling for future growth.
21. Fulfillment options
Abandoning the cart is a common problem that most of the e-commerce sites have to face. Fewer delivery options, lengthy times in the shipping, and the high cost of shipping products are some of the excuses that customers generally give around fulfillment issues.
Future ecommerce trends suggest giving the customer the option of picking up the merchandise from their brick-and-mortar stores if they have one.
If the online portals do not have such a facility, they can partner with existing physical outlets and cater to customers who are interested in choosing BOPS options.
22. Be International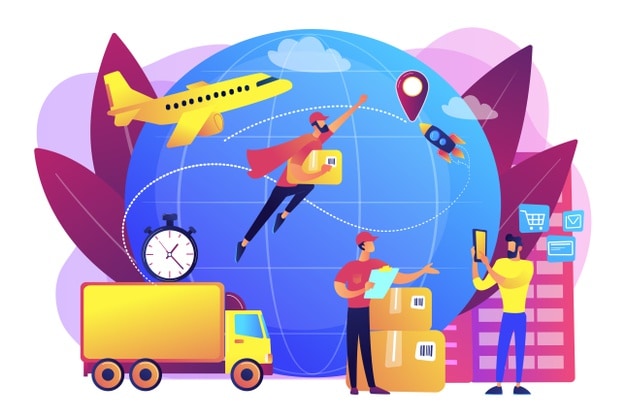 Ecommerce trends 2021 suggests going international to create a name for itself in the global arena. It is a fact that buyers love international and cross-border products, and this is the right time to look at your international strategy and take a step in the right direction.
23. Customized packaging
It is a proven fact that it is packaging that helps the brand to earn brownie points amongst its customers. As per the recent reports, more than 68% of people reported that they were attracted to a product because of unique packaging.
Future ecommerce trends show a growing fascination for customized packaging. If a site is looking to grow his business, then he should seriously consider this trend as a boon and take its help in boosting sales figures.
24. Onus on simplicity
Ecommerce trends show that sites are trying to focus on core products. They have realized that quality triumphs over quantity and have decided against the overload of choices.
The disadvantage of too many choices is that consumers become confused, and sometimes they do not buy anything because of it. Limited offerings look attractive to customers as they believe that the brand is putting their onus on giving the best possible option for the customer instead of just boosting their sales figures.
Several e-commerce sites like Casper and Bonobos started with one product each, a mattress, and a pair of pants, respectively, and today is among the top earners in the industry despite few products in their kitty.
25. Influencing marketing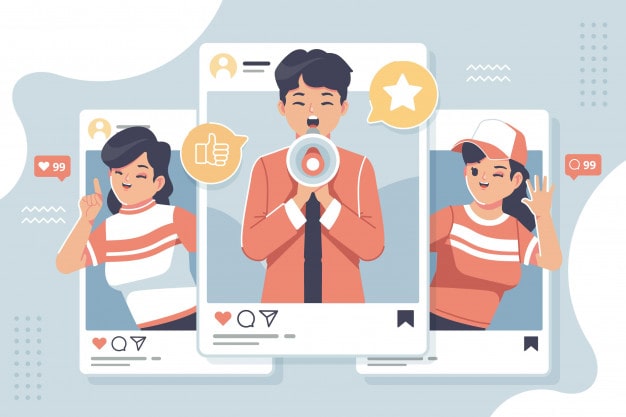 Ecommerce trends show that the best way to catch the eye of potential customers is by taking the help of influencing marketing. Every buyer is looking for a nod of approval, and if the recommendation is from someone influential, then it is a win-win situation for everyone concerned.
It is a fact that micro-influencers play a more significant role in influencing the customer than celebrities as people trust them to speak the truth.
Conclusion
New technologies and the changing mindset of the consumers, along with consumer behaviour and preference, are powerful tools that will help e-commerce sites to become better and more prominent in the times to come.
This will be possible if the websites focus on emerging ecommerce trends and implement strategies accordingly to boost their conversion rates.
Liked this post? Check out the complete series on E-Commerce