When it comes to website publishers, an age-old debate has been about which is more important – page views or page visits. In an ideal world, both of these would be one and the same,  but the world is far from ideal and thus these two measures of the success of a website and reach are entirely different from each other – no matter how similar they sound.
What are Page Visits and Page Views?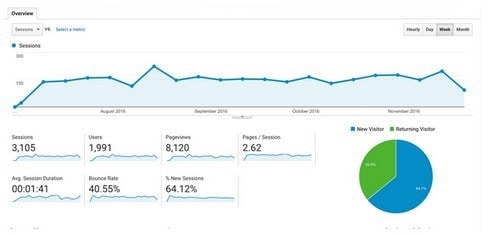 So first let's get the basics out of the way.
Page visits are the number of people visiting your site. So if you have visited this site, you are one visit to my website. Similarly, approx 20000 people visit marketing91 a day. So i have 20000 visitors. These are single visits from one single person.
Page views are the number of views the website or a webpage gets over a period of time. For example, if you are reading this on Chrome browser using your laptop, this will be a one-page view besides a single page visit. Now when you move on to read a second page, thats 2 page views. But the page visits are the same because you are the same person. Thus, a single page visit can result in multiple page views because one reader coming on my site can view multiple articles.
If you close this page but open this again on your laptop using Chrome, then that will be two page views. So long as you don't change your device and your browser, each time you visit the page will be counted as a distinct page view. However, in such a case, even if you visit the page one hundred times a day, you will still be one visitor as you are using the same device and browser.
To be counted as a unique visitor each time you visit a page, you need to change either your browser or your device.
For example, out of the 20000 visits mentioned above, if you used your smartphone the first twenty times, your laptop the next twenty times, your desktop the next twenty times and your tablet the remaining 40 times, you will be registered as four distinct or unique visitors, even if you used Chrome on all your devices, provided you are not signed into Chrome on any device.
This is important because, in this day and age of connected living, browsers sync data among their counterparts on different devices. To do this, they utilize the user's email ID – Chrome uses their Gmail IDs. This means that your email ID acts as your identification on all sites you visit.
So if you are signed into a browser with your email ID, no matter what device you use, you will still be considered as one visitor. However, if in the above example you were to use separate browsers to access the page, then you would be counted as different visitors. This would work even if you were to sign in to the different browsers with the same email ID.
Now that we got all the complex stuff out of the way, let's talk about why page visits are considered as important data for a website or webpage.
Why are Page Views Important?
A primary advantage if page views lie in their simplicity and ease of understandability. For the most part, the term "Page View" is self-explanatory.  Also, page views do not take into account whether the view is taking place on a new visit, or within an existing visit which provides for easy analysis of the figures overall.
A site that largely depends on page views to measure its growth and popularity can have the added benefit of providing its users with better privacy while using the site. This is because such a site does not need to track users to count the number of page views. This means that such a site can maintain better privacy regulations than others.
While page views don't tell you what type of users are accessing your site, they are amazing for getting real-time optimization and feedback as you can see the effects of your work immediately. This gives an edge over competing websites to develop better and more relevant content as quickly as possible
Page views are considered more important for publishers of advertisements as each page view amounts to a view for the advertisements on the page. This becomes even more important if ads are sold on the fixed cost per fixed views, such as cost per thousand views or cost per ten thousand views. However, this often leads to sabotaging the seamless user experience by putting more ads on the page.
Example – Sites like News sites mainly make money through advertising. You will see lot of ads on these sites. Thus, for such sites pageviews is more important then visits. Because each pageview is a advertisement being loaded and a small bit of money being earned. So the more the pageviews = the more the earnings.
Why are Page Visits Important?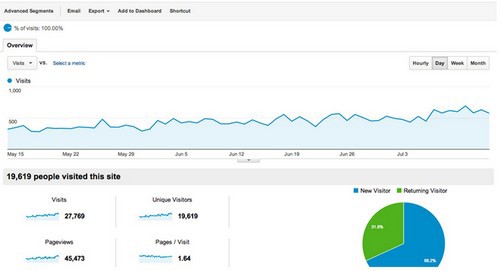 The number of visits to a page on your website or to a particular article can lead to a clearer understanding of the demographic your content seems to attract. We all start with a niche readership in mind. But quite often the readership we actually get might be different. Page visits provide valuable insights on how and from where the content is accessed, which is immensely helpful in preparing for future content to be uploaded.
One of the advantages of page visits is that this data takes into account messy user behavior. Which means that it also counts those visits as valid where the visitor simply pulls up the webpage, stays on it for some time (even for a few seconds), but does not actually read any content or even does not click on anything. This is helpful for sites when they advertise how popular they are as this will inflate their visitor count.
Another advantage that Page visits provide over page views is largely psychological. Since the number of page visits represents the number of people that have visited the page, the sites with the higher number of visitors are considered to be more popular than their peers with lower site visits but with higher page views. This is due to the popular perception – which is wrong, nonetheless, those site visits represent actual people.
A best example of Page visits being important are E-commerce sites. On an E-commerce site, if a user has 100 pageviews but 0 products are bought, then the page views are useless. Instead, if there is 1 visit, 10 pageviews and then 1 product is bought, then that visit was important. Hence, an E-commerce site will always focus on page visits – getting people to their ecommerce site. Because those page visits can convert to customers. Hence, for E-commerce page visits are important.
The Final Verdict
The metric of page visits trumps the tally of page views simply on two grounds – firstly, to the lay user, page visits are a more important measure of popularity as they are perceived to represent actual people rather than devices, which is the real case.
The second reason for page visits trumping page views is that while human behavior is unpredictable and messy, this makes no difference when counting page visits as they take messy and unpredictable behavior into account and this enables site owners to inflate their popularity. It is for these two reasons only that Site visits are more important than Page views when measuring the reach, growth, and popularity of a site.
Liked this post? Check out the complete series on Digital Marketing