Maybe you are looking to start a blog and cannot find what to blog on; we suggest you not to begin at all! Are we discouraging you? Not exactly. Starting a blog just for the sake of it, not something we would recommend, for you will not have your heart in there.
And in a creative activity like writing or blogging, keeping your interest is one of the most vital aspects you need to take care of. Here are a few examples of successful blogs that can help you understand what you would need to attempt creating in your blogs.
So, what are you waiting for? Check these wonderful blogs that have been successful enough and have inspired a lot many bloggers.
A Few Good Blog Writing Examples
We have made it a point to include blog examples from different genres. This will give you a clear idea on what you need to look for in your blogs and how to develop them.
The Blogs on Saving money
That can be one of the excellent genres, to begin with. People tend to look for options when they find they are not able to save money.
1) Skint Dad
This is an excellent blog you can look up to. It provides you with ideas on how to save money. Apart from helping you stay frugal in terms of finance, it also lets you learn how to make a little more money over your daily earnings.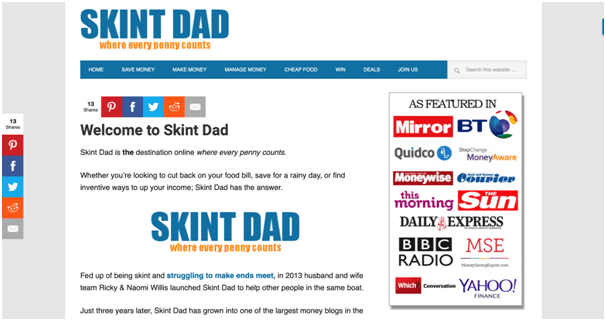 Given the most common scenario where most dads find themselves being the sole bread earners for the home, the website offers you a few insights into how you can earn a little additional money to make way into your wallet. The blog has become successful solely on the grounds that earning and saving money is one of the primary aims of anyone's mind.
2) SoloPreneurHour
As the name itself should be indicative enough, this blog is all about creating your wealth through a few insightful entrepreneurship ideas. The blog is well designed and has a podcast feature. In fact, the podcast option within the site is one of its strongest features.
They have been providing ad space within their podcasts, and that is one of the best options you can adopt in your blog to earn that extra income. SoloPreneurHour should be your excellent option for learning how to create podcasts in your blog and make some quick money with ads.
3) The Tech Blogs
This is the most common types of blogs you can employ if you want to create a good blogging experience. What makes it the best is the fact that there is a good deal of content available so that you will never face a dearth of ideas, to begin with.
4) Knowtechie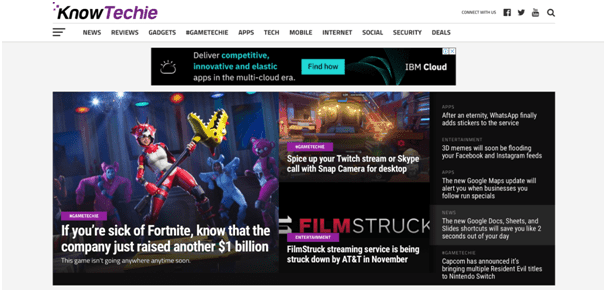 This is one of the blogs in the tech genre we liked the most. In spite of being a tech blog, it isn't too techie or difficult to understand. In fact, the site made its beginning with a solo writer who is passionate about technology and what he loves about it, it has now developed into a full-fledged website with a team of writers working on it.
The blog has been treated as the best example of how a hobby can be converted into a full-fledged business. The kind of simplicity that the write-ups use so that the concepts are understood even by the laymen is what we like the most about Knowtechie.
5) Wired
Focussed on emerging technologies and its effect on culture, it is one of the most successful tech blogs that treads a different path. Well, there are several blogs you may come across, but opting for a specific approach and achieving success can be one of the unique concepts in itself.
Again, this is one of the rare blog examples that lays a lot of focus on the current trends and provides an insightful discussion into the effects it will have on the world at large. In fact, what makes it stand apart from the rest of the tech blogs is its focus on the impact of technology on politics, culture, and economy rather than focusing on the technology itself.
6) Parenting Blogs
Becoming proud parents of a bundle of joy can be the first thing on anyone's mind. But, with the concept of parenting having multiple angles and other aspects, it is not that easy to assimilate and execute what you need to do as a parent. That probably explains why parenting blogs have become a popular niche in themselves.
7) We The Parents
Most of the parenting blogs tend to view the concept from a single angle – while some of the blogs are focused on the father, while some other focus on the mother. However, We The Parents focusses on both the parents.
Started by proud parents, Neve and Keane, it should be an excellent blog in every right as it provides you with the real-life experiences of the parents than offering you those boring academic versions of how to parent. It also has the best-optimized blog structure that is both exciting and fast to load.
8) Food Blogs
This is yet another genre that can be developed in a gradual manner. If you are a cook yourself and love sharing your skills with the world around you, this can be the best genre you can experiment with. You need not be a chef to create a food blog. It just takes the right amount of passion for the same.
9) Cookie and Cate
This is a classic example of how you can strike a bond with your audience with the simple and compelling food content. It features a good deal of excellent food items made of pure vegetarian ingredients and an easy to navigate category listing.
What we love here is being healthy, but never imposing too much of it which eventually strips the food of its taste and richness. It is ideally the best food blog that been able to achieve a cult status within a span of eight years. Needless to say, it has fans among celebrities.
10) Pinch of Yum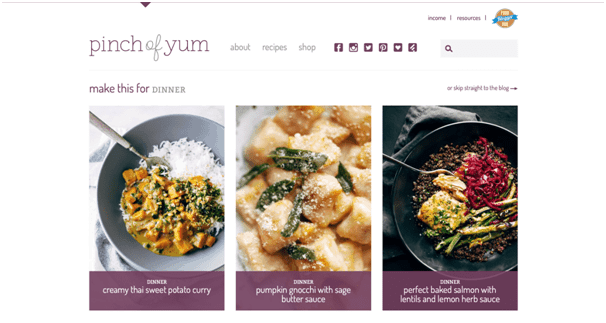 One of our favorite blogs in the genre of food, it is a perfect option for weeknight foods. You would indeed love the style, design, and tone of the site. In fact, the blog owner uses a lot of options to make it a successful blog and earn a lot of money.
Yes, Lindsay, the owner of Pinch of Yum is indeed the best example of how to make the best of blog earning. She makes use of latest blog posts, affiliate links, deals, offers, coupons for making a good deal of money.
Well, those were a few examples of some successful blogs in different genres. Of course, the list is not exclusive in any way, but it should help you check out a few avenues that the blogging world offers you to make it big and successful. Our aim is featuring these blog sites as examples has been to bring up how they focus on being different in spite of being in the same genre as most other competitors, yet offer differential content so that they would stand apart and make a huge difference to their readers.
Liked this post? Check out the complete series on Blogging