You must have seen different promotional banners, videos or images on sites, blogs and web portals. They are display ads used by businesses and advertisers for advertising particular products, services or brands. –And the whole process is termed as Display Advertising.
Advertisers use display ads for reaching customers on the web and in applications across a variety of devices. Both primary Search Engines (Google & Bing) incorporate a system of sites and online-portals to run display ads.
As per the statistics, display ads get displayed on more than 2 million sites and 650,000+ mobile apps.
Considered as one of the best ways of promoting any online business, product or service; display advertising increases the audience base of businesses.
Alongside Search Advertising, Display advertising is one of the most preferred forms of Ads used by advertisers and businesses. However, there are people who get confused in both of these ads. So, let us first understand the difference between Search Ads and Display Ads and then we will deep dive into key idiosyncrasies of display advertising.
Difference between Search Advertising & Display Advertising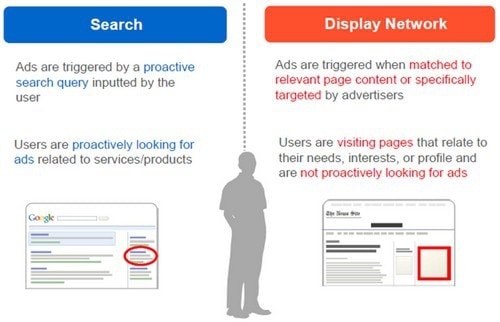 With the help of both of these advertising, advertisers appreciate well targeted, quantifiable and conversion driven online marketing. Generally, we can differentiate them on two grounds-
Push versus Pull
Users see search ads while searching for some products and services that are somehow related to those ads.  That means they are very much prepared to make a buy. However, in Display Ads, products and services are pushed and promoted to people who do not even think of that kind of products. This implies search advertising might have the capacity to convey more qualified leads and sales than display advertising.
Brand Awareness
Search advertisements are typically text-based and they do not offer much chance to convey your brand story in a powerful and comprehensive manner. While on the other hand, Display Ads are visual and they offer better opportunities for sharing effective, convincing and long-lasting brand stories. Display ads also let you utilize videos and pictures that incorporate your logo and USP of your brand. Therefore, display advertising is a sure shot winner when it comes to brand awareness.
Both of these ads enable advertisers to accomplish diverse advertising objectives. For generating conversions, Search Ads are good. While For better branding and fan-base, Display Ads will work better. Your selection should also be based upon the kind of products and services you are putting forth.
Display advertising might be more compelling for advancing high-end luxurious things like promoting car launch events, movie release, etc. Search ads are exceptionally well to sell items on the web and advancing immediate services such as locksmith, training services, etc.
Why choose Display Advertising
More than 90% of advertisers and businesses approve that display advertising helped them in enjoying better branding. Such ads are equally result driven for all kinds of businesses. Opting for display ads empower businesses to gain more traffic, improved branding and boosted sales. This will help you widen the reach of your business and target number of people. You will be able to search for the majority of people to focus on your most relevant audiences who will prefer engaging with your brand to make a purchase.
Advantages of Display Advertising
There are various advantages of utilizing display ads for promoting your business-
1) Visual Appeal- It lets you utilize appealing images or rich media to draw in your audiences
2) Branding & Awareness- Display ads help you in creating awareness for your brand. Better reach and lead generation are the prime highlights of these ads
3) Well-Targeted- Digital advertising offers some of the best targeting options to advertisers. You will have the chances of targeting as per the topic, interest, and demographics. It also helps in remarketing.
In addition to all these benefits, there are some downsides, so, let us go through them as well-
Disadvantages of Display Advertising
1) Lower CTR (Click through Rate) – Display advertisements have lower CTR than Search Ads
2) Lower Conversion Rates– Because of lower click-through rate, chances of converting leads are also lesser. Display advertising is best for long sales process but for immediate results, search ads offer better results
3) Ad Blocking– When viewers see an ad that is not of their interest, there are chances they will avoid that ad.  Even, some of the users use Ad blocking tools, so they do not see these ads
Nevertheless, in comparison to the long-term benefits that display advertising offers, these disadvantages do not seem very significant. Advertisers can effectively use it to highlight their ads on different sites. Cookies let you personalize your campaigns as per the inclinations of your target audiences.
Now, the time has come to know different types of display ads that you can use-
Types of Display Advertising
1) Text Ads- They are similar to Google Search Ad and they comprise a headline along with two lines of text and a URL.
2) Gmail Ads- You must be seeing different custom ads in Gmail inbox; they are termed as Gmail Ads
3) Banner Ads- Different images or rich media that have personalized layout, animations and interactive elements are termed as Banner Ads
4) App Ads- Running advertising campaigns in mobile apps becomes possible via App Ads
In a few simple steps, you can start running display ads. Let us go through those steps-
How to start Display Advertising
1) Choose your format and make your Advertisement
Regardless of whether you are planning to run Text Ad, Image, Video Ads, you can choose that from the ad gallery added in your account
2) Choose your Audiences
You can choose the audience for your display ad as per the location, interest, and demographics that suit best with your business
3) Set the Budget of your Display Ad
You can choose the amount you need to spend to contact your audiences and begin using digital ads for targeting them
Where are Display Ads placed on a site?
Website owners who desire to monetize from their site can sell ad space. Display ads can be placed on those ad spaces. These ads shift as per the design of every site page. The most common places where display ads are placed are top of the page, the bottom of the page or right side of the site content. These ads may likewise cover the content of the site as well.
What are the different Formats of Display Ads?
The most common format of display advertising is a banner advertisement. Advertisers can use it on different ad spaces on a site. Different shape and sizes of banner ads are given in the image below –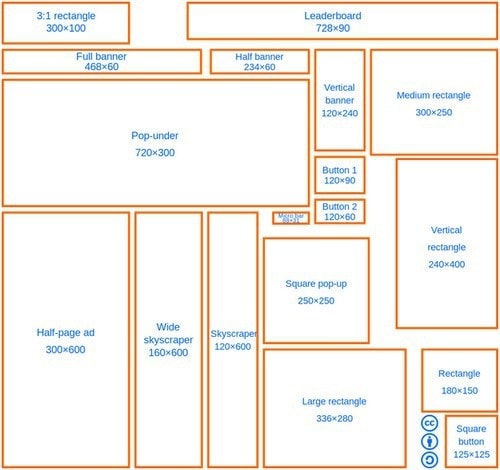 Overlay Ads appear over the site content such as written text, static or video placed on the site. Rich Media Ads are understood as non-static banner ads that include a video, animated image, etc. so the viewer can interact with them.
Pricing of Display Advertising
Display advertising is based upon Cost per Thousand Impressions (CPM), Cost per Activity (CPA) and Cost per Click (CPC) models.
Latest Display Advertising Trends in 2018
1) Programmatic Advertising
In this, software is used for purchasing display advertising without any human intervention
2) RTB Advertising
This is known as real-time bidding (RTB) which is actually a programmatic advertising that channelizes through server-to-server ad buying procedures
3) Ad Blocking Tools
One of the biggest issues that ad publishers face nowadays are Ad blocking software that users use to block unwarranted ads
4) Native Advertising
Native advertising is slowly becoming the solution for Adblocking issue. These ads do not look like regular ads, as they mimic the look of site-content
Video Content- Use of videos is only going to increase in display advertising. Booming prevalence of YouTube Videos, Instagram Videos, Netflix, Amazon Prime, and Facebook Videos will let video content play a major role
Summing Up…
Now, on the concluding note, we hope you would have understood what display advertising is and how it can benefit your business. The right use of display advertising is very effective in widening the reach of businesses, ensuring better branding and long-term results.
If you want to know how you can use display ads for increasing revenues of your business, share your details in comments and we will help you in the process.
Liked this post? Check out the complete series on Digital Marketing