Working from home is a new and trendy concept that has been gaining momentum in recent times because of several advantageous factors. It is not only about escaping from the clutches of a demanding boss but much more.
However, there are these 10 things you should know before working from home in order to make a wise choice that will benefit your professional progress.
You can make your schedule according to your convenience, stretch your hours accordingly, when tired can a take either a short or long break by your body demands, can wear comfortable clothes and most importantly can give valuable time to your family if there is a need for it.
If handled properly working from home experience can be productive, rewarding, and positive so just go for it.
1) Understand and exceed the employer's expectations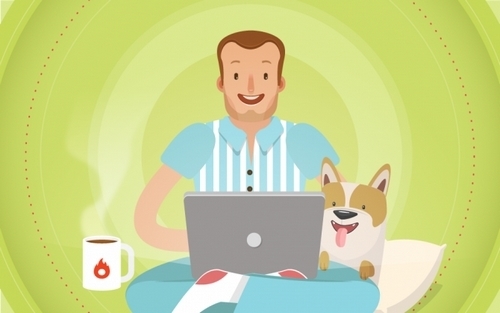 One thing you should know before working from home is about the expectations of your employer. Are your duties the same as before and will you have to show the work hours accordingly.
Are you going to receive any support in terms of equipment for instance, is the office going to provide a laptop and printer, who is going to foot the internet and phone bill and will you be getting any assistance from your co-workers are some viable questions that need to be addressed.
Once your expectations and concept are clear, try to exceed your employer's expectations so that he does not regret giving you the option of working from home.
Communicate and let your employer know about your work progress periodically so that there is no doubt about your work commitments.
2) Do you have the necessary separate office space
Do you have the necessary space to set up an office? As a home worker, one thing you should know before working from home is whether you will be able to set up a separate office free from any kind of personal distractions.
It is important to arrange such an area where you can achieve productive work without any interruptions. Television, residential phone, family members, guests, pets, and neighbours are disruptions that you seriously need to avoid.
Will you be able to handle these pressures and maintain a balance between your professional commitments and personal relations?
3) Do you have the necessary equipment at home
To complete a project successfully besides your manual labor, the most important things are basic equipment like a laptop/computer, phone, printer, fax machine, workstation, and inventory.
Is it the office which is going to supply with everything or will it be an amalgamation of some basic equipment from your employer and some from you are questions whose answers you should know before working from home? There are many small and big things which one takes for granted at an office but must acquire at home.
Ink, paper, cartridges, pens, sticky pads, letterheads need to be replaced periodically. Make sure you are aware and ready to handle these expenses.
4) Set boundaries with family and friends
When you are at the office, nobody bothers you over there as everyone is aware of a professional working atmosphere. But when you start working from home, people do not bother with such considerations.
An important thing you should know before working from home is whether you will be able to set the required boundaries.
Your friends, family, and neighbours will most probably not understand any professional demands if you are working from home.
If anybody asks for a favour, will you be able to say no and that too repeatedly again and again. Setting the right tone at the onset is important know-how that will make your life much easier.
5) Is time management possible at home
In a professional atmosphere, there are set hours. You reach office at a certain time and in most cases exit it at a particular time. Will you be able to time manage and work at least that much hours diligently is a question you must ask yourself before working from home.
There are so many distractions at home, like social media platforms, friends, family, telephone gossip, and even household works. Will you be able to separate yourself from such daily activities meticulously and create a productive atmosphere also at home?
It is tempting to relax and stay away from work because you are tired. So be clear in your mind and make a decision that you can implement.
6) Self-motivation
Will you be able to motivate yourself to wake at a particular time and complete your workload if you are working from home? When you are commuting, reaching the office at set hours is not a luxury but a necessity, and you have to leave home at a particular time.
But when you know that the boss is not looking over your shoulder will you be able to self-motivate and leave your bed at the same time.
Yes, it is a serious challenge to work as many hours from home and that too, with the same dedication and diligence. So think once again and decide what to do.
7) Organizational skills
It will be important to maintain your workstation separate and keep it organized and structured. Do you have the necessary organizational skills for conducting such an undertaking because it is vitally vital if you need to accomplish official tasks every day?
Planning is an important activity about which you should know before working from home. You will need to plan specific tasks for specific times so that you can accomplish a lot in less time. So are your organization skills up to the mark.
8) Tracking of expenses
There is much expenditure which we take for granted when we are working at the office.  But when we are doing so at home, it means keeping track of every penny as part of expenses that need to be reimbursed.
If we forget to note down anyone that means we are paying it from our pocket and it is a loss for us. You should know before working from home that you will be needed to keep track of every expense incurred as part of the official one if you want to reimburse it.
9) Internet service
The internet is a necessity that helps you in lowering your workload considerably. You simply cannot work without an internet connection as every device is connected via it.
Your profession does not matter much; you will need the connection at one point or other because we are fully dependent on it to achieve results to our liking.
It is better to know whether you have the option of a good connection to meet your official demands before working from home. Decent speed, reliability, and consistency in a connection are needed to boost your productivity, so make sure of your connection before you choose the option of working from home.
10) Is it worth it
It is a serious transition to change your office environment to simply working from home. Is it worth it and are you comfortable and happy with your decision. In some case, because of a family or a medical emergency, you do not have an option, and then the decision does not seem wrong.
Suppose you are a new mother then it will be impossible for you to leave a newborn baby at home. But if you are simply choosing to work from home just because you feel like it then go through the pros and cons diligently before working from home.
Yes, there is freedom at home, but an excess of anything is bad. In an office, you will have to put your best feet forward as there is no choice, but at home, you have a choice, and it might make you lazy and affect your business dealings. At the end of the day ask yourself is it worth it and if the answer is yes then go for it.
Liked this post? Check out the complete series on Careers