Traditional learning has been associated with one teacher imparting knowledge to a large number of students. There is simply no interdependence or any group processing.
The teacher is the primary source of information, and her priority is to get the job done. This method has been followed from a very long time, but with changing times, people have felt a need to create a different approach where learning and teaching will involve the students working together.
Completing tasks, solving problems, debating amongst themselves and collaborating on varied projects together is essentially collaborative learning.
What is Collaborative Learning?
Collaborative learning can be referred to as a strategy or an approach where several people actively participate with the intention of learning. This is a simple arrangement where individuals of varied interests and abilities collaborate for a shared and common goal.
The system includes teachers teaching the students, students teaching the teachers, and students teaching one another.
Collaborative learning means that everyone is responsible for themselves as well as others in the group where knowledge is shared to gain a deeper understanding to learn properly. It is a joint effort that encourages a shared understanding to find the right kind of solution.
Communicative learning is encouraged not only in schools and colleges but also during community activities, in the workplace and even at homes for boosting harmonious relationships within a team. Through this method, we all can learn how to work in and for a team to gain the best results.
It is a technique where everyone gives their 100% to meet the defined goals. The burden is not on a single entity; instead, the workload is divided equally amongst every individual of the group.
Concept of collaborative learning
Collaborative learning is considered both active and interactive. In this method, the learner becomes knowledgeable by putting together his ideas into words.
Every one of them in the group is mutually accountable, and hence, they make an extra effort to learn as well as impart knowledge through instructional learning.
As the name suggests, collaborative learning is all about teamwork and collaborating. This is a student-centred method as teaching and learning both revolve around him.
Interaction and participation are necessary tools for the construction of knowledge where the activities involve the terms by, in, and for learning. It means learners have the freedom to listen, debate, understand, justify, and impart their views.
Working together in teams is an opportunity to create skills and traits that will help them in their journey of life. It is an experience that facilitates co-operation within a group and will teach you to adjust and change according to the situations.
This is a skill that has to be nurtured so that every one of us learns to work and adjust in a team.  In a professional environment, employers are hiring individuals who can adjust and mingle with others for 100% productivity.
Examples of collaborative learning
Collaborative learning has always been in existence; we just did not have a defined name for it. Remember the days before exams when few students used to meet at a commonplace and discuss a particular chapter so that everyone could understand it at once.
During such moments everyone's input mattered because one knew about something whereas the others about other things. Understanding, creating solutions, exploring topics, applying related principles, and finding new ways to come to a viable solution was a part of learning.
This group activity is now called as collaborative learning and has found a niche place in educational society.
Collaborative learning takes power away from the traditional teacher and distributes it equally amongst its students who now bear the mantle of responsibility, ownership, and answerability.
This is the age where technology reigns supreme, and you do not need to go to another place for collaborative learning. Simply gather your group, open Skype, and start the process with anyone you like.
Working together is now very easy, and you can talk, listen, express your views, debate, understand, and offer your opinion all at one go.
Advantages of collaborative learning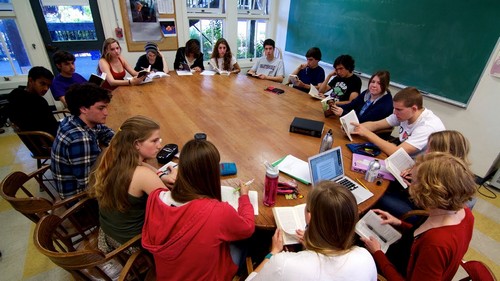 Collaborative learning helps people to mingle together with genuine warmth.
It improves relationships and develops social skills so that they can interact much more freely. This technique enhances the learning process of an individual so that he can achieve 100% efficiency in his dealings.
1) Boosts problem-solving skills
An important advantage of collaborative learning is that it helps in boosting the problem-solving skills of every individual in that group. An educational task is given to the group with clear cut instructions.
The students have to discuss the work amongst themselves by conducting research, listening attentively, and communicating their thought process. Every one of the group contributes to the discussion so that they all can come up with a solution for the given task.
Yes, there is a chance that one member might occupy the limelight and not give others the chance to speak. For this eventuality, there is a stipulated time frame in which everyone has the freedom to speak out.
It is the students that have to find the solution and take a call for active participation and interaction.
Students are encouraged to share and even change their views if it is for the benefit of the team. Collaborative learning helps to arrive at the right solution by improving and boosting problem-solving skills.
2) Improving decision making and time-management skills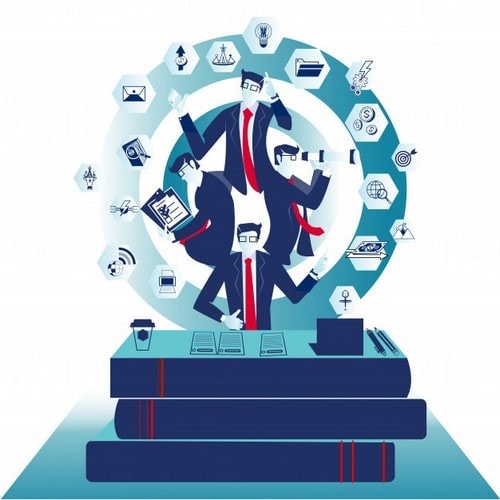 An important advantage of collaborative learning is that it develops self-management traits so that an individual can improve decision-making skills. In a group, you have to be willing to make decisions at every important point.
Studying, researching, examining, and scrutinizing issues to find the right solutions is part of collaborative learning. Once you learn to self-manage, you are on the right path of improving your attributes.
An individual now gains the confidence to interact and interconnect personally with others through his dynamic personality. It will also boost his time-management traits and increase his productivity.
3) Develops productivity and efficiency
Collaborative learning is about learning together in a group and developing interpersonal relationships.
When you spend time with others, you learn to relate with each other and become friends. This fosters trust and a sense of belonging that continues with time.
An important advantage of collaborative learning is that it increases the morale of a group and thus has a positive impact on their efficiency and productivity.
4) Increases critical thinking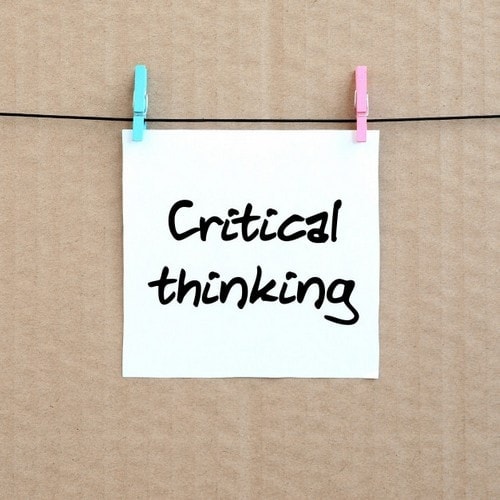 An important advantage of collaborative learning is that it increases critical thinking in an individual. It boosts the ability to grasp knowledge, learn, and transmit the information to others within the group.
It is a learning experience that involves research and critical thinking so that he can think through the existing problems.
When stimulating discussion takes place, the students clarify their viewpoints, ideas, and opinions in front of their group members. The interpretation and subsequent assessment nurture critical thinking in an individual.
5) Builds trust
When you are working in a group, you have to trust others to complete the project successfully. In this situation, the actual power rests with the group instead of a single person.
Every person has a definite set of skills and knowledge. Active participation builds trust amongst them and helps them to realize the value of shared knowledge and togetherness.
6) Development of communication skills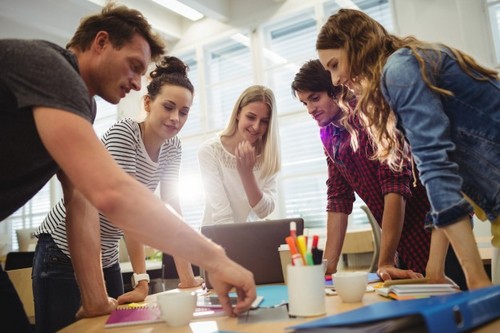 Collaborative learning is a process where everyone can have his say within the group. During discussions, every individual has to put forward his ideas and views.
This improves his oral communication skills. Sending of information, sharing it with others, receiving feedback, and coming to a conclusion after deliberation cannot be concluded without proper communication amongst each other.
Explaining, expressing, listening, clarifying are all part of effective communication that improves during collaborative learning.
7) Improves social interactions
An important part of the collaborative learning process is separating an activity into tasks and subtasks. The students are divided into groups, and each one handles one aspect of the job. In the end, they all have to contribute towards completing the full task.
This task has social relevance as it encourages effective communication skills. An important advantage of collaborative learning is that it improves social interactions and teaches how to handle people from other groups to accomplish a task just like in social settings.
Disadvantages of collaborative learning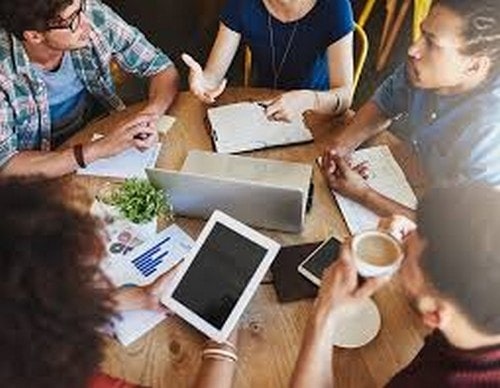 Critics are ready to criticize collaborative learning because, in this system, it is easy to escape factors like responsibility and accountability.
1) It becomes a burden
Collaborative learning encourages the sharing of responsibilities. Suppose a group is made of five individual who is not at the same wavelength. One might be active and smart, three mediocre and one very laid back without any knowledge.
In this scenario, the work will be distributed unequally and the actual responsibility of completing the job on selected few instead of the whole group.
An important disadvantage of the collaborative learning process is that it becomes a burden because it is a shared responsibility and not an individual undertaking.
2) Students become passive
When a group of mixed ability students is created, the overachiever tries to hog the limelight, and the low-achieving students gradually start losing their focus.
An important disadvantage of collaborative learning is that students tend to become passive and disinterested when they are unable to voice their thoughts explicitly.
3) Lack of independent decision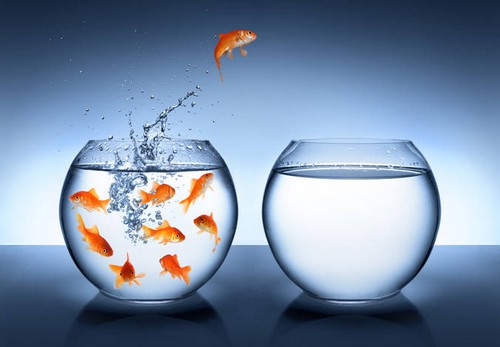 The goal of any learning process is to make the student independently accountable for their actions. It encourages a student to give his best by thinking on his feet and coming to viable solutions.
A disadvantage of collaborative learning is that the students are dependent on the other members of the group for coming to a reasonable conclusion. You have to take help of others, and this means that an individual view does not matter when the majority is having their say.
4) Chances of conflict
When you are working in a group, there are bound to be discussions and heated debates. This is considered a disadvantage of collaborative learning as it could lead to serious conflicts amongst the members and ruin their relationships.
5) Lack of challenge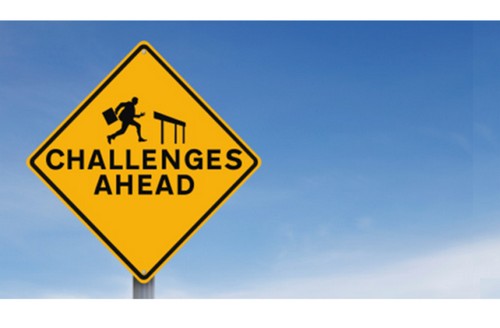 Students with higher IQ might not feel the stimulation that occurs when you debate and work with people who are of the same intelligence levels. When the work does not feel like a challenge, the student will start losing his interest and focus.
Lack of challenge is a serious disadvantage of collaborative learning method.
6) Fear of criticism
Students with lower IQ levels are not comfortable working with people of high IQ levels. There is bound to be awkwardness when both are working in the same group.
An important disadvantage of collaborative learning is that it can increase shyness due to the fear of criticism.
How to do collaborative learning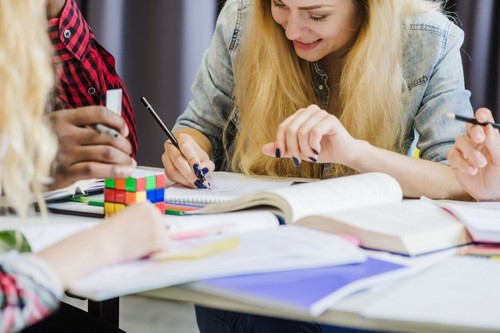 Collaborative learning is a joint approach that facilitates mutual learning via intellectual interactions and deliberations. It is a shift in balance from the teacher which had the sole authority to the students who are active participants.
In this technique, everyone gets an equal chance to participate, share, and express his views. It opens fresh opportunity doors where a student is exposed to something new and different. When a learner is challenged, he makes an extra effort to articulate, understand, and learn.
Collaborative learning is a unique framework that is very different from the traditional one. It is all about learning that involves introducing the task by giving simple instructions, enough time to get engaged in research, discussions, and debate and conclude their findings.
Ground rules are established in the beginning, groups are formed, and roles are assigned so that the process runs smoothly. This method encourages students to handle their issues gracefully, ask for help, and offer assistance to come to a successful conclusion.
Collaborative learning is a strategy to develop the overall interests of an individual.
Liked this post? Check out the complete series on Careers