Definition – Career planning is a long-term career strategy that an individual utilizes for determining career goals and choosing a career path to accomplish those goals.
Long-term career as well as short-term career planning conglomerates different career options and activities that can channelize self-improvement and procedures for meeting the associated career goals.
What is Career planning?
Career planning is a strategy employed by an individual to set career goals and to design the career path for achieving those career goals.
Short and long-term career planning is a significant factor to be considered in an individual's professional as well as personal life. The way to success in life starts from effective career planning according to the chosen career options.
There are various stages involved in the process that requires to be thoroughly fleshed out.
The perfect execution of these plans will determine the scale of success that an individual achieves in his life.
Components of Career Planning & Development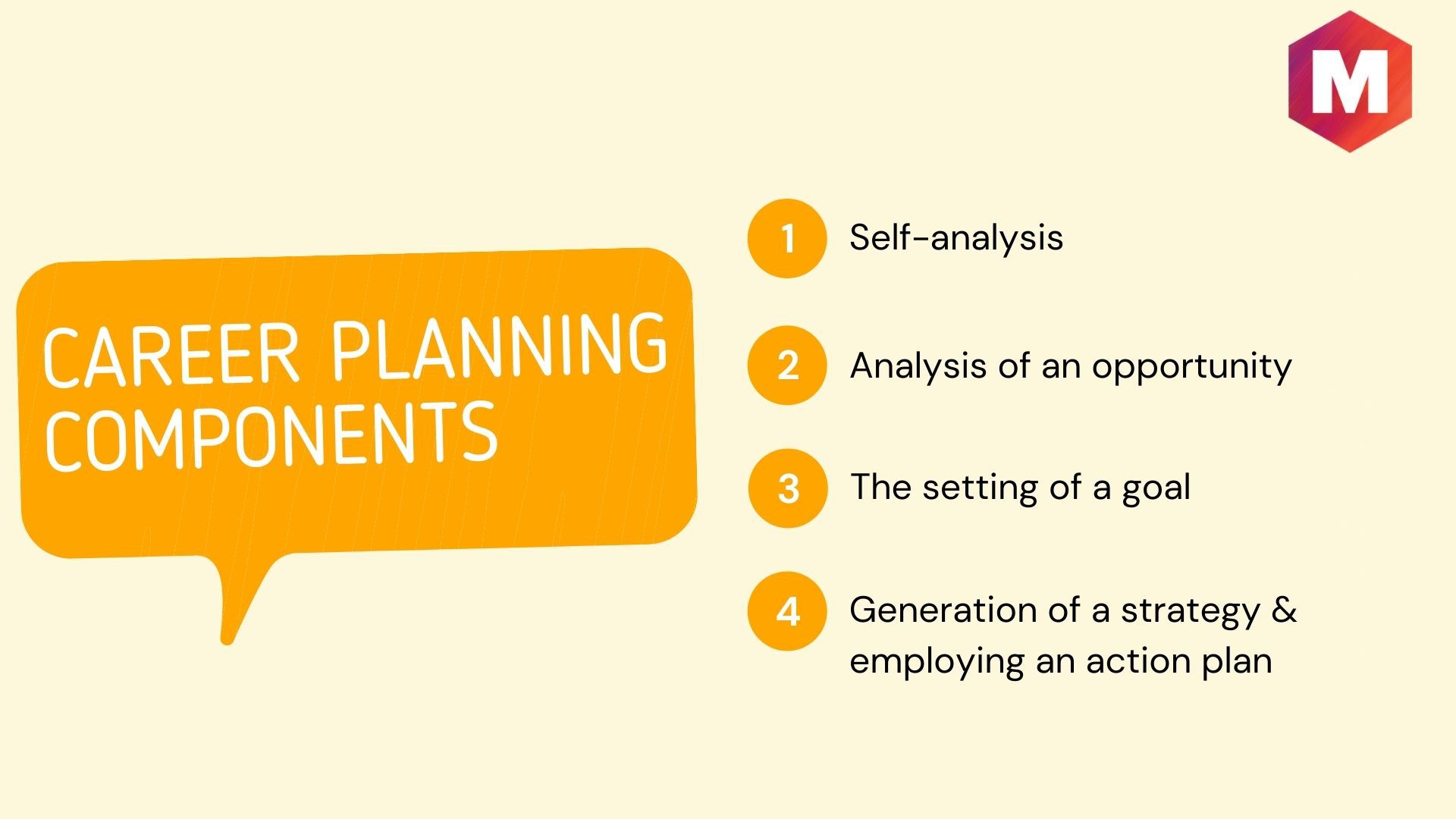 1. Self-analysis
The initial stage is to perform a self-analysis on the skill set.
This will determine the type of career options that are suitable to pursue in the future. Personal preferences, strengths, knowledge, and abilities are needed to be tested.
2. Analysis of an opportunity
After deciding upon the career that an individual wants to follow.
The next would be to analyze the available opportunities in the job market.
3. The setting of a goal
The most significant part of short or long term career planning is the setup of a goal. It helps in the job search as well as career opportunities.
The goals first and foremost must be realistic. Both long term and short term goals are to keep.
4. Generation of a strategy and employing an action plan
After setting up goals that individual aims to achieve. He needs to decide on the path that will lead him to implement the plan successfully.
This also involves the acquirement of the necessary resources and skills to fulfill the set goals.
6 Steps of Career Planning
1. Self-exploration and assessment
It is important to understand personal preferences, strengths, knowledge, and abilities. After the complete assessment of these factors proceeds to the next step.
2. Research about the career
After deciding on the aptitudes and qualities. Search regarding the career paths that are suitable according to the skillset.
3. Exploration and experimentation
Then, explore the field of work, gather information from people working in that profession. Ask questions and keep experimenting till the right career path comes along.
4. Career selection and Decision making
After the ascertainment of the career, it is essential to make an effective decision making.
5. End planning and action
Make the final plan and follow it up with an effective action plan. These action plans will propel the individual to new heights.
6. The search for jobs and acceptance
The marketplace is to be thoroughly researched for the availability of jobs in the preferred career path. The mental acceptance of that job is part of the process.
5 Phases in Long Term Career Planning
There are five phases in an employee career that are as follows-
1. Exploration phase
In this stage, the employee builds expectations from his career. There is a need to understand the talents, interests, skills, personality, strengths, and weaknesses.
There can be some unrealistic expectations made, but it is all part and parcel of the process. These unrealistic expectations can be borne out of an ambitious outlook towards the career of an individual.
2. Establishment phase
The first job of the employee in his career will happen in the establishment stage. The employee will get accepted by his peers and starts learning about the job. This is the stage where an individual tastes his first success or failure in his young career.
This happens during the age of twenty-five and forty-four for most individuals. In this, the stream of the career has been finalized, and most of the time there is no turning back. This stage will result in high employee productivity and rapid career growth, as motivation is high to achieve new heights.
There is a thirst for innovation and creativity by completing new job assignments as efficiently as possible.
3. Mid-career phase
The performances of the individual can either continue to rise, or it will start declining.
There can also be a case wherein an individual reaches a certain level and then gets stuck in that level. This is very common in individuals, but the employees have great job experience by this point.
This is a bonus to both the employee and the organization.
4. Late Career phase
A leadership role in an organization is the main agenda.
This leadership role can be that of a CEO or high paid jobs who have the highest authority and power in an organization.
5. Decline phase
This is the stage wherein the employees head towards retirement. The want and desires of the individual are fulfilled, and he starts planning his retirement.
The employee gets awarded for all of his efforts and dedication throughout the years.
Here is a video by Marketing91 on Career Planning.
Career Planning Examples
1. Career Start
Goals- Local area position, good salary, and low stress
Interests- Technology, Reading, Art, and Dance
Abilities- Computer Programming, languages, maths and art
Personality- Sensitive, confident, flexible, thinker, and open-minded
Opportunities- Web design, web development, commercial artist
Short term plan- Opting for university fine arts programs, training in computer science
Long term plan- Career in web design/development, fine art, or creative work in product development or advertising
2. Career Change
Goals- Higher compensation, low-risk transition, job satisfaction, and work-life balance
Strengths- Technology, Analysis, Personable, Outgoing, Resilient, Independent, and Confident
Weaknesses- No sales experience, Disliking micro-management
Opportunities- Sales department looking for confident individuals who can use technology to close deals
Threats- Compensation package in sales is high only when a deal converts
Short Term plan- Getting to know people in the sales team and learning everything important about sales
Long Term Plan- Transition to the sales team for improving compensation
Wrapping Up!
Career planning is crucial for moving ahead on the right career path for the chosen career options to ensure career, professional as well as personal growth.
Now on the concluding note, we hope that the post would have guided you to make a plan for the career path you may want to move forward.
How important do you consider career planning in accomplishing career goals?
Liked this post? Check out the complete series on Careers