Student life is not easy since there is a lot of competition in academics. With parental pressure and study load, a student finds it difficult to concentrate and memorize topics. Many of them adopt study strategies such as SQ3R.
Both teachers and students can adapt such study techniques because they understand the topics before teaching and studying for exams.
SQ3R revolves around the practices associated with- "Survey, Question, Read, Recite, Review" – that can help you understand more of what you're reading when reading it for the first time.
SQ3R approach is useful in alleviating the reading comprehension exercises, and it can help you tremendously comprehend difficult textbook material. This post will take you deep into the world of SQ3R and help you understand how you can adeptly.
What is SQ3R?
The study technique SQ3R is a commonly used system that helps the student read better, and after reading, it saves time. Now, how does this system work? The detailed processes involved in the strategy allow the reader to process the information they just read and store that in their memory.
The SQ3R stands for: Survey – Question – Read – Recall – Review. Each of these steps will help you understand how you can easily understand what you read.
5 Steps of SQ3R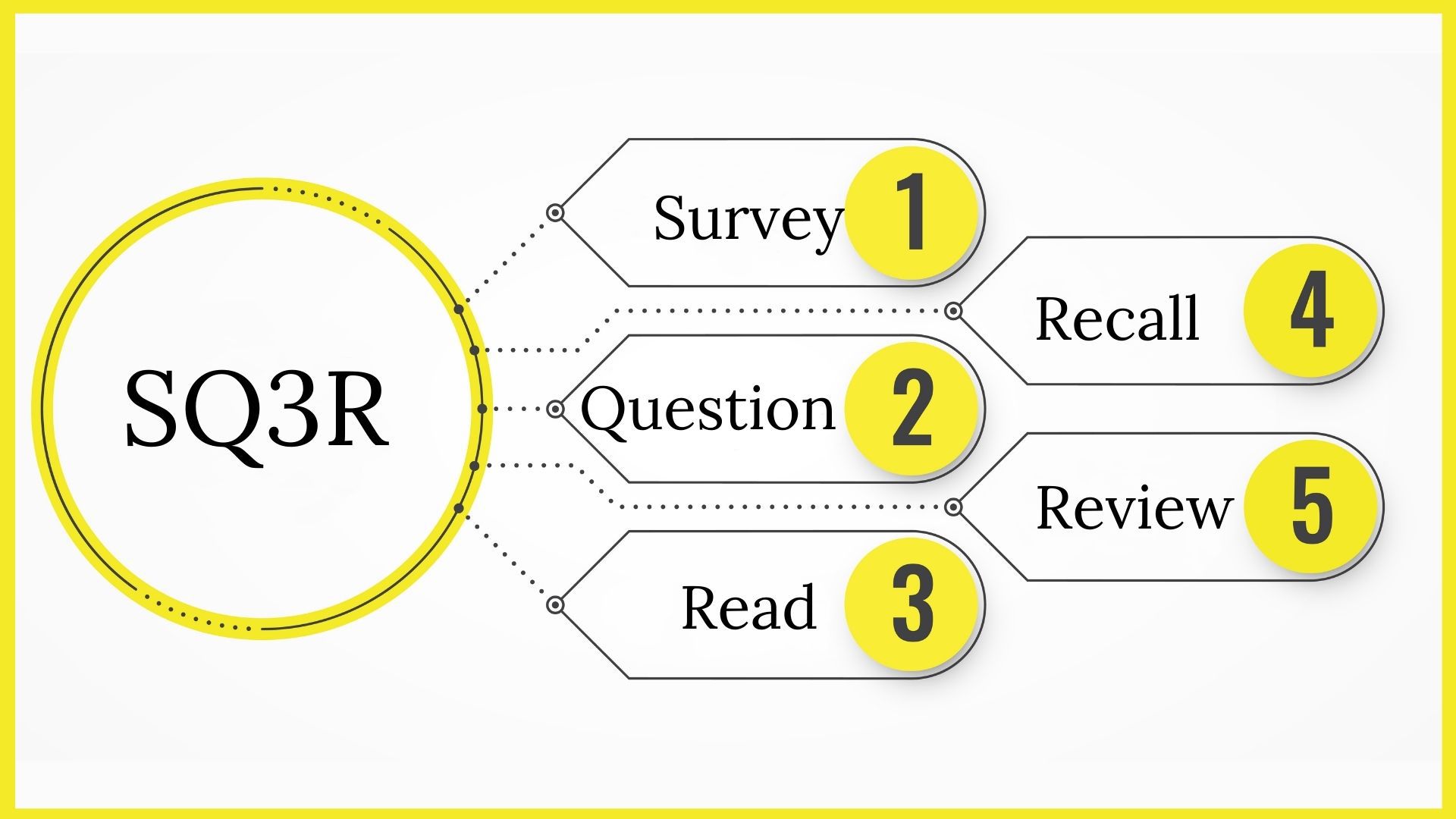 1. Survey
First, see the topic's outline by jotting down the sub-topics involved, see photos, read fact boxes, and check the glossary section.
Once you realize what the topic is about, it will make you interested in the concept.
2. Question
In this step, you have to make the statements you read into questions or turn the paragraph into several questions.
This will help you use your brain to form questions and prove effective when remembering that answer during the test.
3. Read
With the questions ready, now search for their answers by reading the content.
After you read the paragraph by separating it into answers, mark the important points. Avoid doing excessive markings to prevent confusion.
4. Recall
Once you read the topic, there are chances you may forget. So recalling the topics by repeating what you just read helps you remember things.
When you recall the information, you can save it in your memory for a longer period.
5. Review
Once you are done with recalling, you must go through the topic to look for any queries.
Also, this step has to be repeated regularly to ensure the topic is well understood.
What are the benefits of the SQ3R Study Strategy?
Students who do not get the exact idea of what they have read despite reading a page many times can benefit from the SQ3R approach. This will activate their thinking and enable them to review their understanding during the whole process.
Some of the other notable benefits of SQ3R are-
Crack competitive exams and entrance tests with less difficulty.
Spend less time on a single topic and cover the syllabus with ease.
Prepare short notes and important points that you have to go through just before the final test.
Make the hard and boring topics easy to understand and memorize.
As a teacher, it helps you prepare for your lectures.
It makes you interested in the concept and lets you understand your capability.
Conclusion
The difficult concepts required a lot of hard work, but the SQ3R makes it easy.
With a simple technique like this, you can remember long, tiresome topics into simple points.
All you need to do is survey the whole chapter, make questions, look for the answers by reading, recall what you just read, and review the entire studied topics.
Have you ever tried the SQ3R strategy? Do you find it useful in optimizing understandability? Share your views with us in the comment section below.
If you liked this article, we bet that you will love the Marketing91 Academy, which provides you free access to 10+ marketing courses and 100s of Case studies.