Student life is not easy since there is a lot of competition in academics. With parental pressure and study load, a student finds it difficult to concentrate and memorize topics. Many of them adopt study strategies such as SQ3R.
It is a proven, step-by-step strategy to understand and remember what you read. It's an acronym that stands for Survey, Question, Read, Recite, and Review. The method offers a systematic approach to breaking down complex information, enabling more effective learning and better comprehension.
For example, suppose you are reading a science textbook chapter about ecosystems. Applying the SQ3R method:
You'd first survey the chapter, skimming through the headings, images, and summaries.
Next, you'd formulate questions based on your survey.
As you read the chapter in detail, you'll answer these questions.
After reading, you would recite the information, explaining the concepts in your own words.
Finally, you'd review the chapter, reinforcing what you've learned and identifying any areas that need further study.
Both teachers and students can adapt such study techniques because they understand the topics before teaching and studying for exams. SQ3R approach is useful in alleviating the reading comprehension exercises, and it can help you tremendously comprehend difficult textbook material. This post will take you deep into the world of SQ3R and help you understand how you can adeptly.
What is SQ3R?
SQ3R is a commonly used study method that helps the student read better, and after reading, it saves time. Francis P. Robinson, an American education philosopher, introduced SQ3R in his book Effective Study published in 1946.
The SQ3R method is particularly useful for college students who have extensive reading material to cover. It not only helps students read effectively but also aids in retaining major points in their long-term memory. This technique becomes a powerful tool when they are required to read and understand complex concepts in their textbook material.
Moreover, if a student reads an entire chapter using the SQ3R method, the chances of grasping and remembering most parts increase significantly. Despite the length or complexity of the reading material, this method ensures that the student understands and retains the critical points for a long duration. Hence, SQ3R is a highly recommended strategy for effective learning among college students.
How to Use the SQ3R Method?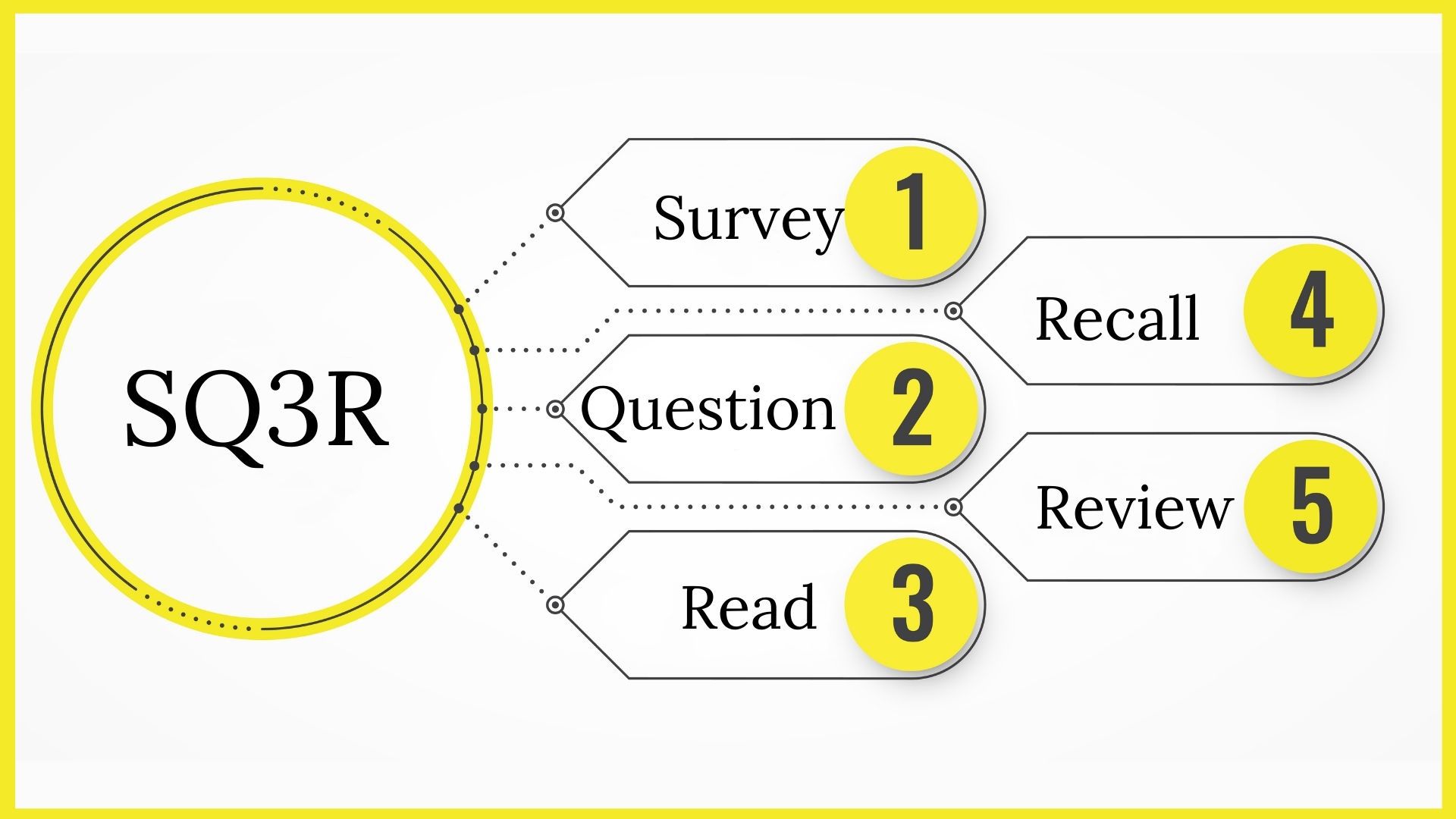 1. Survey
First, see the topic's outline by jotting down the sub-topics involved, see photos, read fact boxes, and check the glossary section. Once you realize what the topic is about, it will make you interested in the concept.
For example, if you are reading about a subject related to the history of Britain's Prime Ministers and their respective terms, it would be wise to take a quick look at the textbook index. This survey step will give you an overview of what is in store for you in the next chapters. Some of the ways you can do this are:
Skimming chapter headings and subheadings
Briefly reviewing summaries or abstracts if available
Noticing diagrams, charts, or other visual aids
Checking end-of-chapter questions or discussion points
Looking at the bibliography or references if applicable
Noting the length and structure of the reading materials
Paying attention to bolded or italicized text or key terms
Taking note of any study guides or additional resources provided
2. Question
In this step, you have to make the statements you read into questions or turn the paragraph into several questions. This will help you use your brain to form questions and prove effective when remembering that answer during the test.
This is the best way to study as it allows you to think critically and use different inspirations that will help you connect with the content. When creating questions, you should pay heed to the following points:
What are the main points of this paragraph or section?
How does this information relate to what I already know?
What are the possible implications or applications of these concepts?
How might this information be tested or assessed?
Are there any terms or ideas I don't understand and need to research further?
3. Read
With the questions ready, now search for their answers by reading the content. After you read the paragraph by separating it into answers, mark the important points. Avoid doing excessive markings to prevent confusion.
There are various techniques you can use to understand the material including highlighting, note-taking, underlining, and summarizing. Depending on your learning style, focus on one or two of these methods to ensure the best results. Some key tips to follow here are:
Concentrate on understanding the concept rather than rote memorization.
Try to connect new information with something you already know.
Always review your notes after a study session.
Practice active reading by engaging with the material.
Maintain consistency in your study schedule.
4. Recite
Once you read the topic, there are chances you may forget. So recalling the topics by repeating what you just read helps you remember things. When you recall the information, you can save it in your memory for a longer period.
You can recite in many different ways, such as by making verbal summaries of the points or explaining them to a friend. Alternatively, you could also imagine yourself teaching someone else on the topic. Additionally, you can try writing down key points and answers to your questions for better recall. A few key steps to follow here are:
Review the material immediately after learning for enhanced retention.
Use mnemonic techniques to aid short-term memory.
Apply the knowledge practically to reinforce understanding.
Regularly revise previous topics to keep them fresh in memory.
Incorporate breaks in study sessions for better focus and efficiency.
5. Review
Once you are done with recalling, you must go through the topic to look for any queries. Also, this step has to be repeated regularly to ensure the topic is well understood. You can review any topic with the help of notes, articles, quizzes, or discussions. You can also take a break and revisit the content to stay ahead in your studies. Here are some key points to consider:
Determine how much information you need to remember for each course.
Devise strategies for recognizing cues that indicate what is important.
Check your understanding through quizzes and exams.
Set regular goals to keep yourself motivated.
Make use of study groups, flashcards, or other tools to review material.
Utilize the resources available such as online tutorials and videos to help you understand difficult concepts.
Advantages of the SQ3R Study Method
Students who do not get the exact idea of what they have read despite reading a page many times can benefit from the SQ3R approach. This will activate their thinking and enable them to review their understanding during the whole process.
Some of the other notable benefits of SQ3R are-
Ace Exams and Entrance Tests with Ease: Through SQ3R, you will not only understand the material better but also retain the information longer, allowing you to ace your exams and entrance tests with confidence.
Cover the Syllabus Effortlessly by Spending Less Time on Each Topic: The systematic approach of SQ3R helps break down complex subjects into manageable parts, making it easier to cover the syllabus in less time.
Prepare Concise Notes and Key Points for Final Test Review: The SQ3R method encourages active note-taking, which assists in creating concise summaries and key points for last-minute revisions.
Simplify and Memorize Challenging and Dull Topics: By questioning and recalling information regularly, SQ3R can help transform challenging and seemingly dull topics into engaging learning experiences.
As a Teacher, It Helps to Prepare for Your Lectures: It's not just students who benefit – teachers can also utilize the SQ3R method to better prepare for their lectures and foster an effective learning environment.
It Piques Your Interest and Helps You Understand Your Capabilities: SQ3R keeps the learning process stimulating and interactive, helping you understand your own capabilities and areas for improvement.
Disadvantages of the SQ3R Study Method
The reliability of the SQ3R method is often questioned by researchers, and that is why, some of its downsides can be:
Not all students can follow the process of SQ3R, as it requires a lot of concentration and focus.
It does not work for those who are very weak in understanding the language or don't have good reading skills.
If you do not have an idea of the subject, then this method won't help as it requires a complete understanding of the topic.
People who are forced to learn something, they don't have any interest in, may find this method quite tedious and boring.
The SQ3R process might not be suitable for everyone because of differences in learning styles and personalities.
The method is not suitable for online classes and other non-textbook learning materials.
Conclusion!
The difficult concepts required a lot of hard work, but the SQ3R makes it easy. With a simple technique like this, you can remember long, tiresome topics into simple points. All you need to do is survey the whole chapter, make questions, look for the answers by reading, recall what you just read, and review the entire studied topics.
In conclusion, the SQ3R method is a game-changing study strategy. It transforms reading textbook material and crafting summary paragraphs into a productive process. This approach hones your study skills, paving the way for academic success.
Liked this post? Check out the complete series on Careers