A corporate workplace is an amalgamation of several employees where everyone works together to complete a project. It is the effort of every worker that makes it a happy place and results in completing projects on time. Until and unless a team has the support of fellow workers it will not be possible to achieve best work productivity and efficiency in an organization.
It is important to let colleagues know that you are on their side and care for their happiness and growth. You can easily appreciate co-workers by acknowledging their contribution to your success and praising them for being a motivational force in the professional environment. The loyalty of co-workers is an additional satisfaction that results in inner peace and increased individual productivity.
1) Know your co-workers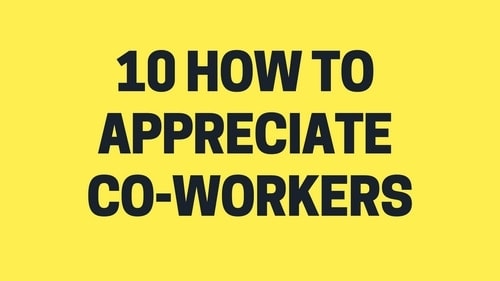 People spend more time with their co-workers than with their friends. A workplace includes a diversified group of individuals striving together in spite of differences in interests, skills, and values to complete a project harmoniously. In order to have a positive office dynamic, you need to know and appreciate co-workers.
Believe and work towards a strong professional as well as the personal relationship that will survive the ups, downs, and tension of a workplace. You have to take out the necessary time from your busy schedule and try to know about the preferences of your co-workers. Spend time together during breaks and interact freely as this will help[ you in your endeavor to know your co-worker.
2) Be friendly
Sometimes we are blessed with loyal and understanding co-workers and at other times with individuals who are callous, curt and indifferent. It is rare that in a group you will find everyone to be at your liking. Actually, this is the real test of your personality and soft skill. In a professional environment, you have to depend on others to meet deadlines and accomplish various tasks. There will always be some people who will bear a grudge and give you tension. The best way to deal with this problem is to be friendly and appreciate you co-worker in spite of his attitude. A warm smile and a cordial greeting will send the right message as it is the small gestures that matter in everyday life. Your genuine efforts at interaction will make a huge difference and bring him to your side eventually.
3) Be a team player
A team includes a group with varied interests, knowledge, and skills and this may become a source of concern or conflict. It is your interpersonal skills that will help you in dealing with and adapting with such diversified personalities. Do not let small conflicts become major problems and try your utmost to make everyone comfortable with you via your pleasing nature and work efficiency. In a team, it is not about individuality but about working collaboratively.
Appreciate co-workers and show your appreciation in small gestures to bring all the individuals under one umbrella. Encourage everyone to speak up and make sure that cordiality, respect, and politeness are the mantra of your team to maintain pleasant relationship amongst co-workers.
4) Have good Listening skills
In a professional environment, it is important to maintain a balance between putting forward your ideas and listening attentively to others. Appreciate co-workers and try to engage in conversations where everyone has the chance to speak up. Listening can help you to understand the mindset of others so that you can act in accordance the next time.
When you listen it gives an important message that you are receptive to the thinking process of others and are willing to listen and implement ideas that are not your own. Co-workers are an integral part of your team and show them respect by listening to their suggestions.
5) Don't avoid a bad apple
Sometimes you have a co-worker that is disrespectful and irritating. A team cannot survive discord between its members if it has to work successfully. Do not avoid the situation as it may escalate and cause more harm at a later stage instead think calmly and arrive at a solution to the problem.
If you maintain your calm and friendly attitude your antagonist cannot remain unaffected for long. Continue with your efforts and try to talk on a one-to-one basis with him to sort out the problem. Take him to lunch or a drink, praise him for his skills and work efforts and make sure everyone knows about his contribution to the team. Appreciate your co-worker and see a difference in his attitude within a short span of time as everyone wants recognition of their efforts.
6) Go the extra mile
Appreciate co-workers and their efforts to make the workplace a happy and satisfied one. It is the joint effort of every individual that makes a useful contribution in maintaining the peace and harmony of that place. Sometimes due to some emergency or personal problem, someone may lag behind in their workings.
Go the extra mile and volunteer to help others whose work is not complete and who needs a helping hand. Do not boast about it, instead work naturally and set a precedent. Your co-worker will appreciate your gesture and will be thankful for your consideration. This will help in creating team bonding and set a good example that others will strive to follow. It is a proven fact that a good deed motivates others to put their best feet forward.
7) Celebrate happy days
Appreciate co-workers by becoming a part of their celebrations. Make sure you are aware of your co-workers birthdays and arrange a celebratory lunch or drink during lunch hour. You can also order a cake if you are unable to arrange something else. It is the gesture and the effort that matters.
This will gradually become a part of work culture and will be liked by one and all. You can make similar arrangements if a co-worker has gained an incentive or a promotion in the office for some great work. Arrange with your co-workers to meet outside for a drink after office hours. When you are happy for your co-worker it will create accord and peace in the workplace with everyone striving to do their part.
8) Be grateful
Some days you might feel off and be unable to work to your potential. At that point in time, a co-worker came and helped you without any prompting or self-gain. Be grateful and appreciate co-workers by thanking them for their contribution. A simple thank you goes a long way in creating good faith and peace between relationships.
Everyone likes appreciation and when they see that their efforts are being acknowledged they will strive to greater heights in the future. Work-related and offhand compliments both work favorably so strive for them to show your appreciation and gratitude.
9)  Avoid gossip and negativity
Gossip is a part of work culture even when everyone knows that it is unhealthy and can cause negativity. Make sure that you avoid gossip and are not part of the group who is speaking negative things about your co-worker. Instead, appreciate co-workers and their efforts on a job well done. Your attitude will let others know that they are in the wrong and will help them to realize their mistake and stop irrational comments.
10) Present personalized gifts
Personalized gifts are a great way to break the ice and increase connectivity between co-workers. If you have been on a vacation, bring a small gift for your co-workers in your team to show your approval. If your co-worker has presented you with a gift then thank him with warmth and show your appreciation.
At the end of a year, you can make a similar gesture to show your positive reception of their efforts in making you feel comfortable and part of a team. Your genuine gesture will be reciprocated by others and bring everyone closer as a team.
Above were all the ways you can Appreciate Co-worker and have better relationships with co-worker in your office. Hope the ideas help you improve your relationships with co-workers.
Liked this post? Check out the complete series on Careers