The career path is referred to the various positions that an employee moves on step-by-step as he grows professionally in an organization. The employee can move anyways vertically, laterally, or even cross-functionally in his career pathways.
What is a Career Path?
Organizations are paying special attention to the career path of their employees because they know that giving them something concrete to rely on will lead to employee engagement, satisfaction, and ultimately employee retention.
The employers have created a specific path to provide the employees with a realistic picture of the coming days. Having clarity about job responsibilities and future job positions helps the employees to identify the areas which need to be improved and build competencies to achieve desired goals.
How to Prepare a Career Path?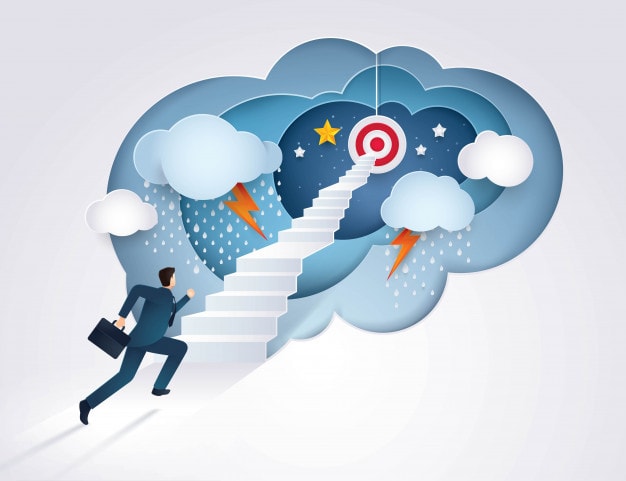 Take the following steps if you are interested in carving out an effective career path framework of your own-
1. Identify your career goals 
Before seeking the culmination of your professional desires in the outer world, it is the time to reflect inwards and determine what do you want, what are your core values, what are the things you enjoy, what are your strengths and weakness, what hard and soft skills you possess and do you have a social skill that is rare and in great demand.
Self-reflect and answer the questions honestly as it will help to narrow down your choices from a broad spectrum to more specific. If you are interested in carving out an effective career path of your own, then this is the time to identify and outline your career goals.
2. Conduct research 
Remember, once you have the answers, the most critical step is behind you. You have realized what is important and what matters to you.
If you are interested in carving out an effective career path of your own, then this is the time to conduct research. Look at the various career options that match your career goals. Narrow it down to a specific path because you cannot travel in numerous boats at once.
3. Create a short-term and long-term career plan 
You have completed the preliminary work and narrowed down your options to something specific. Now is the time to establish milestones. Look at the career graph of other people who have chosen the same field and identify where they are five years or ten years down the line.
Make a written note about the job titles they have held along the way and create a short-term and long-term career plan. What are the opportunities, advancements, or titles that you would like for yourself at those future points?
Do you desire to walk on this path, or you still want to make some changes? Conduct further research to know what you can do to reach the desired goals in those specific timelines. Do you need specific training, have to acquire particular skills, hold pre-requisite positions, or need to take on specific responsibilities are essential questions that must have answers to take the next steps?
4. Identify your traits 
Personality types or traits are the reason why someone chooses to move towards something and develop interests in that specific field.
You can take one of the available tests to identify your personality type and know the reason why you are attracted to those specific career pathways.
5. Review past experiences 
Have you been working for some time Are you satisfied with the career choices you have made? Review past experiences and re-examine and re-assess your job history as this step will help you to identify trends in previous positions and make informed decisions about the future.
Let the previous experience be a guiding force for future choices. Focus on a specific skill and know-how so that you can achieve the position you feel is most desirable.
6. Compare the job requirements with your educational qualification 
You might have carved one of the most desirable career pathways for yourself, but do you have the necessary degree to walk on this path. If you are interested in carving out an effective career path of your own, then compare the job requirements with your educational qualification.
In a professional environment, the first thing the human resources department looks at is the educational qualification and the related degree to support the claims.
Review once again the education requirement of the jobs in your career pathways and make sure you are applying only for those that will support your degree and certificates
7. Review your current skillset 
After the educational degree, the next thing a human resources department will look at is your skillset. You have applied for a specific job, and will your skills support the job requirements.
Will you need further training, or the current skills are apt for the job you are looking at are some important questions that will need answers beforehand. Review and assess your current skill set and ask for feedback from co-workers and peers about people management, interpersonal, technical, communication skills.
Feedback will help in evaluating and assessing the current skill set so that you can find the career pathways that are perfect for you and take appropriate steps in the right direction.
8. Align your interest with your chosen career pathways
Sometimes, people become so involved in moving forward and achieving professional goals. They fail to realize that there are personal things in life that are equally important.
It is good to think about your career pathways that will help you to achieve monetary benefits, but what about personal ones.
Are you interested in something different? Examine your interests, past hobbies, and volunteering experiences to identify the activities you love. The amalgamation of both will prove beneficial in the long run as it will offer both personal and professional satisfaction.
9. Identify your core values 
Identify your core values as they will help to create career pathways that will feel rewarding and satisfying.
10. Consider your salary needs 
It is essential to have a fulfilling professional life, but at the end of the day, you are working for the salary. If you are interested in carving out an effective career path of your own, then consider your salary needs.
Be realistic in your approach, and look at the market conditions and expected salary options. Now consider the options you have and then choose the career pathways that you think will help in achieving your dreams.
11. Keep a check 
The thing about career pathways is that you can revisit it after regular periods to determine whether you are on the right track or not. This will ensure that the individual goals are aligned with professional interests, and the person is still growing both personally and professionally.
Conclusion
The career pathway is an essential opportunity for an employee as it helps to continue with hard work and make informed decisions so that he can move to better positions.
Keeping the focus on a specific career pathway helps to gain additional skills, experience, and know-how so that it can achieve overall career development.
Liked this post? Check out the complete series on Careers