Bisleri is the go to brand for mineral water in India. It is a private Indian company and is famous for bottled water. There are three types of Bisleri bottles which are the most famous. First, is the 20 liter bottle jar which is used in all offices across the country. Second is the 1 liter Bisleri water bottle which sells across stores. And the third is the small 500ml bottle which is used in parties or events.
Bisleri was initially launched by an Italian in 1965. However, Parle soon bought Bisleri and started marketing and sales of Bisleri. Later on, Parle sold Bisleri to Coca cola.
About Bisleri
Type: Beverage company
Industry: Packaged drinking water
Founded: 1965
Founders: Felice Bisleri, Cesari Rossi, and Khushroo Suntook
Headquarters: Mumbai, India
Area served: India, Nepal, Bangladesh, Sri Lanka, Dubai, and the United Kingdom
Current CEO: Angelo George
Number of employees: 6,000
Major products: Packaged drinking water, Natural Himalayan Spring Water, Bisleri Naturals, Bisleri Active, Bisleri Fruit Drops
Here is the SWOT analysis of Bisleri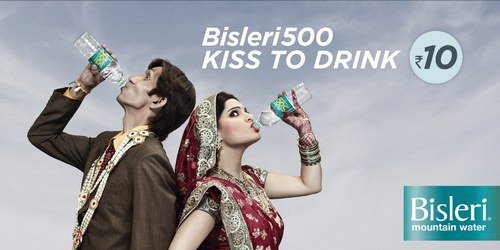 Strengths in the SWOT Analysis of Bisleri :
Brand Recall: Bisleri is very popular around the country for its product. This has made it achieve a very high brand recall among the minds of the customers. The product is so popular that it has become synonymous with mineral water. This is a very big success for the brand as its values and ideologies have clearly resonated with the customers. This has also earned the trust of the customers for the brand.
Quality Standard: They have always focused on quality of its product and have never compromised on the same. They claimed their bottled water to be 100% safe to differentiate with its competitors. They introduced the breakaway seal to make sure they deliver on their promise.
Innovation: They have always strived for innovations among their products. They were the ones that moved from the glass bottles to PET bottles to ensure quality. The PET bottles are 100% recyclable thereby taking care of their ecosystem. They introduced the breakaway seal to maintain the purity. They also introduced the hexagonal bottles for better handling, balance and usage. They introduced the big family packs for the usage at homes and offices.
Market Share: According to the Euromonitor report of 2016 Bisleri leads the country in market share with 24.6%.
No Close Competitors: Apart from Aquafina and Kinley, Bisleri is at a very comfortable position in market share in the country.
Point of purchase marketing – Bisleri is known to be very strong and aggressive where point of purchase marketing is concerned. It brands the shops of its dealers and distributors very well across the country. Furthermore, the colors used are such that they are noticeable even on highways when the cars are going fast. As a result, the branding activity results in good turnover overall.
Weaknesses in the SWOT Analysis of Bisleri :
Distribution Method: The Routeselling method used by Bisleri is more expensive than the common method of appointing distributors in different towns. This increases the cost and many retailers refrain from keeping the product as well. This directly attacks their distribution potential, revenue and market share.
Reuse of Bottles by Locals: Lot of local people collect the Bisleri bottles and refill it using the local unclean water and then mix it with the original batch. This reduces the brand image of Bisleri and may prove harmful during consumption.
Faults in Production: Many times it comes under scrutiny in lapses of quality. This damages their brand value and reputation. They also lost the license to produce at their Noida facility due to a similar case.
Unmet market Potential: It is unable to meet the market potential of the south India as well as in various pockets of India. Production is not as high as it should be because the consumption is very high. Naturally, there are other limiting factors to production such as government norms as well. So if production is increased, Bisleri can match the potential of the market.
Opportunity in the SWOT Analysis of Bisleri :
Expansion: It can expand in different locations across the global markets to increase the market revenues and profits. Europe and the Middle East is a lucrative option for the same.
Expected Growth Rate: Packaged water grew at 23-25% compared to last year which is almost double the growth rate of carbonated drinks. This shows there is still huge potential in the country.
Premium Segment: It can launch a premium bottled water for 5-star hotels and high-end customers. It can diversify its target audience and cash in on this segment as well.
Matching demand and supply – A major problem for any retailer to shift to brands other then bisleri is the regular supply and refill capacity of Bisleri. The more production Bisleri has, the more market it will conquer and the more it will be able to match demand with supply. This will increase its revenues tremendously.
Threats in the SWOT Analysis of Bisleri :
Competition : Indian markets is getting crowded in this product category. Giants like Coca-Cola, Pepsi and Tata Global Beverages have launched packaged mineral water in the country. This can affect the market share of the company and thereby cut its profits and revenues.
New big Players eyeing the market : Apart from this there are several other giants that are eyeing the lucrative mineral water industry of India. Nestle, Tata, HUL and DS group are all eyeing this market. This would increase the competition to the next level.
Localised players : Because the barriers to entry are very low for packaged drinking water industry, there are many competitors who have cropped up in various places. As they have a smaller operation then Bisleri, they are able to give higher margins to retailers and capture the market in pockets. This is affecting Bisleri where small pockets in urban areas are concerned.
RO and Filters : The increase in the sales of water filter and ROs in the country is also an issue to the sales of Bisleri. People prefer their home water when travelling then to buy a bottled water from a retailer. And as the rates of such filters are falling the threat is increasing.
Counterfeiting : Local and illegal manufacturer package their products similar to Bisleri and sell it across local destinations harming the market share of Bisleri.
Changing Government Policies: For every drop of water packaged some needs to be given back to the earth and create sustainability in the environment. Bisleri would need to change their production style and suit the government norms. This would increase their cost of production and thereby make their products costlier or drive their profits down.
Liked this post? Check out the complete series on SWOT