Now that you have chosen to launch a website of your own, the next choice you would need to make is to select the right CMS. We have already gone through the concept of CMS and what it can help you with.
Now the question is how you can choose the best CMS i.e. Content management system for your website or blog? We will compare two of the most popular Content Management systems viz WordPress and Joomla in this article.
WordPress vs Joomla – An Overview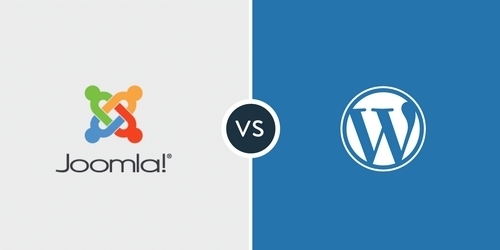 When it comes to offering you the best services with respect to content management and maintenance of your website or blog, both WordPress and Joomla offer you excellent functionality in every aspect.
Both Joomla and WordPress is self-hosted content management systems and open source one at the top of that. WordPress was launched back in 2003 as a blogging platform, and with the developments and improvements carried over the years, it has become one of the full-fledged content management systems.
It currently covers almost 32 percent of the website population and has a massive market share of 59.9 percent. Also, a host of the sites managed by WordPress are not necessarily blogs.
Joomla was launched a few years later in 2005. It is the second largest content management system and powers around 3 percent of the world's websites. It holds a market share of around 6.5 percent. Even when it's holding on to the second place, the popularity of the service is considering going down. For now, WordPress seems to be growing consistently because of the features that it comes with. However, that does not mean we are writing off Joomla in any manner.
So, how would you choose the best among them? The choice should ideally be dependent on what exactly your requirements are. To get a clear understanding, let us examine each of these based on a few features and functions.
1) Security
Possibly, Joomla is one of the best choices for your requirements in safety. The platform comes with its own set of security modules and it does not depend on the plugins for providing security to your platform. It has a set of security extensions and always stays updated with the known vulnerabilities and fixes thereof.
WordPress, on the other hand, is entirely open source and thrives on the plugins that it supports. In fact, it does not have any security protocols or tools on its own. Instead, it is more dependent upon the plugins to provide security. It doesn't have any built-in security features like two-factor authentication or forced SSL connections like those offered by Joomla.
2) Ease of Use
Now that you are a beginner, ease of use and simplicity should be one of the prime factors you will look ahead for in your Content management system. WordPress is ideally the most straightforward system and faster in terms of installation and implementation. There is no learning curve involved, and all the menus and search options are within your reach.
Joomla is also simple and easy to use. But, the similarities do not go beyond the installation stage. Joomla appears a little complicated to use if you are a beginner. You will need to go through a somewhat steeper learning curve to get used to the software.
3) The Look and Feel
WordPress is the one stop solution for all your needs for themes, plugins, and add-ons. You have access to both premium and free themes that will help you give a professional look to your site. In fact, there is no need for any knowledge related to coding, and as such, you can use the software even when you are not tech savvy.
Joomla isn't a slow runner either in this category. You can use several templates and extensions without any issue and add the extra features to your sites. Of course, if you are looking at the number of templates, plugins, and themes available, Joomla has a lesser concentration compared to WordPress. However, this has nothing to do with the functionalities of Joomla. It is just that WordPress is more popular and that is the sole reason for the high degree of availability of plugins and other accessories.
4) Support Channels
WordPress has good support and offers you several channels from that perspective. There is an official support page and well laid out documentation files. You can also get help from a support community that boasts of a massive number of active users.
All the support channels are available for free. You have well-planned support channels to address almost every kind of concern. However, there is no professional level support like in the case of paid services. WordPress is an entirely open source platform, and you do not have access to dedicated email addresses or phone numbers.
Even when Joomla is not as popular as WordPress, it does have a large community of active users. There are several forums, tutorials and an active community aimed at helping the users address their concerns.
Of course, there is an official support page for all your needs. Finding the right kind of videos, articles and other tutorials should not be difficult in any way. However, you may not be able to find the professionals or experts like you do with WordPress.
5) Multilingual Functionality
It can be an exciting option to use a site with multiple languages as many website owners prefer sharing content in more than one language. Both WordPress and Joomla come with the multilingual functionality for their users.
You may not be able to create multilingual content out of the box though. Of course, it does have plugins that would help you create sites for multiple regions with multiple languages. However, these plugins come under the premium category and may not be available for free.
Joomla, on the other hand, offers you the multilingual functions out of the box. You just need to choose an additional language and configure translating the content. Joomla does not need a third party extension for creating a multilingual website.
6) Content Management
WordPress is an excellent option for creating a website or a blog. No matter whether you are into creating content that comes explicitly under the blogging category or otherwise, it offers you an excellent option for working with the proper content management service.
It handles all your tasks of organizing the content with ease – irrespective of the format. You can easily manage everything such as publishing posts, pages, or handling multiple media files. The visual editor offered by WordPress is simple and useful for creating content if you are not very tech savvy.
Joomla is definitely for the faint hearted as the platform is specifically designed for the complex projects. If you are into blogging, it may not be a good choice to opt for Joomla. However, that does not mean you cannot operate a blog with Joomla, but handling it may be a little more difficult than managing it with WordPress. If you are a developer and actually looking for a few complex options in terms of web development, you should go with Joomla. If you are into blogging, we recommend going with WordPress.
7) SEO Optimisation
If you are looking forward to an improved search engine performance on your site, the best option you can go with is Joomla. Of course, both the platforms offer you an inbuilt option for implementing a proper search engine optimization, but Joomla takes the upper hand.
In any case, both platforms are dependent on the plugins and extensions for all SEO things. WordPress has the all-powerful and popular Yoast Plugin which also instructs on how to improve the SEO performance while paying special attention to the readability statistics as well.
Joomla, on the other hand, has easy Frontend SEO. It is almost equivalent to Yoast in most of the features, and you can easily edit the Meta descriptions, improve your readability and apply the requisite options to your SEO performance.
8) Degree of Customisation
The customization is where WordPress excels. While WordPress offers you the options for customizing your site with the themes, you have access to the templates on Joomla. While the features remain almost equivalent across both the platform, WordPress offers you an excellent number of choices and thus stays ahead of Joomla.
WordPress makes it easier to work with high-quality themes. Though we are not giving thumbs down to Joomla, we consider WordPress better when it comes to customizing the site without the need of any technical knowledge.
WordPress vs Joomla – A Side By Side Comparison
To understand the two competing content management systems, it's always a good idea to make a comparison in a tabular format. Going through the features and functionalities of the two tools side by side will help you choose in an easier manner.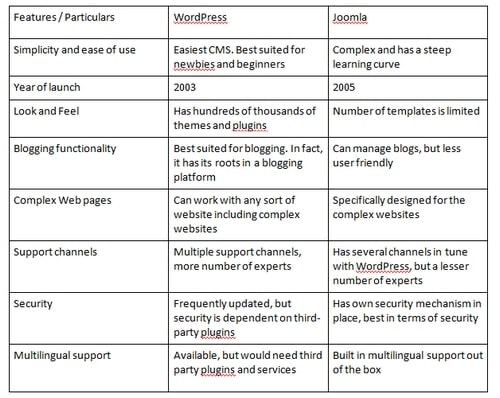 Which One should you go for – Joomla or WordPress?
Looks wise or functionality wise – both are almost similar. The ultimate choice should be dependent on what you would be using it for.
We will treat WordPress as the best choice if your sole aim is of blogging. If you are eyeing some complex web pages, Joomla would be an excellent choice. If one considers the requirements of the beginners, WordPress is best by every standard. The sheer number of plugins and themes that WordPress offers you make it a pleasure to work with even when you have no prior experience. It is easy to learn, does not need a steeper learning curve and thus would suit you even without the technical expertise.
Which would you opt for among WordPress and Joomla and what are your reasons for this decision? Share your thoughts and inputs with us.