Updates are part and parcel of your day to day life while dealing with WordPress. Whenever a new update arrives, you tend to be nervous – thinking over whether you need to update your WordPress installation or not.
What are the Pros and Cons of updating your WordPress? Do you really have to stay updated with the latest version of WordPress? Let us understand why it is essential to pay attention to WordPress updates and how to update your WordPress site properly.
Why Do You Need WordPress Updates?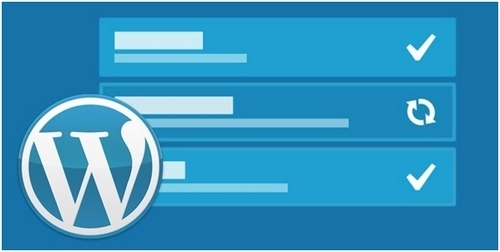 Do you need to update your WordPress? Well, yes. You would definitely need to upgrade your WordPress installation. There are several advantages associated with regular updates to WordPress.
And here are a few advantages that you stand to gain with regular WordPress updates –
1) Added Security
Without any second thoughts, one of the most common advantages of opting for software updates is to ensure an additional layer of security. With the fact that WordPress powers more than 23 per cent of websites around the globe, it has been one of the prime targets for the hackers and scammers. The open source nature of the platform makes it easier for anyone to study and improve the code. That provides access to hackers as well.
The WordPress updates will ensure that your platform is devoid of vulnerabilities. Conversely, if you are not updating your WordPress platform, you are inviting trouble from hackers.
2) Page Speed
The speed of page loading is one of the essential factors when it comes to your site or blog. In case your website takes a longer time to load, your visitors will not hesitate to move to some other site in an instant. When search engines detect that visitors are moving away from your site then it further moves your site down the listing.
WordPress updates are focused on improving the page loading timing. So, if you want to keep your site ahead of the competitors in terms of ranking and SEO performance, you should keep updating your platform as and when it is available.
3) New Feature set
WordPress updates, like any other updates offers a few additional features. These features can either affect your site in terms of back end or front end. But, in any case, they tend to offer you improvements in performance you would expect in your site.
Newer updates offer additional functionality to your plugins and themes as well. Up to date features on your site will ensure that you will be able to attract more traffic to your site.
How to Update WordPress?
Updating your WordPress installation is not a difficult task. WordPress makes it simpler and easier enough for you. You can update your WordPress cores, plugins, themes and other elements of your WordPress installation.
WordPress offers you a built-in notification system for new updates as and when they are available. The notification offers you an update about the version you are on and the new update available. You just need to visit your dashboard and click on the right options.
Launch your WordPress dashboard and check the Updates page. If there are any updates, download and install the updates. It is a one-click process. In case you do not log in to your WordPress on a daily basis, you may not be aware that an update is available so you can save your password to ensure you don't have to hassle every time.
You can also turn on the Automatic updates so that WordPress will update it in the back end without any need for any action on your part. If you are on WordPress version 3.7, the Automatic Updates are turned on by default for minor bug fixes. If you want to turn the Automatic Updates on for the other significant updates as well, you can do so manually.
You can even configure the system to get email notifications whenever new updates are available. However, email notifications will not be available by default and cannot be configured through the WordPress settings.
How to get Email Notification for WordPress Updates?
How about getting an email update for the WordPress updates available for your site? Sadly, WordPress does not offer this functionality out of the box. However, you can have access to this functionality through a plugin.
WP Updates Notifier plugin is one of the best options from that perspective. Download, install and activate the plugin. Once the plugin is activated, you will find the option under your Dashboard Settings. Go to Settings -> Updates Notifier and configure the settings.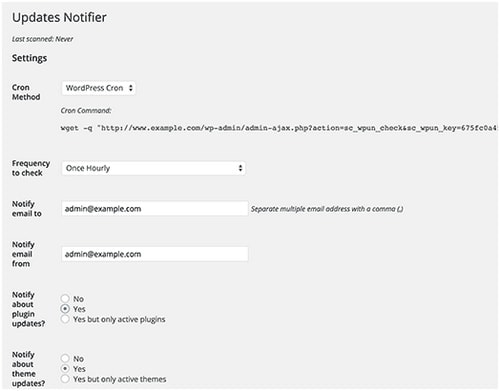 By default, the plugin will check your WordPress installation for updates at an interval of every hour. However, you can change the interval of your preference as it is evident from the image above. You can choose the interval given among the available options.
Whenever the plugin finds that there is an update available, it will notify you through an email. The plugin is capable of checking the updates available for WordPress core update, plugin updates, and theme. You can enable your preferences and save the settings.
A few Cautions you may need to follow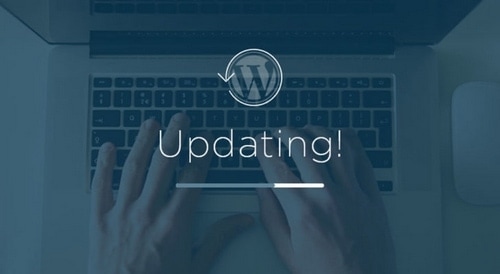 Updates always bring new features and should not create issues. However, there are situations where you may find your site going haywire after a buggy update. In fact, there may not be an issue with the update, but something may go wrong, and the site may go unusable.
You can follow a few precautions to avoid the unwanted situation. One of the best options is to create a full backup of your site just before you hit that Update button. Just in case something goes wrong and your site is not usable, the backup can be helpful enough.
Another option you can go with would be to deactivate all your plugins before you update your WordPress installation. Generally, plugin failure may not be a serious reason, some plugins may be incompatible with the new WordPress update and may cause your site unusable. Once you have updated your site, just remember you need to reactivate all your plugins.
Before we leave you…
Those were a few inputs on how to update your WordPress platform to the new version. Of course, there are a few other options as well to update your site. Some of them include adding a code snippet to the wp-config file or applying the new updates through FTP. However, since we are focusing on the newbies and beginners, we have limited ourselves to the simpler and more accessible options.
What kind of experience have you had while updating your WordPress installation? Share your thoughts and experiences with us.
Liked this post? Check out these detailed articles on
Topic of Blogging
Alternatively, check out the Marketing91 Academy, which provides you access to 10+ marketing courses and 100s of Case studies.