Curious to know what are the WordPress themes? Then the very first thing that you should have an idea about is- WordPress and its key peculiarities.
So, WordPress is a content management open-source platform that permits you to work upon your content, media, pages, and so on. It is also a Database Driven CMS.
In other words, if you want to manage your website without the help of any web administrator, WordPress is going to offer that privilege to you with the utmost convenience and competence.
Basics of WordPress
However, in the beginning, the default WordPress Theme look is not going to be very appealing. Your front page of a WordPress site, just after the installation, looks extremely amateurish that no one would ever prefer. Just have a look below –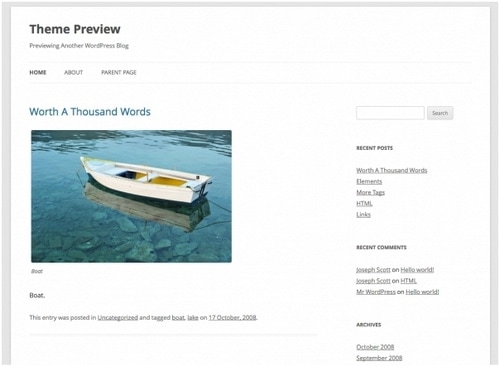 This is the basic looks of pre-installed themes of WordPress. It is for sure not cluttered at all, but it is also simple as ABC. It is not the one that is going to optimize your brand on the web.
Here, begins the real magic of WordPress & their Themes!
So, you want a colorful, responsive, SEO compatible website with some tricks so that you can beat your competitors on the web? WordPress themes will empower you to get that look, appeal, and panache.
You can easily change the pre-installed basic theme to something like this –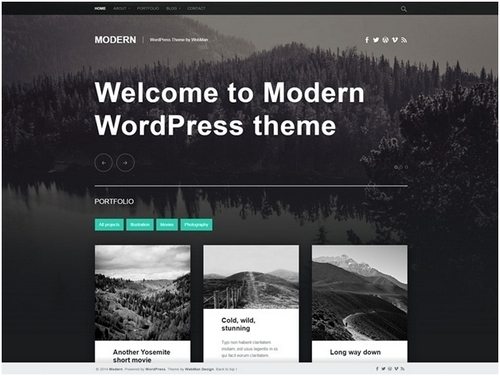 This is just one example, and you will be getting a variety of themes that best fit with your needs and optimize your online presence most appealingly and powerfully possible.
Here, one important thing to notice is despite front-end theme being of wide varieties; the backend is always going to be the same and highly interactive, so you can manage your site on your own.
Let us have a look at the backend of all WordPress themes –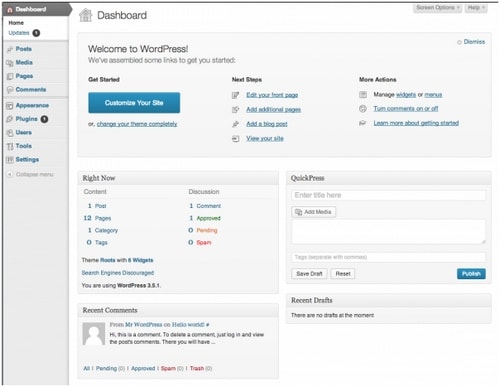 Why choose WordPress Themes
The theme in WordPress is the collection of templates and style-sheets that define the outlook of a website that functions on WordPress CMS. These themes can be customized according to your requirements.
The process is also quite convenient, and you can do this from the admin area under Appearance and then Themes section.
The process of getting many WordPress Themes is quite straightforward. You can find free or paid themes based on your specific needs. In the Themes Directory of WordPress.org, you will get a vast collection of free of cost themes. Each theme is based on different layout and design with various features as well.
A wide variety of WordPress themes let you select your site theme according to your requirement for running your business on the web. You can find Magazine Themes or Photography Themes or other kinds of themes related to the different business niche.
WordPress themes can also be tweaked by installing plugins or specific codes to the function.php file. Besides images and JavaScript, a theme contains three portions; style.css file, optional functions.php file, and a template file of WordPress. There is a unique style.css file for every WordPress theme.
Features that WordPress Themes Offer are-
Design or styling of your site along with Font styling & Colors
Adept Widget Locations and custom-fit Page Layouts (or templates)
Styles for blog posts, blog archives alongside other stylistic details for your site or blog
Free or Paid WordPress Themes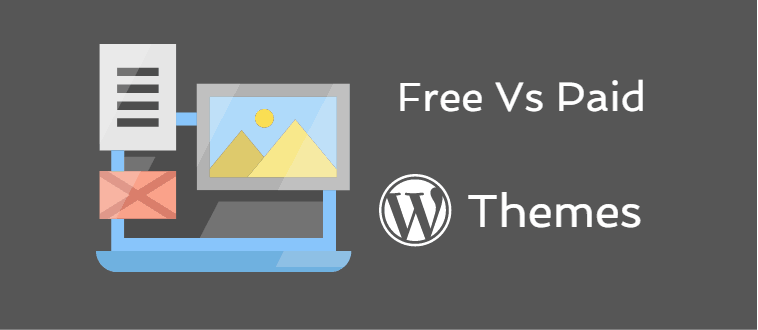 In the WordPress Theme Directory, you can choose many free themes similar to plugins, or you can also go for premium themes that are paid.
Similar to premium plugins, there are certain advantages of paid themes as well. If anything goes wrong with paid themes and their coding, you will get assistance as well.
There are premium themes like Builder that work as web design software, and with their help, you can craft your designs and page layouts. Some of the most popular paid WordPress themes are-
Divi
Newspaper
Uncode
TheGem
Bridge
UnBound
The Core
Massive Dynamic
Foodie Pro
Avada
Soledad, etc.
Now, let us delve into below-given steps that will help you choose the right WordPress theme for your site-
Tips to follow while selecting the right WordPress Themes
1) Simplicity is the Key, so choose a theme that supports your business/site Goal
There are a number of WordPress themes that come with different color variations, animations, different layouts, and so on. There may be certain cases when you need those but not all the time.
That is why you should select a layout according to your goal. Your layout must look elegant, but at the same time, it is interactive, intuitive, and easy to use.
You should not select a theme whose presentation looks complicated. The design should be chosen so that it can help the user reach the right information, and the owner could achieve the goal as well.
The theme is not good if it is not serving the purpose, and users are not able to navigate through the website irrespective of its looks.
2) Select a Responsive theme, so your site works well on all the Devices
Responsive themes are very good at adjusting the dimensions according to the screen on their own. Mobile and other such devices are behind a huge number of traffic that is generated for a website.
Mobile generated traffic can increase by sixty to seventy percent depending upon the topic of your website. That is why it is inevitable that your WordPress themes are responsive.
In a mobile search, Google will locate mobile-friendly websites on the top. Your website must be responsive and mobile-friendly regardless of its designs.
Several themes are responsive to WordPress, but there are few in which the seller is fixing the layouts, and they are neither mobile-friendly as well. Therefore, you should always select a theme that is mobile friendly.
Some of the responsive WordPress themes are-
Neve
Hestia
Tiny Hestia
Zelle Lite
Revenue
Business Point
BeOnePageLite
Easy Commerce
Online Shop
PT Magazine
Business Epic
Sydney, etc.
3) Compatibility with the browser, so your users enjoy using your site/blog on all the Browsers
Different people use different browsers, and so do your users. In such a case, there can be a scenario where your theme is looking great on your browser, but there may be certain drawbacks on the user's browser.
You should opt for those WordPress themes that offer browser compatibility
WordPress themes are tested adeptly by their developers on different browsers for ensuring browser compatibility.
You can find this on their website. But if they haven't mentioned it on their website, then you can do such tests on different browsers like Google Chrome, Internet Explorer, and so on. You must test it on different mobile browsers as well.
4) Get Plugins that empower your site to do all the Activities you Crave, e.g., SEO Implications
WordPress is nothing without WordPress plugins. It is these plugins that enable you to do several things on your WordPress site. There are some
WordPress plugins that you can easily embed in your site and perform a variety of tasks such as Search Engine Optimization, Website Content Backup, Google Analytics, Social Sharing, Form Creation and so on.
You should select such a WordPress theme that will support all the essential plugins, and if not, then you can ask the theme developer.
Some of the most popular WordPress plugins are-
Yoast SEO
Gravity Form
W3 Total Cache
WP-Optimize
Share This
Editorial Calendar
WP Backup
WP Super Cache
WP Touch, etc.
5) Utilize the best Drag & Drop WordPress Page Builder Plugins
Certain WordPress plugins permit you to form a layout of the page by using drag and drop user interface, and this is known as Page Builder Plugin.
These plugins are pre-installed on some premium WordPress themes, and you need to know if your theme has these features or not, in case your site goal asks you to have such abilities.
Many themes support the most used page builder plugins. And also, you can opt for purchasing these page-builders if you want to use them with other themes.
Some of the top-rated Page Builder Plugins are-
Beaver Builder
Elementor
Divi
Themify Builder
Page Builder by Site Origin
6) Choose a WordPress Theme that is Language friendly
There are a number of WordPress websites that are not based on the English language. There are chances of website creation in a language other than English.
You might be planning to create a multilingual WordPress site in the future, and that is why you should choose your theme accordingly.
After keeping all the aforestated things in mind, you must select WordPress themes that support translation as well as works smooth on multilingual WordPress plugins.
Liked this post? Check out the complete series on Blogging