Want to improve your site ranking, visibility and conversion ability? Then incorporating a befitting SEO strategy is inevitable. WordPress tags are one of the most important factors that play a key role in improving the SEO of your site.
In addition, they can categorize your WordPress posts in different tags, so your audiences can click on a tag to discover all the related posts.
Tags play a significant role in enhancing page hierarchy, taxonomy, and SEO of your site.
You can classify WordPress tags in two different types –
1) Blog Post Tags
Used in a blog post of your Webpage
2) Blog Page Tags
Used for the Webpage of your blog post
Below given description will clarify the difference of both of these, so let us dive deep into the world of WordPress tags-
Blog Post Tags
In the beginning, WordPress came up with WordPress Categories and then with the variant 2.3, WordPress tags came in the picture that concentrated more on the micro details of the blogs. With version 2.5 of WordPress, users got subpanel for the tags to ensure better controlling of Tags page of a site. It also offers better management of all the tags or keywords used in the blogs. Let us now understand how you can add WordPress Tags in a blog post-
Step by step instructions to Add Tags in WordPress Blog
There are two simple approaches for adding tags to your WordPress blog.
In the first one, you can add tags while composing your blog post. You can do this simply utilizing the Tags box given on the right-hand side –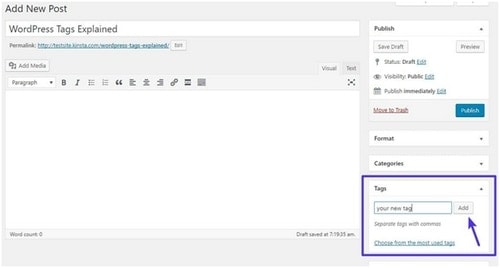 On the other hand, the second technique allows you to straightforwardly add WordPress Tags in your blog post from the section 'Posts' and then 'Tags'. This technique lets you include new tags and channelize current tags with utmost ease and accuracy.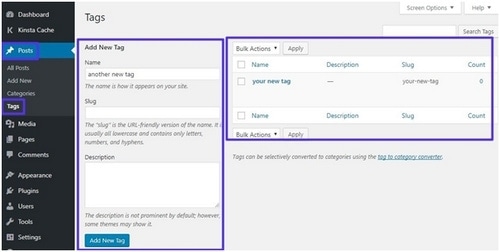 1) WordPress Blog Post Tags & Their Role in SEO
You need to pay attention to some SEO best practices of WordPress tags to guarantee that the utilization of tags does not have any negative impact on the SEO of your site. Actually, when you add a tag in a post, it makes a different file page that incorporates every one of the posts utilizing that particular tag. This is very useful for your readers, subscribers, and followers to get comparative content in one place; however, these tags create a problem for Search Engines.
For the search engines, tags create heaps of low-quality similar content pages. This can be quite a time consuming for Google, while not any productive result will be offered to you. That is why, it is advisable to use Noindex directive that can advise Google not to try indexing your WordPress tags in any case. But, you need to understand here that despite creating issues for Search Engines, WordPress tags are magnificent in ensuring the best experience for your site visitors.
This alleviates the navigation of users around your site in quest of their favorite topic that ultimately lower down the bounce rate. Tags are also great in segmenting out the keywords from the post and cleaning up the Categories.
WordPress Tags used in a post enhance the ease of use of a blog for a superior user experience, as well as for keeping your site better sorted out.
2) Post Hierarchy & Taxonomy Role of Post Tags
When it comes to Post Hierarchy, these tags play a very basic role, as they help Categories stay free from Keywords to offer better organization of your site content. In Taxonomy, WordPress Post Tags are of great significance. They obviously help you recognize the keywords used in the post, plus, they alleviate the process of discovering content as per their interests. They also compel readers to opt for similar content on the site.
SEO Role of Post Tags
As said above, you should Noindex and Nofollow your post tags, as this will help in better ranking of your original content by decreasing down the competition of your original content.
1) Blog Page Tags
Meta, header, title sorts of tags come in the category of Page WordPress tags and they are very important in boosting Search Ranking of your site pages. Let us discuss some of the most important Blog Page Tags here and now-
2) Title Tags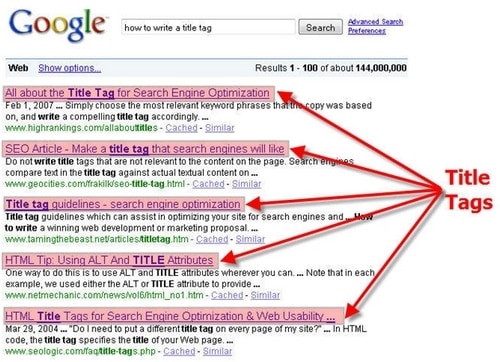 These tags have a place with the <head> segment that is going to display the title of a website page. Title Tags are an actually clickable title in the Search Engine Result Pages that appear on the web and other Social platforms. They will give the idea about the content covered at a particular page.
3) Title Tag SEO Practices
You should give every site page a title that adeptly depicts the page's substance succinctly and precisely. It is advisable to have a title of around 50-60 characters, otherwise, your title can be truncated. Your focus keyword should be used organically in your title and it should be at the starting of your title if you want better SEO results for your site page. Utilizing company name in your Title tag can also be beneficial for you.
4) Meta Description Tags

These tags are a paragraph of content set in the <head> of a page. You can see Meta tags in the SERP snippet alongside the page URL and Title. The meta description is utilized to provide an idea about the site page in one to two lines.
5) Meta Description Tag SEO Practices
Your site page has to have a special Meta description that unmistakably reflects what that page is going to offer the visitors. Around 150 to 160 characters (counting spaces) are generally preferred by Google for Meta Description. Keywords should be included in Meta tags in an organic manner and overuse of keywords in Meta tags or anywhere is absolutely prohibited. Use of a convincing CTA or Call to Action is also an important SEO practice for Meta tags.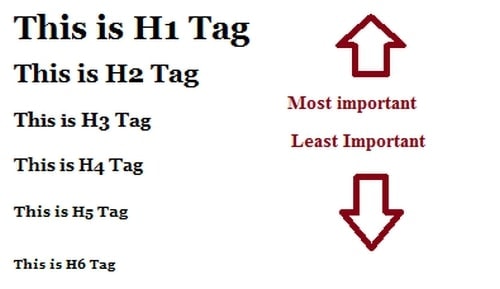 These tags can be understood as HTML tags that are used to distinguish headings and subheadings inside your content on a particular site page. Different heading tags are H1, H2, H3, H4, H5, and H6. H1 is used to highlight the primary heading of your site page. Other tags from H2 to H6 are optional and you can use them based on the significance of different headings in a post.
6) Heading Tags SEO Practices
It would be good to let your site page have a unique H1 tag that describes the theme the page covers. Utilizing primary keyword in your H1 tag is also important. Use of other tags where they are justified is also advised. Focus keyword should also be used in these tags but organically.
7) Image Alt Attributes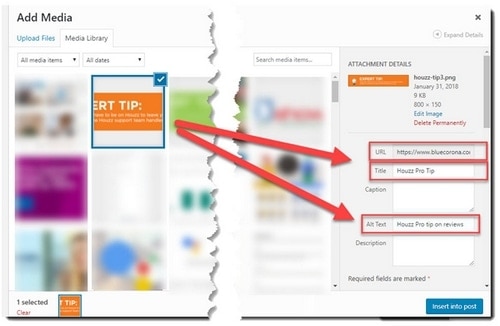 These tags are used to let search engines understand the content used in an image on your site page. Alt tags are one of the most important onsite optimization practices. In case your site images do not load, your readers can recognize the image via Alt attributes. They are immaculate in offering context to the image.
8) Image Alt Tags SEO Practices
When it comes to SEO of your site images, Alt attributes are the most important factors and you have to use them. Adding Alt tags to your images help your site images rank good in Google Images Search. For the pages that have more images than content, it is advisable to add Alt tags with images. Utilizing keywords in Alt attributes is also important.
10 ) Page Hierarchy & Taxonomy Role of WordPress Page Tags
Heading tags from H1 to H2 is very important for the page hierarchy of your site page. H1 tag should be used with the title of your post while other tags should be respectively used as per the significance of different headings in the site page.  These tags also help in the taxonomy of your page. The content of a particular page will be divided into different sections via Page tags that will pull in and engage your site visitors.
11) SEO Role of Page Tags
Utilizing keywords in Page Tags is the most important SEO practice that will for sure optimize online presence of your site page. Focus keywords along with secondary keywords can be incorporated in page tags to boost the ranking of your site page in Search Engine Ranking Pages.
Final Thought
Now, we have reached the conclusion of this post and I hope, you would have understood the importance of WordPress Tags and their role in optimizing online presence of your site pages.
In case of any doubts, share your queries in the comments below.
Liked this post? Check out the complete series on Blogging