When you opt for a WordPress site, you get a variety of user-friendly and SEO compatible features that make your site adeptly designed and properly organized. WordPress Categories and Tags are the two important features that are responsible for organizing your site blogs in the most accurate and result driven manner possible. Therefore, comprehending Categories Vs Tags concepts will enable your web pages to get better ranking, improved user experience, the increment in page views and finally boost in conversions.
The right use of Categories Vs Tags will ensure easy and effective navigation of your readers and web crawlers through your site pages. This is very significant when it comes to utilizing site pages with better structure, accessibility, and functionality.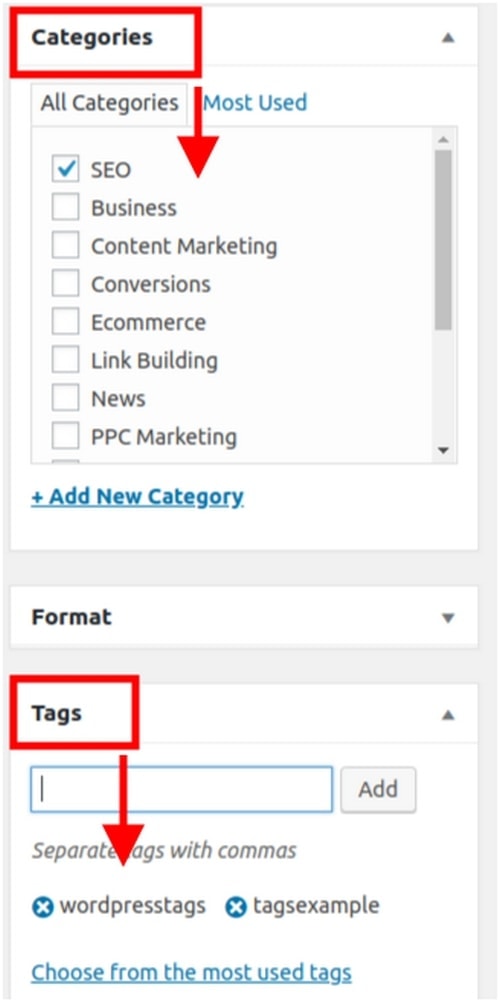 In this post, we will decipher all the inner layers of WordPress Categories Vs Tags concepts.
First thing first, let us understand the definition of both of these-
Categories: Definition
Categories play a significant role in the categorizing your posts based upon the type, genre, or niche of contents that you have on your site. Like if you run a Digital Marketing Course site, your blogs can have Categories like Digital Marketing, Social Media Marketing, Search Engine Marketing, SEO, PPC, Content Marketing, etc.
These categories are there to help you in organizing your site posts in different groups related to your site contents. Readers will also be benefitted in finding the contents related to a particular topic. The hierarchical structure is also comprised of Categories that also provide the opportunity to create sub-categories. Categories are shown at the top, bottom or in the sidebar (in the menu section).
Tags: Definition
Tags play important role in providing the specific details of any particular blog post. They are more particular than categories, as they are primarily associated with the theme of that particular content and help in micro-categorization of the post.
Via Tags, Website owners can likewise exhibit those posts together that are related to a particular topic. Just by clicking on one tag, readers can find out all the posts related to that tag. Readers can find the content of their interest effortlessly. Better interaction on your site is also one of the features of WordPress tags.
WordPress Categories Vs WordPress Tags : The Difference
You can find a hierarchy in WordPress Categories that will let you classify categories into Sub-Categories in view of your needs. But, Tags do not have any hierarchy and they are optional
With Categories, you notify the site topics that a particular post covers, while Tags define and optimize specific details and keywords of that post
You cannot use multiple categories but the use of multiple tags is allowed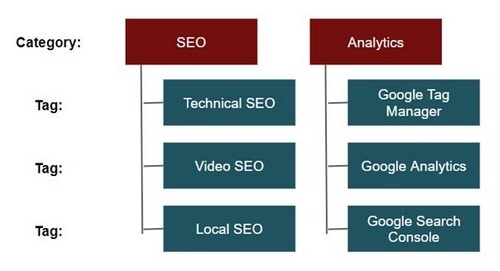 Categories Vs Tags : Optimization for SEO
1) Categories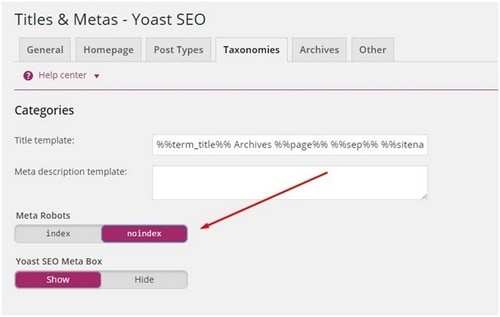 When it comes to handling categories for SEO, you need to tweak the default setting of categories in WordPress. You need to go into the Yoast SEO Plugin then into the Titles & Metas section and finally in Taxonomies. Now, you need to change the Meta Robots parameter to the Noindex. This resolves the duplicate content issues.
2) Tags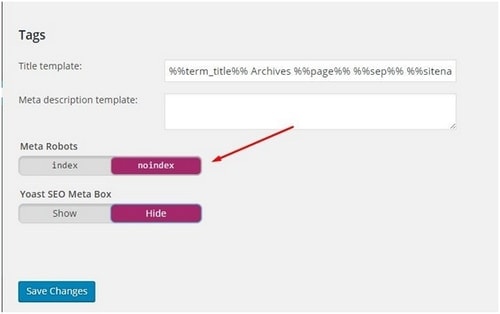 You need to follow the same Category procedure in Tags as well. Just go in Taxonomy and then in Tags and set Meta robots on Noindex.
Actually, you can understand Categories as different Chapters of any book. With the help of chapters, you get the general idea of all the topics covered in the book. It likewise happens with Categories, as they give an idea of the subjects that your blog covers. On the other hand, you can understand Tags as the Index given at the back-end of the same book that let you know about the micro-details of different topics.
This alleviates the experience of your blog readers, as they can tap on a Tag or Category in your post or in the sidebar to find out all the contents associated with that Category or Tag.  They play a key role in making a post easier to locate on your site.
In the example given below, you can see the Category of the post is 'Tips for better Blogging' while Tag is 'Comments'.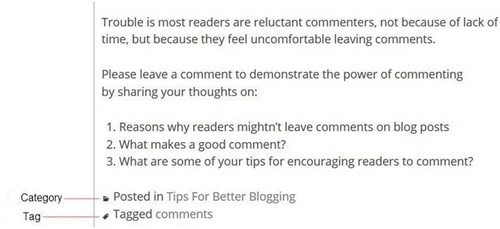 Categories Vs Tags : How many Categories & Tags would be the right for you!
What number of Categories your site should have?
Frankly speaking, you can go with any number of Categories as per your wish, but it is advisable to have a category for covering the broader aspect of your website. Your Category is not there to cover all the micro-details of your site.
Categories are there for easing down the navigation of your site. It should also offer the most organized site structure to your audiences. So, never try to include too many categories. If you run a News Site, you can go for the variety of Categories as such sites need numerous categories, as given in the example below-

Means, if your site genuinely needs a fixed number of Categories, only then you should add those. Updating each Category with the consistent Content submission is also important, and with too many categories, you will not be able to do this.
So, to be precise, I would advise you to start with 2 to 5 basic categories and then update them with relevant content consistently. Opting for broader categories that your site will always be covering is a prudent practice here. In case one particular Category that you have chosen is not being able to describe your blog, you can opt for sub-categories or tags and they will serve the purpose.
For an e-Commerce site, it will always be good to utilize only 1 Category for your products or posts. This technique is very effective in safeguarding your site from all kinds of cluttering and duplicity. This will help your site enjoy better structure. You can also utilize Noindex feature by following the aforestated steps in 'Categories Vs Tags: Optimization for SEO' section of this post.
What number of Tags your Post should have?

Again, with WordPress Tags, there is no restriction for you. However, if a paragraph has so many tags in it, for sure your paragraph would never be user or search engine friendly.  WordPress tags are very useful in enabling you to depict your post, product or service in the few words. Therefore, just adding so many tags in your post will never help your blog post.
Even, it is not essential that a post having a good number of tags will help you rank good in SERPs because a post without any tag can also rank good. So, you need to understand here that use of tags will never help you rank good, but tags play a key role in organizing posts of your site.
In case you run an e-commerce blog, use of tags are very significant because you cannot use a variety of categories. Tags work in all such cases quite effectively.
While describing your post, you cannot use all kinds of keywords. Tags also play a key role here. Different tags that are relevant to the searches of your audiences can be used to get a number of relevant traffics.
For instance, if you have posted something related to Book Review Category then a variety of tags that can be used by you are non-fiction, Fiction, Mystery, and so on.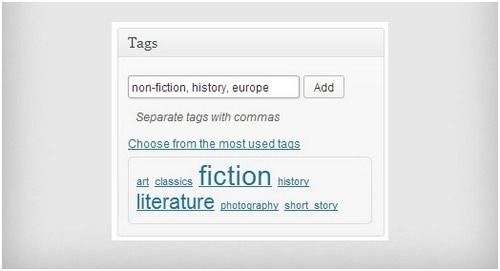 You can go ahead with around 3 to 10 tags. You can also use more than 10 tags but your use of tags has to be justified.
Wrap Up!
Now, we have reached the concluding note of this post, and we covered this topic in the most comprehensive manner. We tried to cover all the aspects associated with Categories Vs Tags, so you can get the exact idea of the use of Categories and WordPress for your site and blog.
In case you still have any doubts about the role of tags and categories, feel free to ask Marketing91 team.
Liked this post? Check out the complete series on Blogging