Do you wish to have more and more followers on the Facebook page of yours? Well, you need to make sure that you are doing everything correctly in order to have the best results. When it comes to Facebook marketing strategies, most people invest in the ads and other methods that can be used for the promotion of the brand. However, they always tend to forget the most important part of having Facebook and that is the page of the brand. Yes, you need to make sure that the brand page isn't boring or uninteresting so that the people can enjoy looking at it.
One of the best ways to do that is to create and use is Facebook Landing Tabs of your Facebook business page. This will definitely be an improvement to the techniques that you are currently using and the results will be amazing.
A custom tab in your Facebook page is used for creating a Facebook landing page that drives visitor action. You can use these tabs for asking your Facebook page visitors to perform a few actions that will ultimately help your business generate some revenues. Making your Facebook landing tabs interactive, engaging and powerful will help you generate favorable actions from your audiences.
Here are some of the best ways by which the brands and the businesses can use the different landing tabs that are present in the platform of Facebook.
Different Ways of Using The Facebook Landing Tabs
When it comes to the proper use of Facebook, one thing that you need to take care of is the landing tab. Here we are going to discuss some of the best ways by which you can easily make use of the landing tab that is present in the Facebook platforms.
1) Offer Different Engagement Invitations
You can also invite people to engage with the page that you have.
This way, you will be able to know more and more people and then, in turn, the Facebook community of yours will keep on growing.
There are many different techniques that can be used in order to invite people for engaging with the platform. You could keep contests or use Long Tabs in order to make sure that people come and visit your page to engage with you. Here the visitors need to scroll down a number of screens and this can be a disadvantage for some, while can even work out for some.
You can also use different opportunities that can engage your page visitors. For this, different options that are available for you are game, poll, invitation to share photos, and so on.
Geo-targeting is also an option for you in which you can customize your page as per the specific inclinations of different locations. This means the IP address of the visitor is used to customize the page for him or her. This means the page may come up in the native language or so that may again attract a number of people to like the page.
2) Increase Interaction Opportunities
The main goal of any business is to make proper use of the landing tab so that the page can be maximized. Well, with the help of the TabSite application, you can easily create a particular navigation bar where people will be able to search your page and interact with you.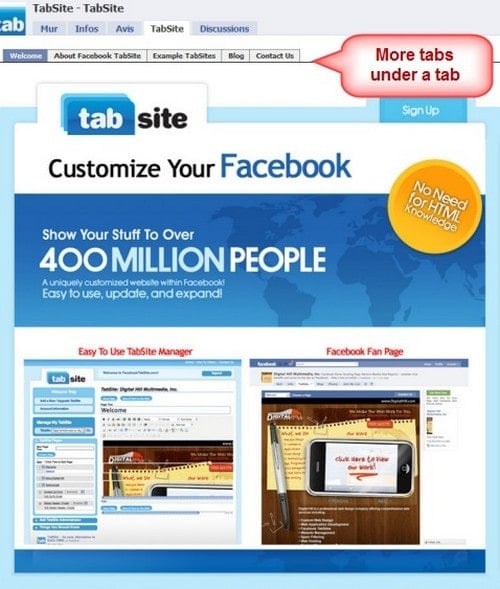 When you provide the users with different means of increasing interaction, then they, in turn, provide you with the best of the results. Most of the brands are trying this method and you should do it as well.
Offering different interaction opportunities ensure conversion driven engagement with the audiences, as they will find different touch points to communicate with you. More interactions with the audiences offer more chances of lead generations, conversions and sales potential.
You can select different options to put up in the main navigation bar and this will be different from the second bar.
3) The Tab 'Boxes'
In the below given example, you can notice how smartly Cintas Corporation diverted the new visitors to the 'Boxes' tab.
Such tab boxes ensure more interactions that ultimately help in generating leads and boosting conversions.
4) Using Current Event Is Important
When it comes to increasing the likes and engagements on the page, you need to make sure that you give them something to come here.
Just like different companies do, you can easily create the promotional content and then tie it up with the current events so that people have an interest in looking at the content that you provide.
This is one of the most useful techniques until now that bears the best results. You can easily use the landing tab in order to let people know about the current events.
It would be quite productive for you to combine the current events with promotional materials. This marketing tactic worked in a huge way when Volkswagen made use of the World Cup on its Facebook page.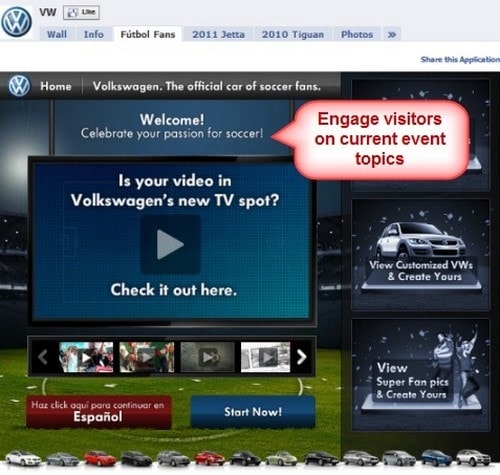 5) Ask Likes For Your Page From The Visitors
When you have a landing page, then you can easily use it to make sure that the visitors constantly like your page.
This way, you will be able to build a large and proper community on Facebook.
This is one of the best ways to make sure that you have more and more followers for your page. Most brands these days ask for Likes from the users and grow their community of followers in a very effective and yet simple way. You should try it as well.
Below you can see how adeptly Apryl Parcher has used her landing page tab to grow her Facebook Community.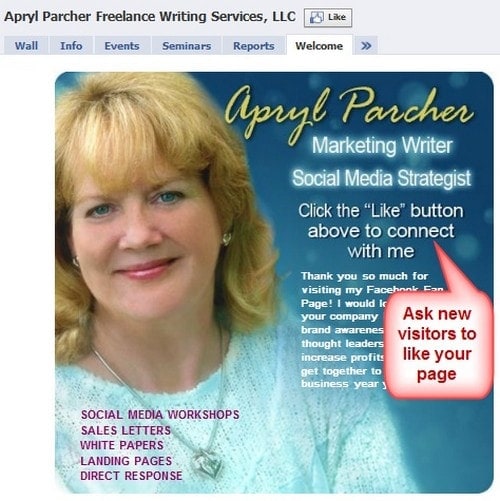 The landing page is the best place to request your visitors to like your Facebook page. This can help in growing your community on Facebook.
6) Provide Links To Your App
Well, the landing page has a use that most people don't know about but it is really important that they do. Let us provide you with an example to help you understand. Starbucks is an internationally renowned company.
Well, the company uses the Facebook landing tab in order to provide links to the application that they have. The customers can easily click on the link provided on the landing tab and visit the official app of Starbucks where they will be able to manage the accounts.
Providing links to the apps on the landing page will certainly be a pretty useful technique for you.
7) Be Straight And Direct
There are a number of businesses that has a direct tab for the like option. One of the best examples here is the Best Buy site that offers the tab of 'shop and share'.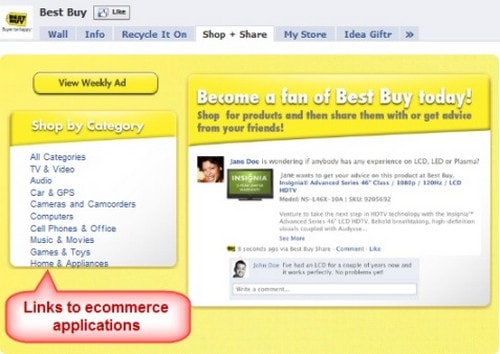 When you directly update your audiences about the task that they need to perform and how that will offer some value in their lives, you will be having better chances of connecting and converting potential customers into buyers.
8) Easy Interactions
You can make it interactive so that the visitors can get a feel of interest and hence can like the button.
There are businesses that offer visitors to share their job experience along with images and win gifts.
Such attempts also ensure more interactions and engagements for your Facebook landing tabs.
Wrap Up!
So, these are some of the best ways by which you can make use of the Facebook landing tabs. If you follow these tips, then you will have the best results for sure.
If you are someone who makes use of social media platforms in a huge way to promote business, Facebook landing tabs can be the best option that you have in hands. Different people are coming up with different techniques in order to make use of Facebook in a much effective way.
Liked this post? Check out the complete series on Facebook Marketing