Have you been hearing a lot about Social Media Monitoring and curious to know more about its importance for your business? Then, this post will enable you to understand social media monitoring and its working in detail.
People these days prefer to interact via social media handles and so do your customers. In order to manage their interactions, messages, and inclinations, you require an access to some kind of social media monitoring tool. With the help of these tools, you can gauge the performance of those Social Media Campaigns that are compelling your prospects to discuss your brand on the web.
Let us understand the definition of Social Media Monitoring
Definition of Social Media Monitoring 
When you keep track of what is being said on the social media platforms by using tools then this process is known as social media monitoring. This whole process is also termed as Buzz Analysis, Online Analytics, Social listening and so on. Businesses/organizations use this method to communicate with their customers. It is also one of the most powerful ways to measure your online reputation and accordingly it is also used for collecting and mining existing/potential customer data.
Importance of Social Media Monitoring
1) Monitoring and Listening in a better way
You can learn the difference between social listening and monitoring by going deep in the world of monitoring that will empower you to ensure more productive outcomes for your business. You can easily understand why these are often considered the same and how these two are used in analyzing your customers. Let us understand the difference between the two:
2) Social Media Monitoring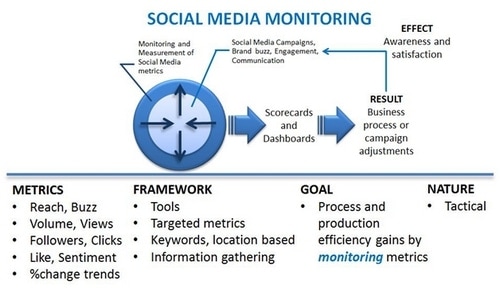 It deals with the identification and responses to the individual brand mentions on different Social Media Platforms. It establishes a conversation with customers on a micro level. In monitoring, you will be responding to incoming queries or issues. It is like a tree.
3) Social Media Listening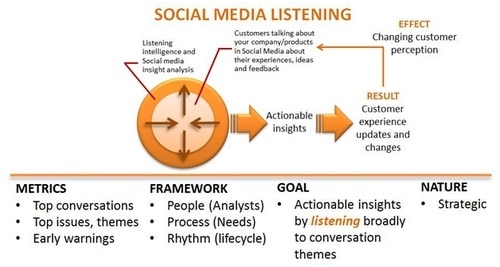 Social listening collects important data from the individual mentions and Social Media Monitoring. With the help of those data, it designs more targeted interactions with customers to ensure conversions. It is like a forest.
4) Approach your customers in a better way :
Customer service is extremely important when it comes to building a business. With Social Media Monitoring, you can know the tendencies of your customers and accordingly, you can offer personalized customer service.
It was analyzed by Sprout Social Q2 2016 Research that around 35 % of consumers when communicated for customer care through social media, they prefer to reach out to those brands.
Social Media Leads that are ready to Convert
People use social media for brand identification in a similar manner as they use search engines hence businesses have got the opportunity to promote themselves with social media handles. You can use the following keywords for ensuring result driven Social Media Monitoring for your business:
Brand Keywords : You use these words, which are related to your brand. For example, Make My Trip can be used to track tweets by Make My Trip
Industry Buzzwords : You can use keywords like "Holidays", "Honeymoon Tour, "Weekend Getaways" and so on in order to describe product/service provided by your company. These words will lead you to get relevant conversations in a better way. People might not be knowing your product but they can reach you when they search for their interest.
Location-specific keywords : If your company is highly active in a particular area then you can use these keywords for a specific When any person searches for a similar phrase then your business will be recommended. This might not sound an efficient way and won't appear on your timeline but if you use relevant keywords, you will get good conversions.
Hashtags : Hashtags that are related to your business can help you in increasing your campaign. Like, if there is a Digital Marketing Training Institute then they can use #LearnDigitalMarketing as their hashtag, urging people to show the world their online content and prospect won't miss any posts.
Competitors : In order to get ahead of your competitor, you can ask other people about your product and they will let you know their opinion which is helpful. When you monitor your competitor's company, you get to know about their activity and what people feel about them. In this way, you can also understand the likes and dislikes of the audience in the industry.
Get to know about Advocates and Influencers who can optimize your brand on the Web
We call the people as influencers who are trusted by the consumers when it comes to giving opinions and optimizing leads and sales of businesses. Most of the people believe them because they are familiar with them. Since influencers can be of great help hence you need to consider them. In this way, you can expand your reach to a number of customers.
There are people who share and recommend your products on social media and we call them as brand advocates, you need to track them and establish a healthy relationship with them.
For instance, if an influencer mentions your brand name with thousands of followers, just imagine the reach and awareness that he or she will generate for your brand. You can later use that reach to generate leads and ensure conversions.
Feedback, Analysis, and Conversion-Oriented Engagement
In the set of the importance of Social Media Monitoring, now come the final points. Actually, when you use social media marketing, you get to know about the ways in which you can improve your product/service. You can use Social Media Monitoring tools to track the user's reviews on your product/service.
Let us suppose if people suggest Make My Trip to blog about weakened activities in Goa, through monitoring, managers will get to know about this and they will start posting interactive content about the Weekend Activities in Goa. This makes your campaign more result driven.
You not necessarily get a positive response every time and should be ready for negative feedback as well and these will also help you to improve your product/service.
Social media monitoring is effective when you make it a daily routine because it is not a one day process. You need to continuously monitor the social space so that the tracking is best maintained.
Now, we will take you through some of the best Social Media Monitoring Tools to help you have the knowledge about the tools that can help you make the best use of social monitoring-
Social Media Monitoring Tools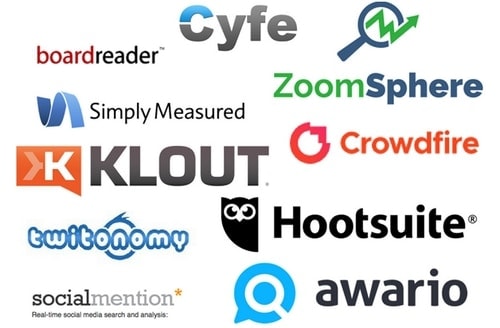 1) Hootsuite
Hootsuite is a free social media listening tool that covers different social networks like Facebook, Twitter, LinkedIn and so on. Social media management functions are its attraction. If a different number of people are managing the social media handles then you can go for weekly reports and team management facility. This will help you out through the monitoring process.
In real time, particular terms can also be monitored and this is helpful when you are tracking your products, brand and so on in which you are interested. You can also use the RSS feed feature in order to post to your own company's social network.
2) TweetReach
If you are the one who wants to track "tweets" then TweetReach is an excellent tool for you. It monitors your social media discussions and then guides you run campaigns that are more effective.
In this way, you can get to know about your most influential followers hence target the right people through your contents.
3) Buzzsumo
You can do content research with Buzzsumo as well as monitor your Facebook pages. With this tool, you will get to know about the best performing content.
You will get to know about when is the right time to post and how should you frame your content with the help of Buzzsumo. It will help you find out important metrics related to each of your posts
4) Boardreader
Forums and messaging boards are also a part of social media and not just the big fishes. With the help of Boardreader, you will get to know about what people talk about you at different forums.
In this way, you can generate the data and analyze them. You can track the conversations about your brand in this way in an effective manner.
5) Mention
You can monitor a number of sources in 42 languages with the use of Mention. It will gauge the actions of your team and will also assign them tasks.
You can generate reports as well as fetch relevant sources in different languages. You can get their 14-days free trial.
6) Digimind
You can monitor keywords on different social media handles and news outlets for your brand with the help of Digimind.
You will get to know about each and every feedback whether it is good or bad.
7) Brandwatch
You can track your brand through deep listening with the help of Brandwatch app in Hootsuite.
Insights from different social media handles, forums and blogs are generated and you can make real-time
Now, we are going to wrap up this post expecting you would have understood how Social Media Monitoring can optimize your brand on the web by empowering you to run more personalized campaigns online. –And all this happen because you will adeptly monitor discussions and behavioral preferences of your audiences.
Still, have any doubts about Social Media Monitoring? Write to us in the comments below.
If you liked this article, we bet that you will love the Marketing91 Academy, which provides you free access to 10+ marketing courses and 100s of Case studies.