Quality of Content, RankBrain Algorithm, and Links are the three prime factors that decide Search Engine Rankings. In this post, we will be diving deep into an important concept of links, i.e., how to automate internal links.
We will not only be discussing how this automation of internal links takes play but also be covering if it is good to automate internal linking or manual linking is still the right option.
So, no more ado let us start the journey of Internal Link Automation, and first thing first- why so much attention on Internal Linking…
What is internal linking & why is it important?
As the name suggests, internal linking means linking your webpage to another webpage under the same domain. You want to keep your all web-pages tied to each other, and linking pages internally is the best way to do that.
Now, why is that important? Let us understand –
Google uses so many measures to detect the actual content of your webpage. Since it doesn't possess a human mind so comprehending by reading is not its type; therefore, it takes technical help to detect the content on your webpage.
Google checks for internal links on your webpage through which it can get the essence of content on your webpage. Google's bot crawls in your webpage and checks for internal as well as external links to decide the value of your webpage. Google values a webpage which contains internal as well as external links more useful to the searchers.
Internal linking is also important when you want to raise the ranking of all your web-pages collectively.
There is a simple rule in content marketing; a webpage automatically gains good link value, if it is linked to another webpage which has already got a good link value.
So, if you want to boost the ranking of your web-pages collectively, then you must link them with each other … and this can be done in two ways, manually and automatically.
Let us understand automated internal linking and why should you go for that. We will also discuss a few tools that will help you with the process.
Why Automate Internal Linking
You want to see your website on the top of the search results on any search engine; everybody does.
But the competition in content marketing has gone to the next level, and people are coming up with smart strategies to excel in this field. To compete with them, you need a full proof strategy for content marketing.
Gone are those days when you could rank your website by just inputting a few keywords, you need to do much more than that, like Internal linking or the next level – Automation of Internal Linking.
What is Automated Internal linking?
When you want to avoid doing the same process again and again and take help of tools to do that for you, it is known as an automated process.
In the same manner, when you use tools to add internal links to your webpage automatically, then this process is known as automated internal linking. In this process, you tell the machine to add links to a specific URL automatically, and it does the job.
Now, why to consider automated internal linking over manual internal linking?
Adding internal links is no doubt beneficial for your web page's SEO, but it is again a tedious process. Doing the same task, again and again, will make you tired and soon you will lose your interest as well.
Problem with Manual Internal Linking
Over a period of time, with older domains, manual internal linking can be time-consuming for you that may impede the zeal of regularly updating the internal links of your site.
When you have just started your website, there's no issue in doing it manually, but as the time passes by and your website grows, manual internal linking becomes extremely difficult. Since you have hundreds of web-pages and if you go to link them manually, it will eat up your time.
The entry of Automated Internal Linking
The main objective of automated internal linking is to save the user's time and efforts.
You can let your WordPress CMS use automated linking for inserting a particular URL to any specific keyword. It is good when you are driving your site visitors to an important page within your website, or for adding Affiliate Links to different pages or posts.
Comparison Table – Manual Internal Linking Vs. Automated Internal Linking
| Internal Linking | Automatic Internal Linking | Manual Internal Linking |
| --- | --- | --- |
| Speed | Automated, so Faster | Manual, so Time Consuming |
| New Domain | Not Suggested | Offers Better Results |
| Older Domain | Quick Results, Saves time so you can pay attention to other important things | Takes excessive amount of times and turn the whole process onerous and boring |
| Personalization | No Personalization | Offers Personalized Results |
| Repetitive Anchor Text | Yes | No |
| Google Penalty | Risk of Google Penalty if anchor text is same because it may turn your internal links spammy. Some plugins offer variations and using those is recommended. | No Risk of Google Penalty. |
So, what are the best tools to help in the Automation of Internal Links?
There are many plugins on the internet that can do the job of internal linking for you.
You can take their help to save your time and efforts during the process. Let us learn about a few plugins-
Best Plugins to Automate Internal Links
#1 No Sweat WP Internal Link Lite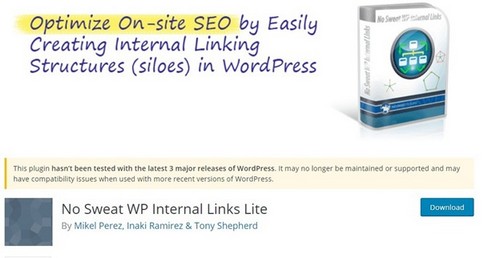 In our comparison table, we just discussed that automate linking may lead to Google Penalty, but by using these plugins, you can avoid that issue.
It will let you create internal links in a manner that Google prefers.
This is your Penguin Safe plugin to automate the internal linking of your site.
#2 SEO Post Content Links

This plugin can easily automate the internal linking task for you and save a lot of your effort and time.
You can direct it to link content with a specified keyword, and it will do its job automatically. This plugin comes with a pre-loaded list of keywords, but you can add your keywords as well.
Opting for this one will for sure ease down the time-consuming task of manual internal linking. Site owners with old domains find it highly onerous to use manual linking.
SEO Post Content Links can be highly useful for all such site owners.
#3 Internal Links generator

This plugin is similar to SEO post content links. It can automate the task to automate internal links for you as per your directions about URL and keywords.
You can control the whole process. Listed among the popular plugins to automate internal linking, this one is good and smart at what it does. It lets you set the limit for the usages of the keyword in your internal linking.
You can prepare everything in your spreadsheet and later can import everything in this plugin.
It lets you find all the keywords that you want to link in the content of your site. It allows you to manually set up the number of words before and after your keywords. So using this one will enable you to create different variations of anchor texts.
#4 Auto Affiliate Links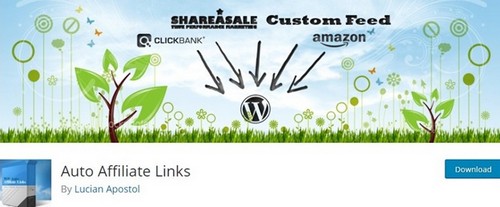 Do you want to add affiliate links into your content? Then this is the best plugin for you to automate Internal Linking for your site.
This plugin is more directed towards affiliate marketers, who add the links on their webpage to sell someone's product or service to gain commission. Now you can use this tool to add links based on a particular keyword.
This plugin will carry out the process on its own and save a lot of your time. It also enables you to make your links DoFollow or NoFollow as per your requirements.
#5 Keywords to Links Converter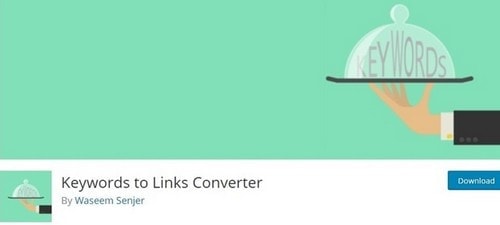 This is a smart plugin where you can guide it to add a URL with a particular keyword, and every time you use that keyword, it will link that to the specified URL.
Now there are many other tweaks available in this plugin which you can try to ease out the task. This can be extremely beneficial in saving your time and efforts.
Now with Keywords to Links Converter, affiliate marketers need not manually insert their affiliate links. It can automate internal linking with ease for them.
You will also get link shortening feature with this one that will protect your links by hiding them.
#6 WordPress Popular Post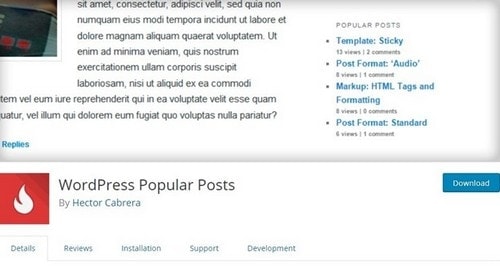 This is a popular plugin of WordPress which will automate the internal linking process for you. Just feed in the preferred keyword and URL, and this plugin will handle the rest.
Opting for this one will help you get features like Multi Widget Capability, Custom Post Type Support, Time Range, Statistics Dashboard, REST API Support, Advanced caching features, Disqus Support, WordPress Multisite support.
In Conclusion…
So these were a few plugins that you can use to automate the internal linking task for your website and save a lot of your time and effort.
Internal linking is extremely crucial when you want to enhance the link value of your website. It is important for boosting SEO and doing so will surely enhance the search engine ranking of your webpage. But it is also a tedious process when you are doing it with a fully grown website or a matured website.
To handle this task, you have got several automated internal linking plugins that will ease out the task for you by saving a lot of your time and efforts.
Use the above-mentioned tools to link your WebPages under the same domain with ease automatically.