If you have been on Facebook for a very long time, then you might have come across a term which is known as Facebook Analytics. If you are wondering what that is then it is here that you will get all the answers to your question. You will be able to decide what this tool can do for your business as well.
There is no secret when we say that social media is one of the most important things that we have in order life right now. Can you seriously try and imagine a world where you wake up to find that there is no Facebook or Instagram? Does the thought of it scare you?
Well, then you are just as much of a part of social media as everyone is.
Well, why wouldn't people love social media in the first place?
Not only is it a proper communication tool that allows people to connect with each other in the best way possible but it is also a method that businesses use in order to let people know about the brands and businesses that they have. This is something that makes social media very personal and favorite for us.
Facebook Analytics : An Introduction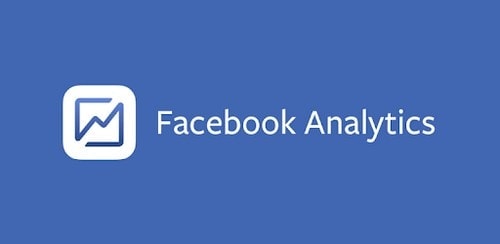 When we talk about social media, one of the first names that pop into the heads of the people would definitely have to be Facebook. After all, it has over 2 billion active users on a monthly basis. So, there is no doubt about the fact that Facebook is one of the most popular platforms not just for the people but for the businesses as well.
So, why wouldn't anyone try to utilize the benefits of Facebook in the best way possible, people? We mean, Facebook isn't just a tool for socializing purposes, right?
With the help of Facebook, the business owners can easily engage with the potential audience and the current customers that they have. This way, the message that they want to spread about their business will be easily received by the people.
There is certainly no doubt about the fact that audience engagement is important for businesses. However, it doesn't mean that you just post some random stuff on the Facebook page of yours. You actually need to know who your audience is and what they want. You need to have information about the people who are actually engaging with the pages of your business on the platform of Facebook.
This will definitely be a help when you want to make your company a little bit different from the others on the basis of the information that you send into the social media platforms.
That is one of the main reasons why you need to take the help of Facebook analytics and the different analytical tools.
Facebook Analytics helps you analyse the data on the Facebook platform. You can then make data driven decisions regarding your Facebook marketing efforts. How many people viewed the post and what was the post reach, how many engaged with it and clicked it, how many reacted? Such things help you understand which posts performed better and why.
You will be able to know the traffic that you get on the pages of Facebook. This will change your entire look into the business for sure.
The information that you get about the people who are actually using the digital touch points that you have, their gender, interests, and age, can be a great help in targeting the right kind of people with the marketing campaigns that you have.
So, there is no doubt about the fact that having Facebook Analytics around will certainly be one of the best things to do for sure. Not only is the tool particularly free of cost but it is also very easy to use as well.
However, if you are a beginner, then you might need some help with the tool. This is where we come in. Let us understand the right way of using it.
How to use Facebook Analytics
So, first thing first, you need to go into your brand's Facebook page and then click on the 'Insights'. There you can find out different Analytical details that will update you about the performance of your Facebook business page.
You will be landing on a dashboard that gives an overview of your page performance. This section will be divided into three different sections that you can see in the image below –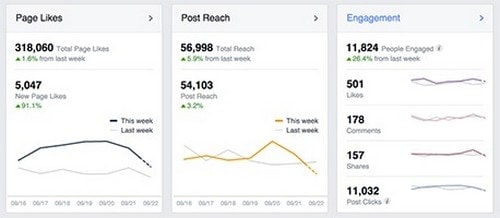 Overview Section of Facebook Analytics updates you about-
Page Likes
Post Reach
Engagement
You can find out all the details related to Visits, Posts, Video, People, etc, that are associated with your Facebook marketing strategies.
Some Strategies For Using Facebook Analytics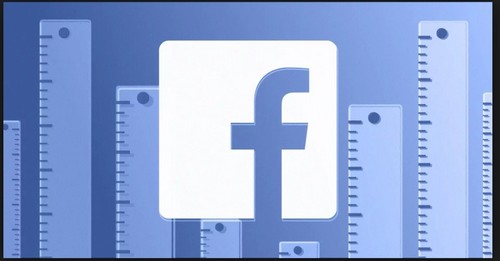 With the help of Facebook Analytics, there are many wonderful things that you can do. However, before you do all that, you need to know how to use it in the first place. So, here we are providing you with some tips and strategies with which you can use it in the best way.
1) Have Certain Goals For The Campaigns
The businesses that have more definitive goals for their Facebook marketing campaigns are the ones which are able to make use of the analytics in the best way. Let us provide you with an example here. Say you want to build some awareness for the brand of yours.
What you need to do is put more focus on the click-through rates and the engagement that you have. So, that way you can use Analytics in the best way. You definitely need to try it once to know what we are talking about in here.
2) Remarketing Prospects Are Important
One of the most important things, when you want to have success on Facebook, is to differentiate between the audiences.
You need to be able to tell apart the differences between the people who are already your loyal customers, the people who are newly joining the list, and the people who are potential prospects.
This is where the Facebook Analytics tool can again be a help to you. You will be able to tell the exact difference which will further help you in targeting the ads towards the customers.
3) Competitor Analytics Study
Here is another tip for you for which you can thank us later. If you want to have success for your pages and website with the help of analytics, then you cannot just analyze your own page. That is not nearly enough for sure. You need to make sure that you properly analyze the pages of the competitors as well.
The businesses that have the same products, services, and the size as yours are the biggest competitors of yours. You will be able to monitor their audiences and their tactics with the help of the Facebook Analytics tools and that is one of the best things for sure.
4) Interpreting Engagement And Reach
Engagement and reach are two very important and fundamental metrics that the people use in the tool. The reach of the posts is actually the number of people who actually see the post or the content that you have.
The engagement, on the other hand, can be defined as the actions that people take regarding the posts of yours. Likes, comments, shares, and views are some of the most important examples of engagement. So, these two metrics are really important if you want to have success for the pages of yours on Facebook.
This is where the analytics again comes to help you out. You will be able to see the reach and the engagement over your posts with the help of analytical tools on Facebook. Doesn't that sound like something that is very important and helpful, people? You definitely need to try it for sure.
5) Knowing When The Audience Stays Online
One of the best qualities of analytics on Facebook is that it provides you with the time when the audience of yours is most likely to be online. Now you might wonder how that can be helpful to you. Well, most of the times when you make a post, it might not get the right shares or views. That is because the audience is not really online at that time.
So, with the help of Facebook Analytics, you can actually find out the time when the audience is most likely to check their Facebook. That means if you make a post at that time, there are chances that more and more people will get to see that. This will definitely guarantee the success for your Facebook page.
6) Tracking And Improving The Rate Of Response
The customers always turn towards the dependable platforms of social media when they want to have answers. Google and Facebook have now become Wikipedia for sure. So, there is a chance that your prospects and potential clients will want to have some answers about the products that you have. They can also look for the response rate that you have.
For those who want to make more engagement with the customers, having a low response rate can help. This is where Facebook Analytics again comes to help you out.
7) Video Analytics Is Important As Well
You might be a bit surprised to know that Facebook now has a tool for video analytics for those who want to track the amazing information regarding their videos. With this new addition to the tool list, the users will be able to see who exactly is viewing their videos.
This way, they will be able to know more about their audience. This is certainly a great thing for the business as well. So, why wouldn't anyone want to try it out, right? There is no reason why not.
Final Thoughts!
So, there you have it, people. That is all that we can tell you about Facebook Analytics.
Now that you know all about this amazing tool, aren't you excited to know what more it will be able to offer you with? Well, why don't you try it out and then see the results for yourself?
Just remember to follow all the tips and strategies that we have for using it in the best way.
Still have any doubts about Facebook Analytics and its right use for your business page? Feel free to write us in the comments.
If you liked this article, we bet that you will love the Marketing91 Academy, which provides you free access to 10+ marketing courses and 100s of Case studies.