Advertisers love to use Facebook Ads to optimize their brand presence on the most powerful Social Network i.e. Facebook. However, the thing that confuses most of the Fb advertisers is Facebook Advertising Cost.
Actually, the cost to use Facebook Ads varies on varieties of factors such as your goal, target niche, industry, demographics, spending plan and so on. That is why it is very important that you know the key features of Facebook Ads and their potential in accomplishing your business. Only then, you will be able to gauge your Facebook Advertising cost.
Let us start with some of the terms that play key roles in deciding Facebook Advertising Cost-
Cost Per Click (CPC)- The cost that you would pay for every click on your Ad
Cost Per Like (CPL)- The cost that you would pay for every like on your Ad
Cost Per Mille (CPM)- The cost that you pay for 1000 impressions
Cost Per Action (CPA)- When your user takes specific action that you want them to take then you pay CPA
Relevance Score- Helps you know how your audiences are responding to your Ad
Frequency- How frequently your ads are visited by your audiences
I think these metrics would have given you an idea that Facebook Advertising Cost is based upon so many things. Therefore, diving deep into some of those factors is inevitable now, so let us do that as well-
3 Factors that decide Facebook Advertising Cost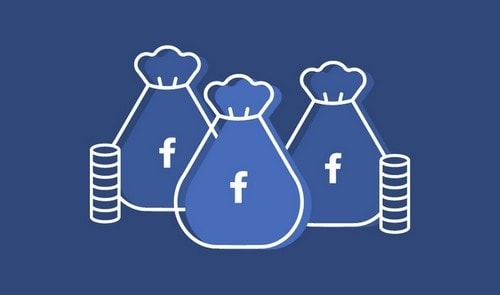 Some of the general factors are country, gender, age, ad placement, etc. We will now go through some other factors of Facebook Advertising Cost-
1) Industry
Costs significantly vary based upon the industry you are creating an Ad for. However, as per WordStream study, the range goes from $.45 CPC to $3.77 CPC while avg. Facebook Advertising Cost across all industries is $1.72 CPC.
2) Time
Next thing that is very crucial is a time of the year, as in holiday times or Q4 season; you would be required to compete with many businesses
3) Objective
Facebook Ad campaign objective plays a key role in deciding Facebook Advertising Cost. Different objectives can be Awareness, Consideration, and conversions. Generating interest is Awareness while Traffic, App Installs, Lead Generation, Engagement, etc. come under Consideration. Conversion is the completion of sale or store visit sorts of actions.
Now, as you have gone through factors that affect Facebook Advertising Cost, next thing is setting your Facebook Advertising Spending Plan.
How to set Budget for Facebook Advertising
The very first thing for you is deciding your goal. Some of the goal examples can be increasing Fan Count or increasing E-Commerce Store Conversions, etc. This will guide you finalize your campaign objective.
At the very beginning, start with a lower budget cap. You are allowed to seat the maximum daily budget or lifetime cap. You can later adjust these as well.

Now, you need to plan your bid strategy. Opt for a lower cost bid strategy. As per your target cost, you can set an amount. Then, Facebook will take the charge and bid around the target cost you have decided. You can set Target cost for app installs, lead generation, catalog sales, and conversions.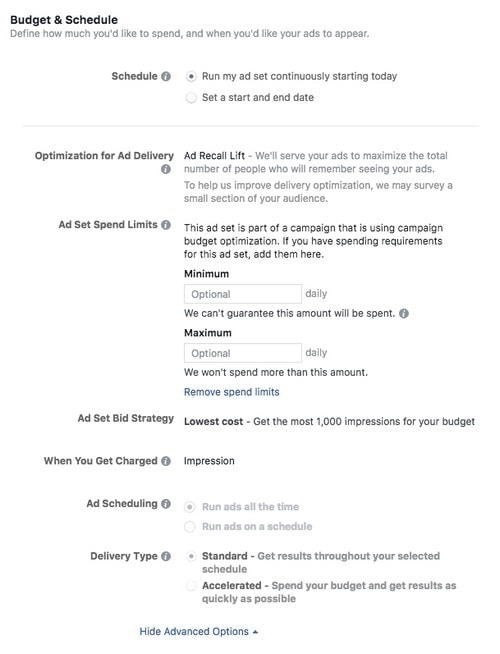 In the Budget & Schedule section, you will be allowed to expand the advanced options that will enable you to get ways of decreasing your spending. It again depends upon your objective.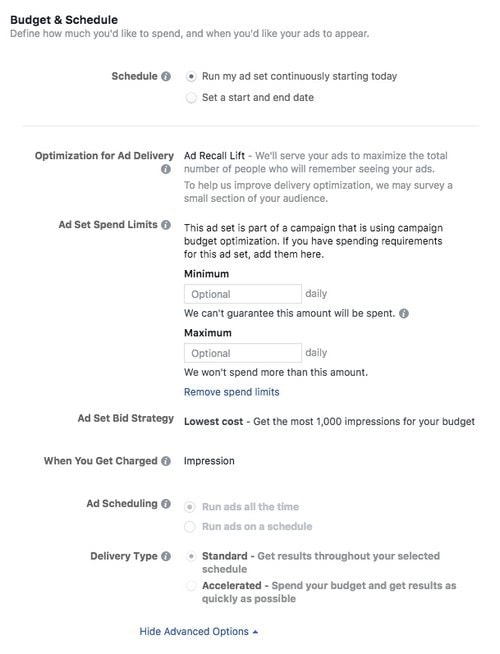 If you are going with the lifetime budget then you can set a schedule for your Ad. It is quite good if you think that you are paying more money in any specific time period. Time restricted ads work perfectly with the schedule. For instance, any happy hour campaign would work best around 1 PM but not around 4 AM in the morning.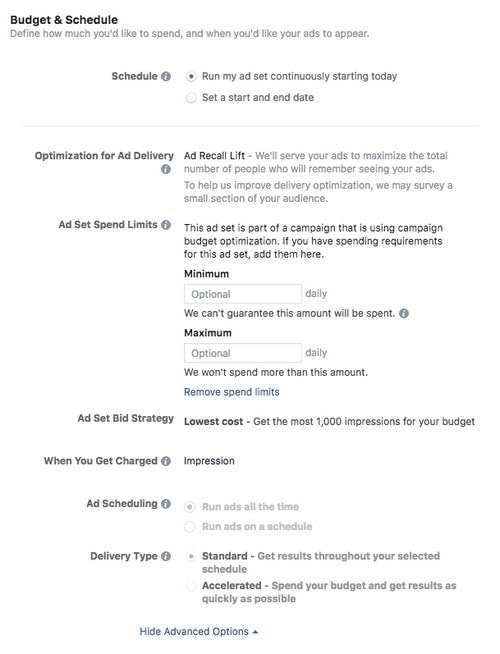 Now, in the final step, you need to create your ad copy and creative. For this, you will not be paying to Facebook directly but to the team who does these tasks for you.
It is also important to master those practices that will help you in decreasing your Facebook Advertising Cost-
How to decrease Facebook Advertising Cost?
Facebook Advertising is a round of experimentation. You need to do testing to find out the right way of advertising to get better outcomes in limited budget. Let us understand some easy hacks to decrease your Facebook Advertising Cost-
1) Choose Multiple Audience
Your target audience is the most imperative parts of your Facebook advertising campaign. An unclear audience will not be as responsive to your advertisement as those who are looking for your types of Ads. That is why segmentation of audience is important. You can get to your Saved Audiences in the Audiences tab of Ads Manager of Facebook. There are a couple of methods for making audiences on Fb-
Target Audience
Custom Audience
Lookalike Audience
2) Have Several Ad Sets
While running a Facebook Advertising Campaign, you should have different ad sets. You can have it for each variety of audience and accordingly, you can survey how much your spending plan should be. This will be very good when you will be showing the same ads to different audiences at different prices.  Having multiple audiences will help you make more choices to target different audience differently and in more personalized fashion. It will additionally eliminate Ad fatigue for your fans and followers.
3) Utilize Facebook's Audience Overlap Tool
Using Facebook's Audience Overlap tool will help you in deciding whether the same audiences are seeing the same ads repeatedly. You can get to this in the Audiences segment of your Ads Manager. You just choose any of the saved audiences to look at them and check their overlapping. This is a most useful tool when you are running various advertisements and you do not need your fans to become weary of seeing a similar video or text ad again and again.
4) A/B split test your Facebook Advertisement
To discover the right advertising strategy for your Facebook Ad, utilizing the A/B split test is very useful. To achieve it, select your Ad objective and perform split testing. This is an incredible method to get the expected outcomes from Facebook Ads without spending excessively. Facebook will naturally A/B test your advertisement in view of the audience, creative, placement, delivery optimization, etc.
At the time when you are setting up your Fb Ad, you can set your financial plan, schedule, duration, and split
In case you are uncertain on which audiences or placement to use with your new advertisement, an A/B split test will help you to choose this and cut down on your budget
When your AB test is done, Facebook will let you know the results via email. You will also find an option to end the test early if the result is achieved before the duration reaches its culmination
5) Always improve your Creatives
One of the most important reasons why Facebook is top rated for advertising is its visual-first platform. Pictures, videos, live videos function admirably when going through your Newsfeed. Your audiences would tend to see innovative media first and afterward give a look at the related copy. You should utilize this for your good fortune by enhancing your media and upgrading it for the position you need.
In case you pick an image for your Facebook advertisement, you will have the alternative to upload up to six pictures.
Then, Facebook will test the pictures for you via A/B testing. Each picture will turn into its very own advertisement and you'll have the capacity to know how each image performs
As per stats, around 41% of audiences favor an advertisement that engages them and 37% will draw in via some special offers or discounts
You should utilize this for your benefits if you want to decrease your Facebook Advertising Cost but do not want to compromise with the favorable outcomes
We have covered everything important to Facebook Advertising Cost and we hope it would help you use Facebook ads to your benefits.
For any queries about Facebook Advertising, the budget for Facebook Ads and related factors, write to us in the comment section below.