CPC is the short form of Cost per Click. It is the price you have to pay for each click on your link of pay-per-click or PPC ads. This article is going to address some of your questions on CPC like what is it? What is the importance of CPC? In addition, how you can maintain a lower CPC without compromising on the traffic? – So, let us deep dive into the world of CPC Advertising.
Introduction to CPC Advertising
CPC is how much an advertiser will have to pay when his or her ad is getting clicked on platforms like Google AdWords and Bing Ads. The CPC depends on several factors such as Quality score, your maximum bid, and what is the ad rank of others who are bidding against the same keywords.
CPC becomes very important when it comes to measuring the actual Return on Investment because when your CPC is high your ROI is reduced.
What a good CPC looks like?
The ROI on AdWords is not just determined by how many clicks you are getting on each advertisement but it is also calculated on the basis of what CPC you end up paying for it. Remember, you just do not want any traffic at any cost. What you need is relevant traffic that helps in generating leads and having conversions that contribute to growing your business at a cost that is affordable to you. However, if you end up paying a high CPC for a mediocre traffic, which is not driving sales, you will not have a good ROI.
Again, how much you have to pay in CPC is determined by other factors, which are what industry you belong to? Which platforms you are advertising on? And what is the type of your business?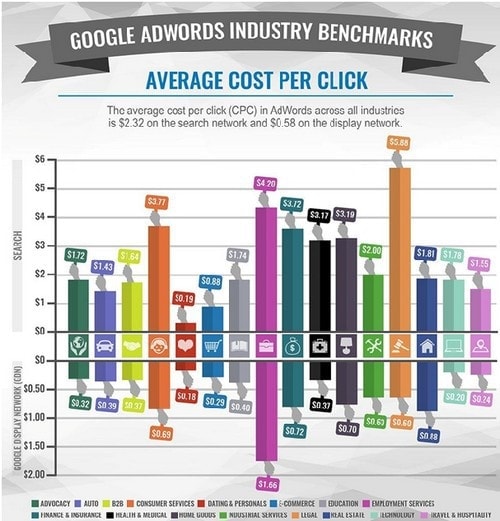 Some industries entail a CPC, which is very high, this is due to the strong competition that exists in those industries. Some of the industries in which CPC will be high are industrial equipment, software enterprise, law, and financial services.
You can easily find out how much CPC you would have to pay in your industry by searching for it on the internet.
Flat Rate CPC & Bid Based CPC Advertising
With Cost per Advertising, you get two different options and they are-
1) Flat Rate CPC Advertising – In this mode, ad publisher and advertiser will agree upon some settled Cost per Click ahead of time.
2) Bid-Based CPC Advertising – This is the most mainstream type of CPC advertising that runs through AdWords. In Bid Based advertising, the advertiser will opt for the maximum CPC that they can bear. With a good bid amount and Quality Score, you can expect your promotions to be shown in an optimized fashion.
In bid based CPC, before showing an advertisement, AdWords would channelize auction internally and then showcases advertisements that have a good bid amount and quality score.
Getting higher value while maintaining low CPC
The ideal situation that you should aim at achieving is having a quality traffic, which consists of the target audience driving the sales in your business in the lowest possible CPC that you can pay for that. You need to make sure that the money that you are spending on CPC is worthwhile for the ROI you get.
One way in which you can have your average CPC lowered is through improvement in your quality score. Further, your quality score is determined by the following points:
Click through rate: This shows you how many times your ad gets clicked on the search results. PPC ads that are attractive and related to the user queries are clicked more often
Keywords: When you include the keywords you have bid on in the ad text, they give you higher quality score and CTR.
Quality of the ads and landing page: Google rewards those advertisers who have relevant and creative ads that are related to people's queries. Further, you get bonus points if your landing page contains the relevant information for the keywords people searched for.
How CPC Advertising Helps Businesses?
The best way of fruitful execution of any online business is to find out a marketing or advertising technique for pulling in exceptionally focused prospects at the most minimal cost. By and large, CPC advertising would flawlessly help you in accomplishing this objective and drawing in significant visitors at an extremely reasonable cost for each guest and on exceptionally helpful conditions.
CPC Advertising that is also known as Cost-per-click Advertising, pay-per-click Advertising or PPC is one of the best ways of running ads on Search Engines in which you pay only for clicks that you get on your Ad. It is a decent option in contrast to the CPM advertising.
How CPC is better than CPM advertising?
In CPM advertising, you pay for getting 1,000 impressions. However, CPM advertising does not ensure that clients have seen your Ad or not. It only tells that your advertisement was displayed on a webpage. This can prompt extremely unfavorable circumstances where you would be required to pay for impressions regardless of whether you get any visitors or not. Publishers prefer CPM model, but for advertisers, CPC is always one of the best online advertising mediums.
You can opt for CPM advertising if you need to enhance your online branding. It will also be helpful in conveying a message to a number of clients with no goal of convincing them to land on your site. For this situation, it seems obvious that a number of users are more important in CPM instead of the quality of users. However, in the event that you have to get prospects who convert by landing on your site pages, it would be prudent to use CPC Advertising. Some of the notable benefits of CPC advertising are listed below-
1) Cost Effective 
On the grounds that you just pay when your prospect lands on your site, CPC advertising is very good in offering favorable returns on investments. You can bid for any amount, so you can go for high prices or low prices as per your comfort and competition
2) Targeted
CPC advertising lets you pick your target audiences as indicated by their demographic details such as area, gender, education, dialect, device, etc.
3) Measurable
CPC campaigns are also measurable and you can use analytics tools to measure the performance of your CPC campaign
4) Personalized
You can run CPC campaigns by tailoring them as per your target audiences, your business models and specific campaign goals
5) Easy to Learn
You can easily learn running PPC campaigns just by joining some online tutorial and mastering the concepts
6) Quick Results
When you use CPC advertising campaigns, you can see the results in the most limited possible time. It is much quicker compared to SEO campaigns
Along these lines, CPC advertising is going to be highly beneficial in ensuring good ROI in quickest possible time.
In addition, the use of Cost per Advertising is exceptionally straightforward, reasonable and helpful for the advertisers as well as for the publishers. In this model, advertisers pay just for guests to their sites while publishers get the money in the event that they send relevant guests to advertisers' sites. Such way of working makes Cost per Advertising the safest approach of advertising products and services to relevant audiences for generating revenues.
Disadvantages of CPC Advertising
Obviously, CPC Advertising also has some downsides. You may face issues like click frauds. In such scenarios, your competitors or some Blackhat practitioners would click on your Ads commonly with the goal that you endure misfortunes. They also do that so you feel that your advertising campaigns are inadequate in offering you the revenues that you are looking for. However, AdWords and other online advertising frameworks that manage CPC advertising have created well updated and automated frameworks to make preparations for impeding such fraud clicks.
Such measures let CPC be one of the most secure ways of targeting most relevant audiences to generate conversions. Opting for CPC Advertising will help you get more clicks and sales on your online Ads.
In case of any doubts or queries about PPC advertising campaigns, feel free to ask us. Do let us know how CPC advertising helped you boost your revenues in the comment section.
Liked this post? Check out these detailed articles on
Topic of PPC
Alternatively, check out the Marketing91 Academy, which provides you access to 10+ marketing courses and 100s of Case studies.