The idea behind affiliate marketing is very simple… you just promote other people's products, either directly or using an affiliate network and you earn a commission whenever people actually end up buying using your affiliate links.
Most bloggers who start their journey in the hopes of earning money online start with affiliate marketing. The commission can vary from $1 to $10,000 or even more than that depending on the product/service you are promoting. That is why affiliate marketing is one of the most lucrative ways to earn money online.
According to Pat Flynn of Smart Passive Income blog, the definition of affiliate marketing can be defined as… "Affiliate marketing is the process of earning a commission by promoting other people's (or company's) products. You find a product you like, promote it to others and earn a piece of the profit for each sale that you make".
What is Affiliate Marketing?
Affiliate marketing is a part of Internet marketing as affiliates use many common advertising methods such as SEO (search engine optimization), PPC (pay-per-click advertising), content marketing, email marketing etc. There are three main parties involved in any affiliate marketing… the advertiser, consumer and the publisher (affiliate).
This does not require any investment to start and most of the affiliate programs are free to join. You don't even have to create a product or service of your own, you can just promote other people's products and earn a commission. Affiliate marketing can also be used as an additional or passive income. If you have a website and if you want to monetize it then affiliate marketing will be the best for you to start with.
Now, to become a successful affiliate you will have to work with dedication and discipline. You have to develop a strategy and solve your user's problems. Only focusing on the affiliate income will not be good for the long-term results. Building a brand can be a great advantage for you as people trust brands and they will buy easily from your affiliate links if they will trust you.
But everything is not that easy and there are some challenges as well in affiliate marketing like it takes time to generate some earnings initially when you have no traffic. You will have no control over the performance of products you are promoting so it's always best to choose the affiliate networks you can trust. Also, even if you find a program paying good commission, then naturally it will have high competition which will make it difficult for you to earn from it. You will have no information about who is making the purchase using your link and you will just have to rely on the stats provided by your affiliate network which mostly shows only the total clicks and sales and no detailed data is provided.
How to Start Affiliate Marketing?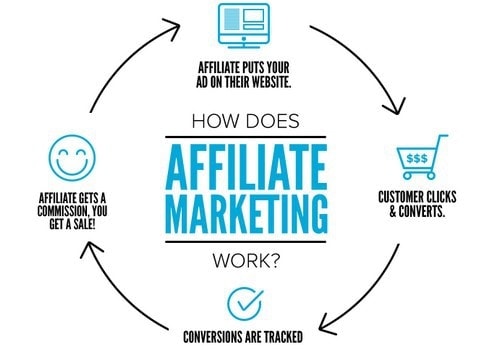 With affiliate marketing, you don't need any product or inventory to get started. You will just have to refer new potential buyers and customers to other businesses. Now, this doesn't look so hard but it is not that easy either. To make a significant income, you will have to work consistently. You can easily start with affiliate marketing by start reviewing products in your niche.
Start by developing a strategy of how will you promote affiliate products. Choose a niche and start researching about many things such as the number of searches per month, average price, and reviews of the product etc.
Make a list of all possible products you can and you want to promote. Research about the affiliate networks and which network will be better for your niche. Join multiple networks so you don't have to rely only on a single network. Remember, only promote quality products so that you can only refer the products you can trust.
Once you have set up everything, you will have to promote your site to get traffic. Research about your target audience and understand how can you promote your site in front of the interested buyers. You can use SEO, PPC or other methods to get visitors to your blog.
Spend some time building specific landing pages and do some CRO (conversion rate optimization) to increase your affiliate conversions.
Then just analyze how your affiliate links are performing and how many impressions, click and sales you are getting.
Always disclose that your posts are having affiliate links before the start of the article. This ensures transparency with the readers and this is also a requirement with many affiliate networks such as Amazon Affiliate Network.
Examples of Affiliate marketing
Here's one example for you to understand how affiliate marketing really works… So let's assume you own an affiliate site where you post reviews about books. You share book reviews and other related things with your audience regularly. Now, with every book review, you include a link to that book which leads to the product page on Amazon. This link is placed as some people will want to buy that book after reading your reviews. Here the link will not be a normal link, it will be an affiliate link like this.
bookreviews.com/pride-and-prejudice/affiliateID789
So when a visitor clicks on your affiliate link, visits the merchant site and if they buy that product also, you will get your commission. The great thing about affiliate is that it works on the cookie system. So even if the buyer does not purchase the referred product immediately but if he buys it before the expiration of cookie, you will get paid. Some affiliate networks like Amazon have a cookie duration of one day and some even have 30-day cookie duration.
The best example of an affiliate site is The Wirecutter.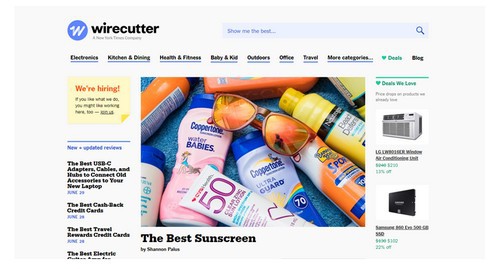 This website is based on the affiliate model. They publish reviews on different products and they mostly work with Amazon Affiliate Network. The Wirecutter estimated monthly traffic is more than 5 million and approximate monthly revenue is $30M. People trust The Wirecutter reviews as they test every product before publishing a review. They spend hours testing every product and publishing only useful reviews.
Another good example of an established affiliate site is GearPatrol.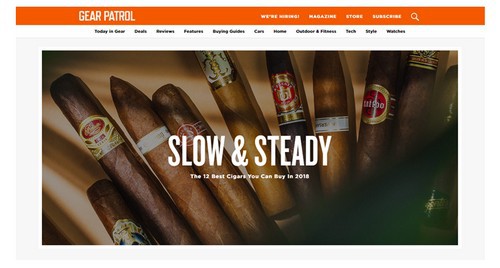 Their estimated monthly traffic is more than 2M and their approximate monthly revenue is $700,000. They also depend mostly on Amazon affiliate network but this is not a content heavy site. They use high-quality images of products and this is what differentiates them from other competitors site. High quality and unique images also help them in driving significant traffic from sites such as Pinterest and Instagram. So it's good to use some relevant visuals on your affiliate site as well.
Conclusion
In short, the process of affiliate marketing is…
Any shopper decides to buy an item online
He searches for the item and lands on an affiliate site
Now, from where he clicks on the link to visit the merchant site
Then when the shopper makes the purchase, the affiliate will be rewarded with a commission for his work of driving the buyer from his site to the merchant site.
Before jumping into affiliate marketing, understand what it is and how it works. Your success will depend a lot on how well you will execute your strategy. Affiliate marketing is a good way to get started with online marketing and start making some money.
Liked this post? Check out these detailed articles on
Topic of Digital Marketing
Alternatively, check out the Marketing91 Academy, which provides you access to 10+ marketing courses and 100s of Case studies.