When it comes to the functionality of WordPress, a lot depends upon the proper use of widgets and plugins. Choice of right kind of plugins and widget go a long way in promoting your website to a greater extent. Wondering what exactly are the plugins and how to work with them? Let us find out more about the intricacies of the widgets and how they improve the website. We will also explore a few top end WordPress widgets as well to help you get going.
What is a WordPress Widget?
A widget is essentially a small block of code that would help you perform a particular action. These widgets are added to the widget ready areas of your WordPress sidebar. The sidebars are typically used for placing the widgets.
The widgets were created for offering an easy and simple option to obtain a design or functional control over a few WordPress functions. You can look for the widgets available from your WordPress Admin dashboard. Go to Appearance -> Widgets and you will get the list of widgets available for use. You can drag & drop them in the widget-specific areas to make them active.
These are the little boxes of information that you can typically use in the sidebar to add some extra content and information apart from the major part of the page so that the visitors can get a little more information at a glance.
What Role do Widgets Play?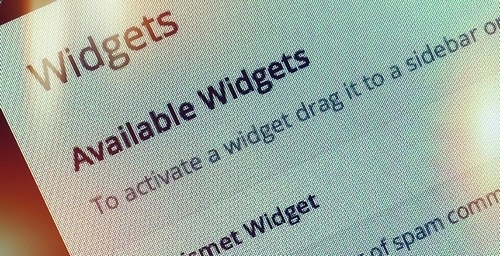 Widgets are used to add certain content or information in the area that has been widgetized. The widgetized area will be dependent upon the theme you have chosen, and ideally, the sidebar hosts most of the WordPress widgets. Some other areas where some themes can designate the widget ready area include the header, footer, sidebar, and below content.
Widgets can perform a host of functions, and there is no limit to the supported ones. Some of the function areas may include categories, tag cloud, navigation menu, calendar, search, and recent posts.
Some widgets can be simple and easy and may contain only text to the widgetized area. Some of them can be quite complex and help you create calendars, countdown timers, etc. A good example is the Recent Posts widgets that provide an "at a glance" look at five or more recent posts.
Default Widgets vs. Installed Widgets
WordPress, by default, installs a few widgets when you install WordPress for the first time. These widgets can be helpful in performing a few basic tasks like adding text, videos, images, login information, and tags. Most of the tasks you would be doing with WordPress can be done using default widgets.
However, there may be times when you are looking for some extra features in your posts. This is exactly when you will install additional widgets. The widgets can either be standalone or directly based on the theme or any of the installed plugins. Standalone widgets will need you to enter all your information separately from what is already shared through your WordPress account or dashboard.
How can you add a Widget to WordPress?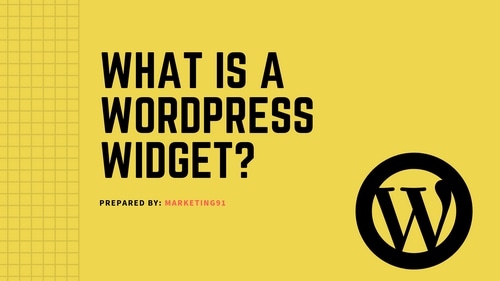 There are several ways you can add a widget to your WordPress dashboard or your website. A couple of most commonly used options include
WordPress Customizer
Widget menu from the dashboard
1) Use WordPress Customizer to install Widgets
You need to access the WordPress customizer first to add widgets to your WordPress blog. You can reach WordPress Customizer through Appearance -> Customise on your WordPress Admin dashboard.
In the Customise section, access the Widgets submenu. You will now see the list of widgetized areas available on your WordPress site. The available widgetized areas would be dependent upon the theme you have installed. Choose the specific area to begin adding the widget or edit the existing one that you may have already installed.
Each of the changes you make or each of the widgets you add will be available through a preview so that you can check it before you can confirm the changes. Once you are satisfied, you can click on Save and Publish option.
2) Use the Widgets menu to Install Widgets
Customizer option lets you preview the widgets before you can apply them. However, if you do not need to check the preview before it can be applied, you may opt for the second method for installing widgets.
To access the Widgets menu, navigate to Appearance -> Widgets from your WordPress admin dashboard. You will find all the widgets available for you as per theme installed on the left side, while the widgetized areas of your site will be available on the right side.
If you want to add a widget, drag it from the list of Available Widgets and drop it in the widgetized area that you want to use it in. You can even rearrange the position of widgets by dragging them as per your preferences. You can even delete a widget by dragging it back to the list of Available widgets or clicking on Delete from the editing area.
Example of Wordpress Widgets
Of course, the choice of widgets is something based on your exact requirements. Just because you have access to a widget does not mean you will need to install it in your WordPress installation.
Some of the widgets that would be worthy of attention would include –
1) Recent Posts Widget
You have access to a default recent posts widgets as part of your WordPress installation which lists a plain collection of your posts. By default, it contains around 5 of the latest posts you have posted on your blog.
However, you can go with a Recent Posts with Thumbnails widgets that also presents a thumbnail of an image from your post. The widget displays the featured image if it has been specified or the first image of the post. The widget setting lets you configure the height and width of the image as well.
2) Google Maps Widget
If your site needs access to the maps, one of the best widgets you would find is Google Maps Widget. It will display the Google Maps in the sidebar of your blog.
Whenever a visitor comes to your site and clicks on the map, a larger map opens up indicating the location of your establishment. The widget should be helpful in letting your visitors locate you on the map easily and navigate easily to your office. It can be an excellent option for you if you are a business establishment. You can easily download it and install.
3) Social Count Plus
Have you seen those widgets indicating the number of social media count on the blog? The Social Count Plus Widget lets you display the number of social media followers you have been able to achieve.
The social media count is displayed on the sidebar. The count plus option may be helpful in building trust and help you gain a loyal following in terms of followers. Get the plugin from the WordPress repository.
4) WP Twitter Feeds
Social media integration plays a major role in enhancing the reach of your website or blog. How about an option to add your Twitter account to your WordPress site? The WP Twitter Feeds is an excellent option you can employ for efficient functionality.
The widget helps you display your latest Twitter feeds on your site. This can make your site more engaging and aid you to draw more traffic. You can install it from the WordPress repository.
5) Random Post Widget
This is a simple widget that can help you display any random post on your WordPress site. It will help you use multiple instances of the widget on your sidebar. Just install the widget multiple times one below the other or at random locations. If you are an advanced user, you can opt for a specific application as well. You can refer to the tutorial on the official repository page to configure it properly.
6) Google Calendar Events
This is another excellent widget for displaying the event calendar on your WordPress website. Once you install the widget, you can create the events with the Google Calendar. The calendar entries you create will sync with the widget and will be displayed on your website. This is very useful to display the events that you have been planning.
In Conclusion
WordPress Widgets can change your experience to a better degree and enhance the online performance of your site. The widgets will be of very much help in making your blog or website more attractive for your users. What makes WordPress widgets one of the best options is the fact that installing and using the widgets do not need any kind of technical expertise. Even if you are a newbie, you can use it without any hassles.
Which widgets are you using for your day to day operations of your website? What experiences did you have about the widgets you have been using on your blog hosted on WordPress? Share your inputs and opinions you have with your WordPress widgets with us.
Liked this post? Check out these detailed articles on
Topic of Blogging
Alternatively, check out the Marketing91 Academy, which provides you access to 10+ marketing courses and 100s of Case studies.