Do you know where to go when you want to have meaningful statistics for your social media and internet marketing? Well, so many amazing Social Media Analytics tools can help you in making sense of the actions that are taken on social media.
You will be able to know how many followers have you grown and what are the posts that have performed their best in this particular month and what time would be best to make the posts.
All the answers to these questions are always in the web world. All you have to do is get your hands on the perfect tools to help you find these answers. Don't worry, we have done the searching part for you.
All you have to do is find the best Social Media Analytics tools that suit your preference. Make sure that you choose from the best of these tools. It is really important to make sure that you have all the necessary information that you need before you make a choice. This is exactly what we are going to be doing today.
Top 20 Social Media Analytics Tools That You Can Use
When it comes to choosing social media analytics tools, you need to have your options open. So, here are some of the tools that we have for you. Choose wisely, people. We are here to solve your problems for you.
1) Viralwoot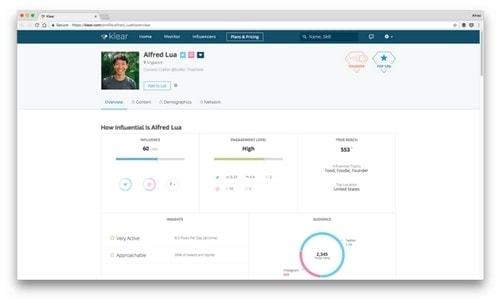 This is a tool of Pinterest and it is equally good for analytics and much more. You can easily schedule the pins, promote them and be able to have many followers as well. The best part is that you will be able to see the account metrics as well. As one of the top Social Media Analytics Tools, this one is top notch in offering the needed scheduling and automation features to its users.
2) Tailwind
This marketing solution is for both Instagram and Pinterest. Scheduling content, monitoring conversation, and analyzing the performance are some of the basic functions of the tool. The analytics will provide you with insights into the pins that you have. You will get to know about the performance of your social campaigns, their important reports and how conversion funnel is going the get processed in accomplishing your business goals. All this makes Tailwind one of the most useful Social Media Analytics Tools.
3) Google Analytics
For the analysis of the website traffic, you need to choose the Google Analytics tool. With this tool, you will be able to dig in deep into the statistics of the social media strategies that you have. Check out the number of visits that you have and you will be fine. It enables you to know the productivity of your social media campaigns. You can know if your social media campaigns are going to offer the desired results or not.
4) Followerwonk
This has got to be the ultimate favourite Twitter tool of all time. With this tool, you can easily check out the activities and the followers that you have on your social media account. All you have to do is enter the Twitter username that you have on the Analytics section and you will easily see the information there.
5) Buffer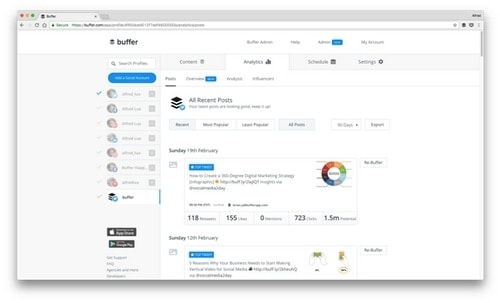 The Business and Pro plans on Buffer are paid but you get all the benefits. Find out the engagement statistics of the posts that you make on the social media platforms with this tool. You will get complete reports about all the posts on Facebook, Google+, Twitter, LinkedIn sorts of social platforms.
6) Cyfe
One of the best features of Cyfe is that you will get to create a particularly customized dashboard that is filled with valid information such as statistics which are gathered from the marketing tools. Syncing up major networks also becomes pretty easy. Offering proper integration of different social media analytics tools makes Cyfe highly efficient in satisfying Social Media Managers in their hours of need.
7) IBM Watson Personality Insights
When you want to know about the tone and brand personality of your business on Twitter, this is one of the best social media analytics tools for you. With the help of linguistic analytics, this tool helps in getting better results every time. It will let you know if your social media campaign if fulfilling your business objective or not.
8) Keyhole
With the help of the account, keyword, and hashtag tracking service, this particular tool provides a better performance than its competitors. For the keyword and the hashtag tracking, there is much more information available. You can use it to get the details like top posts, post reach, the share of posts and so on.  You can use Keyhole for competitors social media engagement as well.
9) Klout
Klout is basically a tool that is designed specifically for working with the pages and the profiles that you have in order to give some scores. These scores are given depending on the influence of the user in the platform of social media. This tool suggests content as well for improvement. You can schedule the content suggested by Klout that will ultimately improve your influence score on Klout.
10) Audience
This tool can be used for the analysis of the Twitter profile that you have. Learning the interests, influences, and the demographics of the followers is easy with the tool. As one of the top-rated social media analytics tools, Audience can also help you manage your Twitter contacts with utmost efficiency and ease.
11) Quintly
The plan here at Quintly is basically free as you can easily access the analytics for about 3 of your Facebook pages. So, seeing the stats and other metrics of engagement will be very easy. It will empower you with the knowledge of all the important metrics that can be used for tracking the performance of any campaign.
12) Klear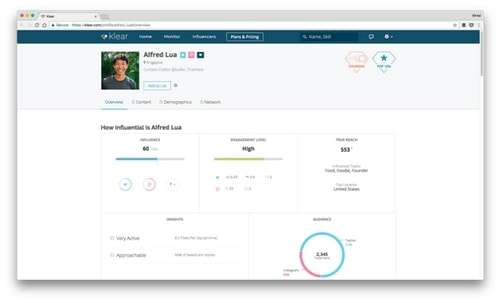 Klear helps in analyzing the profile of the users to find out the followers. This can be done from any particular social media account, as you can adeptly use it to monitor Instagram, Facebook, Twitter sorts of platforms and your followers on them as well. You can find out reports related to Profile Insights, Followers' Interests etc.
13) TweetReach
All you have to do is type in the hashtag, keyword or the username and you will get the analytics of the search that you made and that will include graphs and charts and so much more. You can easily get the details related to activity, reach, contributors, exposure, etc. with the help of TweetReach.
14) Talkwalker
Get unlimited searches that are absolutely free with the help of this tool. Search across different platforms of social media and you will have fun. You can do all kinds of searches related to keywords and hashtags for all the possible social media platforms. You can get the data related to sentiment, mentions, top posts, distributions, etc.
15) Peakfeed
This tool will send a very simple report that consists of the profile stats in your social media accounts. The reports are sent weekly for better analysis. You can test about 3 accounts at once. You will get all the reports via email that will easily let you get all the important reports related to your social media campaigns.
16) SocialRank
This is a free plan and it will help in analyzing and managing the Instagram and Twitter followers in your account by offering summary reports on them. You will get details of your followers based upon their locations, distribution, preferred keywords, and so on.
17) Likealyzer
All you need to do is enter the URL of your Facebook page and you will have all the analysis that you need along with the metrics. Different metrics that this tool will offer you are engagement per post, posts per day, length of posts and so on.
18) SumAll
With a large number of connected and assorted applications, this tool helps to connect different profiles in social media for getting better analytics. It allows you to wire up all your social media profiles and it will provide you with their insights on a monthly or weekly basis.
19) Socialbakers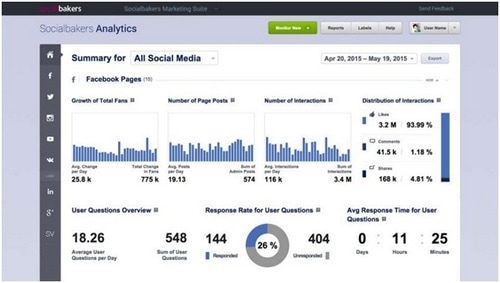 Perform the best studies on social media with this tool. The analytics here are all fundamental and easy to understand. Track different profiles, know the performance stats, and other interesting things with this tool.
20) WolframAlpha Facebook Report
This tool shows all the useful and interesting information that you can put on the Facebook posts and profile of yours. This one is considered one of the most useful Social Media Analytics tools to gauge the performance of Facebook Marketing Campaigns.
In Conclusion
Here you have it, people. Some of the best social media analytics tools are here for you. So, which one would you be using?
Did we miss your favourite tool? Or do you have any doubts about the right tool for your social media campaign? Share your queries in the comments below. Our experts will be more than happy to resolve all your doubts.
Liked this post? Check out these detailed articles on
Topic of SOCIAL MEDIA MARKETING
Alternatively, check out the Marketing91 Academy, which provides you access to 10+ marketing courses and 100s of Case studies.