The world we are living is totally a digital world, and almost every one of us is connected to the internet at one time or another. There are several options you can use the internet for – entertainment, research, consumer needs or any other requirement.
So, in case you have a business and do not have a website – it is high time you should opt for a full-time website. Why? Well, we have enlisted some of the points which will motivate you to have a website. Having a website has several advantages, and we will discuss a few of them in today's post.
Top 10 Benefits of having a Website
If you are in a business, it is of utmost importance to share the content related to your business on your website. We will share a few benefits that you can gain if you are opting for your own website for your business.
1)  It is a Less Expensive Option
Online mode of advertisement is what you would find the most cost-effective when compared to the other options like print marketing. Having a website helps you to reach a wider audience without having to spend much.
Since you are using a website to advertise your business, you have the option of making any change in your advertising style almost instantly.
2)  It offers a high degree of Accessibility
A website offers you around the clock availability for all your customers. Simultaneous accessibility across borders ideally makes it an excellent choice. A storefront in the traditional manner would not provide your customers the experience that a website can offer you.
Your potential clients can visit your website and learn about the products or services that you provide at any time of the day. Make sure you are posting as much information about your products and services as possible. We are living in a digital era – the best time to earn better traffic.
3)  It can be right means for Fostering relationships
A website will help you create and foster your customer relationships with ease and simplicity. You would be able to have an instant relationship blossoming with the aid of emails. You can have an excellent rapport with your customers as you can interact with them round the clock or whenever they need you.
You can even provide special offers for your loyal customers through the website in the form of reward points or other alternatives. In fact, a website will offer you a means of getting instant feedback from the customers. Focus on relevant content that shares the best information about your business.
4)  It helps you improve your Sales
A website with quality content can definitely go a long way in promoting your sales to a greater extent. A business needs exposure, and a website is the right means of getting the best exposure possible for your business.
More visitors coming to your website will mean you will have a better chance of getting excellent sales through your site. Keep updating the content on your website, and you can be assured of growing your customer base furthermore. Make sure your website is more informative to make sure that visitors continue to visit your website.
5)  It aids you in Targeted Marketing
Plan your website strategically and it will help you to attract a targeted audience. If you think that targeted audience leads to lesser traffic, then please understand that most of this traffic would be willing to convert into sales and more sales will result in higher revenue.
A website will help you garner customers beyond the physical boundaries that you can handle with your storefront. In fact, with a well-endowed website, it should be quite easy to make your business visible to more targeted customers.
6)  It gives your Business the credibility that it needs
Every business needs an online presence, and a website provides you with an excellent option of improving it. An easy to use website would go a long way in gaining your customer's trust. If they can experience the right kind of credibility with your website, they would expect the same from your business as well.
7)  It enhances your Competitive Advantage
Imagine a situation where you have no website, but your competitor does. This will definitely make you miss out on the important edge over your competitor. If you are looking to gain an upper hand over your competition, the best way to gain is to have a powerful website.
A website will help your customers to keep you in mind when they are looking for the products and services that you are involved with. Ensure that you stay upfront with your competitors and that you are not losing out any opportunities just because you don't have a website.
8)  You can work best with Online Customer Service
Your website can be your best option for ensuring online customer service. The best way you can do it is by incorporating a few FAQs inside your content on your website. Offer answers regularly to your clients through your website, and you have gone through half of the task.
Having online customer service can help you reduce the costs involved in customer care and also achieve the best customer satisfaction simultaneously. The instant resolution to the customer queries would also go a long way in promoting positive customer feedback.
9)  It doubles up as the best Advertising Option
A website with an excellent SEO performance would make it a great option for advertisement. You also have other options like Facebook ads, social media integration and other essential features that would double up your website as a perfect advertising channel.
If you can handle your site SEO perfectly, you can indeed expect a good customer influx. Being visible to the world at large is the key to advertising, and a website is perhaps the best and most affordable option of achieving this task.
10)  It enhances Customer Satisfaction
A website can be an excellent option for ensuring customer satisfaction. If you have a website, it will be one of the best options for increasing the lead conversion. In fact, make sure you are providing most of your services through your website.
This is the digital world and most of the customers these days are willing to shop through the online mode than visiting the physical storefront. How about ensuring customer satisfaction through online presence and present everything that your customer wants through your website? This will help you ensure excellent customer satisfaction.
Any other benefits worth the consideration?
Well, the above top 10 benefits do not necessarily mean the end of it. These can be a few prime advantages of having a website, but we want to let you know that there are several other benefits you stand to gain with a website for your business.
Some of these can be
Websites help you get outbound links, and the links are necessarily the best options you can have for the best viral advertising. Links help you spread the word about your company around the world. Make sure you have good products, services and other elements that would attract positive links to your site.
A website brings you a regular client. A customer can be a one-time option, but a website will help you get a long list of clients for your products and services.
It also helps you serve your customers at their convenience. Being available to meet your customer needs round the clock is an exceptional benefit. It can put you in the right spot as a company that values customer satisfaction.
In Conclusion
If you have taken up a business and wanted to grow it further ahead, a website is what you would need as one of the best options. It provides you with an online presence which has been considered to be one of the essential elements of advertising and growth in today's modern world.
Make sure that you are involved in building a perfect website and ensure your customers are satisfied. With a website, your customers would be able to find you anywhere, anytime – in fact, even after the business hours are over. Isn't that what every business owner wants to do – serving the customers throughout day and night? A website is the best way you can achieve the task.
So, what would you think about owning a website for a business? Share your thoughts with us.
Topic of Digital Marketing
Alternatively, check out the Marketing91 Academy, which provides you access to 10+ marketing courses and 100s of Case studies.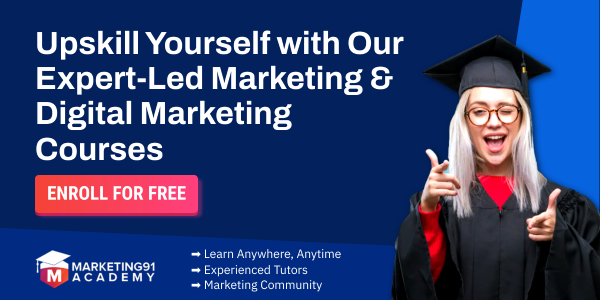 Liked this post? Check out these detailed articles on