If you are the owner of a business or an online marketer who has several accounts on social media, then surely you must have heard of the social selling by now. This is one of the most effective marketing strategies in which marketers and advertisers use Social Media to directly interact and engage with their audiences.
When we talk about the customers of today, they tend to be already informed about everything and independent too. Well, that is because they have the power to research everything beforehand on social media. If they want information about any particular product or service, it is already present in social media.
According to several reports by studies, more than 70% of the people rely on social media for their research about different products before they actually decide to buy something from any company.
So, since this is the time of social buying and people are more and more interested in the front of social media for making purchase decisions, wouldn't it be a clever idea if you are able to influence their decision with the help of social media?
Well, that is exactly what we know as social selling and we shall be discussing a bit about it in this particular article. With the help of this strategy, you will be offering value to your prospects by using thoughtful and personalized content to convert them.
Let us now dig deep and understand the whole concept of Social Selling in a more comprehensive fashion-
What Exactly Is Social Selling?
When it comes to the exact definition of social selling, it is basically a simple way that the sales teams of any company use in order to make sure that they can get prospects and buyers for their products with the power of social media.
They use the platforms of social media in order to connect with the people and provide them with value-based options in order to increase the sales of the company.
Social selling is pretty much similar to lead generation as both of these methods focus a lot on the engagement of the customers with the brands. This particular engagement between the buyers and the brands is certainly very beneficial in order to make sure that the company performs well sales-wise.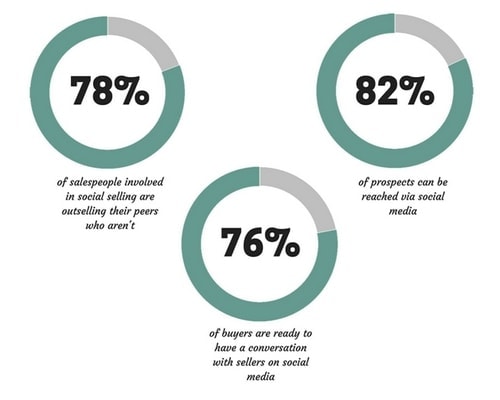 Even the research about companies proves the point that those who use social selling for their companies end up selling a lot more than those who do not. Recently, LinkedIn came up with the results that around 80% of marketers who use Social Selling outsell those marketers and advertisers who did not use befitting Social Media Marketing Strategies to target, engage and convert prospects.
So, it is obvious that with Social Selling, you will be able to communicate in an active way with the customers and monitor all the prospects so that you can turn them into buyer when the opportune moment arrives. With the help of this particular method, many companies have increased the sales of the business and succeeded in the world of business.
Why you Need Social Selling?
As discussed above, utilizing the power of Social Media is one of the most effective, easy and result driven methods of widening online presence and audience base for the brands. Social Selling is one such technique that is gaining lots of prevalence only because of its ability to offer sure shot results in the most limited time possible. Let us have a look on some of the reasons that will let you understand why you should start implementing such Social Media Marketing Strategies right away-
With the help of Social Selling, businesses can empower their sales team build productive relationships that ultimately ensure conversions
Target audiences of businesses are already used to of Social Buying, as they frequently use Social Listening and Social Search to find the right vendors
Your rivals on the web are already utilizing Social Selling to generate leads and ensure conversions
How to do Social Selling?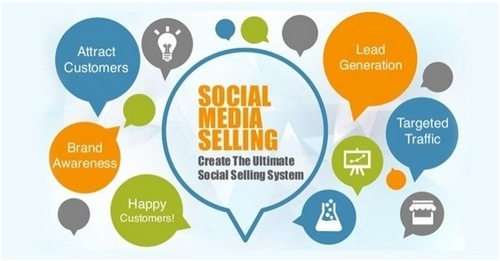 There is no doubt that the main goal of social selling is to make sure that people are able to build better relationships with the customers. However, before doing that you need to make sure that you are doing it the right way.
Ensuring that you choose the perfect network is really important. Then only you will be able to focus on building relationships with people. So, without wasting any more of your time, let us get started with the process.
1) Choose A Social Network That Is Relevant
This might seem like an easy task for most people but believe us, it looks easier than it is. You might be able to place yourself in a proper network but then if you want to make sure that your social selling is fine, you need to be on the platforms where you will find the potential customers as well. This is one of the most important things that you need to keep in mind always.
This way, you can connect with people in a better way and sell your products. Even if you find the best site that is trending but your potential customers are somewhere else, then what is the use right?
So, you need to make sure that you find the networks that are relevant and you will find your customers there. It might happen then you will find more than one networks for connecting with people. Creating multiple accounts on platforms is also a very good idea. However, don't overdo it.
2) Create Your Own Wish List Of Companies To Follow
If you have a particular dream of signing a big and amazing brand then social selling is one of the best ways to do that. You will find many types of businesses on social media platforms. There are smaller businesses and then there are the big corporations as well. Facebook, LinkedIn, and Twitter are filled to the brim with the companies.
You need to make sure that you follow the companies that you like. Why should you do that? Well, to be honest, if you are following these particular companies, then you will be able to keep an update on the news that is trending in the market. You can easily engage with these companies and it will give you an idea about the market which will further help your cause.
3) Join Different Groups And Participate
Some of the best platforms where you can find groups for discussions are Facebook and LinkedIn. These platforms are filled with many groups where people with the same interests and businesses can come together and have discussions about stuff.
While Facebook is a much more casual platform, LinkedIn is a completely professional one. So, if you are in any one of these groups, then there are chances that you might be able to interact with a lot of people.
This can be very good news for the people who want to gain some experience in social selling as you can talk to many experts about it.
4) Contribute Something To Conversations Regarding Your Brand
When it comes to the buying process, the customers like to select a business that puts some sort of value into the products and the services. This is where you will be able to do something.
Adding some value to the conversations that people have about the brand will make sure that your products sell faster than anyone else's. So, make sure that you try out this tips and it will be beneficial for you. When it comes to social selling, adding value is the best thing that you can do.
To ensure effective Social Selling, there are some amazing tools that can alleviate your task of enabling sales and marketing team to include Social Selling to target prospects on Social Media.
Let us have a look at some of the best Social Selling Tools for you
LinkedIn Sales Navigator
Ring Lead DMS Capture
HootSuite
Nimble
Buffer
KiteDesk
rFactr: Social Port
InsightPool, etc.
Final Thoughts
Social selling doesn't really have to be that tough if you are doing it the right way.
We hope that these tips here will help you in using Social Media to reach more relevant audiences and convert them into your loyal customers by engaging them on different Social platforms.
For any help about Social Media Marketing for your brand, write to use in comments.
Topic of SOCIAL MEDIA MARKETING
Alternatively, check out the Marketing91 Academy, which provides you access to 10+ marketing courses and 100s of Case studies.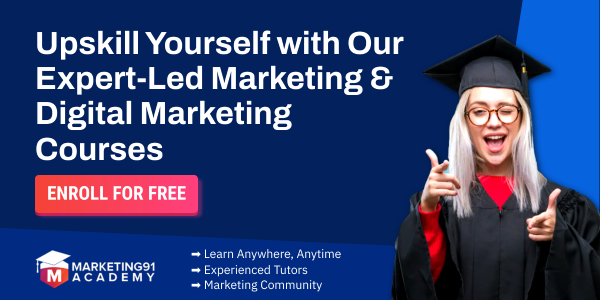 Liked this post? Check out these detailed articles on