Did you ever wonder how exactly social media marketing works? Well, this is one of the most important questions that businesses often ask. Social media is certainly a very important part of the lives of people. Due to the vast reach of social media, it is really important that marketers and advertisers understand a bit about social media strategy that can work well in converting their audiences.
Gone are the days when people used to question the use of social media marketing. Nowadays, people just want to learn about the Social Media Strategy and Tactics that they can use to widen their reach, generate leads and boost sales.
In this post, we will enable you to know everything about the strategies associated with super successful Social Media Marketing Campaigns. So, let us understand what Social Media Strategy is –
What Exactly Is Social Media Strategy?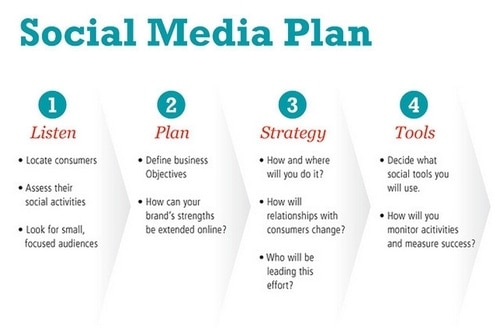 When we talk about a marketing strategy of social media, it is basically a summary that explains all about social media activities and related achievements.
It is the perfect guidance for businesses to leverage the benefits that come along with the use of different social media channels. It tells you that every single post or comment or like or share has a particular purpose in the growth of a particular business.
As you become more specific with your Social Media Strategy, you will see that the execution is a lot better as well. But most importantly, you need to know why it is important to have social media marketing for the business. Well, here are some of the reasons why-
Marketers that are documenting the strategies have 53.8% more chances of having success with their business ventures
Those marketers that are documenting the entire procedure also have a 46.6% chance of having success
88% of the marketers who are setting goals actually get to achieve them
These above-mentioned stats prove that having social media marketing strategies can prove to be an improvement for the business results.
What Are The Tools That Are Required For Creating A Social Media Strategy?
Before you get into the details of making the strategy, you need to make sure that you have all the right tools.
Social Media Calendar: You need to have a central calendar that can help in planning and the execution of the strategy. A calendar helps in timing the posts that you make in social media platforms and also you will be able to time your projects and content as well. A spreadsheet calendar is recommended
Curation Tools: These tools are a basic necessity as well because they will help you in curating the content so that you don't have any gaps in the calendar
Google Analytics: Gathering and analysis of the data can be done with the help of Google Analytics and in-app analytics that will tell you about different aspects of the audience behavior
5 Steps To Create the Perfect Social Media Strategy
Here are some steps that you need to follow in order to make sure that you are able to create the perfect social media marketing strategy for your business.
1) Set Marketing Goals That Are Aligned To the Business Objectives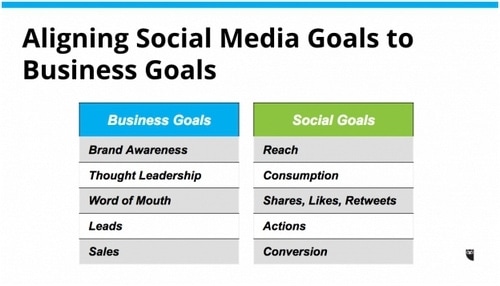 One of the most important and typically the primitive steps that you need to take is to make sure that you are fully establishing your business goals and objectives.
If you do not have any goals for the business, then you will not have anything to measure the success that you are getting from your social media marketing strategy. Make sure that your goals are specific, attainable, relevant, and measurable.
You should integrate your business goals with Social Media Goals to make your campaigns be result driven and more effective. Opting for SMART (Specific, Measurable, Attainable, Relevant, Time-Bound) goals will empower you to enjoy better returns.
2)  Discover Where your Target Audience Lies

For a social marketing strategy to be a success, you need to make sure that you and your target audience both are on the same page. After all, throwing meaningless content that is not very useful to the audience is not really an effective method of marketing right?
Also, you need to make sure that you provide content in places where the target audience is always active. You need to pick out some networks that are very much popular with the target audience of yours. However, do not try and make the list too long. After all, the fewer options you have, the better you will reach people in social media.
There are many different ways that you can use in order to find the target audiences. Remember that you need to know the audience that you serving if you want to create relatable content on social media.
Assumptions are something that you should definitely avoid when it comes to knowing the audience. In such cases, you can collect data from their profiles. Knowing who your audience is and what they want to see on social is key to creating content that they will like, comment on, and share.
It is also critical for planning how to develop your social media fans into customers for your business. To know your audiences different things that you can try are-
Create Personas
Examine Customer Interactions
Monitor Content Performance
Analyze Audience Feedback
3) Research the Competitors That You Have In Social Media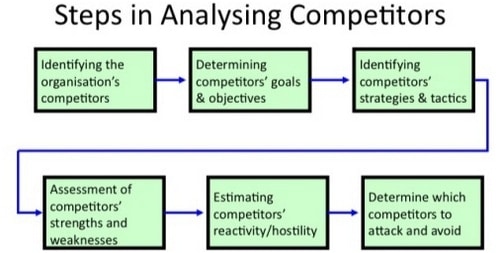 When it comes to social media strategy, you should know that there is a lot of competition out there. You along with your competitors are basically after the same target audiences.
So, knowing about the competition is also a crucial part of creating an effective and efficient social media strategy. You need to make sure that you research everything that you can find about your competitors on the different platforms of social media. Monitoring the engagement of the competitors on the social media platforms is also something that you need to do if you want to make it big. Look for their posts that are grabbing the attention of the fans. Collect all the info that you can and you will be all set.
Some of the tools that you can use Competitor Analysis on Social Media are-
Sprout Social
Phalanx
Social Blade
Buzzsumo
Similar web
Feedly
4) Experiment with the Help of Paid Promotion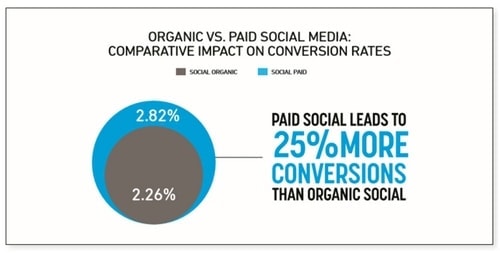 You could also take the help of pain promotion in order to reach the target audience of yours. There are networking sites that offer such kind of services that will allow you to target a specific group of people to share the message that you have.
You could also try setting up some great social profiles and see what the results show you. Your demographics on the social media channels will be a great help in deciding the ultimate paid social media strategy for your business. You can easily run result driven ad campaigns on different social media channels.
Types of Facebook Ads
Photo Ads
Video Ads
Carousel
Slideshow
Canvas
Instagram Ad Types
LinkedIn Ad Types
Display Ads
Sponsored InMail
Sponsored content
Text Ads
Dynamic Ads
Ad Types on Twitter
Promoted Tweets
Promoted Account
Promoted Trends
Snapchat Ad Types
Snap Ads
Sponsored Geofilters (for larger companies) or on-demand Geofilters (for smaller brands)
Sponsored lenses
Pinterest Ad types
Awareness campaigns
Engagement campaigns
Traffic campaigns
The right inclusion of Social Media Ads into your social media strategy is very important in ensuring better targeting and conversions for your business.
5) Know different Social Media Tools to automate your Campaign
Knowing Social Media Tools that can enable you to automate your Social Media Campaign is one of the most important and smart parts of Social Media Strategy. To make your social media marketing campaign more productive in limited possible time, it is inevitable to use Social Media Tools manage, channelize and optimize social campaigns.
You can also use these tools to scale your campaign. Tools are very useful in finding more content to share, measure the effectiveness of campaigns, scheduling Social Media Posting and other tasks. Some of the Social Media Tools that should be included in your Social Media Strategy are-
Buffer
Sprout Social
MeetEdgar
Hootsuite
IFTTT
SocialOomph
BuzzSumo
Oktopost
Tagboard
Followerwonk
Everypost, etc.
Our Final Words
There are some other methods that you can use such as audits and content calendars for experimenting and these will help you in creating the best suited social media strategy for your business. Make sure that you follow aforestated steps to gain success in your business.
In case you have any doubts while making social media strategy for your business, feel free to write us in the comments.
Liked this post? Check out the complete series on social media marketing