When it comes to the effective use of social media, there is no doubt that you will need a social media marketing plan. This plan will help your business grow in the platforms of social media and achieve the desired amount of success that it needs.
However, before that, we need to have a talk about why is social media marketing so important?
Social media certainly is one of the best channels for the businesses, both large and small. However, there are many businesses that are yet to understand the full potential of social media. It helps businesses in many different ways.
If you have an online business, then you will agree that social media is certainly very vital so that you can reach your customers in the best way possible. Don't worry, this is exactly what we are going to talk about in here.
It can be a very uncertain world, the world of social media. You need to make sure that you are always ahead in the game if you want to succeed.
But how on earth are you going to do that?
Well, with the help of a proper social media marketing plan, of course.
So, for those who want some amazing tips, we are here to help.
6 Tips to Help Create a Social Media Marketing Plan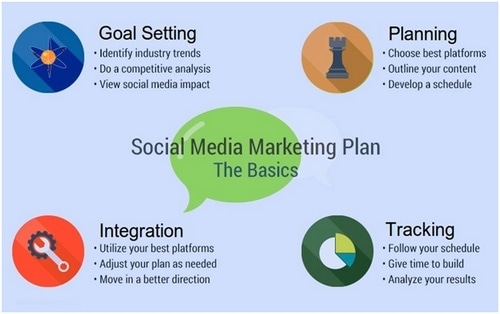 When it comes to social media, you need to make sure that you market your business in the best way so that you can reach more people. Here we have some of the most effective tips that will help you create a superb social media marketing plan.
1) Analyze The Social Presence That You Have Currently
One of the most important things that you need to take care of before you move ahead with any plan is to make sure that you know your current Social Media Presence. No step can be taken for the future if you are not certain about the present.
So, when it comes to proper use of social media marketing, you need to audit the current presence that you have. Check the networks where you are active and see if all of them are optimized or no.
Also, you need to check if the networks that you are in are bringing you profit or not. If so, which ones are these?
There are some other important questions that you need to ask such as which networks your rivals are preferring, how to optimize Social Media Presence and so on.
2) Know your Ideal Customers
One of the most important rules of marketing would be to know the customer that you are serving.
After all, you wouldn't want to sell a high-speed chase came to an elderly couple who just wants some great books, right?
When you have an online business, you need to make sure that you know the target market that you have. Identifying the customers that are ideal for you is the best thing to do.
This is one of the best ways to see if you can reach the perfect audience on social media. If you do that then you will have the best results for sure. Utilizing the buyer persona is one of the best ways of knowing your target audiences.
You can understand Buyer Persona as a semi-fictional display of ideal customers of your brand based upon the market research and practical data of your existing customers. You can do this by paging heed to-
Customer Demographics
Motivations
Behavior Patterns
Goals
Job Title
Pain Points
Preferred Social Networks, etc.
3) Have a Social Media Marketing Mission
The mission statement of your Social Media Marketing Plan will decide the course of the actions that you take in the future. So, you need to make sure that you are putting some serious thought into deciding a mission for your campaign.
One thing that you need to remember is that the statement that you make will be the factor that decides that presence on social media as well.
You need to ensure that you have a statement that will highlight the identity of the brand and make you unique from the others on the market. This is one of the best tips for creating a social media marketing plan.
Content marketing for social media should also be aligned with your mission statement. Having a Social Media Mission that establishes you as an expert on social portals is important in establishing your authority.
4) Know important Social Media Metrics Of Success
Have you wondered how on earth are you going to decide the social media efforts that you are making for the marketing if you don't even know how to measure them?
No, we are not saying that you need to count the followers.
While that can help, there are some other metrics that can determine the success of your brand as well. Metrics such as the conversion rates, reach, mentions of the brand, sentiment, total website spending time, and some other factors are truly very important for the proper measurement of the marketing efforts on social media.
This is something that you need to do in order to achieve the best results for sure. Different social media analytics tools can assist you in gauging the performance of your social media campaigns. We are also adding some of the top Social Media Analytics tools below that can help you in making result driven social media marketing plan-
Tools to check Social Media Metrics
Sprout Social
Analytics
Iconosquare
Buzzsumo
Tailwind
Google Analytics
ShortStack
Gleam
Woobox
TapInfluence
5) Create Appealing Content
If you have spent a long time on the internet with your business, then you must know by now that content is the golden goose that will get you everything. So, you need to make sure that your content is creative and appeals to the customers.
There are many different businesses that do not pay attention to this particular step and end up making mistakes that can create bad results. So, you need to make sure that you have better content for your social media accounts.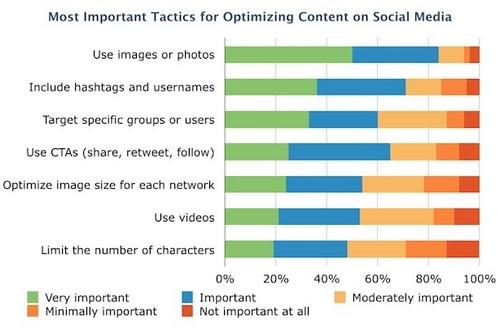 Posting images, blogs, videos along with your posts can be a great way of letting people know that your content has got some value that they will love. Try that and see for yourself how effective it can be.
Some of the content marketing tools that you can use for making an effective Social Media Marketing plan are-
BuzzSumo for analyzing topics and finding influencers
Evernote for capturing, organizing and sharing notes
Kred to measure online influence
Trello for collaborating with team members
ClickFunnels for creating sales funnels
Tweroid to tweet when prospects are listening
Canva for designing beautiful imagery
6) The measure, Analyze And Optimize Everything
One thing we can say for sure is that this one is probably the most efficient and important tip that we have for you if you want to succeed and survive on the platforms of social media. Most of the businesses these days rely on this particular method.
Now, this can seem like a pretty basic thing but if you don't analyze the data that you have then you will not be able to make improvements.
Optimization is certainly a very important thing when it comes to success and without proper analysis, it is not possible. So, don't make the mistake of not analyzing the data as it can have disastrous results.
Some of the tips that can help in Social Media Optimization are-
Your social media goals should solve challenges
Use those social networks that add value to your brand
Always use engaging and relevant content
Do proper keyword research
Optimize your profile
Optimize content using content creation, content curation, headlines, images, Hashtags, etc
Have a proper posting schedules
Check social media analytics such as Conversion Rate, Amplification, Applause, Economic value, etc
In Conclusion…
So, these were some of the best tips that we have for you.
Follow these tips if you want to have the best social media marketing plan for your business.
In case you need our support in making the right social media strategy for your business, share business details with us in comments.
Liked this post? Check out these detailed articles on
Topic of SOCIAL MEDIA MARKETING
Alternatively, check out the Marketing91 Academy, which provides you access to 10+ marketing courses and 100s of Case studies.