Did you ever come across the term social media listening? Well, if you did not, then you are certainly new in the game of social media. We all know that businesses consider social media platforms as something that is bigger than just a place for broadcasting.
In today's time, Social Media presence decides the reach, power, conversions and sales of any business. By reaching more and more people on social media, companies try to devise the best strategy for marketing their business in the best way and creating content that people love.
So, in order to make sure that the company is able to provide exactly what the people want, the company needs to make sure that they understand what their audiences are talking about.
This is exactly what we are going to talk about in this article. When it comes to the power of social media, there is a lot to say. Interacting with people on social media and knowing what they want is what social media listening is all about.
You can understand it as monitoring of your brand's social media presence on different channels for direct mentions, discussions and customer feedback. It also revolves around monitoring of the conversations related to topics, keywords, niche, industries, competitors, etc. on Social Media.
Did you get what we are trying to say in here?
Well, read on ahead and you will definitely catch up.
What Is Social Media Listening?
By now you all know that social media is a very powerful tool that helps online businesses in a lot of ways. Here, we are going to discuss one such topic.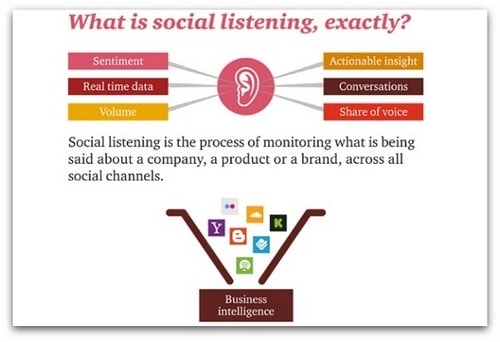 Social media listening can be defined as a particular process where online businesses track the conversations that happen on social media about different topics, phrases, keywords, industries, and brands associated with themselves. With the help of social media listening skills, companies can get several insights about what is good for the business and then curate and create content that would be adored by the public.
Keep in mind that you are not just viewing the comments and the topics on the social media profile and it is a lot bigger than that. Only by paying attention to every single detail such as the notifications and a lot more you will be able to interact with a much larger audience than what you are getting now.
What Is The Importance Of Social Media Listening?
When you track the notifications and the mentions about your business, you will be able to create a much better strategy of engagement. However, you need to first analyze the context. Also, pay attention to the different trends that are going around regarding certain topic of discussions.
This is where social media listening will help you out and provide you with valuable information that you can further use in order to offer your target audience with much better stuff than you normally do. However, one question still arises is that what exactly do you need to pay attention to.
Let us provide you with an example in here. Let us consider Twitter. There are billions of interactions that are taking place on Twitter and you will find each and every single thing about industries, culture, consumers and a lot more.
If you somehow find a way to get that information that most of the companies don't do, then you will definitely have a competitive edge over them.
Pay attention to all the tweets and take part in conversations so that you have a better idea of everything else.
Doesn't that seem like a better idea than just looking at the comments on Facebook?
Well, now do you get the point that we are trying to make?
Social media listening can certainly be a very good tool if you are taking great advantage of it.
How Does Social Media Listening Work?
Now that you all know a little bit more about social media listening, let us tell you how to do it in a way that it benefits the brand that you have. Pay attention to this part people, as it will help you for sure.
1) Track The Brand Health
One of the most important things that you will see about social media listening is that it is a perfect tool for the analysis of sentiments. Social media tends to be the perfect spot where people go in order to get anything and everything.
So, this way, you will get all the information about the people's sentiments regarding your brand. That, in turn, will further help you in analyzing the brand health as well.
Tracking brand health will also enable you to understand how audience sentiments decide the fortune of your brand. Always being ready to listen will also impede any crisis to happen, as you will be always maintain the positive online repute for your brand.
Doesn't that seem to be a very helpful way of doing things?
That is why social media listening is something that is very important for companies.
2) Creating Content That The Audience Would Love
When it comes to an online business, content is the thing that drives the social media marketing strategy. In order to make sure that your audience is hooked into your business, you need to make sure that you share the type of content that they would consider valuable.
Otherwise, you might not be able to keep them engaged and that will result in a loss for the business. With the help of social media listening, you can know exactly what the audience wants.
Pay attention to what they say on different social media platforms and that will help you in creating the content that they would love. That seems to be a very simple and easy way of getting what you want.
You need to look for different content trends. It would also be beneficial for you to looking for different phrases that are related to your brand. You content should also directly hit on the specific pain points of your audiences, as this helps in better engagement and conversions.
3) Think Of Ideas Of Marketing Campaigns
When you are able to identify the key areas of opportunity for the business, then only you will be able to create social media marketing campaigns that will boost the business in a better way.
It happens most of the times that the opportunities are right next to you but you are not able to see them because you are not paying enough attention. With an improved social media listening skills, not only will you be able to identify these opportunities but you will also be able to convert these insights into successful campaigns for marketing.
Paying attention to user generated content and listening the rate at which these contents are being shared will help you gauge the real power of your online presence. Always being well aware of trending topics and strategizing marketing campaigns as per that will always help you stay contemporary and effective.
So, these are some of the most important things that you need to know about social media listening. In addition to these tips, knowing right Social Media Listening Tools for your business will also be quite useful in making the whole process easier and more effective.
We have compiled some of the best Social Media Listening Tools-
Sprout Social
HubSpot
Reddit Keyword Monitor Pro
Streamview for Instagram
Hootsuite Syndicator Pro
Reputology
Hootsuite Insights
Brandwatch
ReviewInc
Synthesio
Talkwalker
Google Alerts
76Insights
In Conclusion…
Hopefully, this article was able to provide you with the information that you require to understand and implement Social media listening.
Make sure that you understand each and every single bit of it so that you can harness the true power of social media listening and use it for your optimize the reach and sales potential of your business.
Liked this post? Check out the complete series on social media marketing