If you are a business owner and you want to promote yourself on social media, then let me tell you that it is not really going to be an easy job for you. It is really important to find the exact balance that is required for the perfect promotion of the products and services and it is close to impossible if you do not know the right way of doing it. However, Social Media Buzz is the one thing that you can do by implementing the right social media marketing & advertising strategies.
It is quite easy and useful to create a buzz about the products and services that you have across different platforms. You will see that it makes a very big difference in the views that people give your website, the shares and the comments that you get. Social Media Buzz is of great significance when it comes to lead generations and conversions.
It is really an exciting and nerve-wracking thing to launch your own product. However, the entire purpose of product creation is that you get to sell these products. But then, if you want to market your product in a better way, you need to make sure that it is visible to the buyers and the prospects in the first place. This is where the actual challenge is.
Social media is certainly very popular and the reason behind this is social media buzz paves the way for launching new products in a way by generating awareness, leads and ensuring conversions.
Let us now go through some of the Social Media Statistics to know how powerful social media is –
What Statistics say about the power of Social Media?
Around 3.196 billion people use Social Media across the globe
88% of people in the age gap 18 to 24 years around the globe use Social Media regularly
By the end of 2019, Social Media Spending in the USA would surpass $17.34 billion
Around 53% of businesses around the world implement Social Media Strategies for their campaigns
In 2017, ad spend on social media was more than $35 billion which was more than 16% of digital marketing spending
Revenues for Facebook Ads were around $40 billion in 2017
Let us have a look on different social media channels and their user base that can influence your brand emphatically –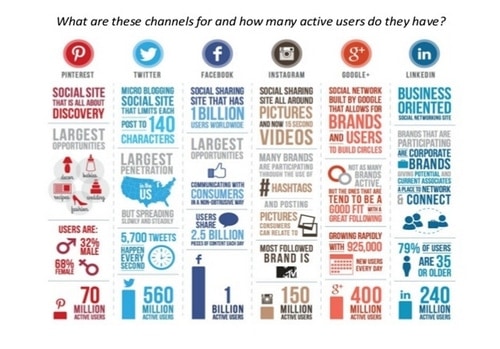 So, all in all, Social Media is pervasive and creating social media buzz around your brand is going to be a sure shot success for you. In the next section, we are going to cover some of the important tips that can help in creating Social Media Buzz-
Tips That Will Help You in Creating a Social Media Buzz
For those who are a bit new in the field of social media, and want to make an impact on the people, here we have some of the ways by which you can easily create a result driven buzz on social media-
1) Research The Audience
You need to make sure that you have got a plan before you actually start marketing the product that you have. Research is so important and you need to make sure that you spend some time on it. Getting to know the industry is very important for creating Social Media Buzz.
Also, you need to make sure that you also think from the point of view of the buyers as well. What type of content would you like to read if you were a buyer?
Well, these are some of the things that you need to take care of if you want to market your product properly. Research is the key element of everything and you must take care of it. Without proper research, the whole campaign can fail.
2) Intrigue your audiences about your Event
There are many events that always have a website along with them. But there are very few of the events that are able to take the ultimate advantage of the event management chances and the event listings that are provided.
You need to make sure that you create several events pages on Social Media and put in information about it. Only then will people be to see what you are doing with the product.
The main thing here is to grab the attention of the customers and what better way to do that other than organizing events and promoting it on social media?
You can easily create your event page on Facebook Events, LinkedIn (for the business event), Eventbrite, etc. The right use of registration tools, so your social audiences can register for that event is very important.
3) Share The Teasers
So, you are planning to launch a product that you are working on or it is just another company that you are launching, you need to make sure that people get to know what you are doing. However, that cannot be an easy task to do, right?
Don't worry as we are here to help you out. By creating Social Media Buzz via teasers, you can do this as well. One of the best ways to make sure that the users and the prospects are all excited about the product is with the help of a particular teaser campaign.
Teasers can be a really important and powerful tool, which will definitely grab the attention of the public. But that doesn't end here. If you show the people a sneak peek of what is to come, it will also build some anticipation. As a result, you will have more and more people interested in your products and services.
4) Branded Hashtags Are A Hit
If you are using a very attention-grabbing hashtag, then trust me that it will be useful in the world of advertising. In the case of the online world, it will make sure that the product that you are launching seems much different from the others that are in the market.
As a result, the people will talk about it and the success of the buzz will increase. Another great advantage is that your buyers and prospects will be able to find information about the product from the hashtags that are provided.
When it comes to the online world, where event conduction is everything, having a hashtag would encourage all the customers to take the actions online and share all the experience in a better way. Branded hashtags are also important in increasing engagement and sales.
5) Run Contests
People these days love to win things, don't they? Well, this is where you can easily create some Social Media buzz with the help of this method. If you host several contests in the platform of social media, then you will easily be able to build the momentum for the content that you have.
In case, you have to launch a particular new series or it is just the anniversary of your old blogs, you can easily run some contests to see what the results are. The best thing about these contests is that they don't really have to be much complicated either.
You will just have to make sure that your audience is captivated and the rest is just additional. Make sure that you do that and the results will be impressive for sure.
6) Strike A Chord by giving reasons to engage with your content
In order to make sure that there is anticipation with the launch of your product or services, you need to make sure that the customers have a particular reason to engage properly with the page content.
No matter how many posts you make, you need to ensure that they have some sort of value. Otherwise, people won't be able to interact with it for sure. Your Facebook or Twitter posts should offer some value to your audiences that can engage your audiences to make a purchase.
7) Build a Community around Social Media Platform
You can make a community of like-minded people on Social Media Platforms that will ultimately create a social media buzz for your brand. This is going to be the group of people who are always ready to listen to the products and services that you offer.
This creates a loyal audience base for your brand as well. These communities spread the word about your events, products, and services quite emphatically.
8) Consistency across all social platforms is important
It is very significant to be consistent on all social channels.
If anyone searches about your business, he or she should easily find you. Having same profile or cover pics across all social channels will be more effective.
Your blogs should also be consistent. The post should also be shared on all the relevant social platforms, as this will boost your credibility on the web.
Designing quizzes and sharing on social platforms will also establish a consistency on social channels. Producing videos and optimizing that on different social channels are also a powerful way of generating online awareness.
9) Use Influencers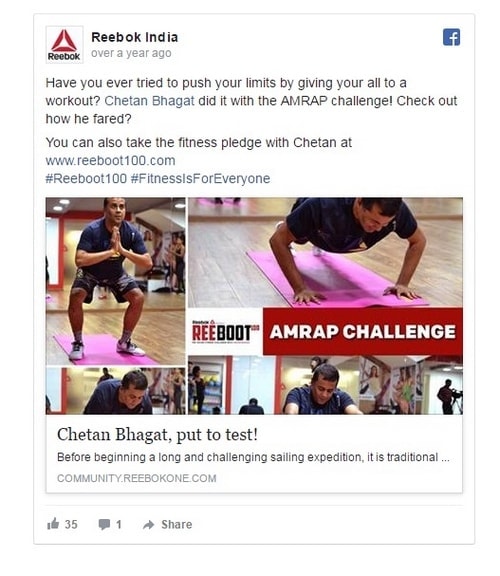 Utilizing social media influencers for promoting your brand is an effective way of creating social media buzz for brands and businesses.
This is one of the easiest and effective ways of promoting your brand to get thousands of views instantly. Because of the popularity of influencers, their followers will see and follow your brand right away.
In the image above, Reebok India used the social influence of Chetan Bhagat for promoting Reebok.
So, these were some awesome tips that can easily and effectively create Social Media Buzz for your brand in a result driven manner. In case of any doubts or query, feel free to write us in the comments below.
Liked this post? Check out these detailed articles on
Topic of SOCIAL MEDIA MARKETING
Alternatively, check out the Marketing91 Academy, which provides you access to 10+ marketing courses and 100s of Case studies.