What is the first thing that you do when you wake up in the morning? Well, I check my phone to get all the things that I have missed last night on social media. Well, do you do that as well? In that case, you belong to the group of more than half the world's population. It is certainly a great thing to see what you missed last night when you were not on Facebook.
Well, isn't it better that now social media websites are providing people with the chance to see what they missed? Of course, it is. But then, there is one problem that all of us face. If you have got multiple accounts on multiple Social Media Networks like Facebook, Twitter, Instagram, Twitter, etc. then there might be a slight issue of keeping up with the pace. Also, it is too time-consuming of a process to check out every single thing that you might have missed on the Internet. But worry not, where there is a problem, there is a solution as well. Let us introduce you to the social media aggregator.
You might ask now what exactly that is. Well, this is what we are going to talk about in this particular post; Social Media Aggregator is the solution that curate all the newsfeeds and updates from multiple Social Media Networks in one place. Let us understand the concept in a more comprehensive way here and now –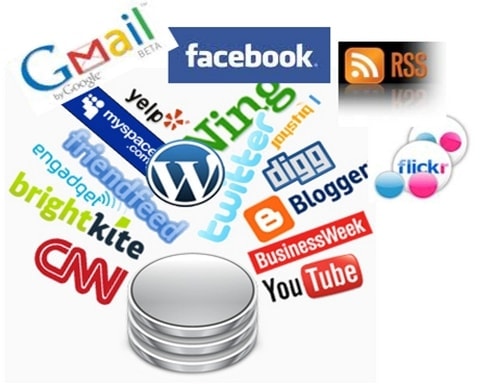 What Is A Social Media Aggregator?
Well, to answer your question in simple words, a social media aggregator is basically a tool that will allow the user to accumulate all the posts and the feeds that are spread in the different social media profiles of you on the web. This tool will bring all of it together which will make it very easy for you to view them.
What they do is they make it simple for the user to create a very organized process of viewing of all the updates that are scattered across the platform.
Let us give you an example for better understanding. Say you are hosting a webinar and you have created a hashtag for it.

Due to that action, the people who are going to attend the event will post their replies about your webinar using the hashtag on different platforms such as Twitter, Facebook, Instagram, etc. While you can just share the feeds from every single platform, there are chances that you will miss any important lead that is important and can be converted into a customer. – Here you can use Hashtag Aggregator.
So, if you are using a certain hashtag aggregator for the process, then you will be able to bring all these hashtags together that are spread in different networks and channels and make them appear in a singular place.
That is certainly a very efficient and neat way of doing the entire thing, right? Plus, it doesn't take much time as well.
That is not even the best part in here. What we actually love about the aggregators is that they absolutely run in the real-time. So, this means that you will be able to share all the latest posts and updates about any particular topic as soon as it appears on the page.
This will definitely help in creating a sense of community and genuineness around the business that you have. The social media presence of yours can be displayed properly on the website and the walls of your profiles. This way it will create more buzz as well as the engagement will also be more. What more could you possibly want in here, right?
So, social media aggregators are very useful in empowering you to utilize the power of social media for your business in the most competent and result driven manner possible. Let us now deep dive into some of the notable benefits that you will be getting from a Social Media Aggregator-
What Are the Benefits of Having Social Media Aggregator?
By now you know what exactly a social media aggregator is. Now let us understand the importance of this amazing tool. Well, we can consider it as a weapon that will help in driving the brand closer to increased user engagement and that too in a very efficient and powerful way.  This way, the business will be ahead in the social media race. The brands can use the content aggregator in order to magnetize the customers towards digital platforms. This way, the customers will want to engage more with the content available.
Sure, there are other traditional methods that can be used as well, but these methods often tend to lack the innovative streak in them. So, having a social media aggregator can actually be a fresh and effective change for the brands that are looking for new and effective ways of making user engagement their priority. Are you still not convinced whether social media aggregators are a great idea or not? Well, let us convince you a little bit more then. Why exactly do you think brands are going all crazy about the idea of social media aggregators? Let us go a little bit deep-
We all know that there are many brands who have a presence on many social media networks and platforms. So, it can be said that these brands are scattered socially. So, the management of the feeds and the updates that pop up on a regular basis can be a bit of a difficulty for some people.
Not to mention that it costs more money and time as well. After all, you have to promote strategies, create content for all the networks and channels, manage the updates and do a whole bunch of other things. – This is where social media aggregators will be a godsend for you.
Social Media Aggregator is certainly a boon to social media marketers.
Well, because with the help of this particular tool, they can get a short and refreshing break from continuously racking their brains off in order to produce some content for social media.
Instead of doing all of that, you could just create a simple plan that would invite all the members of your target audience to come together and submit their responses so that you can create some unique content from the ideas that you have here.
There is an added benefit here as well. All of that is absolutely free. Apart from that, you get the honest feedback of the people and hence you will be able to improve your content in a better way to engage more and more customers to the website.
So, now that you know and agree that social media aggregators are a boon when it comes to user engagement and marketing, are you going to be using them, let us now delve into some of the most popular Social Media Aggregator Tools-
Top 5 Social Media Aggregator Tools
Hootsuite
In addition to the fact that this is a standout amongst the most powerful Social Media Management Tools, Hootsuite is top rated Social Media Aggregator as well. It lets you connect with all the social media platforms be it Facebook Pages, Twitter, Facebook profiles, Ping.FM, Foursquare, WordPress.com, MySpace and so on. You can easily customize, schedule and measure social media campaigns using Hootsuite.
Mention.net
This one lets you follow all the social media channels along with the blog or news channel. It offers aggregations services in more than 42 distinctive languages. You can utilize it over various mobile devices and desktops. It is equally competent on platforms like Apple, Linux, and Microsoft. It is also top notch is providing important social media reports.
Tweetdeck
Initially a well known Twitter marketing & automation tool, Tweetdeck has now advanced into an extensive Social Media Aggregator as well. It offers aggregation and management services for Facebook MySpace and LinkedIn with equal efficiency. Assembled utilizing Adobe Air, Tweetdeck comprises a mix of rich-innovation and adjustable highlights that you will appreciate. This one is easily accessible on PC, Laptop, iPad or iPhone.
Rebel Mouse
This one is again a widely popular Social Media Aggregator Tool that arranges your updates from all social media networks on the web. It also offers all the details into an excellent, customizable page visible by means of PC, laptop or phone with utmost ease. Extraordinary highlights are offered and advanced relying upon your necessities.
Yoono
Yoono is a very popular Social Media Aggregator that is also known as Feed Mashup, which implies it is an application that utilizes or consolidates data and functionality from different outer sources to make another service. It is accessible as a browser add-on for Firefox or as an application for Windows, Mac and Linux PCS. Aggregation services are available for Facebook, MySpace, Twitter, LinkedIn, Flickr and FriendFeed.
Conclusion
Now, on the concluding note, we hope then you will be impressed with the use, ease and power of Social Media Aggregators in making your Social Media Marketing Campaigns adeptly automated and perfectly result driven.
Still, have any doubts about the applicability of Social Media Aggregator for your business? Share your business details and our team will guide how can use this for optimizing your business on the web.
Liked this post? Check out these detailed articles on
Topic of SOCIAL MEDIA MARKETING
Alternatively, check out the Marketing91 Academy, which provides you access to 10+ marketing courses and 100s of Case studies.