SiteGround Hosting is a web hosting company founded in 2004. The independent company based in Bulgaria serves to host markets globally being one of the most trusted Web Hosting Platforms.
They call themselves the gold standard in offering high-quality, "well-crafted" hosting answers.
The concept of the hosting website SiteGround began in a college dorm and had been growing ever since to host more than 500,000 domains on their servers.
The company was founded in the year 2004 by Tenko Nikolov, Reneta Tsankova, and Nikolay Todorov – three university friends who had a mission to make next-level web hosting worldwide.
Site Ground Overview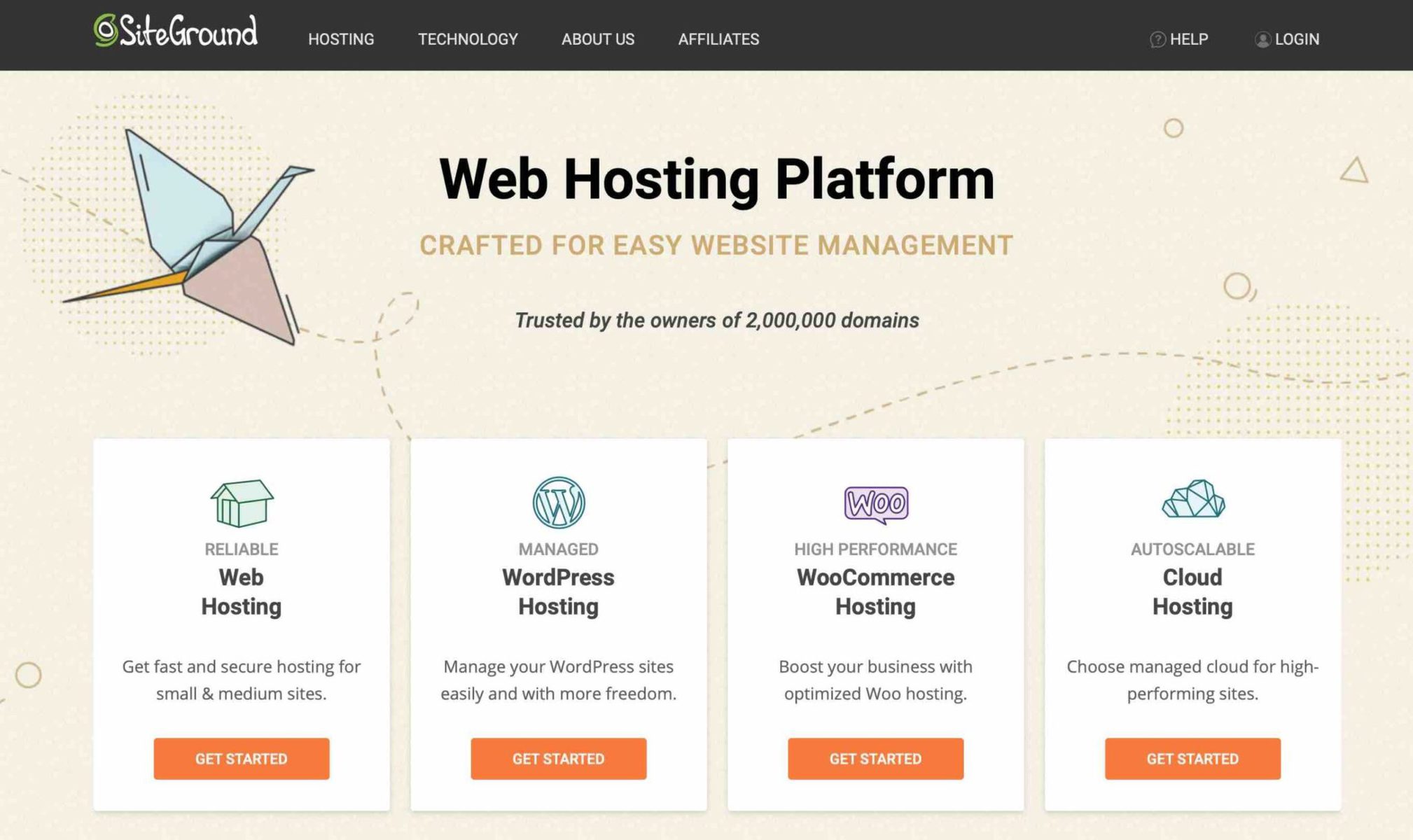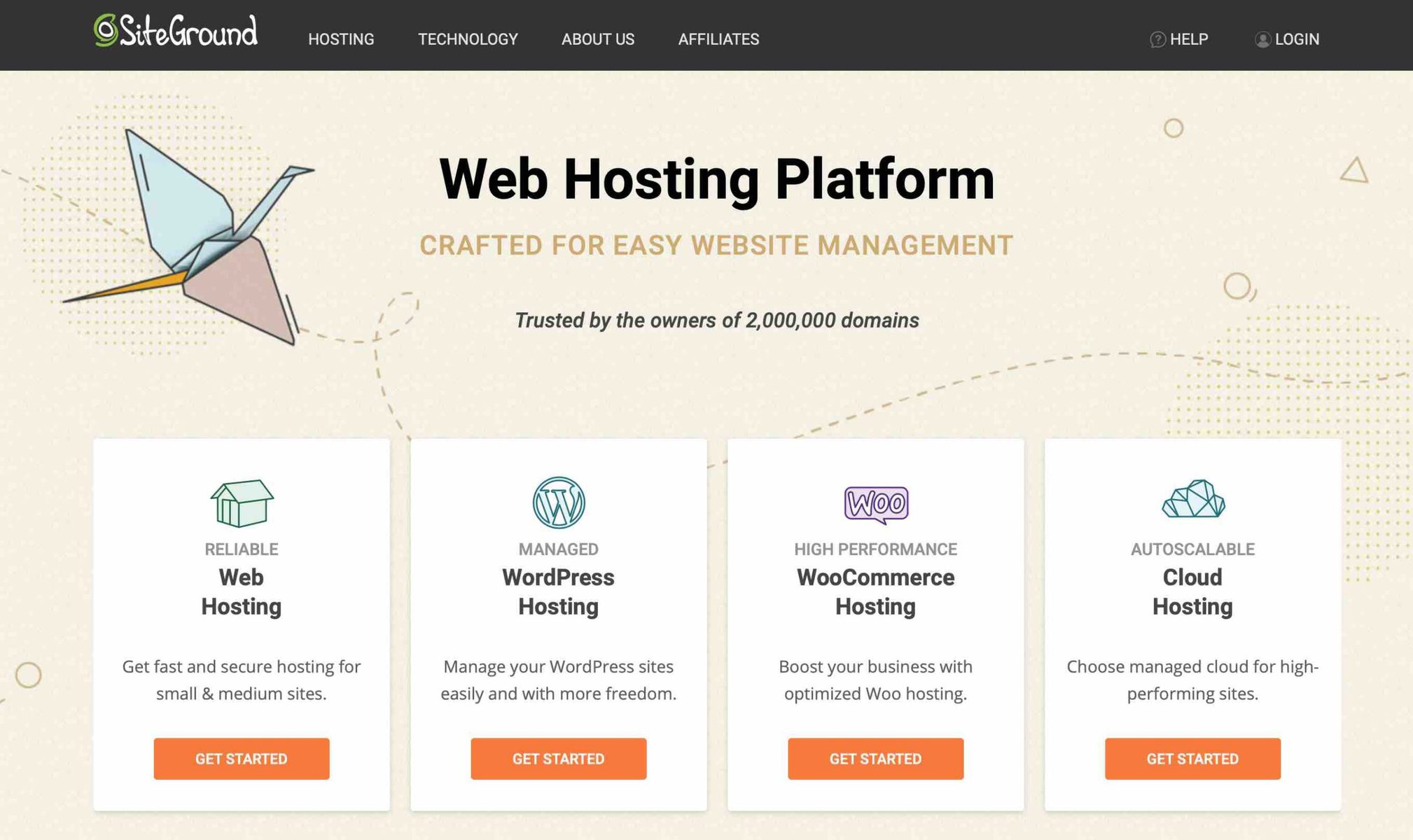 SiteGround has a wide range of features, customer services, and flexibility when it comes to hosting solutions. They attract a large number of customers. They are considered to be an above-average web host that is trusted by the owners of 2,000,000 domains.
They target small businesses and private users, have skilled and responsive support and customer service, unlimited resources, and scalable use for the professionals.
They are ranked high in the top 10 web hosting sites. They offer one of the best performings shared hosting in the market.
If we back in history lane when the SiteGround was introduced in the market, the competitors were offering a lot of features such as reliability, customer service, performance, security, and affordability.
However, no company provided all of these features together. That was the challenge on Nikolov's hands, and he achieved it.
The company grew and now has servers in 4 centers that are placed over three continents. They have 500 employees now, five offices, and the company continues to experience double-digit growth every year.
The Key Services of SiteGround Include
Reliable Web Hosting
Managed WordPress Hosting
WooCommerce Hosting
Cloud Hosting
The success of the company was based on a two-fold operation:
Good Products
Good Marketing
Everything that SiteGround has achieved is a result of hard work, perseverance, and based on the fact that the results desired are to create something better uniquely.
Now, after being aware of the overview of SiteGround, this is the right time to delve into the Services and Hosted Applications that are adeptly serving one of the largest audience bases worldwide.
So, let us decipher their key details here and now-
SiteGround Services
Site Ground offers a wide range of web hosting services at your disposal. Some of those that are very popular in the user base of SiteGround are-
Web Hosting
Reseller Hosting
Cloud Hosting
Dedicated Servers
Enterprise Hosting
Domain Names
Student Hosting
Hosting Web en Español
Now, we will be discussing the top highlights of these services and understand how they will help you in your time of hosting needs-
1) Web Hosting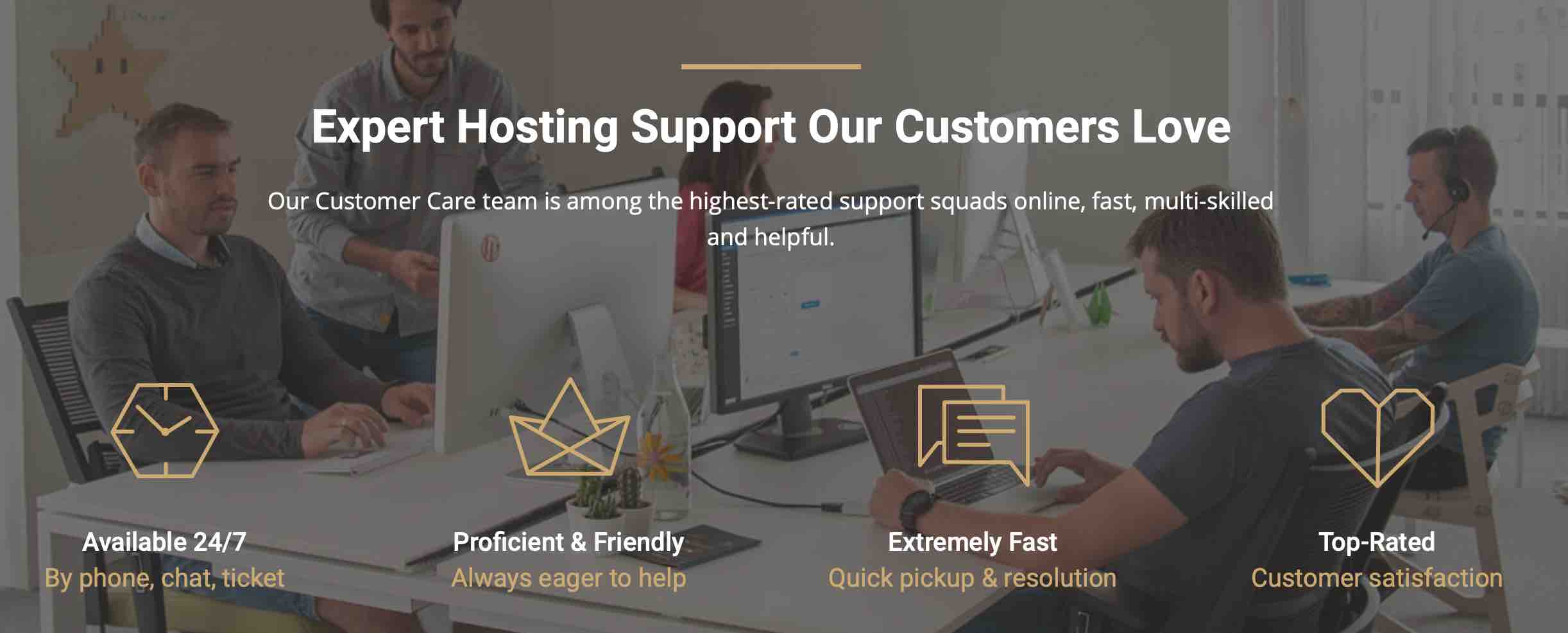 This is very useful for personal as well as business websites. It also allows its users to build or migrate the website with the utmost convenience.
It offers you your choice of site builder be it WordPress or Weebly for launching your site easily and in the speediest fashion.
SiteGround Web Hosting is considered best-suited for Ultra-fast Sites, Top-notch security and managed WordPress. You will also be benefitted from the easy site and domain management along with reliable Email Services.
When you choose higher plans of SiteGround, you will get premium value on features such as…
Host multiple sites: It allows you to create as many sites as you want and host them just by using one account
Dynamic caching: You can enable your sites to fly with the dynamic caching offered by SiteGround
Easy staging tool: It lets you make a copy of your site and test changes before going with them live
Add Collaborators: It allows you to invite collaborators and offer them their own login to your site
The highest tier of resources: With the help of this feature, you will have more server resources for your site
Advanced priority support: In case you face any issues, they will be handled with priority by the top technicians of SiteGround
Easy Git integration: SiteGround will assist you in helping your development flow by pre-installing Git on its servers
Add white-label clients: SiteGround lets businesses offer its clients white-label access to the Site Tools of their sites
2) Reseller Hosting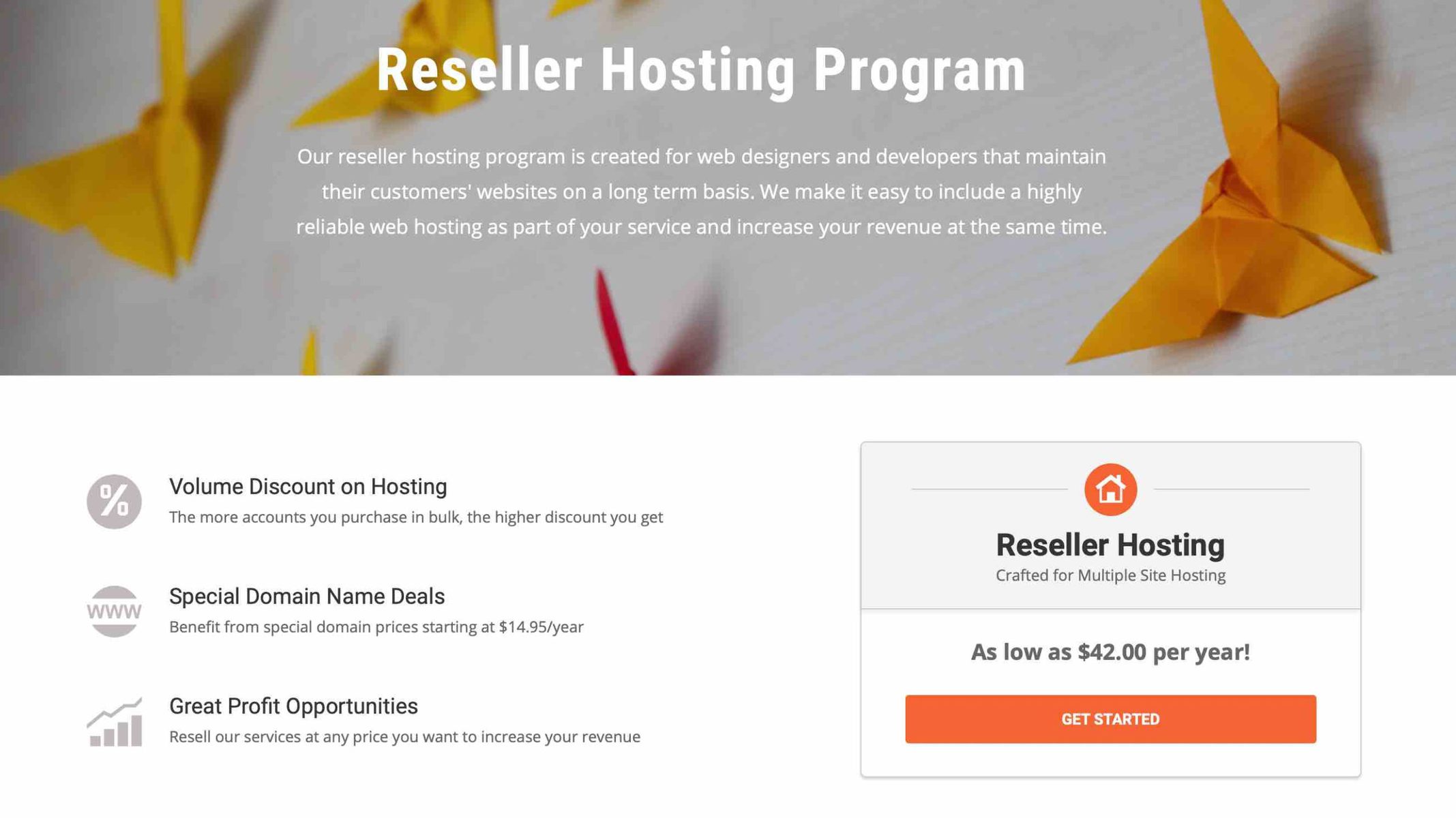 SiteGround also offers one of the most popular Reseller Hosting Programs that is available for web designers and developers that are predominantly involved in maintaining websites of their customers on a long term basis.
SiteGround is very efficient in offering a volume discount on hosting, great profit opportunities and special domain name deals.
The best thing about SiteGround Reseller Hosting is easy to complete Reseller programs that just need completion of three steps-
Getting Reseller Credits
Activating hosting accounts
Enjoying user-friendly experiences with best-suited reseller area and unmatched hosting reliability
Reseller Hosting Account Features that you will get here-
10 GB Web Space
cPanel & SSH Access
4 Server Locations
Unmetered Data Transfer
Unlimited MySQL Data Bases
Unlimited FTP Accounts
Free Daily Backup
Free Email Accounts
Free Cloudflare CDN, etc.
3) Cloud Hosting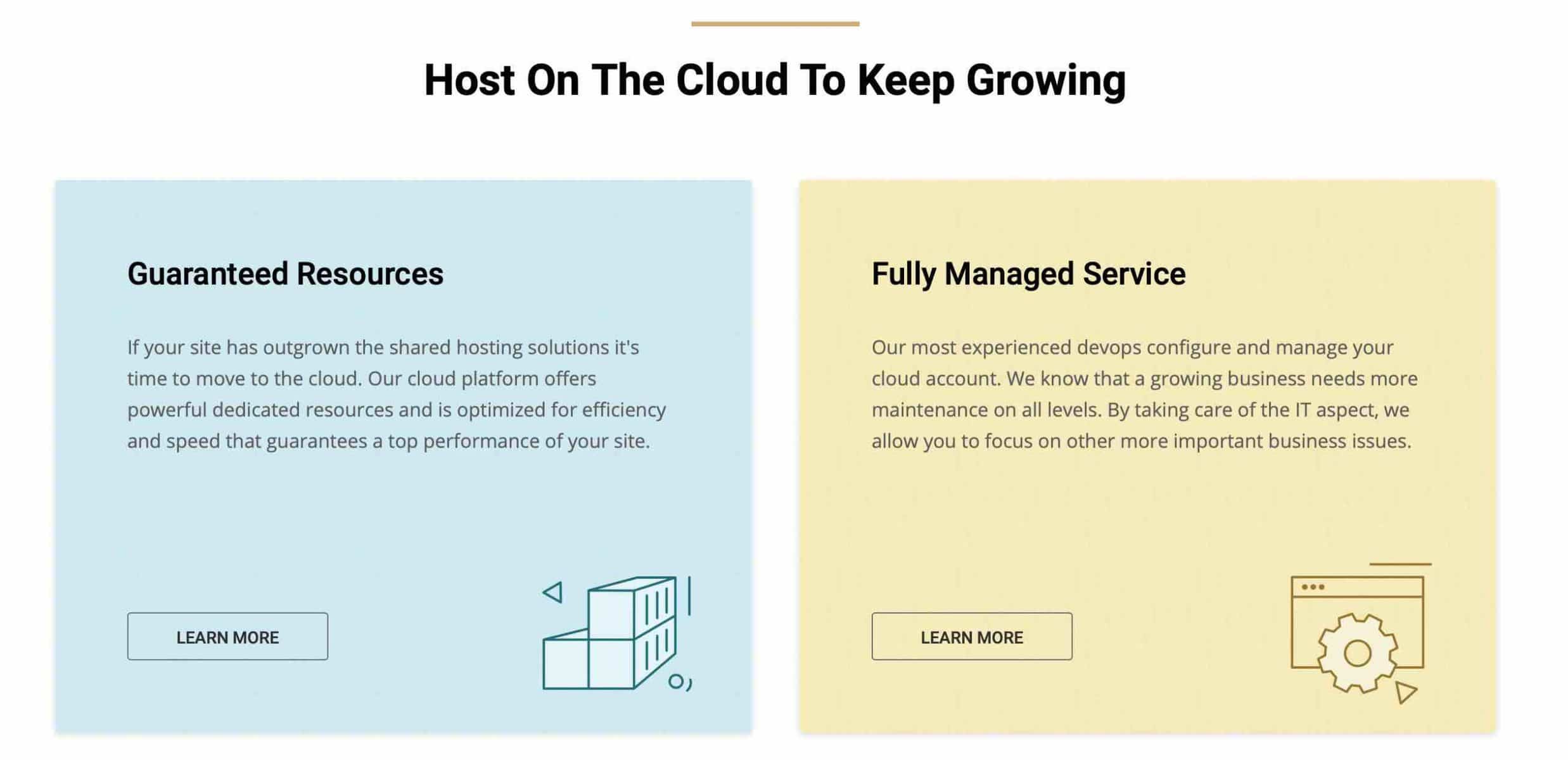 SiteGround is also quite good with its managed cloud hosting services that can dexterously take your site to the next level.
SiteGround offers you Guaranteed Resources and Fully Managed Service together with easy scaling for growing businesses and effective management of sub-accounts.
SiteGround is also first-rate in offering managed WordPress and WooCommerce Services that incorporate easy start and managed updates, Staging, Git, WP-CLI alongside dynamic caching and so forth.
With SiteGround Cloud Hosting, varieties of efficient tools are there for Webmasters. So, tools at your disposal are-
SSH & SFTP
Dedicated IP
Free CDN
Free SSL
Daily Backups
Private DNS
 4) Dedicated Hosting

SiteGround enables its users to have a top-class dedicated machine setup for hosting their websites. You will get premium managed servers for dedicated hosting with SiteGround.
It is also optimized for the most popular applications that ensure selected hardware, full management, and 24/7 VIP support as well.
Key Dedicated Hosting features that you get from SiteGround are-
WHM & cPanel
Apache/Nginx & CentOS
Softaculous Autoinstaller
Exim Mail Server
5 Free Dedicated IPs
MySQL 5 & PostgreSQL
Private DNS Server Setup
Free Cloudflare CDN
5 PHP Versions
IP Tables Firewall
SSH Access
5) Domain Names

With SiteGround, you can register a new domain just by paying $15.95 per year.
All the different popular domains are easily accessible and you can get .com, .net, .org, .biz, .info, .US, .nl extensions.
In addition, you can also find country domains and special domains as well. Different country domains that are available are-
.at for $19.95
.be for $14.95
.ca for $19.95
.cat for $19.95
.ch for $29.95
.co for $29.95
.co.in for $14.95
.co.nz for $29.95
.co.uk for $19.95
.co.za for $14.95
.com.au for $14.95
.com.es for $14.95
.com.mx for $19.95
.de for $14.95
.es for $14.95
.eu for $14.95
.firm.in for $14.95
.fr for $14.95
.gen.in for $14.95 and so on
Some of the special domains that you can get from SiteGround are-
.online for $15.95/yr
.blog for $34.95/yr
.shop for $15.95/yr
.club for $14.95/yr
.xyz for $12.95/yr
.guru for $25.95/yr
.photos for $17.95/yr
6) Enterprise Hosting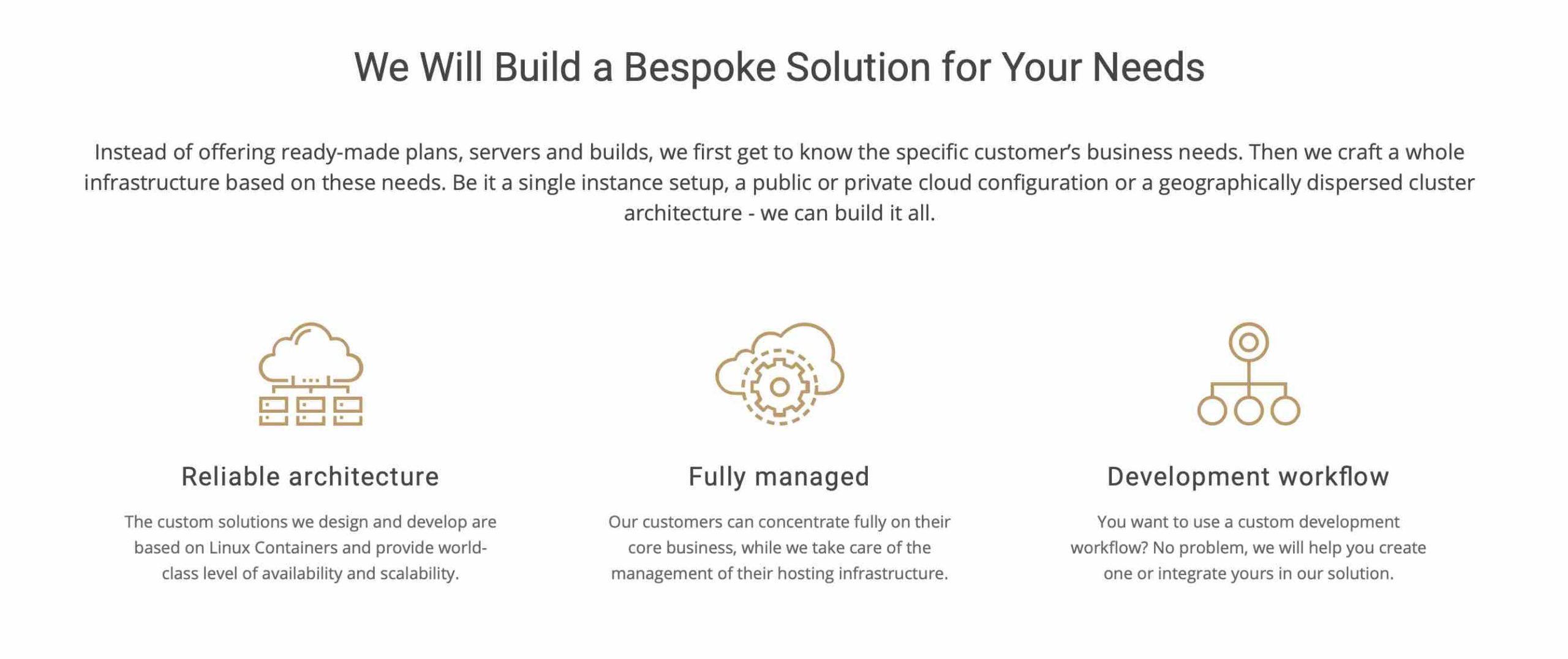 SiteGround is quite good in offering bespoke hosting services as per the specific business needs of customers.
By choosing Enterprise Hosting from SiteGround, you will get-
Reliable Architecture
Fully Managed
Development Workflow
Custom Onboarding
Personal Account Managers
SiteGround comprises absolute expertise with most popular web applications like WordPress, Joomla, Drupal, Magento, etc. It also has a performance-oriented and reliable base stack such as NGINX, Apache, PHP, My SQL, Linux Containers, etc.
The inclusion of custom technologies such as MongoDB, ElasticSearch, Redis, Solr, Memcached, etc. is also quite effective in serving your custom needs.
7) Student Web Hosting
SiteGround is also quite useful for educators, scholars, and organizations by offering custom hosting solutions based upon their custom requirements.
Two plans are available in Student Web Hosting-
Student Plans
Special Price for a Great Web Start
$1.99/mo
All the features of a regular hosting plan
Special student pricing for 1 year
Easy to use, great support
Faculty Partnership
With Hosting for You and Your Students
Free
Fully-featured instructor account with LMS integration
Free accounts for students for the duration of course
Custom sign-up page for your school/course
SiteGround Pricing and Packages
For different services, you can find out different pricing plans which are quite useful as per your web hosting needs. Pricing plans of SiteGround for different services include-
1) SiteGround Web, WordPress and WooCommerce Hosting Pricing Plans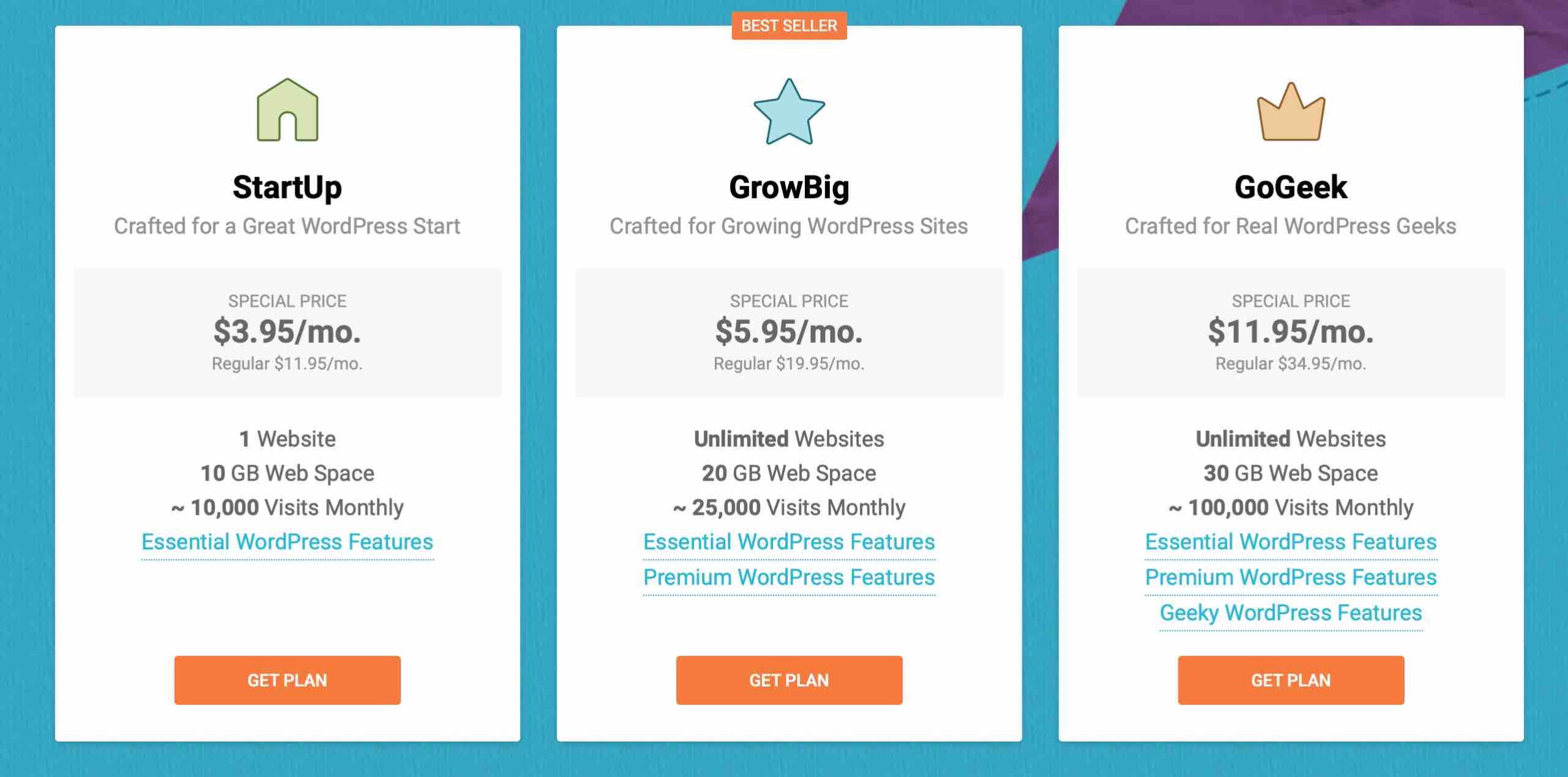 Startup
It has one domain, one website, 10 GB space, and 10,000 monthly visits.
Regular Price: $11.95/month
Special Price: $3.95/month
GrowBig
It offers unlimited websites, 20 GB space, and 25,000 monthly visits.
Regular Price: $19.95/month
Special Price: $5.95/month
GoGeek
It also provides unlimited websites, 30 GB space, and 100,000 monthly visits.
Regular Price: $34.95/month
Special Price: $11.95/month
2) SiteGround Managed Cloud Hosting Pricing Plans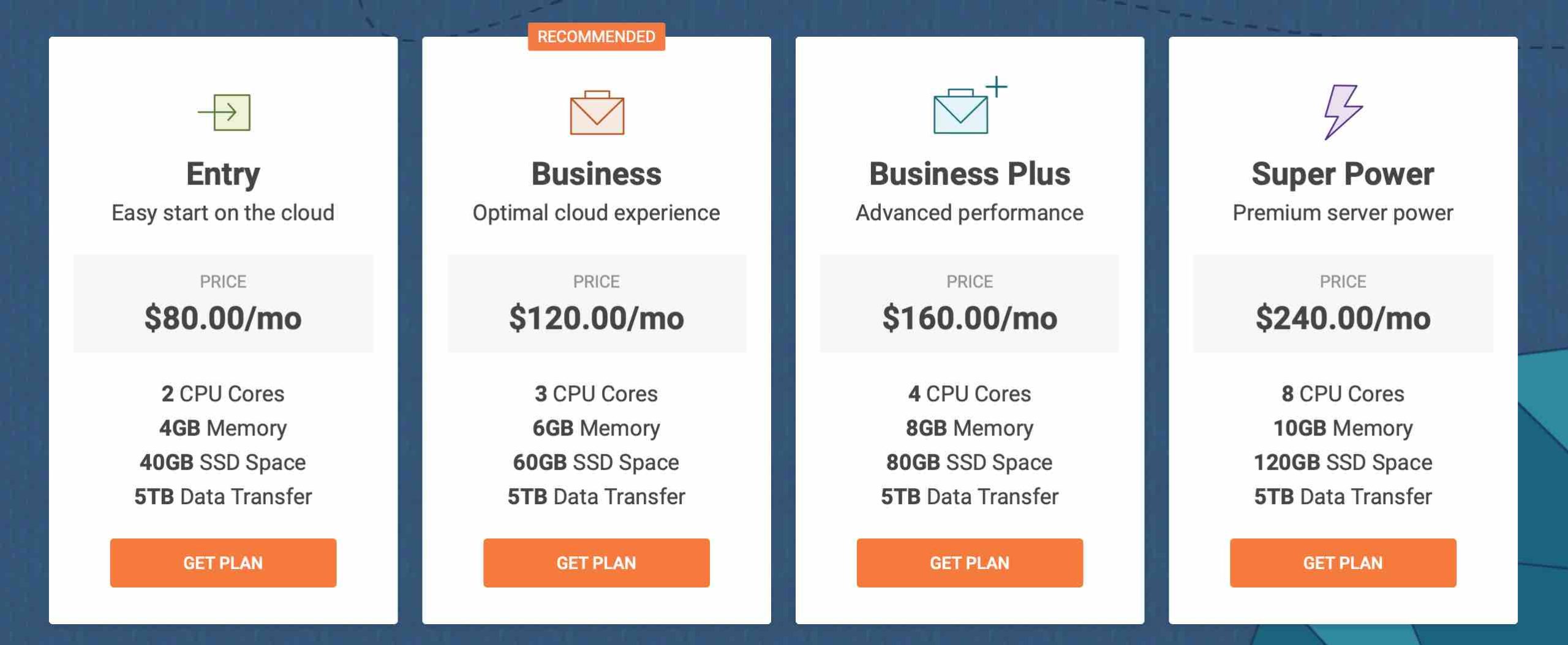 Entry
Best suited for an easy start on the Cloud
$80/ month
2 CPU Cores
4GB Memory
40GB SSD Space
5TB Data Transfer
Business
Right pick for optimal cloud experience
$120/moth
3CPU Cores
6GB Memory
60GB SSD Space
5TB Data Transfer
Business Plus
Choose it for advanced performance
$160 per month
4 CPU Cores
8 GB Memory
80 GB SSD Space
5 TB Data Transfer
Super Power
Best fit for premium server power
$240 per month
8 CPU Cores
10 GB Memory
120 GB SSD Space
5 TB Data Transfer
3) SiteGround Dedicated Hosting Pricing Plans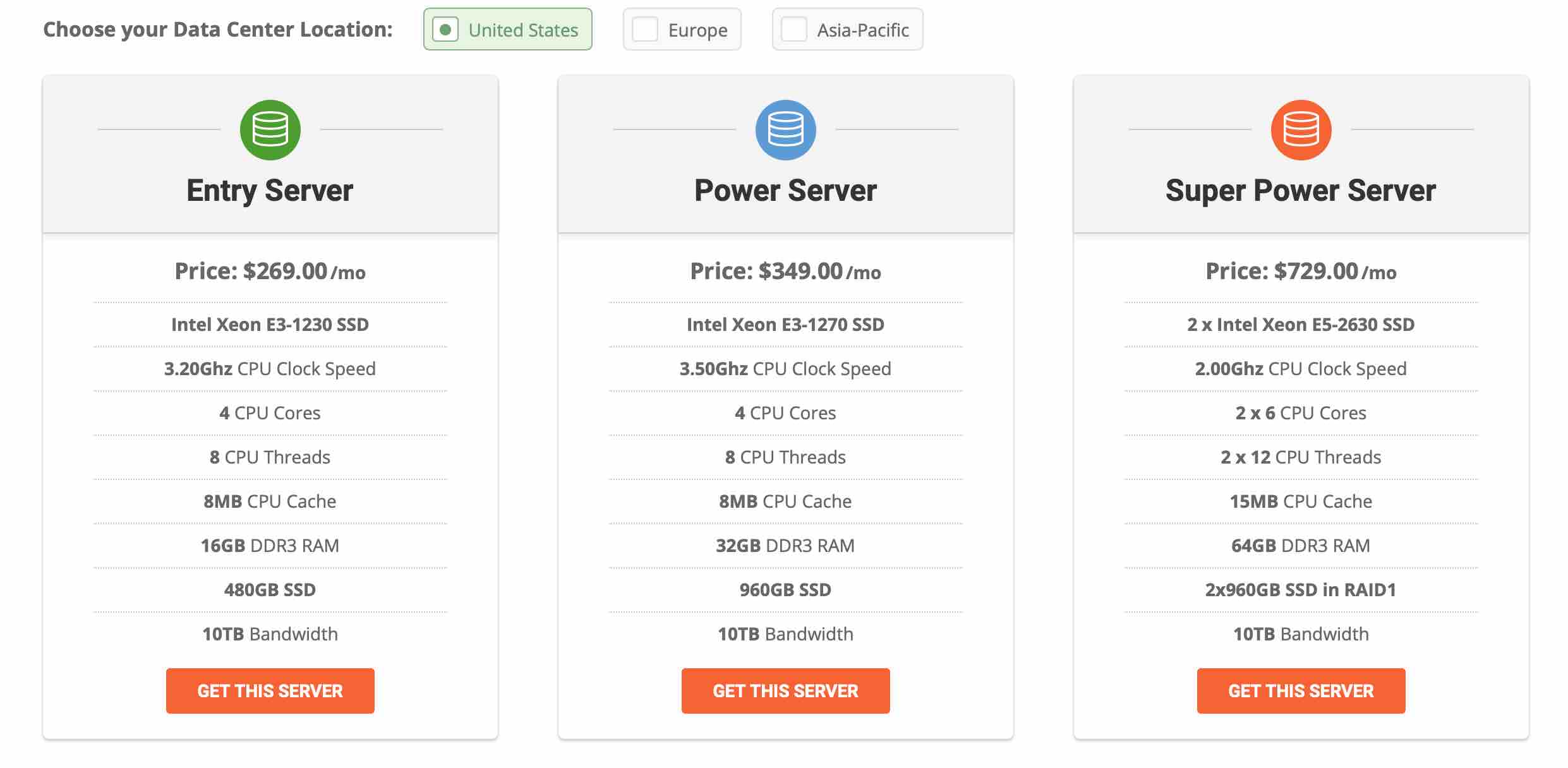 Entry Server
Price: $269.00/mo
Intel Xeon E3-1230 SSD
20Ghz CPU Clock Speed
4 CPU Cores
8 CPU Threads
8MB CPU Cache
16GB DDR3 RAM
480GB SSD
10TB Bandwidth
Power Server
Price: $349.00/mo
Intel Xeon E3-1270 SSD
50Ghz CPU Clock Speed
4 CPU Cores
8 CPU Threads
8MB CPU Cache
32GB DDR3 RAM
960GB SSD
10TB Bandwidth
Super Power Server
Price: $729.00/mo
2 x Intel Xeon E5-2630 SSD
00Ghz CPU Clock Speed
2 x 6 CPU Cores
2 x 12 CPU Threads
15MB CPU Cache
64GB DDR3 RAM
2x960GB SSD in RAID1
10TB Bandwidth
SiteGround Pros
The advantages which make SiteGround successful:
1) Web Strategy
Any company wants different and unique website designs and ideas. It should be striking to make sure it stands out in a sea of competition. It is not easy to come up with this idea.
To set up and operate a website is a monumental task as businesses can crash without proper care of this aspect.
Social media marketing is an essential aspect as they need to decide whether the inclusion of a blog, forum or an online store is required or not.
Choosing the right web hosting service provider is also an essential step in the process of creating a well-designed website. This decision can be based on the disk space or on the uptime or any other factor which the company considers essential.
2) Happy Customers
The company had the vision to be a provider of web hosting, which was faster, safer, and had better support than the existing competitors. They live up to their original capability with hosting one million domains.
The clients using this service provider always praise them for their attention to detail; being aware of the current hosting technologies and site speed.
The customer is king, and keeping them happy and satisfied is the primary end goal. If that is achieved, it provides the employees enough drive to keep working towards maintaining that to keep themselves afloat in the competitive market.
3) Value for Money
The services offered by the company are entirely worth the money being invested. Unless so the company would not be faring so well.
The company provides whatever is promised and excellent support to the customers. In comparison to the competition, it is considered to be extremely affordable.
The affordability of SiteGround's services and web hosting is one of the main reasons for its success. They make sure that the money paid is accounted for and returned with impeccable services.
4) Critical Uptime
Uptime is the time during which a computer, device, or machine is in operation. Every website owner complains about uptime, and SiteGround always ensures that they deliver.
The main aim of any company's website is that they get traffic at all times. However, if the service provider does not live up to this, they are not doing their job effectively.
The visitors will be complaining about not being able to visit and access the site. Many hosting providers say that they offer 100% uptime. It usually does not work, and they will reimburse the website owner the money if there is a downtime.
However, there is proof that SiteGround offers 100% uptime for as long as 30 days in a row.
The company is very confident about its performance.
5) Customer Support
SiteGround has the fastest response time, as reviewed by many users across the globe. Many web hosting providers do not deal with the issues that crop up despite the promises made at the beginning.
However, SiteGround support is very much present. They answer questions while purchasing plans and also after if there are issues or problems.
They have a live chat service for technical assistance, billing assistance, and pre-sales inquiries.
They offer support at all times, 24 hours a day, for seven days. They ensure that the hold time is zero because many consumers get frustrated due to the constant hold time experienced in light of an issue.
They ensure that a real person is communicating with you instead of chatbots or automated responses.
6) Cloud Hosting
SiteGround offers one of the best cloud hosting services that are possible. The features offered are multi-platform storage and abundant content storage. It s allows the customer to access all the required information anywhere, at any time.
SiteGround also backs up the databases for you daily. They make sure the 24/7 support to cloud data as well by ensuring the service is flawless.
7) Users' Area
The user area provides all the details and information about your account without any hassle and in a sleek and well-designed manner. They help to monitor the domain, keep track of the current billing status, and track ticket at ease.
It is easy to navigate and allows the user to check something whenever they want without any difficulties.
SiteGround Cons
The cons of the web hosting provider are as follows:
1) Pricier than others
In comparison to other hosting providers in the market, the Price is slightly higher. It is because the services provided also live up to the money invested. The prices are competitive, but with SiteGround, you are paying for quality.
The con is not their overall value but the raw price point.
The company bases its prices on the caps instead of features. Hence top-tier plan bonuses are upselling.
2) Plan Limitations
They limit the disk space across all the shared plans in place of domains or databases. It becomes a problem if the site gets lots of visitors. The company decree does not suspend the account, but it may make it slower and not as efficient.
Recommendation
SiteGround is a legitimate, safe, secure, and enjoyable company that provides high-quality hosting services. They have strengths, weaknesses, and highs and lows but are reliable to do business with.
This company may be the best, depending on goals, resources, and focus. They can cope with problems and provide excellent technical aid at all times.
They have global focus through their data centers and focus on the development and maintenance of a smooth-sailing website. They offer plans which may have a slightly higher price, but these prices are compensated with the quality of services.
In this quickly advancing time, there are always constant complaints and issues with slow bandwidth, excessive downtimes, and slow loading times. It is refreshing to have a site like SiteGround to overcome all these problems.
Bottom Line
The company has set the standard for proper web hosting provision very high.
Concerning features, customer services, and being flexible, SiteGround has pretty much nailed it. Many website owners have switched to SiteGround because of the excellent services provided.
The employees and management make sure the customers always leave the company and the website with a positive response and answer. It causes the client base to increase because of the spread of a kind word through the existing customers.
It is one of the fastest-growing independent companies due to the reliable product and solid marketing aim. The support offered unwaveringly and made it a go-to company for those who want a reliable web hosting service provider.
They have the edge over the US companies and competitors because they are headquartered in Bulgaria.
Cutting edge performances with features that live up to the standard always make a deadly combination and keep SiteGround a site way above the ground.
Learn more about SiteGround and get it if you want to use one of the most reputed Web Hosting Platforms that is designed for easy, effective and custom-fit website management.