You may have found the professional bloggers posting content after content on their blogs. Maybe you may have been astonished by their productivity, and wondering whether they ever take a break.
Well, they do take a break, but the secret to the continuous posting that you find on their site may be partly due to an excellent feature on WordPress – Schedule blog post. In this post, we will educate you more about scheduling the post on WordPress.
Why is Scheduling a Good Idea?
Your blog may be negatively impacted if you are not able to post the content on your blog in a prescribed time frame. What would you do when you have planned a week-long trip with your family?
In fact, there are several similar situations where you would want to post your content at predefined time and date. Scheduling your post is one of the major advantageous options that WordPress offers you.
Let us check out a few advantages that you stand to gain with post scheduling on WordPress –
Taking a Break
Of course, your blog is your primary source of income. But that does not mean you will continue working day in and day out. Maybe you are planning to take a break for a day or two. Or maybe you are moving with family on a week-long trip to some other part of the world.
However, you would not want your blog to stay without any fresh content for that duration. So schedule a couple of posts so that your site keeps getting the relevant content even in your absence.
Time Differences
Maybe your site receives traffic from some other region that you are not part of. Every website has a peak time for getting traffic. What if your website has a peak time at 3 am in the dark of the night? You would not want to wake up at that unearthly hour to post the content to benefit from the better traffic.
How about scheduling the right kind of post at the right time? It should be an excellent strategy to schedule blog post at a time interval that is best for traffic. You can even use scheduling to span two consecutive posts equally enough.
Are You Facing a Writer's Block?
Every one of us comes across what is called Writers' Block. There are times when you are motivated enough. And there are times when you are low enough. In such situations where you are well motivated enough, you can consider writing a bunch of posts together. Of course, they would be the best in quality as you would write them in the best of your mood.
So, once you have a bunch of well-written articles, you can schedule them with a proper interval of the period between two consecutive posts. This would ensure that even when you run out of ideas, your blog will continue to have valuable content.
How To Schedule your Post on WordPress?
Here are the steps involved in Scheduling a post in WordPress. In fact, like rest of the features on WordPress, even scheduling your post is quite easy and simple to work with. Here are steps involved in working with your scheduled posts –
Before you can schedule a post, you would want to change the time zone of your site to one of the time zones you want to target your readers from.
Here is how you would be able to do it. Go to General Settings on your WordPress dashboard and choose the suitable time zone and save your settings. However, if you do not want to change the time zone, you may skip this step.
Go to your Posts section, and choose New Post.
Write your post and perform all the formatting tasks.
Next, access the Publish area at the right side of the text editor.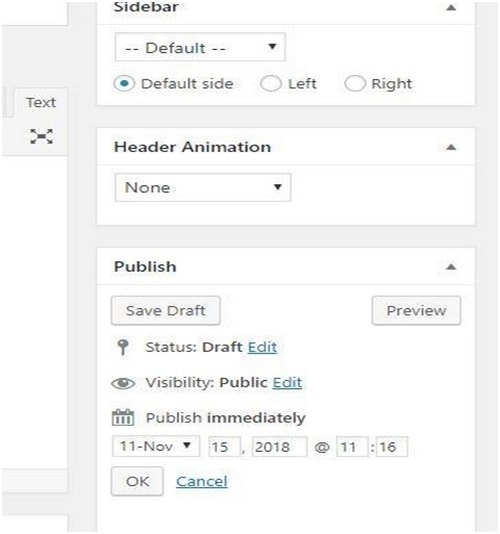 Locate the option for Publish
Click on Edit option beside it.
Set the date and time for scheduling your post.
Please note that if you haven't specified any particular day or time, WordPress will post the content accordingly.
Please note that WordPress follows the 24-hour format for scheduling the post. Moreover, you can configure the exact timeframe you would want from the General Settings on your WordPress Dashboard.
Apart from the default option for scheduling a post on WordPress, you can make use of plugins for scheduling your posts on WordPress.
Best WordPress Plugins to Schedule your posts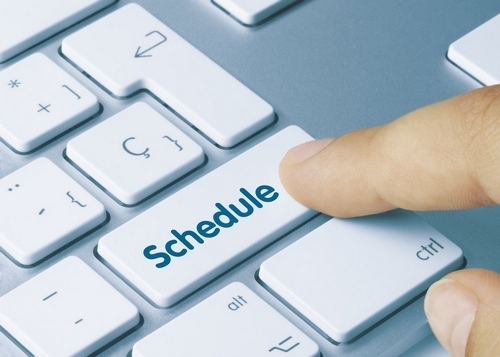 A few WordPress Plugins that can be practical enough for your post scheduling purposes –
Schedule Post Calendar
This will add a JavaScript calendar to the Publish Widget on your WordPress dashboard. This would help you choose a date and time based on a graphic option instead of the text entry boxes.
Auto-Schedule Posts
You can use the plugin to schedule your posts right from the writing schedule. The plugin will hold the published posts and holds them till a condition you have specified is met. You can configure the publication time in terms of hours or specify a certain time period between the two consecutive posts.
WP Scheduled Posts
The plugin enables a widget in your dashboard and shows all your scheduled posts. The plugin is much useful when your blog has more than one authors. If you are regularly using the scheduled post feature of WordPress, this can be one of the best options to use.
Editorial Calendar
This can be your best bet if you have scheduled a couple of posts and looking to manage them well enough. You can manage your post schedules right within the calendar and manage your entire blog from one single interface.
The Concluding Thoughts
Scheduling your posts on your blog is perhaps one of the best options you can go with. So, keep posting consistently using this feature so that your readers will keep up with your site even when you are away.