As a blogger, we assume you are aware of the need for your visitors to have fresh content on your site almost on a daily basis. However, we as human beings have a limited capability. Moreover, you would not want to spend your whole day looking for ways to create content. There are other additional responsibilities you will need to pay attention to. In such circumstances, you can indulge in your activities while WordPress will keep posting the content on its own.
How to schedule a Post in WordPress?
Posting your content on WordPress is one of the simplest and easiest tasks. WordPress makes it very easy to publish the content on its own. However, what if you want to post content sometime in the future?
Well, WordPress offers you an easy option to schedule your posts for publishing on a later date. You do not need to go with any plugin for the purpose. There is an inbuilt option available for the same on Wordpress. Of course, there are a few plugin options as well that can be used to schedule your posts in WordPress.
We will focus on the default option first as it is one of the most widely used options.
How to use 'Schedule Posts' option on WordPress?
The steps involved in doing this are straightforward and simple. We assume you are aware of how to post content on WordPress. Once you have completely composed your post, you can continue through the following steps…
1) Once you have completed your post, you should find the Publish widget at the right side of the text editor.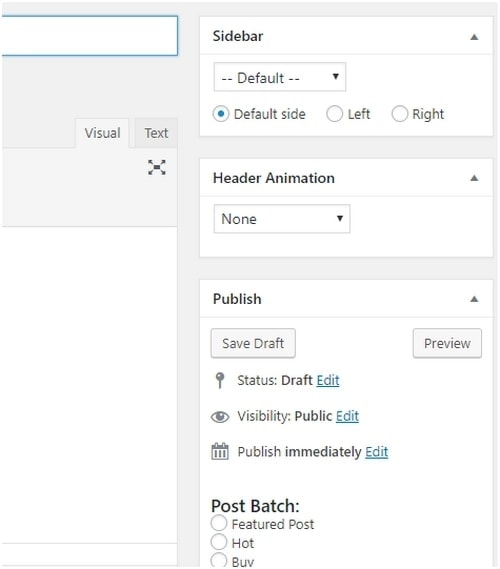 2) By default, the Publish meta box is set to publish your post immediately.
3) Click on the Edit button next to the Publish Immediately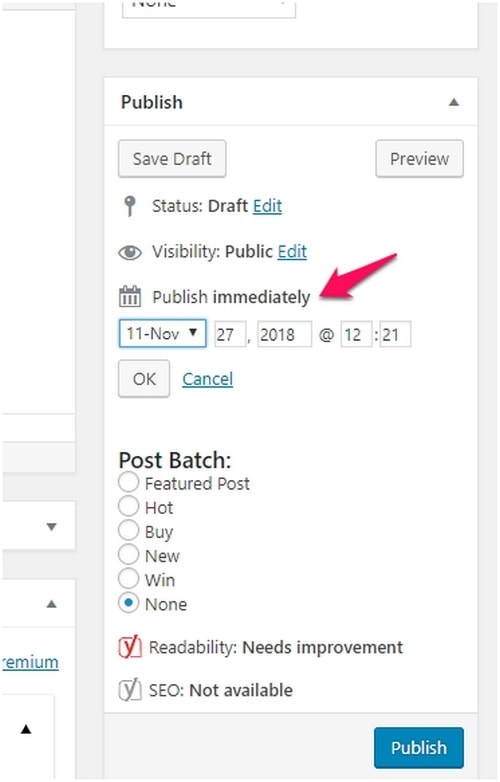 4) Configure the date and time depending upon when would you want to publish the post. Please note that you will need to enter the date in the 24-hour format.
5) Once that done, click on OK
6) Scroll down and click on Schedule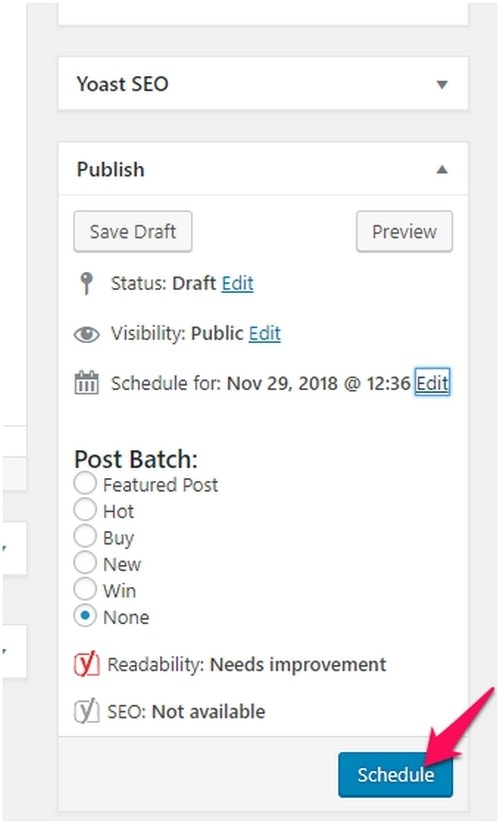 That does it. Your post will be scheduled to the configured date and time. If you do not set the time, your post will be published on the scheduled date at the exact time you have scheduled the post.  For instance, if you have created a post today at 2.00 pm and scheduled it to a date ten days later – but do not specify a time – the post will be published automatically at 2.00 pm ten days later.
If you want to publish the post based on the time zone of the user, you will need to change it through the General Settings under Dashboard.
Here is how you do it.
Go to your WordPress dashboard and go to Settings
Click on General
Choose Time Zone and Save your settings.
You can skip the setting if you do not want to change the time zone.
Best WordPress plugins to Schedule your Posts
While the best option you can use for scheduling your WordPress post is to use the default function as explained here, WordPress also lets you use a few plugins that can9y help you achieve the tasks easily.
4 Plugins to Easily Schedule Posts in Wordpress (We recommend doing manually)
1) Easy Scheduled Posts
This is one of the excellent plugins you can employ for scheduling your posts on WordPress. The plugin works with almost any theme. You can use the plugin to create upcoming events quickly enough.
You can download the plugin from the WordPress repository. The Plugin is available for free.
2) Auto-Schedule Posts
This is a plugin that has been specifically designed to separate your write-ups from your publishing schedule. You can set criteria for publishing your posts. The plugin will hold the published posts until the configured condition is met.
You can use several settings or criteria for publishing your posts. Some of the options would be a difference between a few hours, a few days or configure a minimum period between the two of your posts.
3) WP Scheduled Posts
This plugin will create a widget in the dashboard or the admin area. The widget lets you check all your scheduled posts. The plugin can be an excellent choice for blogs with multiple authors. You can even use it for single-author blogs.
4) Editorial Calendar
This is an excellent option for checking out the overview of your blog. It lets you know when each of the posts is published. Drag and drop your posts, edit the posts and handle your blog efficiently.
The plugin does not have any direct impact on the task of scheduling your posts but works as one of the best options for managing the scheduled posts.
Why do You Need to Schedule Posts in Wordpress?
Well, there are several reasons you would want to schedule your posts. One of the prime reasons is to provide fresh content to your readers almost on a daily basis. Maybe you have decided to take a break for one or two days a week. But, you cannot leave your blog unattended and that is where scheduling your posts can come in handy.
In most cases, the peak traffic comes at a particular time of the day. Imagine your targeted audience prefers content at 3 am. Would you like to get up at that unearthly hour and post your content? Definitely not. A scheduled post can be the blessing in disguise under those circumstances.
You can also use scheduled posts to avoid writer's block. You can create content when you are motivated. Create a bunch of posts and schedule them as per your convenience. You will keep serving unique content every day for your readers.
In Conclusion
Well, that was how and why of scheduled posts on WordPress. We assume we have explained how to schedule a post to be published in the future. Scheduling your posts to some time ahead in future will help you stay organized with respect to the management of your blog and the content therein.
Schedule your content and ensure that your blog never runs out of content for a longer period to come.
Liked this post? Check out the complete series on Blogging