With Google Analytics, you get a treasure trove of insightful data and the best part about it is that it is absolutely free. To improve your SEO campaign, you must take notice and pay attention to the nitty-gritty details of your data.
Just adopting the SEO tricks and not reviewing the results can create a hindrance in the growth of your business. One of the existing ways that can be used in the measuring of the results is through the keywords ranking.
But as time passes, having just one tool to measure growth can provide dissatisfaction. Thankfully, apart from the method of keyword ranking, Google analytics is an inbuilt option that can help you in knowing about the SEO results in a number of ways.
Google Analytics empowers you to build a better SEO strategy for greater traffic inflow into your website. Here, in this post, we will be diving deep into the role of Google analytics in SEO.
Role of Google Analytics in SEO
1) Organic Traffic Search- Role of Google Analytics in SEO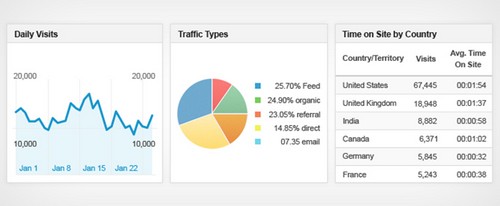 With Google Analytics, you are provided with a summary of all of your top channels and how each one of them is performing in terms of traffic volume, behavior as well as conversions. You will be able to identify which search engines are sending traffic to your website the most.
The application also provides you with an overview of keywords. This will help you strengthen your base of Search Engine Optimization strategy even more as you get to know about your working keywords and thus you can base more off of your content on it. This can be availed by heading to the 'Overview' tab then clicking on 'Acquisition' and choosing 'Organic Search'.
Whenever there is a drop in the traffic of a website, the first thought that the owners come up with is that there is a drop in the organic traffic. But it is not necessary that it is all about the organic traffic only. Sometimes there can be a consistent hike in the organic traffic and a drop in the traffic from other sources and this may have led to a drop in the overall traffic.
To check this out, you need to open the Channel Grouping report. This can be done by following the flowchart of Acquisition>All Traffic> Channels. Here you need to click on 'organic search'. You will get a detailed insight into your organic traffic on the site.
2) Site Speed- Role of Google Analytics in SEO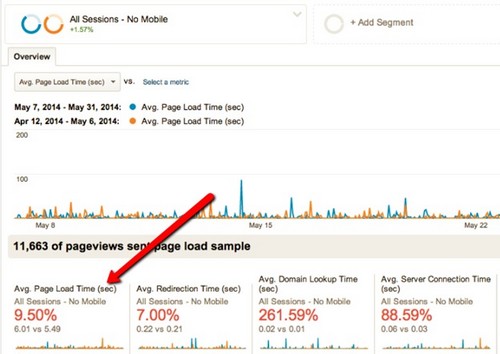 It is an obvious thing that everyone, from search engines to site users, hates slow loading sites and web pages. You might have quality content but if consumers bounce away from your site even before giving it a chance to open is a serious loss for you. Google Analytics helps you give an overview of your site speeds individually and lets you examine all the sites that need to be optimized.
Unlike most tools, Google Analytics drill down into specific pages and identify the particular ones which are proving to load slow. This option can be found in the 'Site Speed' tab under 'Behaviour'. The application gives you speed suggestions for your site as well. If you have a website which has pages that take more than 3 to 5 seconds to load, you should immediately optimize it as you could be losing traffic because of it.
3) Bounce Rates- Role of Google Analytics in SEO
You can get a report of all your individual sites' bounce rate. It is a very effective idea to pay particular attention to this metric with reference to each and every individual page. The report gives you an overview and lets you identify those pages with bounce rates below average. It also states the average session duration of each page, giving you a detailed result of the amount of time that a user spends in each of the pages of your website.
You can figure out how to make more engaging content for decreasing the site's bounce rates as well as increasing the amount of time that a consumer spends on your site. With lowering bounce rates on pages which have significant organic traffic, you can increase your overall rankings in the long run.
4) Mobile Compatibility: Role of Google Analytics in SEO
By going to the 'Audience' tab, you can find an option called 'Mobile' where you can compare your traffic of Smartphone users to that of desktop and tablet users. This is an ideal way of identifying if your web site has any optimization issues while viewing on a mobile phone.
If the bounce rates of your mobile sessions are slightly higher than the desktop ones, then there are chances that your site has a problem while viewing on mobile phones.
Nowadays, over half the overall traffic comes from mobile sessions and thus it is important for your web site's mobile optimization to be perfect. Google Analytics gives an overview of the conversion rate of the different devices and by this, you can indicate which device traffic is more valuable for your web site.
5) Landing Page- Role of Google Analytics in SEO
With this feature, Google Analytics shows you the report on which top web pages Google showed people when searching for specific keywords.
The report also shows how many visitors clicked through to your site from the search engine result pages of that keyword.
From this report, you can get the average Google search position your web page ranked for that period of time. This is quite a bit of valuable information which shows you the type of content that is bringing visibility and traffic to your web site and helps you track your page's metrics over time.
6) Assisted Conversions- Role of Google Analytics in SEO
There is a 'Conversions' tab in the Google Analytics which gives you a view of all the assisted conversions of your site. If the user goes to your website through a link from social media, chances are that most of the users won't convert on their first visit to a website.
They are more likely to go directly to your website when they are returning the next time around to make a purchase.
With this, you can understand what percentages of a website's conversions are coming as a result of purely organic traffics. Thus, it provides more accurate and valuable data when it comes to the quality of your organic traffic.
If you are noticing a drop in organic assisted conversions even though your web site's organic traffic has remained consistent, then it might mean that the leads have ceased to qualify and that you should do a review of your keyword and content strategy.
7) Measuring The SEO Traffic Quality – Role of Google Analytics in SEO
Who says quality cannot be measured? Google Analytics offers you the best methods to measure SEO traffic quality.
The Assisted Conversion Report can be helpful in checking the traffic quality. You need to follow the flowchart of Conversions>Multi-Channel Funnels>Assisted Conversions.
With this tool, you can compare the traffic quality of the current month with the last month by making changes in the dates.
8) Finding Dollar Values To Organic Traffic – Role of Google Analytics in SEO
This is a method through which you can know how much is the cost of the keywords selected in the Google AdWords is. For this, you need to have a Google AdWords account and the Google Analytics of your site should be synced with the search console account.
You can use the flowchart Acquisition>Search Engine Optimization>Queries to find the keywords about which you need to search. Now open your Google Adwords account and go with the Flowchart Tools>Keyword Planner>Get search volume data and trends.
Here put the keyword searched from the Google Analytics and enter to find the biddings.
9) Checking Slow Loading Pages – Role of Google Analytics in SEO
Slow loading pages can be highly irritating and can one of the major reasons for increased bounce rate. It is important to improve the loading time of the site pages so that the site can get optimized and can get high traffic.
To know about the slow loading pages of your site, you need to use the flowchart Behavior>Site Speed>Page Timings. You can make use of the filter feature and can scroll down to look for the organic traffic.
10) Creating an SEO Dashboard – Role of Google Analytics in SEO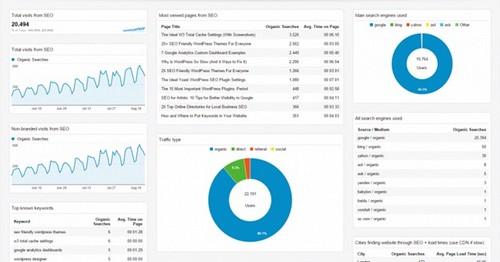 Having a single Dashboard with different widgets helps you in saving time in reviewing different reports. The single view is easy so that you can access it conveniently and can even print it.
With such ease, you will be able to spend more time on currently the mistakes in place of investing a huge time in reviewing different reports individually.
In Conclusion…
After the challenge of making use of the SEO tactics successfully, the next challenge that is faced is to review the outcome from the SEO practices.
Google Analytics makes this quite easy so that the right tactics can be used in order to get the right results.
So, by understanding the right role of Google Analytics for your Search Marketing and Search Engine Optimization, you can measure the performance and success of your marketing campaign.
Want to know how useful Google Analytics can be for your site? Share your details with us and our experts will guide you in the process.
Liked this post? Check out the complete series on SEO