You might have been doing a great business and your product is growing its market excellently. But still, if your online business is not standing up to your expectation even after so much of effort then targeting relevant social media target audience and converting them is a sure shot way that will easily help you accomplish your business goals.
When it comes to online marketing and advertising, targeting right audiences is the key to success. This is because no online content will be having any influence unless you are able to pitch it to an appropriate audience. It doesn't matter how engaging or persuasive your content is.
If you are not able to find targeted and appropriate audience then your online business is useless. Here we will give you some tips to get the social media target audience.
How to Get Social Media Target Audience?
It is not as easy as it looks to get the social media target audience. You have to follow and do certain things in which the audiences get influenced by your content.
1) Identify The Audience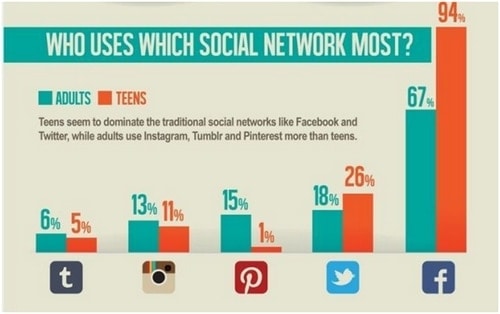 Before you plan to search your audience, you have to decide that what type of audience you want. What will be the age group of the audiences? Do they have anything in similar?
These are some of the questions that you have to ask as they will give you a clear idea about who your audiences are going to be.
If you are doing social media services for large-brands, mid-size or small businesses then you have to help them to figure out their target audiences. One of the best ways is to ask some common question to your clients which will help you in identifying.
You can also check the social media channels and look where your audiences are spending their maximum time. In this way, you can get some idea about your social media target audience.
2) Take Survey Of Your Customers
It will not be helpful if you rely fully on the guide that is given above. Sometimes doing a survey of the customers will also help a lot.
Ask them everything that you need and know and see which social network they prefer the most. You can start with some of the following questions that are mentioned below.
What is their favorite social media site?
Do they read blogs regularly?
How much time do they spend on social media?
What are the kinds of people they follow in social media?
3) Find Out The Size of Your Audiences
Facebook ads are not just for the promotion of your ads, they can also be helpful for finding out the size of your audience as well as some clear data about them. If you see that your target audience is quite large then it will be better if you start from the lower niche.
Try to narrow your audience as much as you can and look exact niches in which the potential buyers have an interest in. in the case of social media marketing, it can be the case of curation of the content, search engine marketing, advertising, and many others.
In any guide of marketing, you will find the same thing saying it is better to spend money on a small and engaged niche than spending it on the larger ones.
4) Find Your Customers And Connect With Them
One crucial thing to keep in mind is that it is easy to upload the database of your email in almost any site of social media in order to find your customers. With the help of the Facebook Ads Manager, one can easily create a custom audience.
Now with the help of your CRM combining with the social media management software, you can reach out and get engaged with the social media target audience whenever you want to.
After you have created the custom audience, you can ask Facebook to create "lookalike audience". The lookalike audience is just as same as your valuable audiences. This means that Facebook will help you to put in front of more people who are just like your present audience.
5) Search Social Media Target Audience In Facebook Groups
If you are using Facebook like other people then you can go to the search bar and search for pages or groups that are matching to the interests of your customers.
However, if you have been providing the social media marketing services for more than two or three clients then it will be better you segment the audiences in a proper way so that you don't get confused.
6) Modify The Contents For Your Audience
After you are done with the basics and finding your target audience, you can start to modify the contents according to their interest. Many times you will see that there are many complaints regarding the engagement of the posts. Here are some of the rules that you have to keep in mind.
Not more than a single curated post in a week
Only two promotions in a week
There should be at least one engaging content in a single day
So, is your page an engaging one? The audiences do not follow your page to buy your product every day. So, make sure you post content that is engaging as well as inspirational.
7) Utilize Hashtags Correctly
Hashtags are a fundamental part to rapidly grow a connected Social Media Target Audience base in a convenient and effective fashion. Utilizing hashtags will open your content to the new individuals who are not your followers.
All things considered, you need to realize that finding best hashtags for your business is vital for drawing in a crowd of people that will change over into more engagement, deals, and conversion later on.
In principle, it bodes well to utilize the most mainstream hashtags for the introduction – yet by and by, you won't get the long-term results. Beyond any doubt, hashtags like #love or #beauty have a huge number of posts, yet these nonexclusive hashtags will be pointless for your business if you do not get customers.
So, knowing the right tags and utilizing them will offer the real advantages to you.
8) Work with Social Media Influencers
Utilizing the correct influencers for your online image is the most outstanding amongst other approaches to rapidly grow a Social Media Target Audience base. It is always essential to use the privilege influencer who is well associated with your brand.
You should never prefer influence just on their followers' count but upon their relevancy to your brand. It is important for you to ensure that your influencer bodes well for your brand image.
It resembles local advertising and won't interfere with the browsing experience of your audiences. It also helps in SEO of your brand. It also builds brand awareness, plus it is affordable and offers higher returns on investments.
Some more broad tips to enable you to grow your Social Media Target Audience organically are-
9) Top Social Media Hacks to increase Audience base-
Use Videos
Be Consistent in Posting
Keep Interacting
Optimize Social Media images for all social networks
Schedule different tweets from your new blogs
Use Social Media Chatbot
Ask teams to pre-schedule Instagram Posts
Curate Slideshare Content
Create effective Call to Actions
Use Gifs in your Tweets, etc.
10) Use Social Media Tools to Automate Social Marketing
This is one of the most effective methods to optimize social media marketing in a more convenient fashion to generate Social Media Target Audience base. There are different tools that will alleviate your task of social media scheduling and management.
Utilizing tools will enable you to perform multiple tasks simultaneously that will increase your efficiency. Let us have a look at some of the social media marketing tools that you can use-
HootSuite
HubSpot
MeetEdgar
TweetDeck
IFTTT
Buffer
Sprout Social
Raven
Social Flow
Final Words
These were some of the guides that will help you achieve your social media target audience. Make sure you pay close attention to every one of them.
Did we miss any tip that you used to increase your social media audience base? Share with is in comments.
Also, let us know if you get favorable results by using aforestated tips to increase social media target audience for businesses on the web.