Well, you have installed WordPress and understood the basic concepts. But, there are essentially a few settings you need to understand so that you can work with the software more efficiently. Of course, WordPress has configured the settings by default. Even then you can change it to meet your exact requirements. Let us understand the important Settings of the content management system.
The WordPress settings – An overview
The WordPress settings are arranged in six different groups. You should be able to find them on the sidebar under the Settings main menu. The Settings main menu comes with the following settings options
General Settings
Writing Settings
Reading Settings
Discussion Settings
Media Settings and
Permalinks Settings
We will discuss each of these individual settings one by one.
The General Settings
The General Settings will define the look and appearance of your site. It will define the general characteristics of your blog.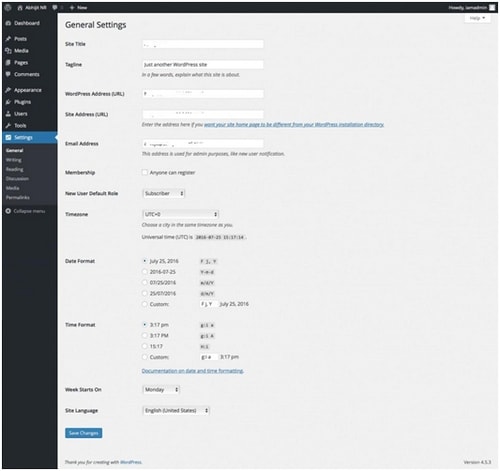 The Site Title would designate your site title. You can add a tagline for your site if you want to differentiate it from the rest of the blogs. The Website URL and Site URL should ideally be the same. Rest of the settings should be self-explanatory if you follow the image above.
The options for users and their roles are meant to assign different roles for the different members on your site. You can assign a few members as the authors, while some of them would be the editors. The role is set by default as Subscriber.
The Writing Settings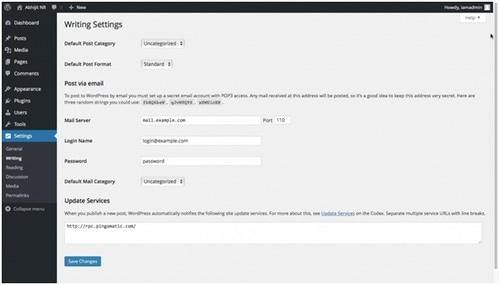 The Default Post category will define the category for your new posts. You will not be able to delete a category if you specify here. The option for Post Via Email is meant specifically for publishing a post when you want to publish it through an email. Of course, the concept needs a detailed understanding, but this exactly where you can configure the settings for sending posts by email.
The Reading Settings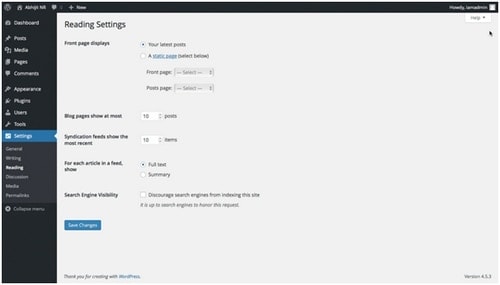 This setting option will help you configure the home page and the reading functionalities off your site. You can configure exactly what you would want to display as your homepage. You can either configure a static page or your latest post to be displayed on the homepage.
The Posts you want to show on a page of your blog can also be specified through the settings as can be seen in the above image. There is an option where you can discourage the visibility of the content on your site to the search engines. This can be a useful functionality when you do not want your site to be indexed when you are building the site. You can do this from Search Engine Visibility filed under the Reading Settings.
The Discussion Settings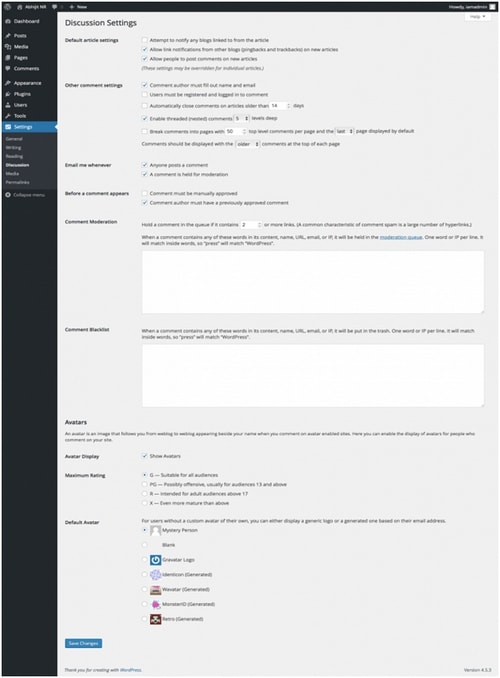 These settings are meant for managing the comments to your posts and to control the links to your posts or pages. The default Article Settings will help you handle the links you shared in your article to other blogs. It can also be used to controls whether you want visitors to comment on your articles.
The Other Comments Settings will let you control the way other users comment on your posts and how these comments are handled. The settings within the item should be self-explanatory from the image above. Rest of the settings are designed to configure a comment moderation and other controls over the comments and their approval.
The Media Settings
Media Settings are designed to configure the size of the images that you upload into your posts.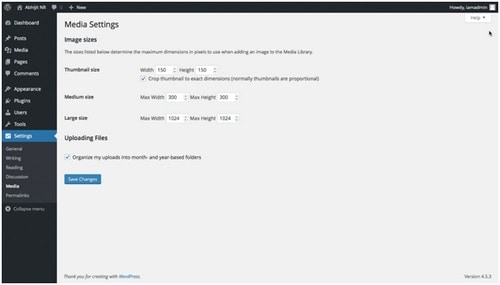 You can configure the image sizes for each of the specifications you set. The files will be stored in the folders based on date and time if you have checked the box under the Uploading Files section.
The Permalinks Settings
One of the most important settings, these will be the deciding factor to configure the look of your URLs.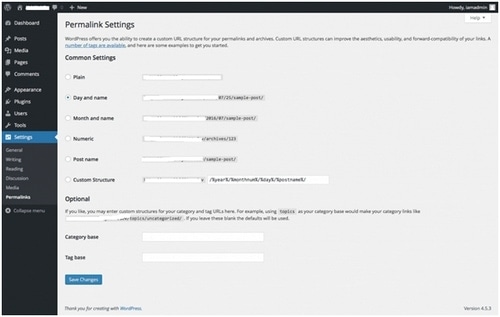 You can choose multiple file formats among the options indicated. Please note that any of these URL formats should be good enough. If you are unsure of which format to use, it would be a good idea to go with Post Name option. You can even make use of a custom URL if you so wish.
That concludes our discussion on the major Settings you would need to take up after installing your WordPress installation and start building your website or blog.
The Initial Settings you Need To take up after Installing WordPress
After understanding the important setting options on your WordPress installation, here are a few other settings you need to undertake as soon as you install WordPress, and begin publishing your posts.
The Initial Settings
The initial settings would be the most important configurations you need to take care of before you go live with your website. These are simple enough and need to be completed soon after installing your WordPress site.
Regenerate Password
Reset the password as soon as the installation of WordPress is complete.  The automatically generated passwords can be prone to hacking attacks. Resetting it should be easier enough. Here is how you do it.
Login to your WordPress account
Locate Users on the sidebar and go with a submenu stating Your Profile
Click on Generate Password to generate a stronger password.
Of course, you can use your custom password and save it. However, it is advisable to go with a password that is generated by WordPress as it will be stronger and hack-proof to a greater extent. You can copy it somewhere and keep using it.
Clean Up Your Dashboard
Your WordPress installation may have a few widgets that may be unnecessary from your usage point of view. Sometimes, the cPanel installers offer a few bundled services, and these would – most possibly – be unwanted in most cases.
Launch your WordPress dashboard and locate Screen Options at the top right corner. Check those options you want to see in your WordPress dashboard. Uncheck all those options and widgets that you don't want to see in your dashboard. You will thus be able to remove the unneeded clutter from your dashboard easily.
Configure Your WordPress Title
Your WordPress site will come with a default title. Setup your title. It is quite easy to setup you're your WordPress title.
Choose Settings ->General Settings
Under Site Title option, you should find the option to configure a title for your WordPress site.
Add a tagline for your website if you want to customize it further.
The title you choose will be visible in your front page and will be available in your search results as well.
Other important setting actions you can perform include deleting the unneeded plugins and themes, setting up the menu for your site, remove the dummy content and replace it with some other original content and update your plugins.
In fact, you can go through the above list where we have discussed all the six setting options under the WordPress settings, and perform the necessary changes on your WordPress site. Create basic site pages and create a customized Page for your website.
That does it. You can begin working on your website, now that all your settings are done.
In Conclusion
WordPress is one of the excellent options for creating your blogs. In fact, what makes it one of the great tools for creating your websites and blogs is it does not need you to be tech savvy. The settings and functionalities are easy and simple to work with. In fact, a good knowledge of settings would be necessary for secure, fast and an SEO optimized blog for your needs.
 We assume the details shared here should go a long way in aiding you understanding the importance to a greater extent. If you are still in doubt, do share them with us and we will guide you in addressing them.
Liked this post? Check out these detailed articles on
Topic of Blogging
Alternatively, check out the Marketing91 Academy, which provides you access to 10+ marketing courses and 100s of Case studies.