For those who have got pages on the Facebook platform, it is really important to know what to put in different sections of Facebook business page.
If you wish to learn a little bit more about that, then you are in the right place because that is what we are going to talk about in this Facebook Marketing Guide here.
You run a business or you are an online marketer, you must know that Facebook is certainly one of the biggest platforms in the world of social media that can help businesses widen their reach and multifold profits.
There is no doubt about the fact that it is a very popular platform that people use in order to know a bit more about the people and businesses that surround them. Most of the businesses that are on Facebook have their pages there so that people can know everything about them.
To know about the significance of different sections on the Facebook Business page, it would be useful for budding marketers to first understand why Facebook Business Pages are essential in today's time –
Facebook Business Pages: A Necessity for the Online Business Owners
It is definitely true that Facebook is one of the best platforms of social media that not only people but businesses use as well. But then that is not really the ultimate solution to the marketer's problems right?
If you have been on Facebook for a very long time, then you must definitely know the importance of having a Facebook business page. With the help of this page, people can get to know a lot of things about you.
From branding to advertising to generating awareness, Facebook business pages are the powerhouses that establish the authority of brands on the web.
That is why, when it comes to Facebook, you need to make sure that you optimize your page according to the needs and the requirements of the customers. There is not a single thing that you can overlook and if you do, then your business can go plummeting down in a jiffy.
Most people make very silly mistakes and end up losing their customers.
If you really want to make sure that your marketing strategy on Facebook is working properly, then you need to make sure that your Facebook business page is in proper condition. There are many different companies that invest a lot in different marketing strategies but do not get the results.
What do you think the reason is for that?
Well, it definitely has to be the poor information provided on the pages of the platform of Facebook.
You need to know what you have to include in the different sections of the Facebook business page so that people can get all the information that they will need in order to know all about the company or the brand.
Optimization of the page is very important and that is what you need to understand and adeptly implement while creating different sections on Facebook.
Let us now understand what the things are that you should put in different sections of your Facebook Business page-
Things to Put In Sections Of Facebook Business Page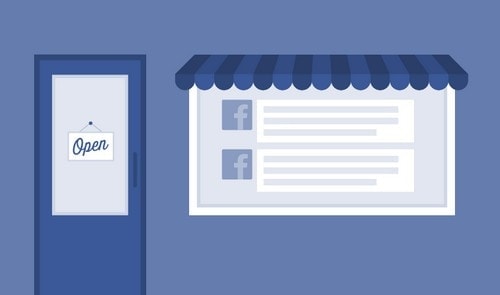 If you want to make sure that your page looks interesting, you need to make sure that you know what to put in every section of Facebook business page. Here we have some ideas that can help you out in building the best Business page on Facebook that will be appealing to the customers and get you more followers for sure.
1) The About Section of The Page
One of the most important sections of the Facebook Business page would have to be the About section. This is where the visitors who visit your profile will get all the information from.
So, you need to make sure that it is filled to the brim with all the information that you think they might need about your company. Below, you can have a look at the About section of the Marketing 91 page that will give you an idea about the key details that are demonstrated in this section –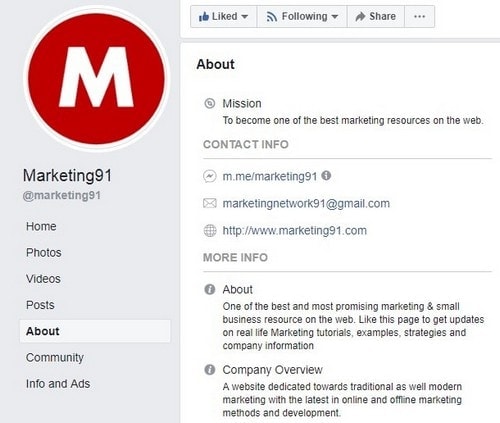 When it comes to showing people relevant information, it is more difficult than you think it is. So, you need to make sure that you provide all the details in a summarized manner to the people.
If you don't then there are chances that they might move to another page. Providing information such as the description and story of the company, the contact information, other details about the services and the products that you have is really important. So, you can check these things out and make sure that your About section is filled with information.
About section is considered of different parts such as General, Business Info, Contact Info and More Info section where you need to give information that can empower your business to ensure better interactions with your audiences.
2) Facebook Cover Photo
One of the very important things that people will notice when they come to your Facebook page is the cover photo that you have. So, you need to make sure that you put a cover photo that will definitely impress the people who visit the page that you have on Facebook.
The first step to do that is to select the perfect photo that you want to use. You might think that the entire process is quite simple but it is more difficult than you think it is people.
Capturing the attention of the people just with the help of the cover photos is something that is very difficult. You need to make sure that the picture that you choose is appealing in a visual manner. Apart from that, you also need to make sure that it provides a very clear message to the people about the brand that you have.
Using cover photos that talk about any upcoming events, webinars or product and service launch can enable you use them in the most productive manner possible. You can also use text overlays in an appealing manner to convey your message adeptly.
Another thing that you might look into is the fact that the picture is able to tug at people's emotions. Also, your picture needs to be linked directly with the brand or the company that you own. That way, people will be able to know who you are. You can also use some CTAs to make sure that people know how to reach you.
Have a look at the Cover photo of Tazo Tea and understand how their cover pic is describing the core feature of their brand in a convincing and appealing manner –

Being very clear about the dimensions of Facebook cover photo will also be helpful for you.
So, the size that Facebook recommends is 820 x 312 pixels on Desktops and 640 x 360 pixels on Smartphone, and you need to keep this in mind while designing your cover photo.
3) The Sidebar Tabs
Here we have another one of the most useful sections of Facebook business page that plays a key role in deciding the future of any page on Facebook.
So, if you want to make people interested in your page, then you need to know what to put on this section of Facebook business page.
Normal Sidebar sections of Facebook business page have below given look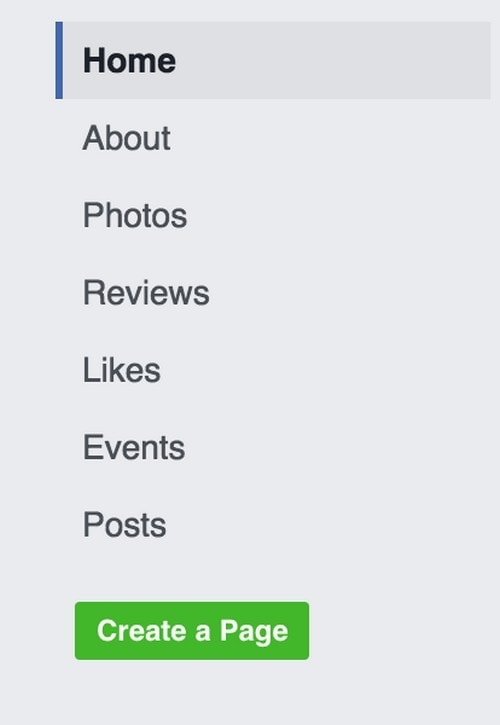 But, having the sidebar tabs that are appealing to the eye is crucial if you want your page on Facebook to be optimized properly. This section of Facebook business page is really important as with the help of this section, people can easily make interaction with your page. So, make sure that you pay attention to it.
You can effectively customize this tab section as per the specific needs of your business. Below we are adding a Sidebar tab of Coava to let you understand how they have dexterously included Email Signup, Check out our Blog, We're on Instagram sorts of components –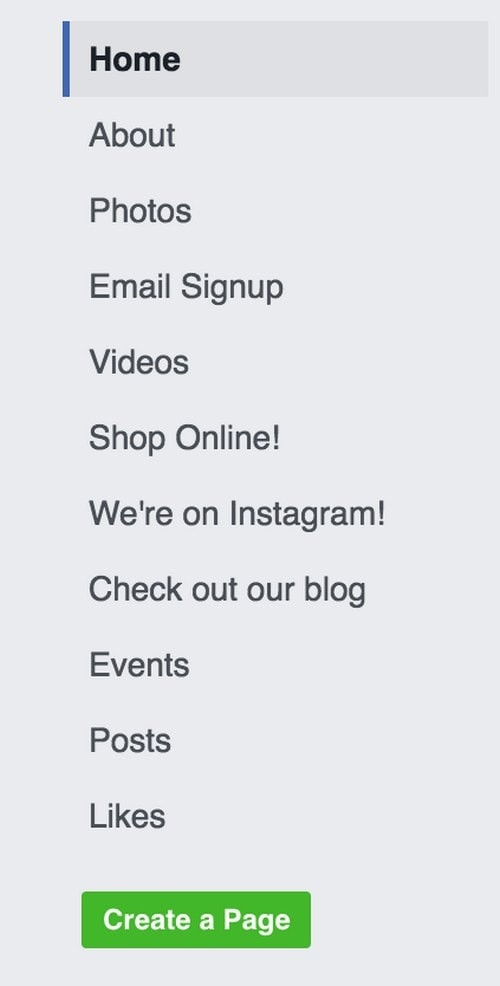 Adding a Tab is also quite an easy process and you only need to go into the Settings of your page given at the top right side of your page. There, in LHS, you will see Templates and Tabs option.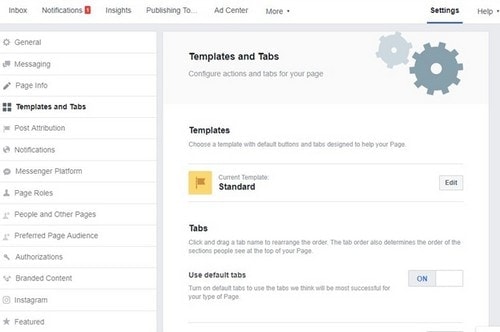 In the Tabs part, you need to scroll down where you will notice Add a Tab section –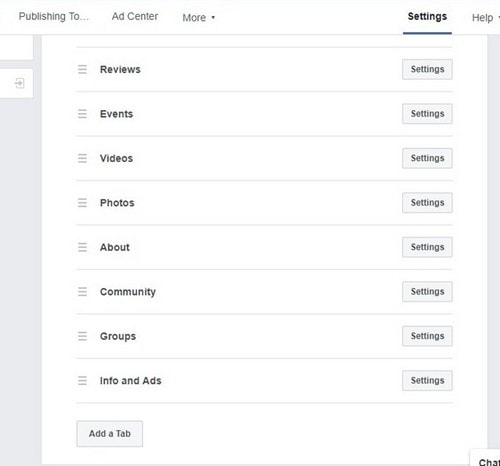 Here, you will get the option of adding a tab of your specific need. You will be getting different options here that you can use to customize the tab of your choice –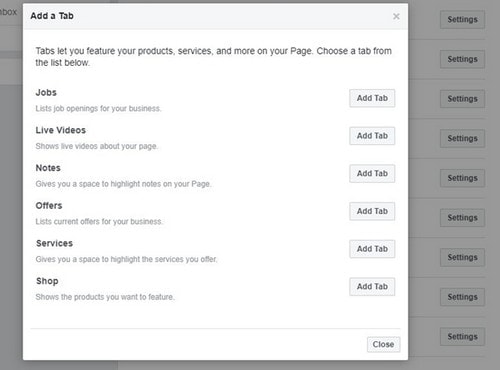 Conclusion
Well, when it comes to putting different details on different sections of Facebook Business page, you need to make sure that you provide all the information that is required for the people to understand the company.
This will help you optimize the presence of your business on Facebook in the most effective manner possible. So, pay attention to aforestated tips for different sections of Facebook business page, and enjoy a conversion-oriented presence on Facebook.
In case of any doubts, feel free to share your queries with us in the comments below.
Liked this post? Check out the complete series on Facebook Marketing